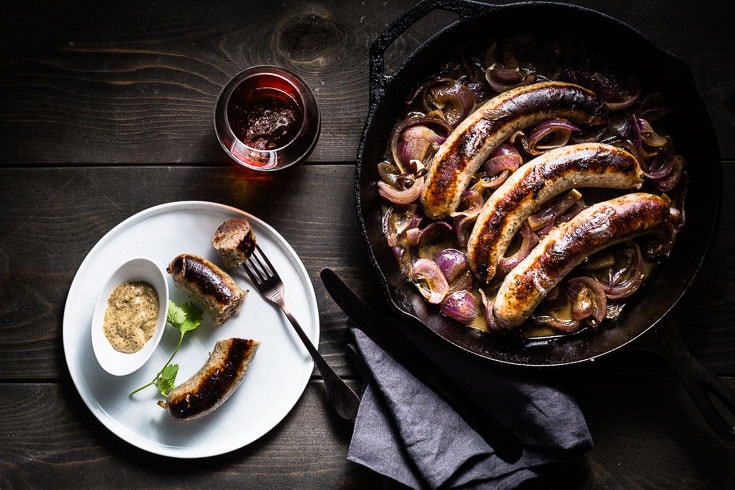 Want to know the secret to the absolute tastiest quick and easy brats? It's right on your stove and only requires 3 ingredients and about 20 minutes to a comforting and satisfying meal. So much flavor, perfectly cooked through. Seriously, perfection every time! This is my go-to recipe when time is short, and it will probably become yours, too! Everyone will be asking how you did it.
So What Are Brats, Anyway?
Bratwurst (brat for short) is a German sausage. The German word is a combination of the word "brat," which translates to ground, and "wurst," which translates to sausage. Brats are commonly made with ground pork, and sometimes veal, beef or a combination. They are seasoned with marjoram, ginger, sage, cumin, nutmeg, coriander and caraway.
What You'll Need
Brats — Start with a high-quality brat sausage for the best results.
Onion — Red onion is preferred, but really any type will work great, even shallots.
Water, beer or stock — If you do go with beer, I like to use something lighter that isn't too hoppy, like a lager or pilsner so the sauce doesn't become bitter.
Oil — A little fat in the pan helps beautifully brown the brats and caramelize the onions. I usually use canola oil, but you can definitely use butter or olive oil.
Pan with a lid — A cast-iron skillet is my go-to, but a stainless-steel pan, carbon steel or even nonstick will also work great. Tip: If you don't have a lid for your skillet, you can use a sheet pan to cover it.
Instant-read thermometer — comes in super handy to quickly check the internal temperature for doneness.
See the recipe card for quantities.
The Best Way to Cook Bratwurst
There are many ways to cook Bratwurst sausage: You can grill, boil, roast or even air-fry them. After trying all the ways, the best method is definitely on the stove. The key is to brown the brats first and then add liquid, so they gently steam and cook on the inside. That's exactly what we're going to do with this recipe.
After the brats finish cooking, there will be some liquid left in the skillet, which can be made into a delicious oniony sauce. Just simmer down the liquid with the onions and make a nice natural sauce while the onions finish cooking.
How to Cook Brats on the Stove
Let's go step-by-step for making bratwurst sausage with onions in a skillet.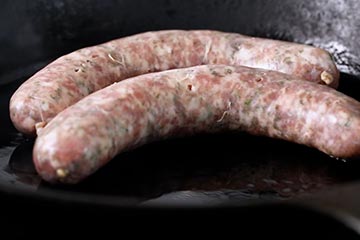 Step 1: Heat a 12" cast-iron skillet over medium heat with a drizzle of canola oil until it just starts to smoke.
Step 2: While the skillet heats, prep the brats by poking a few holes on each side to allow steam to escape so they don't burst during the cook.
Tip: Peel and then slice the onion lengthwise so the slices maintain their shape as they cook.
Step 3: Place the brats in the skillet and stir in the onions around them.
Step 4: Once the brats are browned on the first side (3 to 4 minutes), use tongs to turn them over and carefully pour in ½ cup water, beer or stock and immediately cover with a lid and reduce the heat to medium-low.
Step 5: Continue to cook for about 10 more minutes, or until they reach an internal temperature of 160° F (71° C), verified with an instant-read thermometer.
The total cook time will be about 13 to 15 minutes, depending on the size of the brats.
Step 6: Remove the sausages from the skillet and increase the heat to reduce the liquid for a few minutes until a sauce consistency is reached, stirring frequently. Taste and season. Serve the brats topped with the onions and sauce. Enjoy!
Tip: The leftovers are amazing! Just reheat them in the microwave for about 1 minute.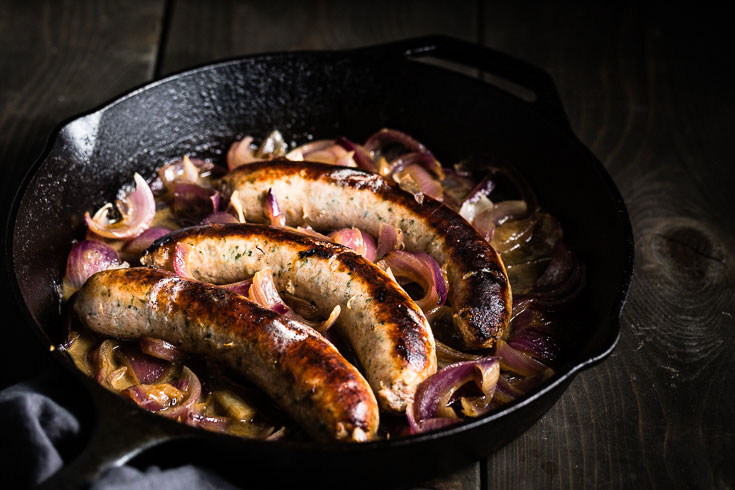 What to Serve It With
You can serve the brats in a bun if you prefer, but I like to leave the carbs to the sides and serve them with German potato salad, mashed potatoes, a simple and bright arugula salad or a cucumber salad. A little German-style mustard is also great for dipping. Serve it with an Oktoberfest beer, German-style lager or any malty beer that will play off the caramelized onions.
Watch the 90-Second Video: How to Make One-Skillet Bratwurst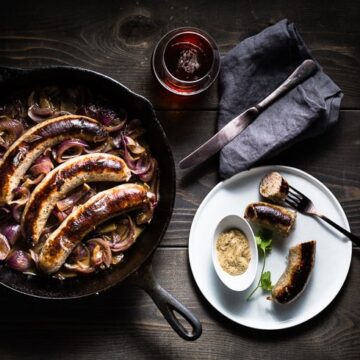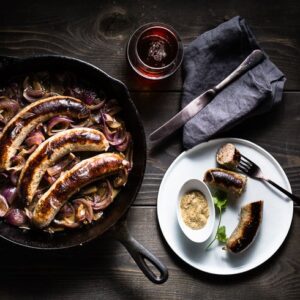 How to Cook Brats on the Stove
The best and easiest method for how to cook brats. Only a few ingredients and less than 20 minutes. Perfect every time for an easy weeknight dinner, Sunday supper or an Oktoberfest party.
Print
Pin
Rate
Ingredients
Canola oil

4

bratwurst sausages

1

red onion, sliced

½

cup

water, beer or stock

Kosher salt
Instructions
Heat a large cast-iron skillet with a drizzle of canola oil over medium-high heat until it just starts to smoke.

With a fork, poke a few holes on each side of the bratwurst sausages to keep them from bursting while they cook.

Place the brats in the hot skillet, then place the onions around them.

Stir the onions to spread them around and coat with oil.

Cook the brats for about 3 to 4 minutes per side, or until they are nicely browned.

Carefully pour ½ cup of water into the skillet, then immediately cover and reduce the heat to medium-low.

Continue to cook with the lid on for about 10 more minutes, or until the internal temperature reaches 160° F / 71° C

Remove the lid and the brats from the skillet.

Increase the heat and season the onions with salt. Continue to cook the onions for a few more minutes to reduce the liquid.

Serve the sausages topped with the onions and your favorite mustard.
Notes
You can substitute beer or stock for the water if you prefer, but it's not necessary.
Reheat leftovers in the microwave for about 1 minute.
Nutrition
Calories:
231
kcal
|
Carbohydrates:
4
g
|
Protein:
9
g
|
Fat:
19
g
|
Saturated Fat:
7
g
|
Polyunsaturated Fat:
2
g
|
Monounsaturated Fat:
10
g
|
Cholesterol:
49
mg
|
Sodium:
561
mg
|
Potassium:
270
mg
|
Fiber:
0.5
g
|
Sugar:
1
g
|
Vitamin A:
5
IU
|
Vitamin C:
2
mg
|
Calcium:
26
mg
|
Iron:
0.4
mg
This post was originally published on October 14, 2017, and was updated on September 19 2022 with new and useful information.
More Delicious Sausage Recipes