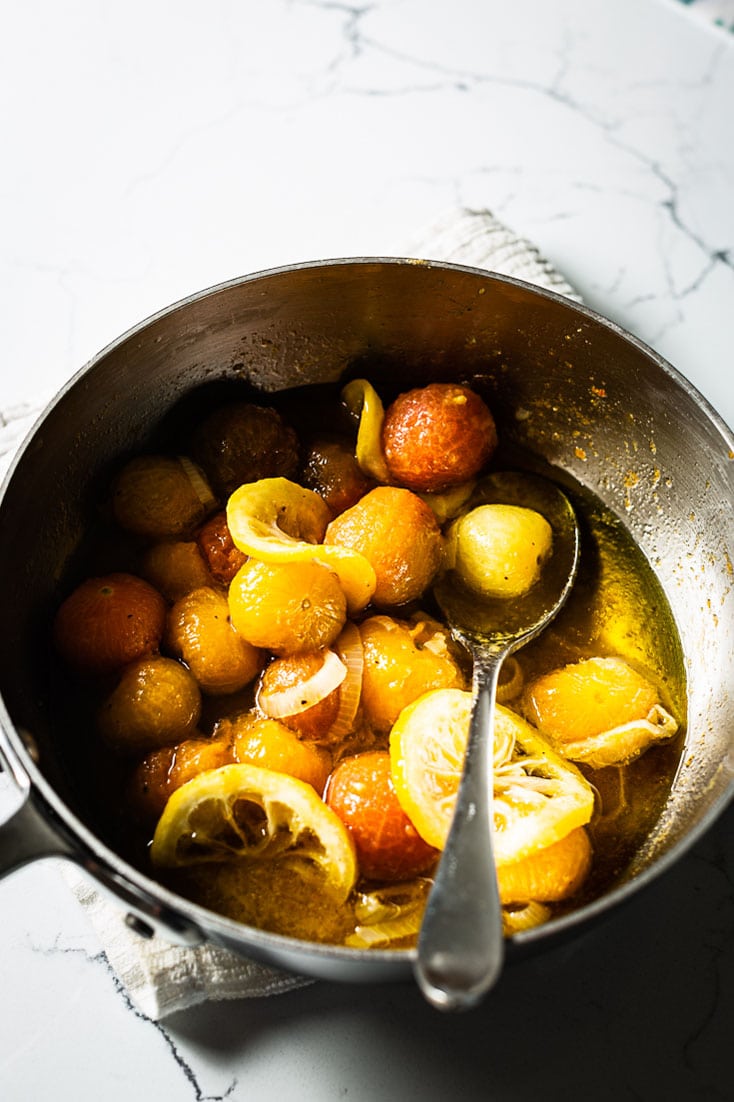 If you are looking for a simple recipe to use up those cherry tomatoes, then look no further. As the tomatoes simmer with the olive oil and aromatics, they start to naturally burst so their flavors combine with the olive oil and lemon for the flavor of summer in every bite.
You won't believe the intense flavors you get from such a simple sauce and simple process. This has become a go-to sauce for serving with salmon or seared scallops. It's super versatile, and is fantastic over pasta and vegetables, too.
Types of Tomatoes
While any type of tomato would technically work in this sauce, the small varieties really pack the texture and flavor punch that you want.
Cherry - Cherry tomatoes aren't a specific breed and can vary in color and taste, though they are usually pretty sweet. Feel free to use a variety to liven the sauce up.
Grape - While cherry tomatoes have been popular for a century in the U.S., the smaller grape tomatoes have only been around since the 1990s. They are sweet like cherry tomatoes.
Heirloom Cherry (great for color variation) - Once you venture into the varieties of tastes and textures in heirloom tomatoes, it's tough to go back to hybrids. So if heirloom cherry tomatoes are available, use them!
Peeling the Tomatoes (Optional But Recommended)
The skin of tomatoes can sometimes be thick and is usually slightly bitter. This isn't a huge deal, but if you really want to elevate the sauce and make it more elegant, then you can peel the tomatoes. The process is slightly tedious but worth it for a smoother texture. Skip it if you don't mind the skins.
How to peel cherry tomatoes: Score the end with a very sharp knife. Submerge into boiling water for 15-30 seconds, just until the skin starts to separate where the score marks are. Immediately transfer to an ice bath to cool. Use the paring knife to peel back the skin.
You are left with bites that are all flavor and no skin. Totally worth it, IMO.
Get more tips and tricks for utilizing tomatoes.
Serve It With...
The beauty of this sauce is that it goes with so many dishes. Pretty much anything you grill can be improved with a dollop of this zesty goodness. Try it with steak or chicken. Almost anything that needs a dash of buttery-rich texture and acidic zing!
More Recipes You Will Love
Burst Cherry Tomato Sauce Recipe
Capture that burst of flavor that seasonal tomatoes offer in a sauce that is perfect for seafood, grilled chicken and pasta. This is such a simple and easy sauce. Almost completely hands-off.
Print
Pin
Rate
Ingredients
2

cups

cherry tomatoes

½

cup

extra-virgin olive oil

Lemon slices from ½ lemon + zest

½

medium shallot

(thinly sliced)

2

garlic cloves

(thinly sliced)

Fresh herbs such as parsley, basil, chives or thyme

Kosher salt and freshly ground pepper
Instructions
Place all of the ingredients in a small saucepan and place over medium heat.

Bring to a simmer and cook for about 7 to 10 minutes, or until the tomatoes have burst into the olive oil (which can also be done with the back of a spoon if you need to help them along).

Season to taste and serve immediately, or cool and reheat to use later.
Notes
If you want, peel the tomatoes by scoring the bottom and dunking in boiling water for about 15 seconds until the skin begins to peel away. Let them cool before peeling completely.