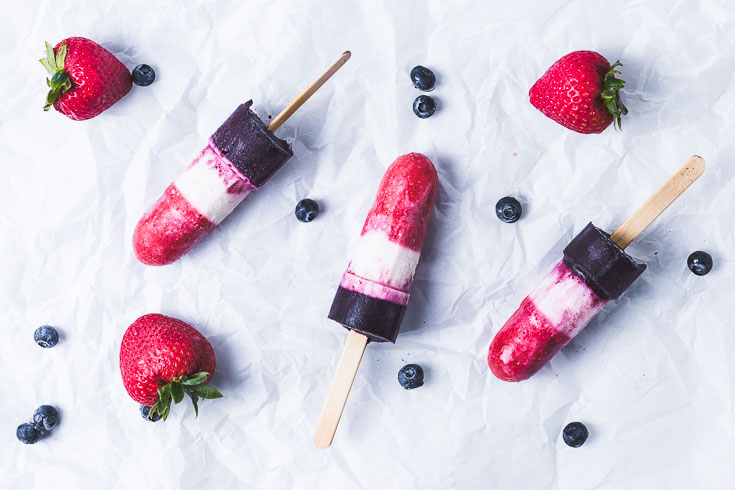 These are not your traditional freezer isle artificially colored and flavored rocket pops. We're using only real fruit, yogurt a little sweetener for these all-natural frozen treats. You can use just about any fruit and yogurt that you want for these. I used strawberries, blueberries and almond milk yogurt. Raspberries or even watermelon would also work great for the red color, but there's something I love about frozen strawberries.
Cooking the berries for about 5 minutes gives them extra sweetness and a rich color boost. It also makes them super easy to get an even purée in the blender, which might be more difficult with smaller quantities of raw berries.
How to Make Rocket Pops
You can make these rocket pops with as few as 3 ingredients. A red berry (like strawberries), blueberries, and your favorite yogurt. Depending on the yogurt, you might want to add a little sweetener (like honey) and add a little sugar to the fruit.
Cook each of the berries separately with 2 tablespoons water and 2 tablespoons sugar each for about 4 to 5 minutes. Cooking the fruit for a few minutes richens the color, and flavor and makes it even easier to blend in a blender with a smaller quantity.
Blend each of the cooked berries separately, rinsing the blender container each time, then chill them in the refrigerator.
Fill the rocket pop molds ⅓ the way up with each filling; freeze for 1 to 2 hours between each.
* Don't forget to add the popsicle sticks. 🙂
When food is frozen or just cold, the natural flavors of the ingredient is not as strong or as sweet. We can kick it up a little by adding some honey or sugar, which will really enhance the natural flavor. But again, adding extra sweetener is totally optional and you can add as little or as much as you want.
Equipment Used to Make Rocket Pops
Contains affiliate links where I might receive a commission if you make a purchase, at no additional cost to you.
Ingredients
2

cups

Strawberries or Raspberries

hulled

2

cups

Blueberries

4

tbps

sugar or honey

divided

5

oz

Yogurt

preferably full fat and optionally sweetened
Instructions
Cook the strawberries and blueberries in separate saucepans with 2 tablespoons water and 2 tablespoons of sugar (or your preferred sweetener) each for 4 to 5 minutes over medium heat.

Blend each of the berries separately until smooth. The berries can be passed through a fine mesh strainer to remove the seeds if you prefer. Refrigerate to cool.

Using a funnel; fill the popsicle molds ⅓ the way up with each of the flavors (strawberry followed by yogurt followed by blueberry) freezing each for 1 to 2 hours before adding the next. Add the popsicle stick when filling the second flavor.

Serve by running water over the popsicle molds for a few seconds to easily remove the rocket pops for enjoying.
Notes
If using plain yogurt, it's a good idea to add sweetener such as honey or sugar.
More Recipes You'll Love