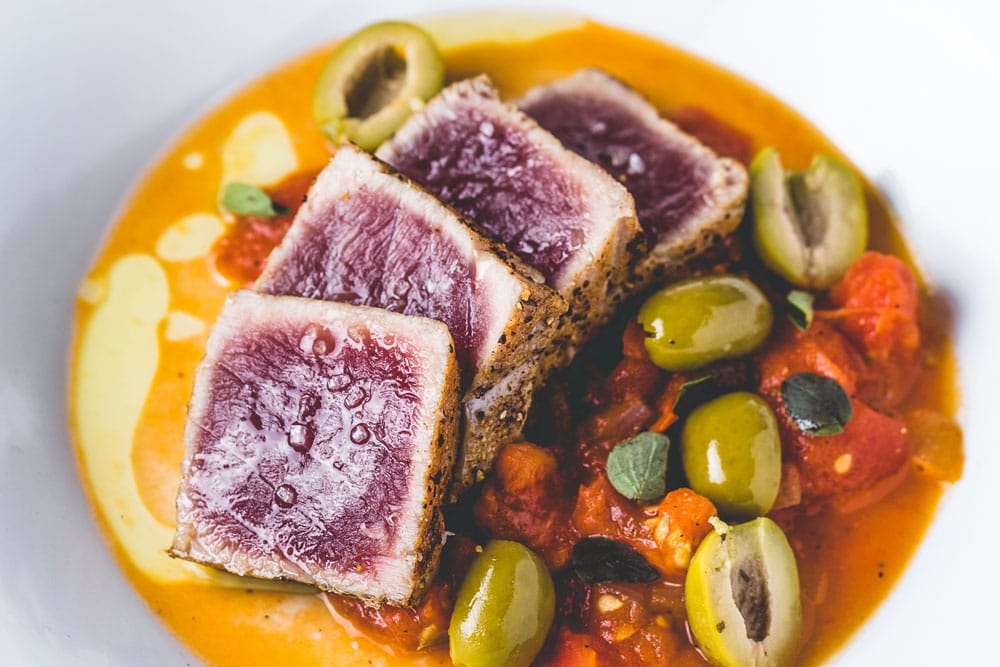 This is one of those dishes that just comes together with what is available in the pantry. I had some fresh tomatoes, green olives and this absolutely beautiful ahi tuna from our local San Diego fishermen. My mind was in Italy, and I think of Sicily when it comes to tuna and tomatoes.
The taste and ease of a quick tomato sauce is amazing. It tastes fresh and bright, which is so great with seafood. Not only that, but it only takes minutes to cook, and you can really put anything in it that you want to experiment with.
The quick part of this tomato sauce makes it taste so fresh. It's not currently tomato season here, but I was able to find some locally hydroponically grown tomatoes at Specialty Produce that have great flavor. If you aren't finding any good tomatoes, you can definitely go with canned as a substitute. I prefer to buy whole canned tomatoes and do the crushing or chopping myself. That way you know what you are getting.
If you want to know where to buy tuna, check out my post about the best place to buy seafood in San Diego.
When you have beautiful tuna, there's really not much that you have to do to it. Season it with plenty of salt and coarsely ground pepper, then sear on each side in a smoking hot cast-iron skillet for just a minute or less per side. That's really it.
This dish just tastes healthy. Super high in protein and lots of good fats from the tuna and olive oil. Anything that is this enjoyable is healthy for the mind too. 🙂
Equipment Used
More Recipes You'll Love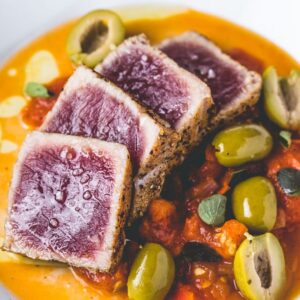 Ingredients
Extra-virgin olive oil

½

onion,

chopped

2

garlic cloves,

minced

1

lb

ripe tomatoes,

chopped

½

cup

dry red wine

¼

cup

green or Kalamata olives,

halved

1

tablespoon

fresh lemon juice

Kosher salt and freshly ground pepper

Canola oil

2

6 oz

ahi tuna steaks
Instructions
Make the Sauce
Heat some olive oil in a medium size skillet and sauté the chopped onion until it is soft, but not browned. Add the garlic and continue to cook.

Add the chopped tomatoes and wine, and cook over medium heat for about 5 to 10 minutes, or until the desired consistency is reached. Add the green olives and fresh lemon juice to warm through.

Taste the sauce and season with plenty of salt and freshly ground pepper, and finish with more high-quality extra-virgin olive oil and any fresh herbs you have on hand. Keep warm.
Sear the Tuna
While the sauce finishes cooking, heat a cast-iron skillet over high heat with a drizzle of canola oil until it starts to smoke.

Pat the tuna steaks dry with a paper towel, then season with salt and plenty of freshly ground pepper. Gently push the seasoning into the tuna to help it stick while it cooks.

Sear the tuna in the smoking hot skillet for about 1 minute per side for rare.

Slice the tuna steaks against the grain with a very sharp knife and serve over the fresh tomato and olive sauce. Drizzle with a little more extra-virgin olive oil and a sprinkle of sea salt on the sliced tuna.
Notes
Canned whole tomatoes can be used if ripe tomatoes aren't available. Use the tomatoes only and not the water from the can.
Nutrition
Calories:
134
kcal
|
Carbohydrates:
15
g
|
Protein:
3
g
|
Fat:
3
g
|
Saturated Fat:
0.4
g
|
Polyunsaturated Fat:
0.4
g
|
Monounsaturated Fat:
2
g
|
Cholesterol:
0.4
mg
|
Sodium:
277
mg
|
Potassium:
607
mg
|
Fiber:
4
g
|
Sugar:
7
g
|
Vitamin A:
1979
IU
|
Vitamin C:
37
mg
|
Calcium:
44
mg
|
Iron:
1
mg