It's a busy weeknight and you just got home from work, have some chicken in the refrigerator (or freezer) and a few potatoes in the pantry. What do you do to get dinner on the table with as little effort and as quickly as possible?
Let's make this easy. Put them all on a sheet pan (or in a skillet), season them up and bake in the oven for about 30 minutes while you take a few minutes to relax with a glass of wine. Now how does that sound?
I recently tried out the new Perdue Farms Organic Chicken Bundle. One of the quick and easy recipes I put together to test out their organic chicken was this sheet pan (or skillet) chicken drumsticks and potatoes that is oh so delicious and perfect for a weeknight dinner.
The concept of sheet pan dinners totally makes sense once you try it and really, you don't even need a recipe. Just a little inspiration. Put ingredients that cook at a similar time and temp in a pan and let the oven do all the work. Heck, you can even prep the sheet pan the morning or night before and stick it in the oven so it's ready to go when you come home.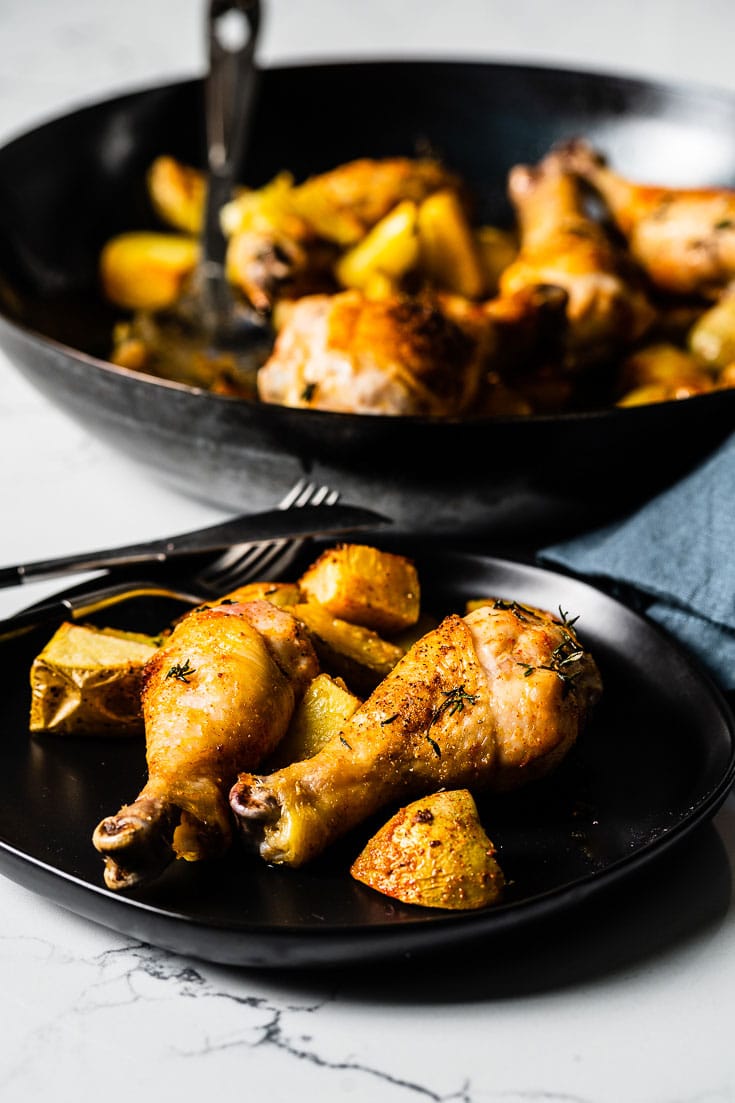 Sheet Pans vs a Skillet
While I call this a "sheet pan," I actually used a 12" skillet and this is why. It comes down to the quantity you need to cook. You can fit a lot more on a sheet pan than in a skillet. But if the quantity is for 2 to 4 people, I prefer a skillet. They are easier to move in and out of the oven because of that nice big handle. Also, sheet pans that aren't lined can be a little more difficult to clean. Either one will totally work great.
A Few Tips
Prepping this meal the day or night before will allow the seasonings to act as a dry brine for the chicken and make it even more flavorful.
Use whatever you have on hand. You can swap the chicken drumsticks with thighs or breasts. Add some broccoli or any other veggie. Just keep an eye on the veggies as some cook more quickly.
A convection oven will circulate the air helping to cook the chicken and potatoes more quickly resulting in golden brown and crispy skin.
Cook the chicken to at least 175°F and even up to 185°F, which is higher than you would cook the breasts. The dark meat will come out much more tender at this temperature.
The potatoes might take longer than the chicken to cook, depending on their cut size. If that happens, just remove the chicken and keep cooking the potatoes for a little longer.
The result is moist, tender and juicy chicken that is evenly cooked because it is propped up on the potatoes to allow air to circulate. The skin of the chicken gets crispy and the drippings drip down to the potatoes, giving them tons of great flavor and a little natural sauce to drizzle on top. The potatoes (or whatever veggie you are using) are almost the best part.
How to Make Sheet Pan Chicken & Potatoes
Pre-heat the oven to 425° (on the convection setting if your oven has it).
Drizzle some olive oil on the diced potatoes and the chicken (keeps them from sticking and promotes browning), then season them up with a liberal amount of Kosher Salt, pepper, smoked paprika, garlic powder and fresh thyme (or really any flavors you want to add).
Place the drumsticks right on top of the potatoes skin side up, then place the pan in the oven to bake for about 30 minutes, or until the internal temperature of the chicken reaches 175° to 180° F. Check for doneness with an instant-read thermometer.
Remove the pan from the oven and make sure the potatoes or other veggies are also cooked. If they need longer, place them back in the oven without the chicken.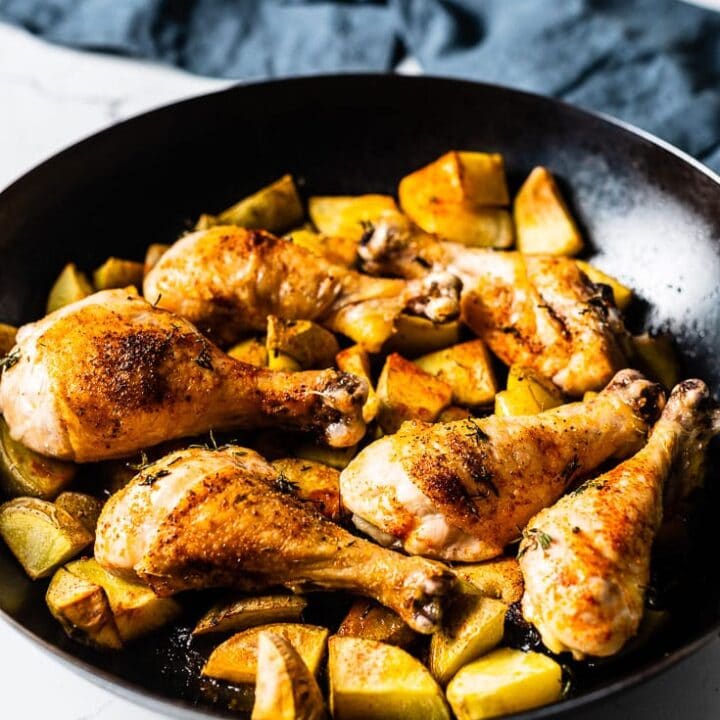 Ingredients
6

Chicken Drumsticks

(or any amount that fits on the sheet pan)

3

Yukon Gold Potatoes

Olive Oil

3

sprigs

Fresh Thyme

Garlic Powder

Smoked Paprika

Kosher Salt & Freshly Ground Pepper
Instructions
Pre-heat oven to 425° F on convection if your oven has it.

Dice the potatoes into 1" and place in the large skillet or on a sheet pan. Drizzle and toss with olive oil and season with plenty of Kosher Salt, pepper, smoked paprika, garlic powder and fresh thyme.

Season the chicken drumsticks (could do at the same time).

Place drumsticks on top of the potatoes skin side up and bake for about 30 minutes, or until the internal temperature reaches 175° to 180° F. Taste the potatoes and put just them back in for longer if more cooking time is needed.

Serve immediately and save the leftovers for tomorrow's lunch.