Great poke is unmistakable, and a salmon poke bowl is heavenly. It leaves you feeling fueled up without feeling overstuffed. With chopsticks in hand, delight in the different textures you get to explore as you make your way through the bowl, highlighted by the fresh taste of the sea. The only guilt you feel is that you will want to eat more than your share.
The freshness of the fish and the veggies is absolutely essential, and as with many Salt Pepper Skillet recipes, this protein-packed, nutritious bowl is much better made at home than from takeout, because you control the quality of the ingredients.
What is poke? Poke is a beloved Hawaiian dish, so simple yet so exotic. Like many Hawaiian dishes, it draws inspiration from all over the Pacific (Japan particularly), but originally was just a quick fishermen's snack using bits and pieces of leftover fish.
In the 1970s poke graduated to restaurant fare in Hawaii, and in the 2010s became popular on the mainland, particularly on the West Coast. Poke is most commonly made with ahi tuna, but with high-quality (preferably wild-caught) salmon available, we're always looking for ways to utilize this beautiful fish. The fat content and flavor of the salmon stand up perfectly to the poke marinade.
While many poke shops do have salmon on the menu, I usually avoid it because the quality of their salmon is often lacking. That all changes when you know where the fish comes from.
Why It's So Great!
Extremely tender texture. Uncooked salmon is wonderful and very delicate.
Mild flavor.
Just a few simple ingredients.
Healthy.
Poke bowl add-ins can use what you have in your pantry.
Make it a poke bowl party with a few different types of fish! Cook up a big bowl of sushi rice, get a bunch of toppings out and let everyone assemble their own.
What You'll Need
Salmon filet - Use very high-quality raw sushi-grade salmon with the skin, pin bones and bloodline removed. *Sushi or sushimi grade means it has been frozen after catching to kill potential parasites, making it safer to eat raw.
Tamari - Tamari is thicker and less salty than soy sauce. It is also gluten-free. Use soy sauce as a substitute.
Rice vinegar - For a mild and slightly sweet acidity.
Toasted sesame oil - Adds a nutty aroma and extra fat to help coat the fish.
Sweet onion such as Maui onions - These give a great sweet onion flavor when eaten raw.
Green onion or scallions - You can use both the light and dark parts. Save some of the dark parts to sprinkle on top as garnish.
Crushed red pepper flakes for some heat - optional.
Toasted sesame seeds
Jump to the recipe card for specific quantities.
Poke Bowl Topping Inspiration
Steamed sushi rice or brown rice as a base.
Avocado - Gives a wonderful creamy richness.
Cucumber - The fresh crunch. Or make a cucumber salad for the side salad.
Edamame beans (steamed and shelled) - Extra protein and brightness.
Macadamia nuts - Toasted and chopped to add a nutty crunch to the texture.
Fried shallots - Crispy.
Dried seaweed - Salty umami and depth.
Sriracha mayo - Add a drizzle on top for a creamy, spicy kick.
How to Make Salmon Poke
Prep the salmon - Remove the skin, any pin bones (if present) and the bloodline. Then use a very sharp knife to slice the filet into ½" to ¾" cubes. Note: The bloodline is the gray strip on the top of the filet (from the skin side). It is perfectly fine to eat but has a stronger flavor so I will remove it for poke.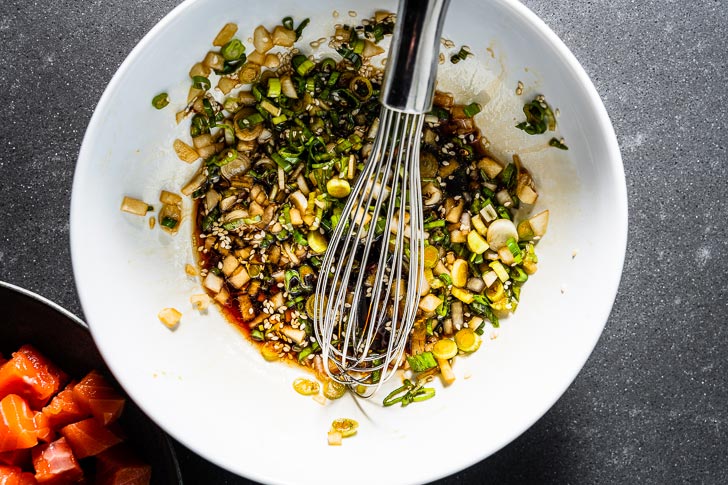 Make the salmon poke marinade - Combine the marinade ingredients in a medium-sized bowl and whisk until thoroughly mixed.
Add the cubed salmon - Gently toss the fish with the marinade to coat all surfaces. The salmon will become darker as it absorbs the tamari and marinade. You might even mistake it for ahi.
Cover and refrigerate - Let the salmon marinate for at least 30 minutes before eating, to allow it some time to absorb the flavors. Longer is fine too; you can prep the poke up to a few hours ahead of time.
Enjoy with your favorite toppings and over room-temp rice, and garnish with a sprinkle of sesame seeds and some more sliced green onion.
Frequently Asked Questions
Can you eat salmon raw?
Yes, it is safe to eat raw salmon that has been handled with the intention of it being eaten raw. Sushi-grade fish (an unregulated term) means the fish was frozen for a specific amount of time and at a temp to help kill potential parasites. This makes it much safer to consume raw.
Is salmon poke healthy?
Yes! Salmon poke is very healthy. Salmon is high in protein, vitamins, minerals and beneficial fats, so as long as you're serving it with rice and fresh veggies, it's an extremely healthy option. (Of course, seafood should be consumed in moderation, especially by children and pregnant women.)
How long will poke last?
Depending on the freshness of your fish, the poke should last up to 2 days stored in the refrigerator.
More Recipes to Try
Salmon Poke Recipe
The perfect salmon poke bowl, with a combination of tender salmon, a salty and nutty marinade paired with the crunch of the vegetables, and sticky rice brings it all together.
Print
Pin
Rate
Ingredients
1

lb

sushi grade salmon,

skin removed

¼

cup

tamari or soy sauce

1

teaspoon

rice vinegar

2

teaspoon

sesame oil

⅓

cup

diced sweet Maui onion

⅓

cup

thinly sliced green onions

1

teaspoon

toasted sesame seeds,

plus more for serving

½

teaspoon

crushed red pepper flakes

(optional)
Instructions
Prep the Salmon: Using a very sharp knife, slice the filet into ½" cubes.

Make the Marinade: Whisk the tamari, rice vinegar, sesame oil, sweet onion, green onions, sesame seeds and red pepper flakes in a medium bowl until combined.

Gently mix in the cubed salmon, then cover and refrigerate for 30 minutes before serving.

Serve over room temp sushi rice and garnish with a sprinkle of toasted sesame seeds, green onions and any other toppings to make it a poke bowl. Enjoy with chopsticks!
Notes
Topping ideas:

steamed sushi or brown rice,

avocado, cucumber, edamame beans, seaweed salad or whatever other toppings you wish.
*Consuming raw or undercooked seafood may increase your risk of foodborne illness.
Nutrition
Calories:
198
kcal
|
Carbohydrates:
3
g
|
Protein:
24
g
|
Fat:
10
g
|
Saturated Fat:
1
g
|
Polyunsaturated Fat:
4
g
|
Monounsaturated Fat:
3
g
|
Cholesterol:
62
mg
|
Sodium:
866
mg
|
Potassium:
632
mg
|
Fiber:
1
g
|
Sugar:
1
g
|
Vitamin A:
203
IU
|
Vitamin C:
2
mg
|
Calcium:
31
mg
|
Iron:
2
mg