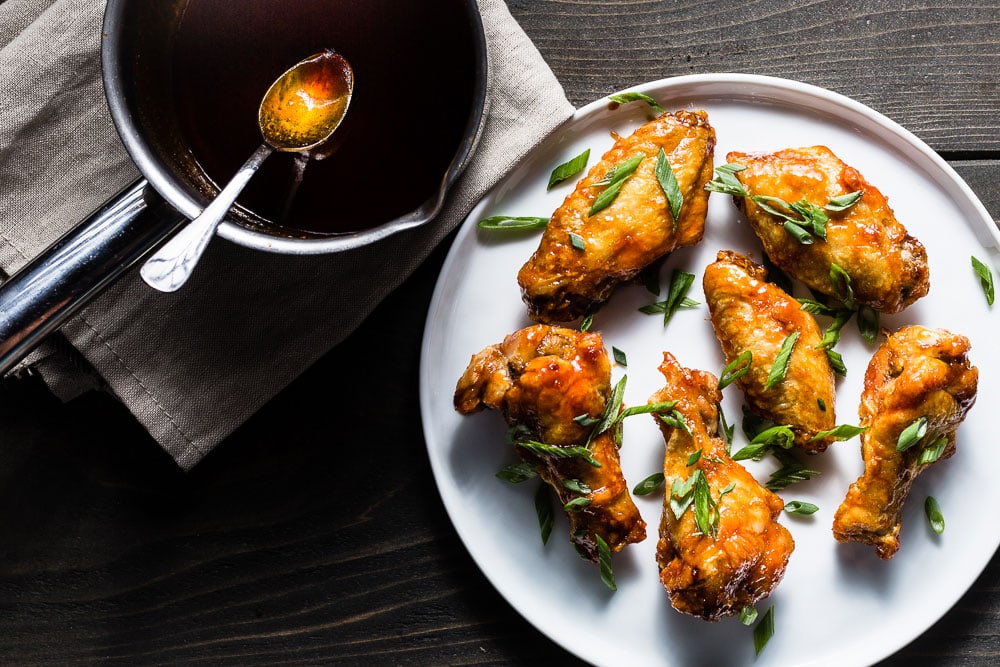 Crispy air fried chicken wings covered in a sweet and spicy Honey-Sriracha sauce is pretty darn perfect for so many occasions, including game day. This healthier version of crispy wings is fried up in the air fryer with no added oil. The air fryer gets them super crispy and the honey-sriracha sauce makes them sticky, sweet, a little spicy and delicious in every way.
Chicken wings are the perfect little finger food and can feel a little like a delicacy in their own little way. The ratio of crisp skin to flesh gives so much flavor and satisfaction with every bite. Just about every culture has their own version of wings.
While chicken wings are definitely not thought of as being healthy, these are fried with air. This helps make them a little healthier and actually makes them even crispier than deep-fried wings. Some wings recipes are super spicy, some are smoky and others can be sweet. These are a little of both spicy and sweet, and so delicious. The only problem is you won't be able to stop eating them.
Prepping the Wings
While you can cook whole chicken wings, they are even better when separated into the drumette and wingette. If they don't already come separated when you buy them (which they usually don't), you can easily do it your self in just a few minutes.
To break down Chicken Wings: Use a very sharp knife and cut through the skin at the joint to separate the different parts of the wing. A heavy and sharp knife should cut right through the joint.
The tip of the wing, which is just skin and cartilage can be cut off and discarded or saved for chicken stock.
Not only does separating the pieces make them easier to cook, but it also makes it easier to eat and they will go a little further at your party.
Coat the Wings with a Dusting of Potato Starch
While this is optional; giving the wings a quick coat of potato starch helps to get them ultra-crispy in the air fryer.
Someone left a comment on my Crispy Air Fryer Chicken Tenders recipe and suggested trying to use potato starch on wings when cooking them in the air fryer. Well, it turns out that the little secret of potato starch does amazing things to create a super crunch on the outside of the wings without using any oil.
A lot of recipes use baking powder to coat the wings before air frying. I have experimented with trying both baking powder and potato starch, and the clear winner is potato starch. It seems to just disappear when cooked and gives just a very light coating on the wings that is ultra crispy. The baking powder never seemed to completely dissolve and the texture could still be tasted when eating the wings.
Go with potato starch!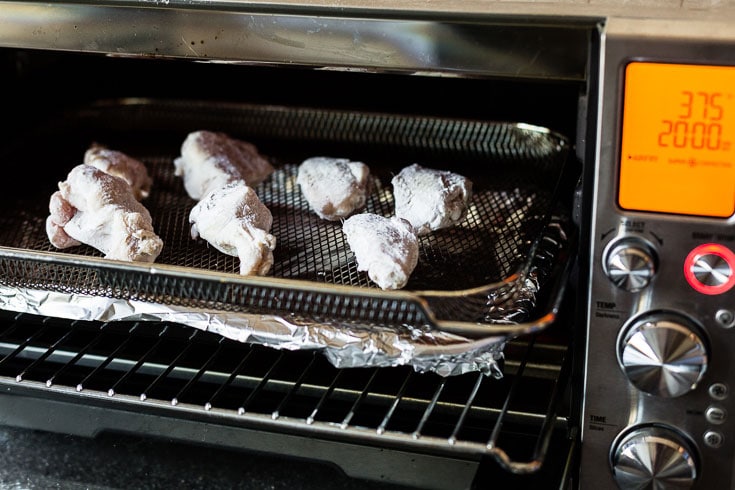 Air Fry Low then High
After doing some air fryer testing; I found that cooking the wings first at a lower temperature, then at a higher temperature yielded the best results. The lower temperature of 375° F will evenly cook the wings through, while the second higher air fry at 425° F gets the wings super crispy on the outside in a shorter period of time.
Oven wings are way better than deep fried wings, in my opinion. Wings really don't need the extra oil from deep frying because the wings have the built-in ability (fat) to crisp up by themselves. They can get crispier and are way less greasy in the oven or air fryer versus the deep fryer.
While your fingers are guaranteed to get messy when eating wings; I definitely prefer the mess to come from the sauce over the oil from a fryer.
How to Cook Chicken Wings in the Air Fry
Cooking chicken wings in the air fryer is super simple and easy. Check out the full recipe and video further down the post. Here's the quick version:
First season the wings with kosher salt and dust with a light coating of potato starch.
Place on the fry basket and air fry for 20 minutes at 375° F
Increase the temperature to 425° F. Turn the wings once, then continue to cook for another 15 minutes.
Make the honey-sriracha sauce and toss cooked wings with the desired amount of sauce and enjoy.
You could really just add a little salt for seasoning and eat them right out of the air fryer, but the Honey-Sriracha sauce is so delicious.
Watch the Recipe Video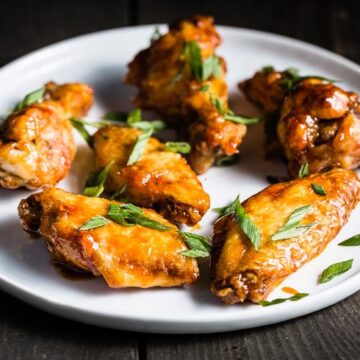 Crispy Air Fryer Chicken Wings
Crispy wings are just the best. These are made the healthy way in an air fryer to get them super crispy and the honey-sriracha sauce makes them sticky, sweet, spicy and delicious.

Print
Pin
Rate
Ingredients
Honey-Sriracha Sauce
1

tablespoon

unsalted butter

¼

cup

honey

1

tablespoon

Sriracha sauce

1

teaspoon

soy sauce

2

tablespoon

rice wine vinegar

thinly sliced green onions
Instructions
Pre-heat air fryer to 375 degrees.

Place the potato starch in a medium bowl, then coat the chicken wings with the starch on all sides.

Shake off excess, then place the wings in the air fryer basket.

Air fry the wings at 375 degrees for 20 minutes.

Increase air fryer temperature to 425 degrees and continue to cook for 15 more minutes; turning the wings a few times while they cook to ensure even browning.
To make the Honey-Sriracha Sauce
Meanwhile, heat butter over medium-low heat to melt.

Stir in the honey, Sriracha, soy sauce and rice vinegar.

Cook until the sauce thickens, about 10 minutes.

Set sauce aside and keep warm.
To Finish
When the wings are crispy and cooked through; transfer them to a bowl and mix with the desired amount of sauce and some thinly sliced green onions for garnish.
Notes
Place a foil-lined baking sheet below the Breville air fry basket to catch any drips.
If you don't have an air fryer, you can bake the chicken wings in an oven on convection. Cooking times might be longer.
Adjust the amount of Sriracha in the sauce as desired. Use 2 tablespoons or more if you like it a little spicier.
Breville supplied me with the product for this post. All opinions and thoughts are always my own.