Toss out the flatware and stock up on napkins: Finger-eating required for this sticky deliciousness. One whole chicken, cut into two halves, equals happy people eating the most delicious sweet and smoky grilled BBQ chicken around.
This BBQ chicken recipe produces a bird that has been marinated in a blend of spices, seared over hot coals/fire, then basted with a sweet and sticky sauce. It also barbecues a whole chicken in halves/halfsies for a whole lot easier time.
We see BBQ chicken all the time on restaurant menus. But is it really barbecued? Chances are a strong no, and you can tell. It's likely just chicken cooked in the oven with some BBQ sauce slapped on at the end. Real barbecued chicken requires a rub for a marinade, the kiss of a flame and a tickle of smoke, and a spicy-sweet sauce that is basted on to bring it all together. Much more love goes into it.
BBQ chicken shouldn't be difficult to execute. It seems simple enough, but it has to be done right. Have you ever tried making barbecue chicken and it really didn't taste like that classic BBQ chicken we crave? Yeah, me too! It just didn't have that crucial sweet, smoky flavor. These flavors come from the combination of the rub, the flame and the perfect sauce added at the right time. With this simple technique, you will make a BBQ yardbird exactly like you get from the little chicken shack on the side of the road.
BBQ vs Grilled Chicken
Yep, there's a big difference. And it's simple really: Grilled chicken is just chicken cooked on a grill, and yeah, it can be great. But BBQ chicken adds a rub and a sauce for a much more flavorful experience
Grilled chicken has a much more charred flavor and is cooked over higher direct heat. It's simple and quick, and the focus is on the taste of the chicken itself. But it lacks the rich smoky/spicy/sweet flavors of the barbecued style.
Keys to Success / Pro Tips
Halve the chicken: A whole chicken cut in half is much easier to handle on the grill and cooks more quickly.
Dry rub well ahead of time: The night before is best.
Two-zone cooking: Sear on the hot side and finish on the indirect side.
Control the heat: Prevent flare-ups and keep a consistent temp with the lid closed.
Place the breasts furthest from the heat: The legs should be closest to the heat when cooking over indirect heat.
Sauce twice: Baste on the sauce two times for enhanced flavor development.
Use a remote probe thermometer: Know exactly when the chicken is finished cooking without having to peek.
Rest it uncovered for at least 10 minutes.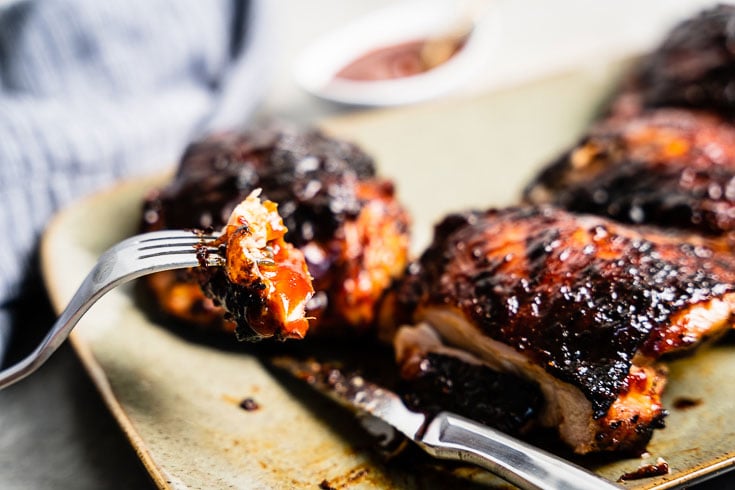 Whole vs Pieces vs Halves
The first important tip is to cook the chicken in halves, which cook faster than leaving the chicken whole and are easier to manage on the grill than a bunch of smaller pieces. This also allows you to keep that grill lid closed since you will spend less time turning and moving with tongs.
When the chicken is all cut up into breasts, thighs, drumsticks and wings, you have to flip, turn, baste and transfer every single piece. The grill lid is open during all of this, which drops the temperature.
A whole chicken that has been spatchcocked (cut flat but still intact) can be a little hard to handle for this recipe, but will still work.
With halves, you get the benefit of faster cooking time and the ease of only two large pieces of chicken that hold together nicely.
How to Halve a Whole Chicken
Halving the chicken (or two) will make handling it on the grill super easy. Three steps take just a few minutes and are totally worth it.
Place the chicken breast-side down, and using poultry shears, spatchcock the chicken by cutting out the backbone which is about 1 ½" wide.
Turn the chicken over and firmly press down with both hands (a little like CPR) to crack the breast bone to flatten the chicken.
Stretch the skin so it is evenly distributed, then use a very sharp chef knife or cleaver to slice right through the center of the breast bone. Keep your fingers clear, as you will have to use a little force.
Reserve the backbone (and any other leftover bones) for making chicken stock.
BBQ Chicken Marinade: The Rub
Marinating the chicken in BBQ sauce is not recommended as it will easily burn over the high heat. The dry rub is the marinade. Use your favorite or my favorite chicken dry rub. Be sure to apply the rub at least a few hours in advance so the flavors can penetrate the meat; overnight is best.
The rub I use contains kosher salt, dark brown sugar, smoked paprika, ground black pepper, dark chili powder, celery seeds, ground cumin and granulated garlic. These ingredients all come together to create some amazing flavors on the chicken and pair great with the BBQ sauce.
The slather: To help the dry rub stick to the chicken, a slather can be used, but it's totally optional. A slather can be anything from oil to mustard to mayo. Most of the time, I don't bother to use a slather, but they can add a little extra flavor and really get that rub to stick.
The Sauce Is Key
You want to use a REALLY good BBQ sauce. It makes all the difference. So much flavor on the chicken comes from the sauce as it cooks on the grill. I prefer a sweet & tangy sauce that isn't too thick.
If the sauce is thick, it's more difficult to evenly spread it all over the chicken while it is on the grill. If your sauce is too thick, you can thin it out with a little water or apple cider vinegar.
Apply the sauce to the chicken well after it is seared over direct heat and transferred to the indirect side. The sauce shouldn't come in contact with high heat or it can burn and create a charred mess. The goal is to caramelize without burning, and the indirect heat will do that, creating wonderful flavors.
Two-Zone Cooking
You will create two heat zones on your grill. The direct-heat side acts like a skillet to sear the meat, and the indirect side will act like an oven while still giving wonderful smoky flavors to the chicken.
If using charcoal, keep your coals on one side. If using gas, just light one side of the grill. Sear the chicken on the hot side of the grill for about 5-7 minutes per side, then transfer to the indirect side to finish cooking, basting on the BBQ sauce about halfway through the time on indirect heat. The grill temp should be about 400° F. Learn more about the two-zone grill setup.
The cooking should all be done with the grill lid closed.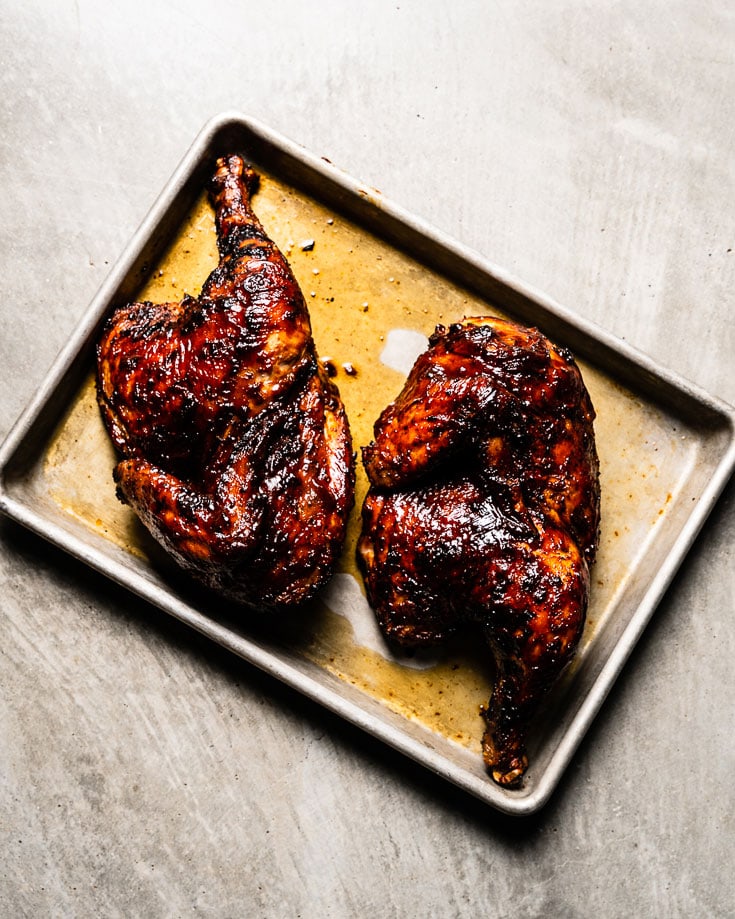 How to Make BBQ Chicken
In short, the recipe is simple. Cut the chicken in half, and apply the dry rub to the chicken halves at least a few hours ahead of time (preferably the day before). Refrigerate while marinating, then allow to get to room temp while heating up your grill with two zones.
Sear on both sides on the hot side of the grill, then transfer to the indirect heat to finish. After about 30 minutes of indirect heat, baste with barbecue sauce. Cook for another 15 minutes and baste again. When it's done cooking, allow to rest for 10 minutes before serving.
How Long Will It Take to Cook
A whole chicken (cut in half) will take approx 5-7 minutes of searing per side, plus 45-50 minutes of indirect heat for a total of about an hour.
The best way to tell when it's done is with a meat thermometer. There's no way to truly tell if it is done unless you check with a thermometer, and you don't want to be slicing into your chicken just to see if it's done.
Key Temps / What Temperature to BBQ Chicken
| | |
| --- | --- |
| | Temp |
| Grill Temperature (closed lid) | 400° F / 204°C |
| Cooked Breast Meat | 165° F / 73.8°C |
| Cooked Legs / Dark Meat | 175° F / 79°C |
*Pull temp should be 5 degrees below target finish temperature as there will be some carryover.
Add a Little Extra Smoke if You Wish
Cooking the chicken over charcoal will give it great flavor, but you can add even more amazing smoke flavors by throwing some applewood or mesquite chips into the charcoal when it's cooking. If you are grilling on a propane grill, using some wood chips will definitely add some flavors that gas grilling usually lacks.
What Goes With BBQ Chicken / Sides
What to Make With Leftovers
Now that your chicken is all cooked up, it's ready to use as an ingredient in many other dishes. Leftover BBQ chicken is just so darn good. It's even good cold right out of the fridge. This is the main reason I like to barbecue two chickens at a time.
BBQ chicken chopped salad
BBQ chicken pizza: When it comes to BBQ chicken pizza, it is so much better when the chicken is actually properly barbecued rather than just tossed with some sauce.
BBQ chicken salad
BBQ chicken sandwiches or sliders
Pulled (shredded) BBQ chicken: While I like to eat the legs/thighs as is, shredding up the breasts is a great way to go.
More Amazing Ways to Cook Chicken Outside
Tools & Equipment Used
BBQ Chicken
The perfect grilled BBQ chicken that has you going back for "just one more piece" and leaves you with sticky fingers that require a trip to the sink for a proper washing before normal activities can be resumed.
Print
Pin
Rate
Instructions
Halve the chicken by removing the backbone and splitting the breastbone.

Evenly sprinkly the dry rub over the entire chicken and refrigerate overnight, or for at least 2 hours.

Remove the chicken from the refrigerator to bring it up to room temperature while you set up the grill for two-zone cooking with the direct side on medium-high.

Lightly oil the grill grates, then place the chicken skin-side down over direct heat with the lid closed until browned. Flip once, cooking about 5 to 7 minutes per side.

Move the chicken halves over to the indirect side of the grill with the breasts farthest from the direct heat and maintain a 400° F temperature with the lid closed.

After cooking for 20 minutes, use a heatproof basting brush to apply about ½ cup of BBQ sauce to both sides of the chicken (finishing with the skin side up).

After 10 more minutes, brush on ¼ cup more BBQ sauce.

Continue to cook until the internal temperature of the breasts reaches 160° F and thighs reach 175° F, about 20 minutes longer. There will be some carry-over cooking, which will raise the finished temperature another 5° or so. (Verify with a probe thermometer.)

Transfer the chicken to a cutting board to rest uncovered for 10 minutes before slicing and serving with more BBQ sauce.
Notes
There will be about 5° of carry-over cooking after the chicken is removed from the grill, so I like to pull the chicken when the breasts are 160°.