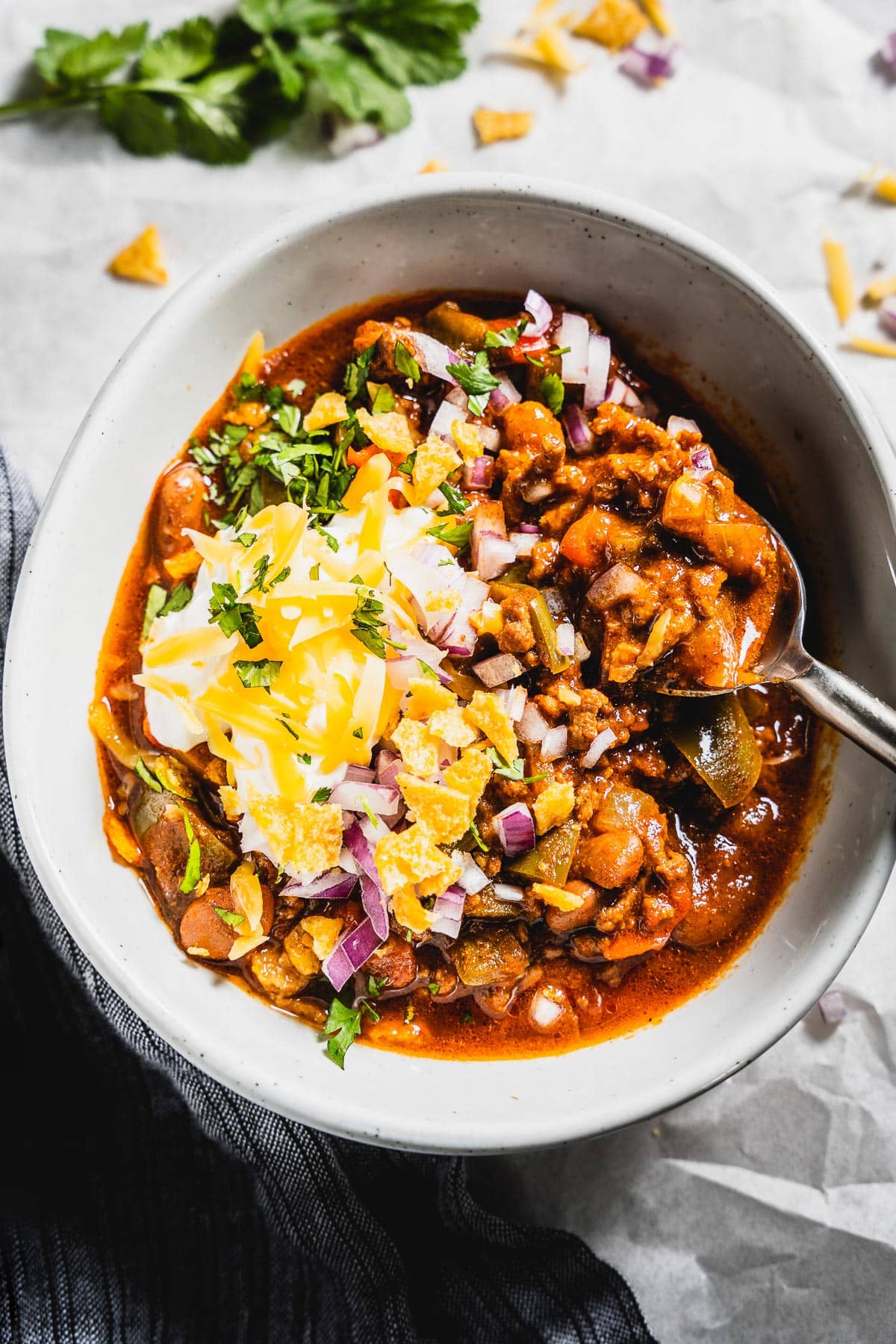 A great beef chili really shouldn't be complicated. It's just beef (or a good substitute), chilies, maybe some beans and onions, and some spices. But somehow people have come to think great chili involves some complicated alchemy. Chili is a great option for a comforting meal precisely because it's simple, but with a little attention to detail, we can create a masterpiece.
Good chili becomes great with a variety of fresh chilies. There are a lot of sources of flavor here, spices and ingredients, but it's really the mix of fresh chili peppers that provide the backbone of a superior chili.
Seriously, this is some amazing chili. And once you start tasting and testing chilies and the other spices, you can customize it to your liking until you have a signature dish that folks will clamor for. That's why this is the best chili recipe: Not only is it practically perfect as written, but it's also a great base for experimentation.
Chili is yummy year-round, but I find it best in the winter. I love it for parties and big football games. Though it's also great for a summer cookout. This was inspired by my veggie chili recipe, and pairs well with this amazing sautéed corn recipe.
Ingredients You Will Need
Ground Beef - 85%/15%. Don't skimp on the fat. You can substitute ground turkey, or even go full vegan chili (that you think is full of meat).
Chilies - For this recipe, I used habanero, serrano, jalapeno, Anaheim and red bell. But you can use whatever mix you like. Banana and Fresno chilies are great options, too.
Tomatoes - Diced tomatoes and tomato paste add color, flavor, acidity and some sweetness to help temper the heat.
Beans - Red kidney beans give the chili some nice substance, color and another great texture. You can use pinto, black beans or other types of beans if you like.
Butter - A secret (not so secret) ingredient for rounding out the flavor and richness.
Chili Seasoning - Chili powder, cayenne pepper, cumin, Worcestershire sauce, salt and black pepper, and even cinnamon (if you like).
Sugar - Balance the heat with more sweet.
Jump to the recipe card for specific quantities for all the ingredients.
How to Make the Best Chili
Let's go step by step on how to make this rib-sticking beauty of a chili.
Step 1: Sauté the onions
Heat butter in a 4+ quart dutch oven, pot or sauté pan and add the diced onions with a sprinkle of salt, which will help draw out the moisture. Cook, stirring frequently until translucent and soft, about 5 to 6 minutes.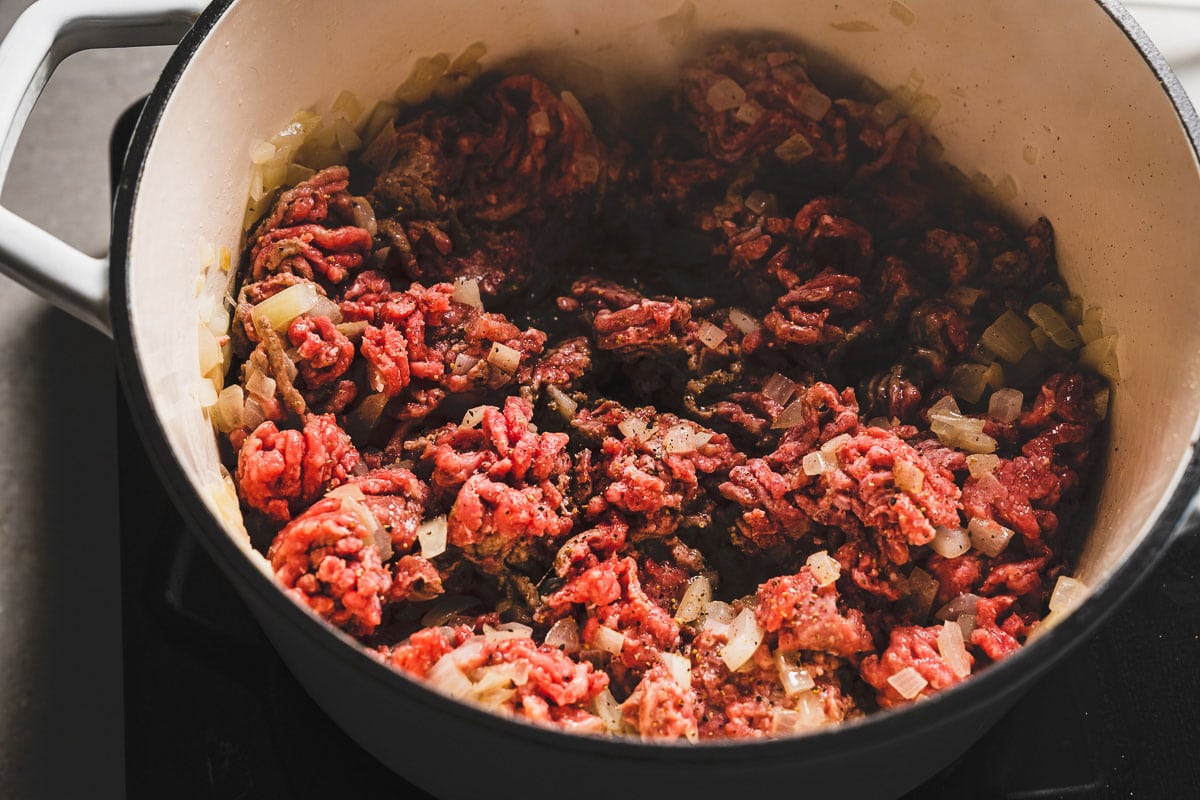 Step 2: Cook the ground beef
Turn the heat up and add the ground beef. Season liberally with kosher salt and pepper. Break it up with the back of a wooden spoon or spatula. Brown and cook through.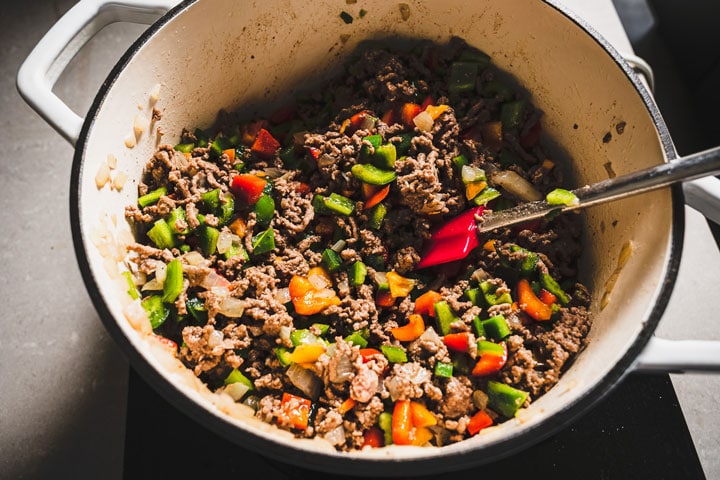 Step 3: Add the fresh peppers
Add the chopped peppers to the cooked beef. Stir and cook for about a minute to soften slightly.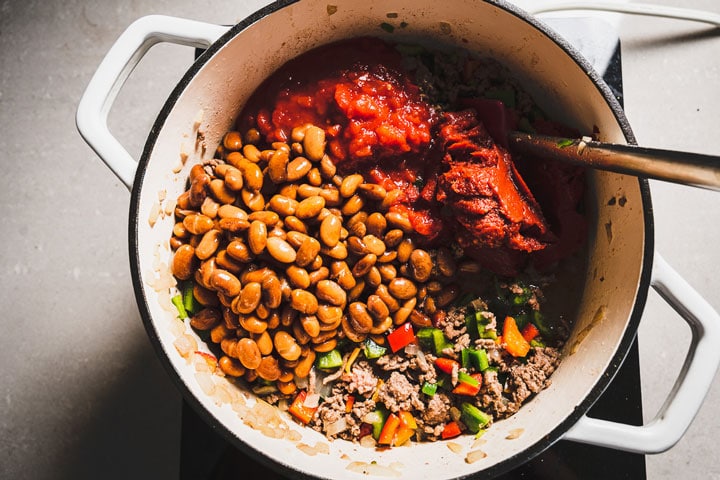 Step 4: Add the tomatoes and beans
Along with the chicken stock and Worcestershire. Combine well.
Step 5: Add the spices
Along with the sugar. Stir to combine completely.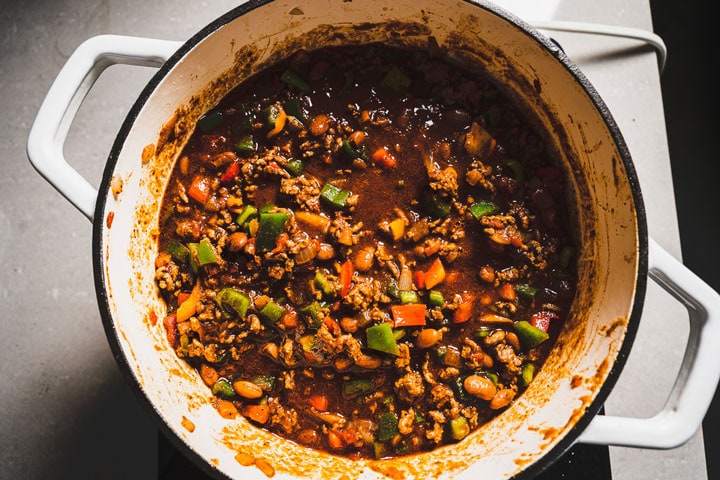 Step 6: Cover and simmer
Bring the chili to a simmer, then reduce the heat to low. Cover and simmer for 1 to 2 hours. The longer it simmers, the more flavor there will be.
Step 7: Taste test
Taste for seasoning and add more salt or sugar as needed.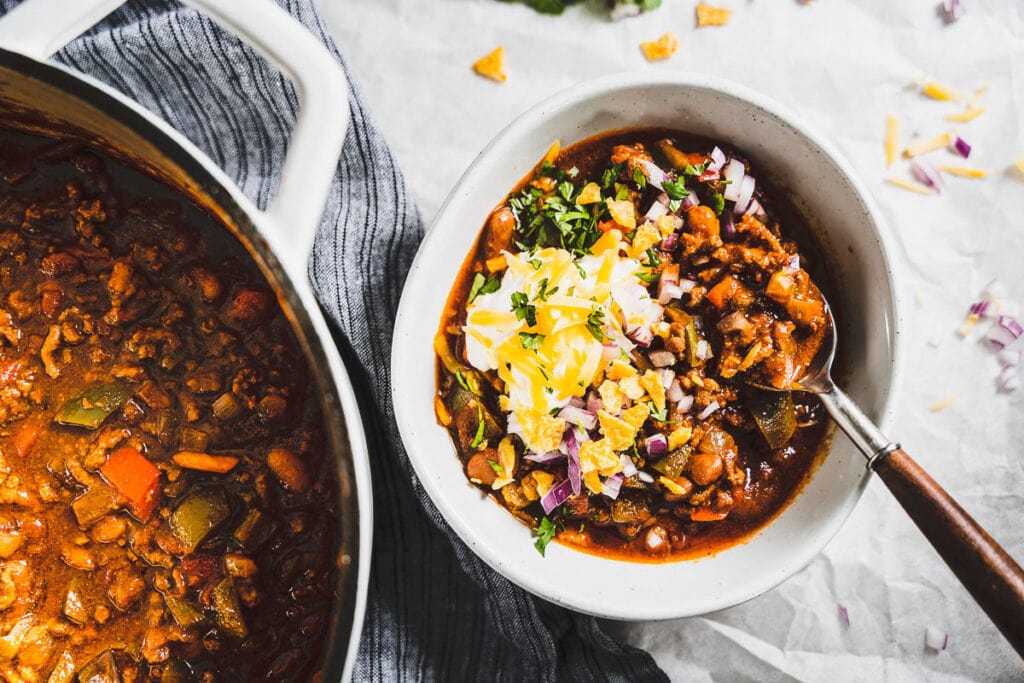 Enjoy!
Can be served immediately or chilled and reheated the next day.
Top Tips
Simmer longer for more flavor.
Make it the day before - It will taste even better the next day.
Use rubber gloves when chopping chili peppers - Do not mess with the capsaicin, as it will burn.
Adjust the heat - More hot chilis for more heat, more diced tomatoes for less.
Topping Ideas
Chopped red onion
Chopped cilantro
Fritos (or corn tortilla chips)
Cornbread
Grated cheddar cheese
Sour cream
Diced avocado
Lime - give it an acid boost
FAQs
How much chili do you need per person?
Figure about 1 to 1 ½ cups of chili per person. This recipe makes 2 ½ quarts, which is enough for 6 hearty servings.
What else can you do with chili?
If you happen to have leftover chili, there are so many ways to enjoy it. Here are a few of my favorites:
Chili dogs
Chili nachos
Chili pot pie (bake cornbread over the chili)
Chili-loaded baked potatoes
Can you freeze beef chili?
Yes, you can absolutely can freeze beef chili. Just allow it to cool down before placing it in an airtight container or freezer bag and storing it in the freezer. It is best to use it within 3 months. Thaw the chili in the refrigerator and reheat it on the stove or in the microwave.
Storing and Reheating
Store the chili in an airtight container in the refrigerator for up to 4 to 5 days. Reheat over medium in a pot, stirring frequently, or in the microwave until hot. The chili also can be frozen and reheated later.
More Comforting Recipes You'll Love
Did you make this recipe? I'd love to know how it turned out!
Please leave a note and a star rating in the comments section below, or tag me @saltpepperskillet on Instagram.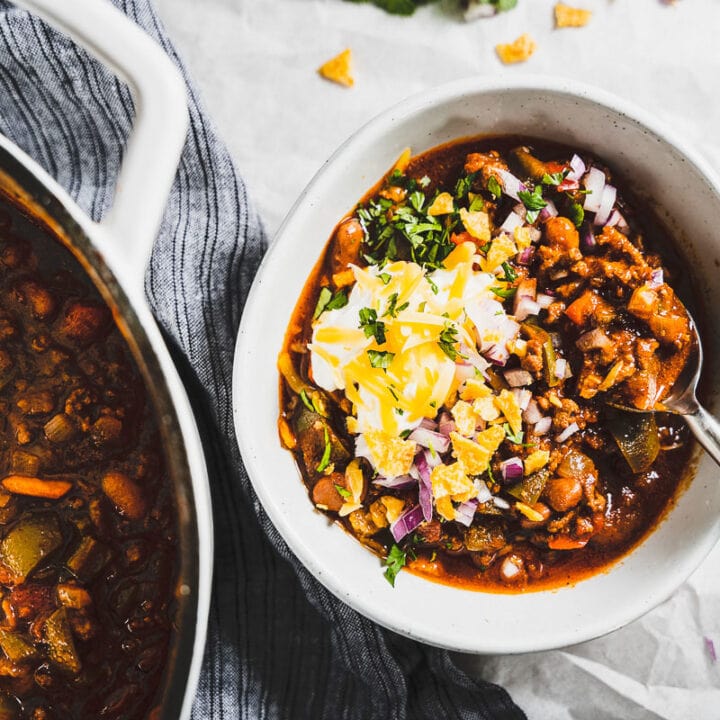 Beef Chili Recipe
An elevated classic chili with ground beef, beans and lots of fresh chili peppers to provide a mix of chili flavors much deeper and more subtle than you can get with just powder. This is comfort food bursting with flavor, richness and color.
Print
Pin
Rate
Ingredients
3

Habanero peppers

2

serrano peppers

3

Anaheim peppers

2

jalapeno peppers

1

red bell pepper

4

oz

unsalted butter

1

medium onion, diced

2

lbs

85% lean ground beef

1

tablespoon

kosher salt

plus more as needed

1

teaspoon

black pepper

14.5

oz

can diced tomatoes

16

oz

can kidney or pinto beans

drained

6

oz

can tomato paste

1

cup

chicken stock

homemade low sodium preferred

3

tablespoons

Worcestershire sauce

3

tablespoons

dark chili powder

1

tablespoon

ground cumin

½

teaspoon

cayenne pepper

2

teaspoons

sugar
Instructions
Using nitrile gloves, slice the chili peppers and remove and discard the seeds and inner pith. Then chop the chili peppers into ½" pieces.

Heat a large Dutch oven or pot over medium heat. Add the butter and diced onions with a sprinkle of salt. Sauté the onions, stirring frequently until they are soft and translucent.

Add the ground beef. Season with salt and pepper and break it apart with a wooden spoon, stirring a few times until browned and cooked through.

Add the diced peppers and cook for about 1 minute.

Stir in the tomatoes, beans, tomato paste, chicken stock and Worcestershire.

Add the remaining spices and sugar. Stir to completely combine and bring to a simmer, then cover and simmer over low heat for 1 to 2 hours**.

Taste test and season with more salt and sugar, and adjust heat levels as needed. Just remember that the flavor will change once toppings are added, which will help balance out the heat.

Can be served immediately or refrigerated and served the next day with your favorite toppings.
Notes
Recipe makes about 2 ½ quarts or 10 cups of chili, which will be 6 to 10 servings.
If you like other kinds of fresh chili peppers, toss or sub a couple in, being careful not to overdo it with the spiciness.
The seeds can add a bitter flavor and affect the texture, and the pith tends be really spicy hot while not being flavorful.
** Simmering the chili for 1 hour is enough, but more flavors will develop the longer that it simmers. This is when the magic happens.
Topping Inspiration
Chopped red onion
Chopped cilantro
Fritos (or corn tortilla chips)
Cornbread
Grated cheddar cheese
Sour cream
Diced avocado
Lime - give it an acid boost
This recipe is based on the Vegetarian Chili recipe by my good friend Jim Miller.
Nutrition
Calories:
494
kcal
|
Carbohydrates:
29
g
|
Protein:
29
g
|
Fat:
30
g
|
Saturated Fat:
14
g
|
Polyunsaturated Fat:
2
g
|
Monounsaturated Fat:
11
g
|
Trans Fat:
2
g
|
Cholesterol:
108
mg
|
Sodium:
1444
mg
|
Potassium:
1123
mg
|
Fiber:
8
g
|
Sugar:
9
g
|
Vitamin A:
2255
IU
|
Vitamin C:
44
mg
|
Calcium:
93
mg
|
Iron:
7
mg