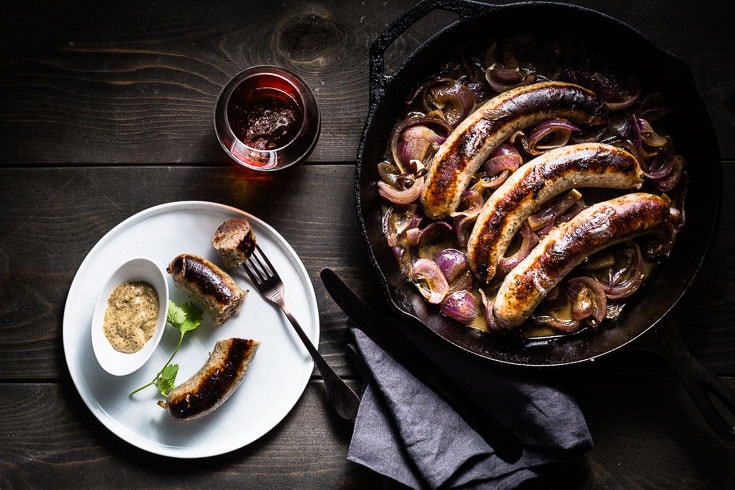 Oktoberfest might end in the middle of October, but this is one I like to keep around all year. Do you love brats as much as I do? This is one of the simpler things to make and it takes just one-skillet, 20 minutes and they come out perfect every time. It's a fabulous weeknight meal or is perfect for your Oktoberfest or football party.
Bratwurst is a German sausage that is most commonly made with pork. This is the low-carb version with no bun, but you can definitely use a bun if you prefer. Serve it with an Oktoberfest beer or German-style lager, or any malty beer that will play off the caramelized onions.
The Best Way to Cook Bratwurst
There are a lot of ways to cook Bratwurst sausage. You can boil, roast, grill or steam them. The best method is to brown them in a skillet, then add some liquid and cover to steam, and that's exactly what we're doing here.
Everyone that tastes these sausages raves about how perfect they come out and can't believe how easy and quickly it is ready. Just a few minutes of sizzle in the hot skillet, then add some water (or beer!) to the pan and cover to steam.
There will be liquid left in the skillet after the brats are finished cooking, so reduce it down and further cook the onions with some salt and more time on the heat. It's not necessary to eliminate all the liquid, you just want the onions to be cooked to a soft and sweet perfection.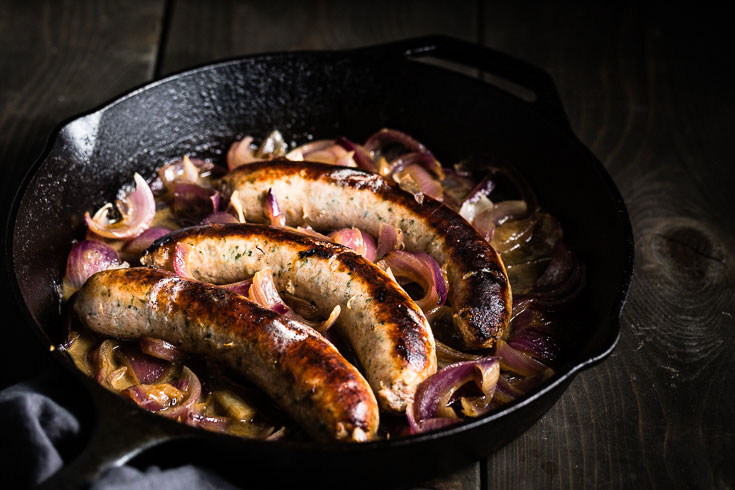 Watch the 90-Second Video: How to Make One-Skillet Bratwurst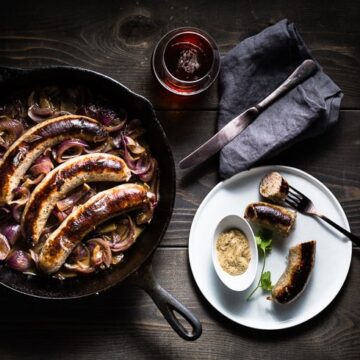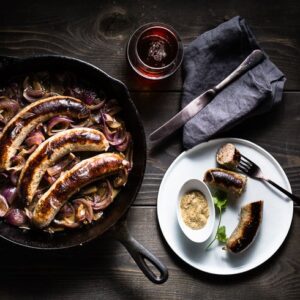 Ingredients
4

Bratwurst Sausages

1

Red Onion, sliced

canola oil

½

cup

Water or Stock
Instructions
Heat a large cast iron skillet with a drizzle of canola oil over medium-high heat until it just starts to smoke.

With a fork, poke a few holes on each side of the bratwurst sausage to keep them from bursting while they cook.

Place the brats in the hot skillet, then place the onions around them.

Stir the onions to spread them around and to coat with oil.

Cook the brats for about 4 minutes per side, or until they are nicely browned.

Carefully pour ½ cup water in the skillet, then immediately cover and reduce the heat to medium-low.

Cook covered for about 10 more minutes, or until the internal temperature reaches 160 degrees.

Remove the lid and the brats from the skillet.

Increase the heat and season the onions with salt and continue to cook the onions for a few more minutes to reduce the liquid.

Serve the sausages topped with the onions and your favorite mustard.
Notes
You can substitute stock or beer for the water, but it's not necessary.