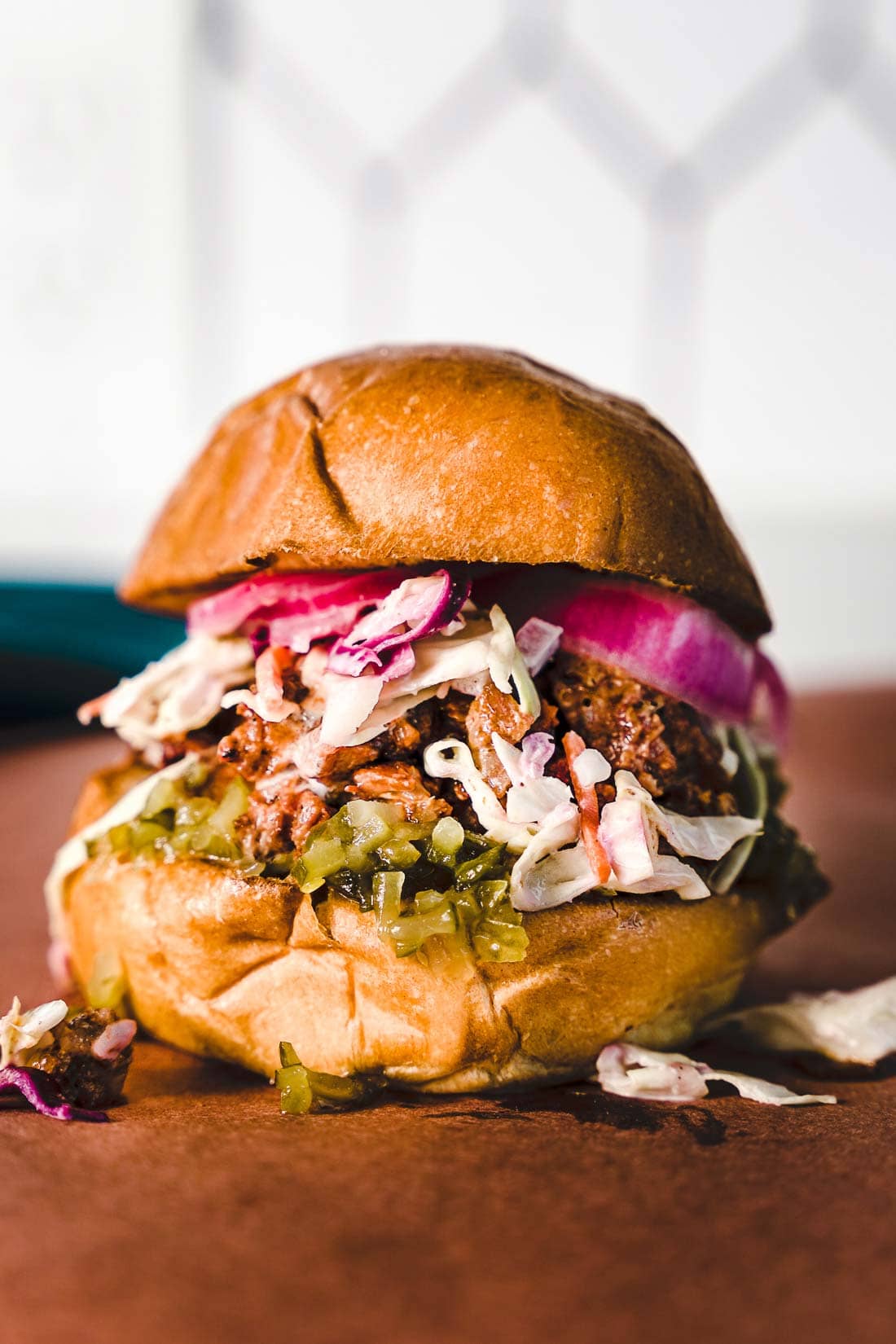 So you had an amazing BBQ and have leftover smoked brisket, and need the best way to utilize it for lunch or dinner the next day? This is definitely it! If you already had a big spread of condiments and sides from that meal, you will already have most of what you need to make these chopped brisket sandwiches. If you don't, just use what you have and it will still be amazing.
It's all about HUGE flavors, and TEMPTING textures. And a way to use your leftover brisket that just might be better than the main event was.
While this is technically a recipe, it's really meant to be more of an inspiration for you to use as a baseline to get creative, and make it how you like it. Want to use less BBQ sauce or more cheese? Go for it.
You could really put anything on these and they would be delicious. However, I feel pretty strongly that this simple combination of complementary tastes and textures is just the best. It brings out the best in the rich and flavorful brisket.
Want a smaller version? Make 'em sliders with Hawaiian buns, which are perfect for parties.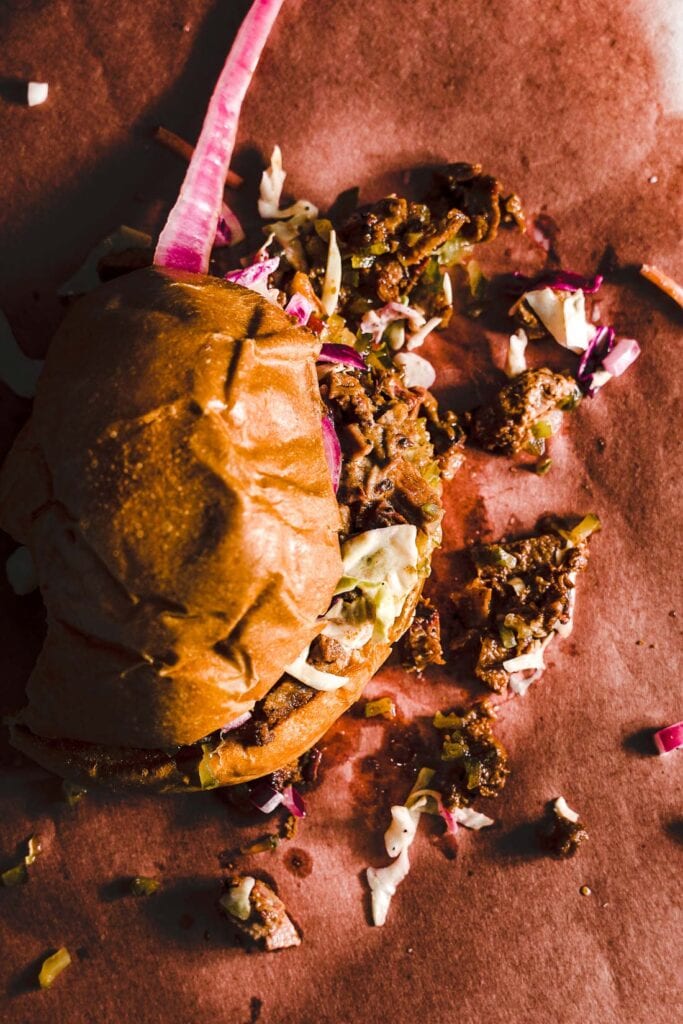 Condiments & Toppings
All you really need is the brisket, BBQ sauce and some bread to put it between to make an amazing sandwich. The rest is just a bonus. But a huge bonus. Nothing you add to the sandwich should take away from the star, the brisket. The toppings should just complement and balance it all out.
Leftover brisket - Smoked is my favorite. But however you cooked it, it will be great.
BBQ sauce - Use your favorite or this sweet & tangy sauce.
Bun, roll or bread - My favorite is a fresh brioche bun, but ciabatta rolls are also great and hold up well without getting soggy. Quality white bread can also be used. Just don't use anything too hard or crusty as it can take away from the tender brisket.
Slaw - Bright and fresh. It adds that amazing fresh crunch and some creaminess to the mix.
Pickled red onions - Adds extra tang to contrast the smoky brisket and creamy slaw.
Pickles or relish - Use bread & butter pickles or sweet pickle relish.
Fried shallots - Another great savory topping, and easy to whip up.
Cilantro - Goes great to add a fresh component.
Cheese - Personally I don't believe cheese belongs on this sandwich. But if you want some, go for it. Use Swiss or a mild cheddar, and get it melty.
I wouldn't use all of the above, just choose a couple and make it your own. Seriously, just put whatever you want on it, or just eat the meat on bread by itself.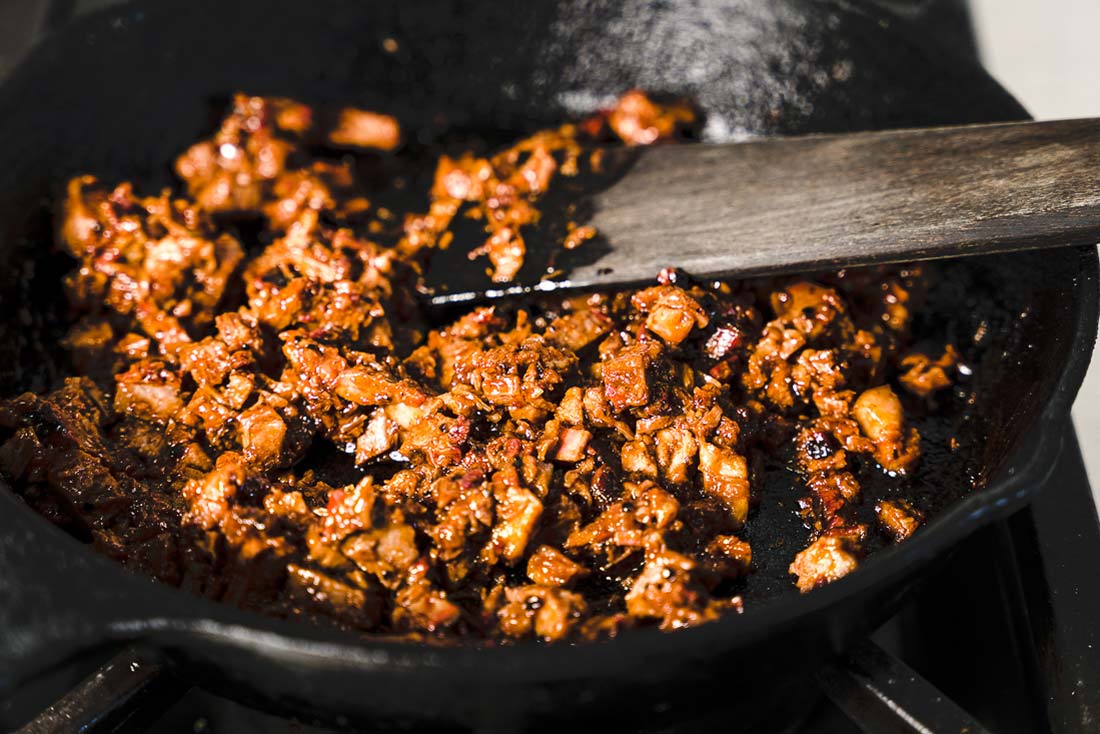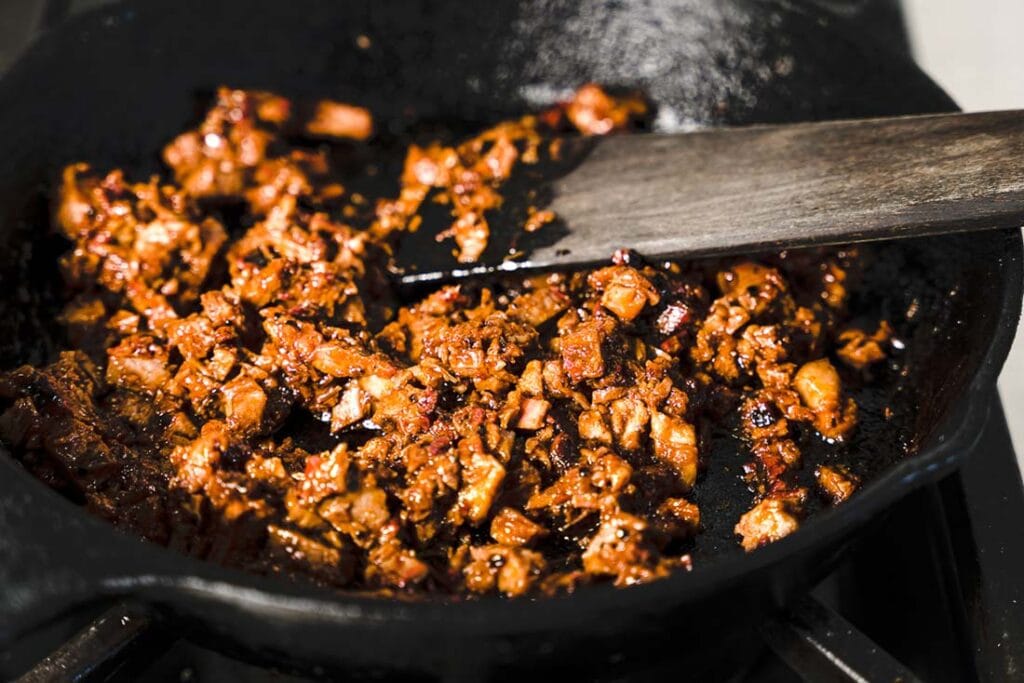 Chopped, Sliced or Pulled Brisket?
To chop or to slice the meat just might be the question, and my preference is to chop the brisket for these sandwiches, for a number of reasons. For one, it gives you the most flavor because you get all the parts of the brisket (flat, point, chips, burnt ends, etc.) in one sandwich. Two, it utilizes the little leftover chunks and bits from slicing, etc. And third, I think it's just more enjoyable and easier to eat. However, brisket slices will also work great.
How to Make a Brisket Sandwich
Chop the brisket (get all those leftover pieces including the burnt ends) and heat it up in a skillet with your favorite BBQ sauce.
While the brisket warms, toast the brioche buns.
Assemble the sandwiches with pickles or relish on the bottom, followed by the BBQ brisket, slaw and pickled red onions or any other toppings you want to use.
FAQs
What bread goes with brisket?
Ciabatta rolls hold up well and don't get soggy. My favorite is to use brioche buns for their flavor and texture.
How do you reheat brisket for sandwiches?
Warm it through in a warm oven, or chop and heat in a skillet over medium heat with BBQ sauce.
How much brisket per person for sandwiches?
⅓ pound or about 5 oz per sandwich is usually perfect with brioche buns, but you might want to add even more if you are especially hungry, or less if using Hawaiian rolls.
What Goes Well with Brisket Sandwiches?
There are so many sides that go great with brisket sandwiches. Here are some of my favorites:
What to drink with it? I'm not always about an IPA, but when it comes to pairing beer with brisket, it's a great choice. Brisket stands up well to any really flavorful beer, so a stout or a Belgian Strong are great with it, too.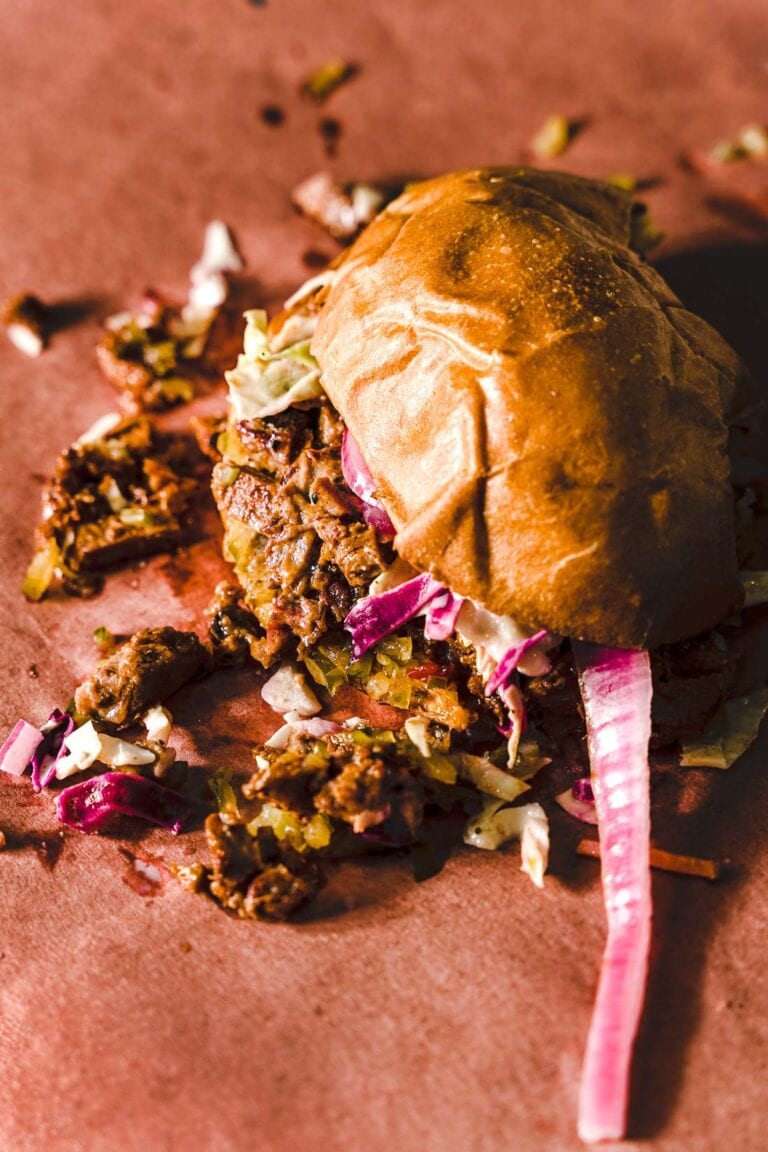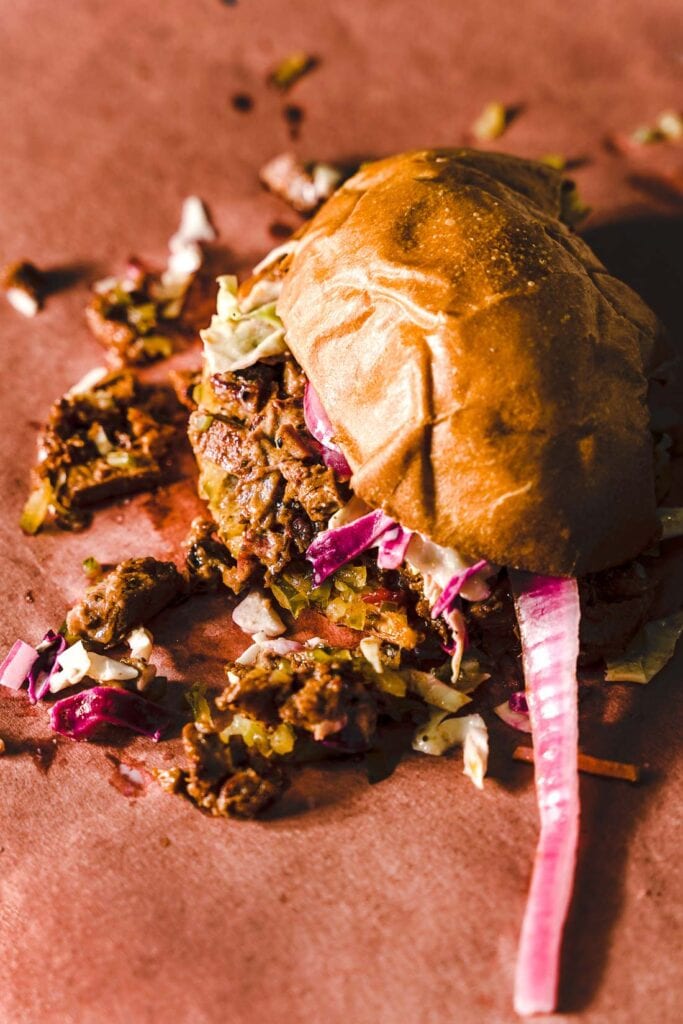 More Leftover Brisket Ideas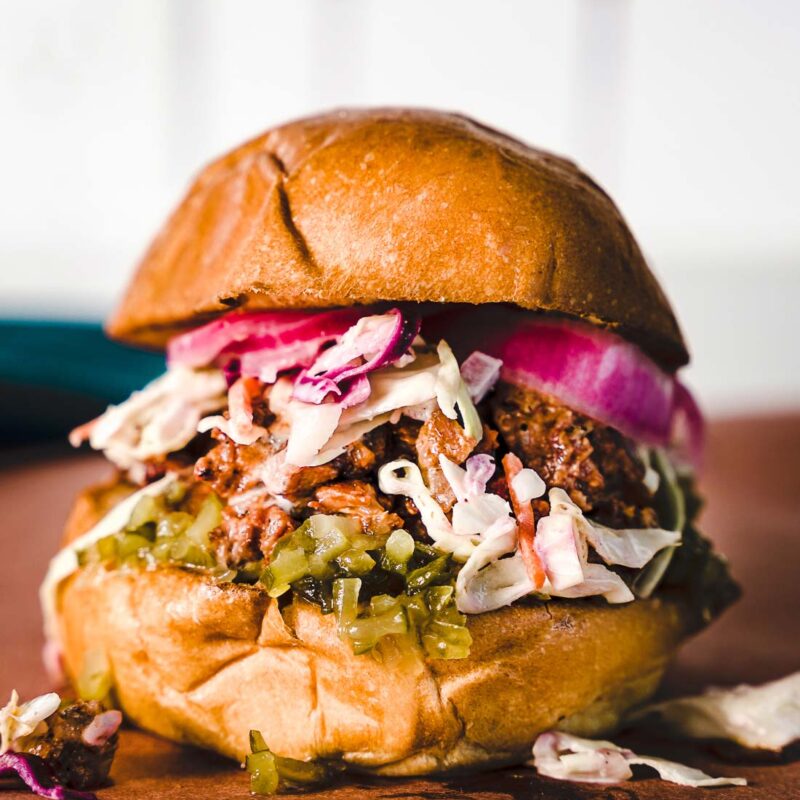 Ingredients
Optional but highly recommended toppings
Instructions
Begin by chopping the leftover brisket, which is easiest when it is slightly warm. Use all the pieces from the burnt ends.

In a skillet over medium heat, add the chopped brisket with the BBQ sauce, stirring until it is well combined and heated through. About 3 to 4 minutes.

Assemble the sandwiches on the toasted buns with pickles or relish on the bottom, followed by the brisket, slaw and pickled red onions on top. Serve immediately.
Notes
This recipe is for 2 sandwiches. Use the scale tool in this recipe card to change the portions up or down for your needs.
I recommend using chopped brisket, but you can also use sliced or shredded.
If using sliced brisket, BBQ sauce should also be added to the buns if you prefer.
Use this as a guide, but change up amounts to your preferences. Use as much or as little BBQ sauce as you like. More or less slaw, etc.
Serve these right away so the buns don't get soggy. If you will be eating later, just leave all the components separate and assemble right before eating.
More Posts You Will Love