When you smoke a big brisket over the weekend, you are bound to have leftovers. That's a problem nobody minds having since leftover brisket is one of the better things in life. After a day off from beef on Monday, it's time for Brisket-Taco Tuesday!
We all love a good taco. And most tacos are centered around their standout protein. When you have the delicacy of leftover smoked brisket, it really does wonders for the humble taco.
Making a good taco great is all about quality ingredients and a balance of flavors and textures. Nothing should be overpowering and nothing should get lost, or else why is it even there? You want a hearty, savory filling, with a slight hit of heat and acidity from the sauce, and crispy freshness of fresh herbs. Soft or hard shell, that's up to you. (But c'mon, soft tortillas are real.)
Taco Inspiration
The beauty of a taco is you can use whatever you have on hand. Below is some inspiration.
Beef brisket - The obvious hero. It can be smoked or cooked any way you wish. It can be sliced, diced into cubes (my preference) or shredded, whichever way you prefer. You could even make the tacos with brisket burnt ends.
Avocado or guacamole.
Cotija cheese - If you want to add cheese, Cotija is a great choice for these tacos. Personally, I leave the cheese off.
Sauce - A dash of hot sauce if you want to spice it up, or even a drizzle of BBQ sauce or a BBQ vinaigrette is fantastic. (Hot sauce tip: I avoid using Tabasco for Mexican food; it works better for Southern fried food than on South-of-the-Border dishes. If you don't have a favorite, try Cholula or Tapatio.)
Diced fresh onion (red or white).
Fresh cilantro.
Fresh lime slices
The Tortillas
Quality tortillas make such a difference. Whether you are going with flour (my preference) or corn, you want them to be fresh and high quality. A bad tortilla will bring down the ship. This is definitely a place to splurge (which really isn't much of a splurge).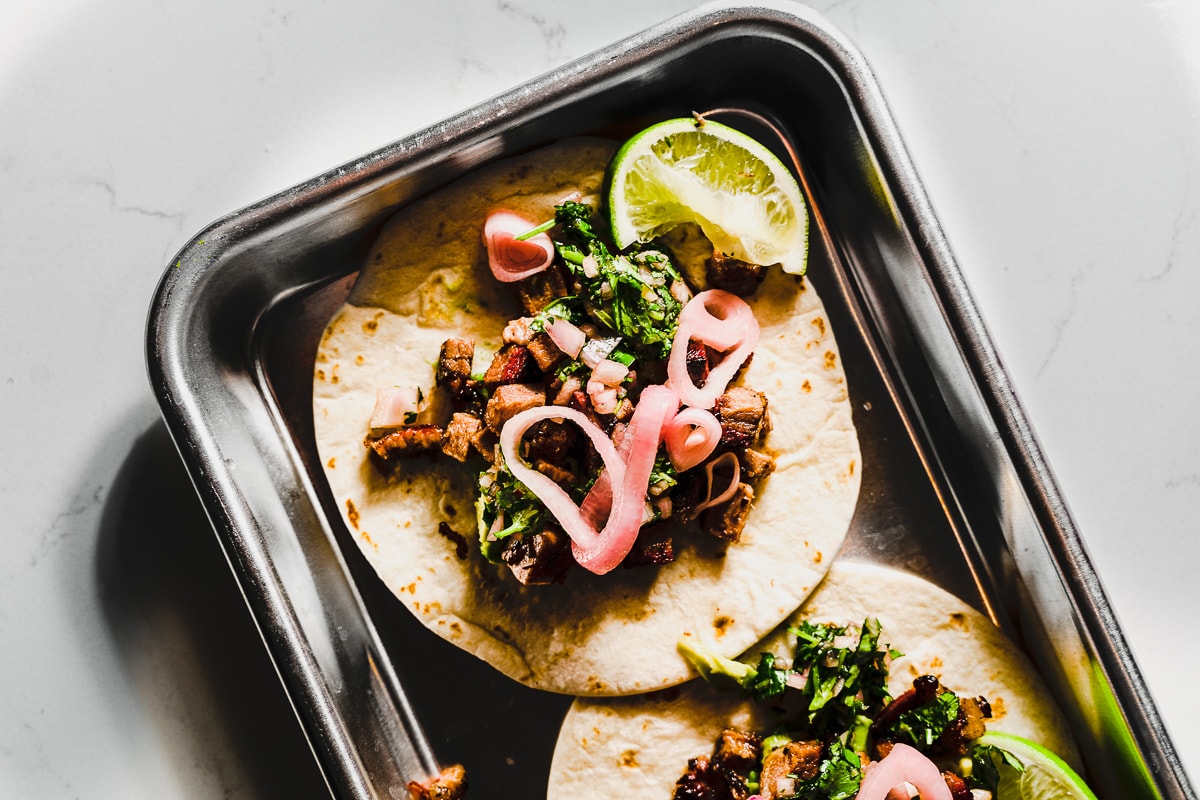 How Do You Reheat Brisket for Tacos?
A hot cast-iron skillet is the best way to reheat brisket for tacos. Medium heat, just until it starts to crisp up.
Perfect Sides
More Recipes You'll Love
Brisket Tacos
Now that you have done the hard work of cooking that brisket to perfection, it's time to do the easy part of making some quick and amazingly delicious leftover brisket tacos that will leave you craving more.
Print
Pin
Rate
Ingredients
1

lb

leftover beef brisket

(sliced, diced or shredded)

8

fresh tortillas

(flour or corn)
Topping Inspiration
¼

cup

pickled red onions

¼

cup

chimichurri sauce

1

avocado

(sliced or mashed)

½

cup

grilled corn salsa

Hot sauce, BBQ sauce or BBQ vinaigrette

to taste

¼

cup

diced fresh onion

¼

cup

fresh cilantro

(diced or whole leaves)

½

cup

Cotija cheese

8

fresh lime slices
Instructions
Heat heavy bottom skillet over medium heat and add the brisket until it is warmed through and starts to crisp. Cover and keep warm.

Just before making the tacos, warm the tortillas in a skillet or directly over a flame. Keep warm.

Make the tacos by loading up the tortillas with the brisket and your favorite toppings. Serve immediately with a squeeze of fresh lime.
Notes
Recipe makes 8 tacos.
Not all the toppings are needed to make amazing tacos. Just pick what you love and what you have on hand.
BBQ vinaigrette is a great sauce for tacos.