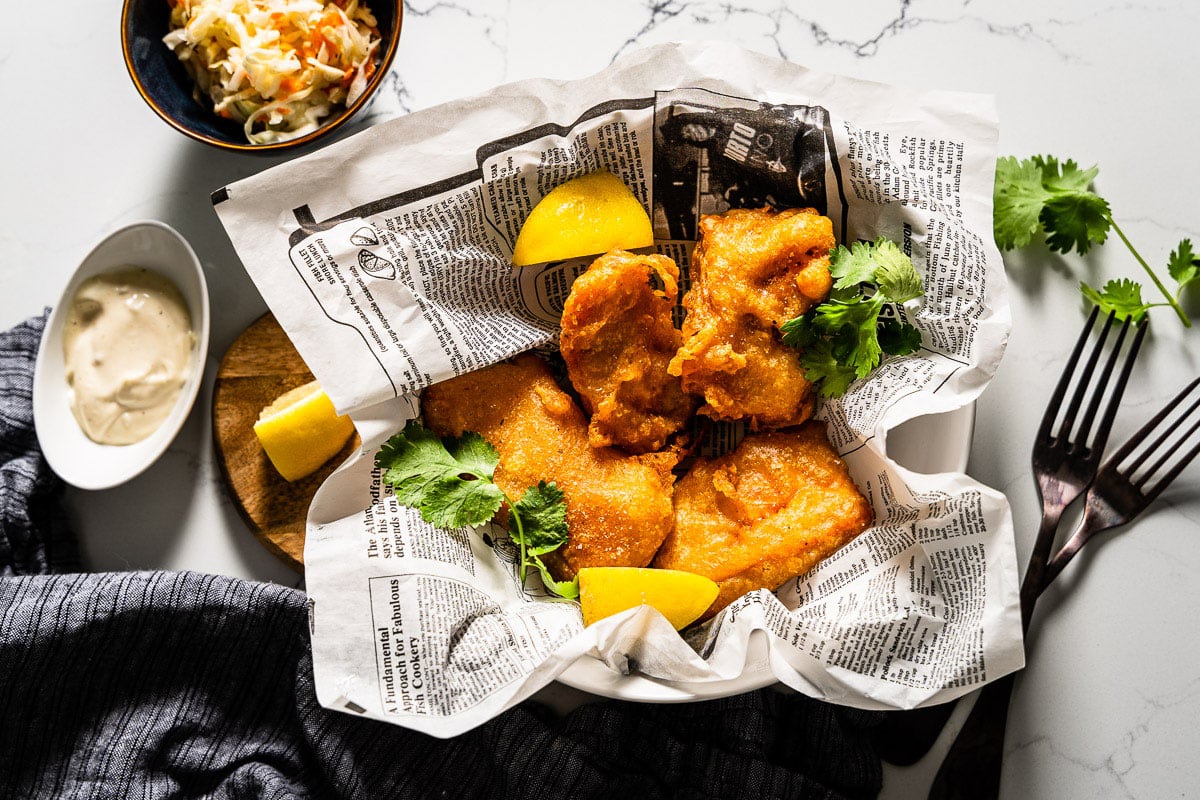 I'm someone who loves salmon all the ways, but this one just might be the new favorite. The first loud crunch through that light and airy flavorful crust, followed by the delicious salmon, is memorable. It is definitely one of the most satisfying ways to enjoy this beautiful fish, and don't worry, no deep fryer is required. Just some beautiful salmon, a cold beer and a few simple ingredients.
This Dish Is...
Easy to make!
Super sharable.
Flavor-packed with an addicting crunch that is perfect for dipping in homemade tartar sauce.
Finger food at its best!
Yummy the next day too; just reheat in an air fryer or oven.
Great for making Baja-style fish tacos, but with the amazing salmon of the Pacific Northwest. Just cut

the filets thin and long. (OMG, good!)
So grab yourself a cold beer, and let's get started!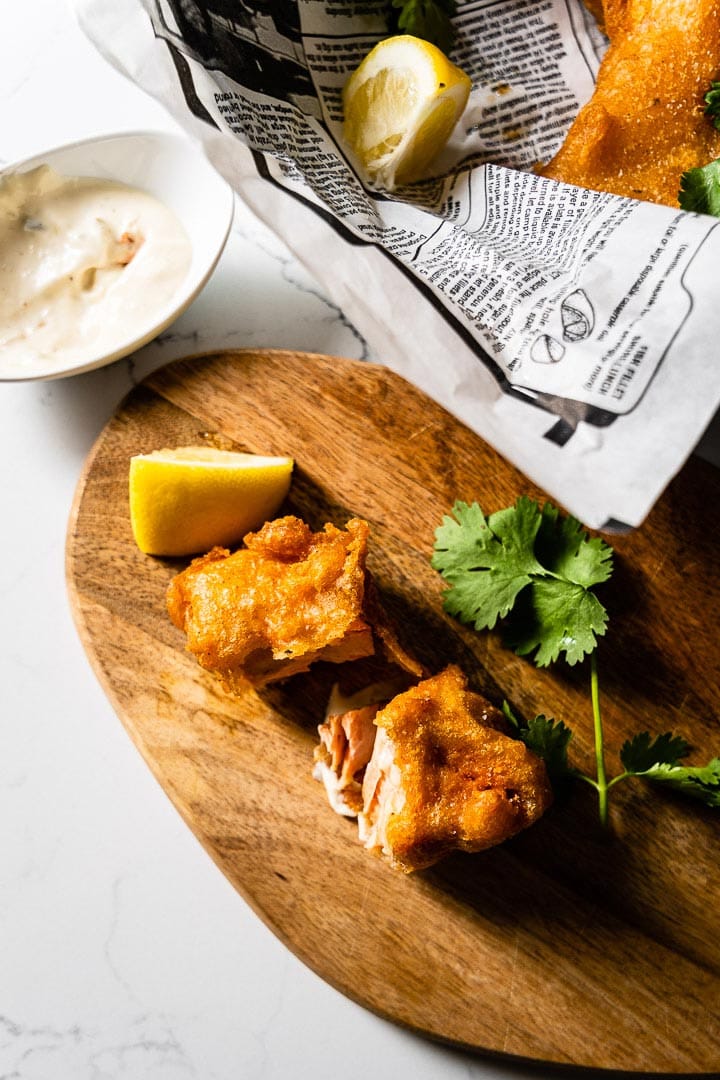 What You'll Need
Salmon – Go with high-quality fish, and always wild when it comes to salmon. Either fresh or frozen will work great.
The Batter – While you could go as simple as flour and beer, adding seasonings makes a big difference. And a few other ingredients help make it extra light and crispy.

Beer – One for you, one for the batter. You can taste the flavors of the beer, so choose something you like. I go with a light Mexican-style lager. If you don't want to use beer, you can substitute sparkling water.
All-Purpose Flour – The base of the batter. You can also use rice flour.
Corn Starch – Helps give a beautiful golden color.
Baking Powder – Helps the batter puff up when it hits the oil.
An Egg – The yolk adds to the golden color and the proteins in the whites help create a seal, keeping the fish moist as it fries and even keeping the batter from absorbing too much oil.
Seasoning – Onion powder, paprika, kosher salt and pepper. Don't go light on the seasoning.

Oil for Frying – A neutral oil such as canola or peanut oil. Tip: Oil can be expensive in small containers, but you can save money by buying it in bulk at places like Costco for about the same price as a small container at the grocery store.
See the recipe card for quantities.
How to Make Deep-Fried Salmon
Let's go step-by-step with how to make this amazing and easy crispy deep-fried salmon.
Prep the Salmon – Remove the pin bones and the skin. Slice into equal size portions for even cooking and season all sides with kosher salt and pepper.
Tip: Cut the fish into even-size pieces so they are all finished cooking at the same time.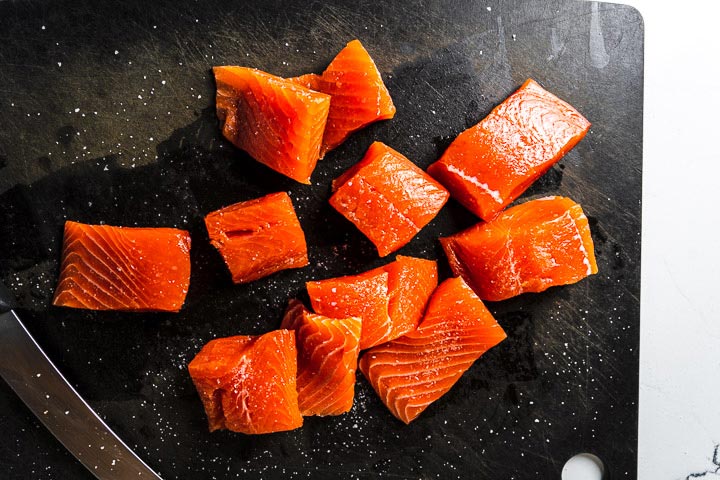 Heat the Oil – Place enough oil in a Dutch oven with high sides to cover the salmon as it fries, about 3 to 4 inches should be good. Heat it to 375° F.
Make the Batter – Combine the dry ingredients, then add the egg and beer, gently whisking until it is smooth.
Tip: Don't skimp on seasoning the fish with salt before it goes into the batter to bring up the flavor; do it while you're prepping, or as much as an hour ahead of time. And also season it again right when it's out of the oil with a little more coarse salt.
Fry the Salmon – Using a fork, dip the salmon in the batter, then place in the hot oil, moving back and forth a few times before letting it drop in the oil. Fry for about 3 to 4 minutes per side, turning halfway through using a spider.
Tip: Fry in batches so you don't overcrowd the pot, which will cause the oil to drop in temperature. Hot oil makes the batter super crispy without getting soggy and absorbing too much oil.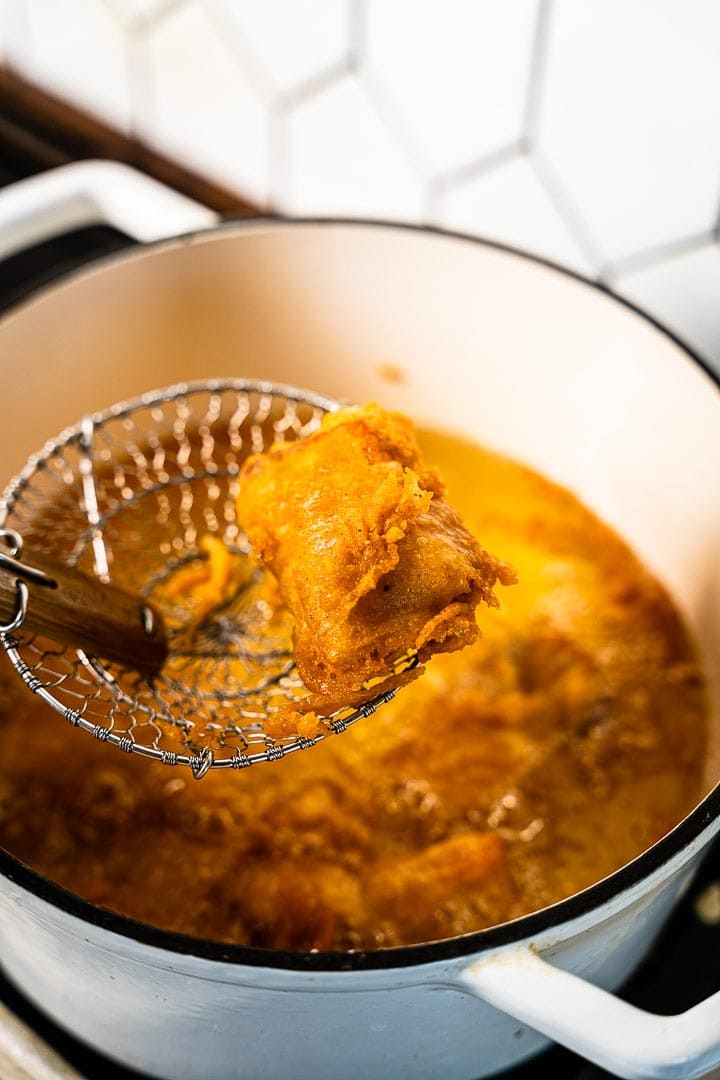 Season and Serve – Transfer the fried salmon to a wire cooling rack on top of a sheet pan, and sprinkle on some kosher salt right away. Then serve immediately so it's hot and crunchy, with a homemade tartar sauce (see quick recipe below).
Tip: After it's out of the oil, drip dry on a wire cooling rack, not on paper towels. This keeps it crispy so it doesn't get soggy sitting in oil.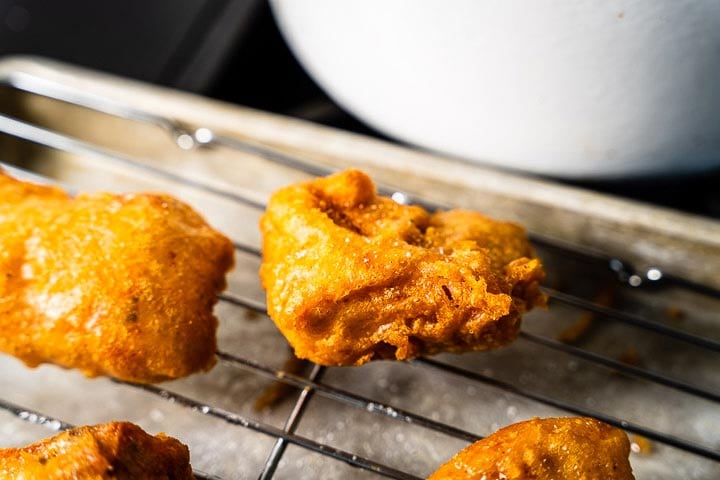 The Sauce Brings It All Together: Homemade Tartar Sauce
½ cup mayonnaise
2 teaspoons sweet relish
1 to 2 teaspoons lemon juice (based on taste; lemons are different)
1 teaspoon Dijon mustard
Black or white pepper
¼ teaspoon Worcestershire sauce
⅓ teaspoon cayenne for heat (optional)
Whisk all the ingredients in a small bowl until well combined. Taste for seasoning and balance. Adjust accordingly. Serve chilled.
Pan-Fried vs Deep-Fried Salmon
There's pan-fried salmon and there's deep-fried salmon. While they sound similar, there's a pretty big difference. Pan-fried (or pan-seared) is where the salmon is seared in a hot skillet with a little oil. Pan-fried can be breaded so it gets crispy. Deep-fried is battered or breaded and completely submerged in hot oil so it gets completely crispy.
If you love salmon, be sure to check out the Salmon Quick Guide to learn even more.
FAQs
How long to deep-fry salmon?
A 4-ounce piece of salmon will take about 5 to 6 minutes to fry at 375° F. You can use an instant-read thermometer to verify it reaches an internal temp of about 135° F.
How to reheat leftovers?
The fried fish can be reheated and brought back to life the next day in an oven with convection or an air fryer at 400° F for 7 to 10 minutes to re-crisp and heat through.
Can you reuse the frying oil?
You can reuse the oil if you are frying fish or seafood again in the next few days. But it's best not to use it for frying other foods, as the oil will give them unwanted flavors. After it cools completely, use a funnel to place back in a sealed container, and then into the trash to discard. Never put used oil down the sink.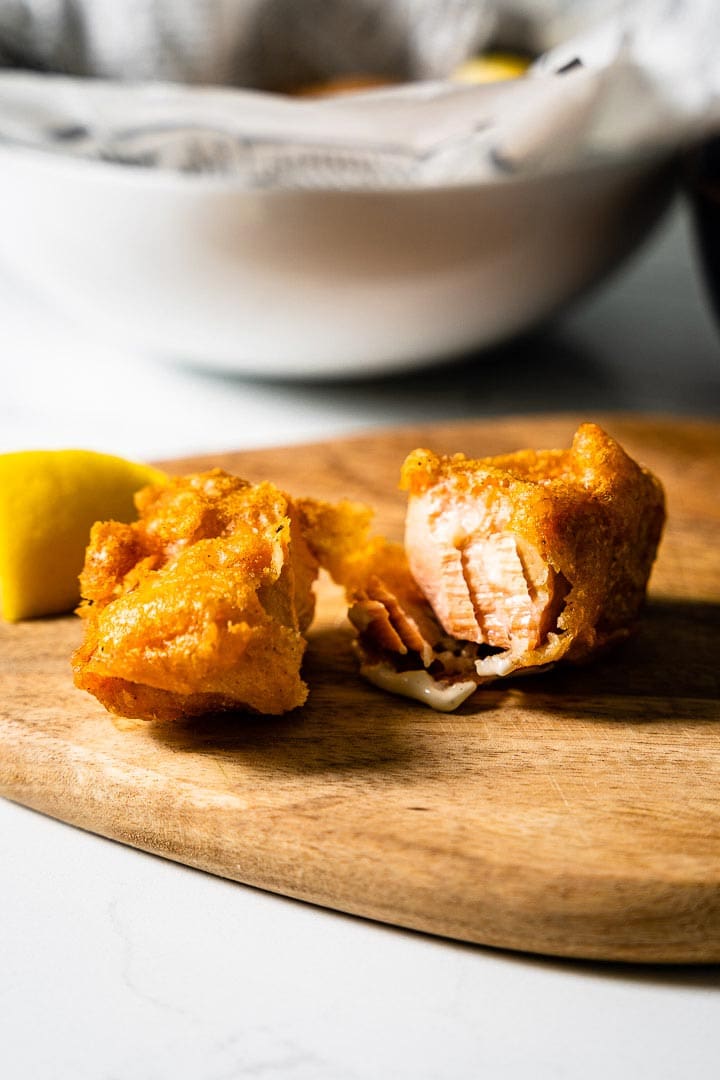 What to Serve it With
A homemade tartar sauce or some sort of creamy sauce is a must
Fries - you can par fry them before frying the fish, then finish right after the fish is done.
A light and bright arugula salad with a lemon vinaigrette
Make them into fish tacos
Make fish sandwiches
Did you make this recipe?
I'd love to know how it turned out!
Please leave a note and a rating in the comments section below, or tag @SaltPepperSkillet on Instagram.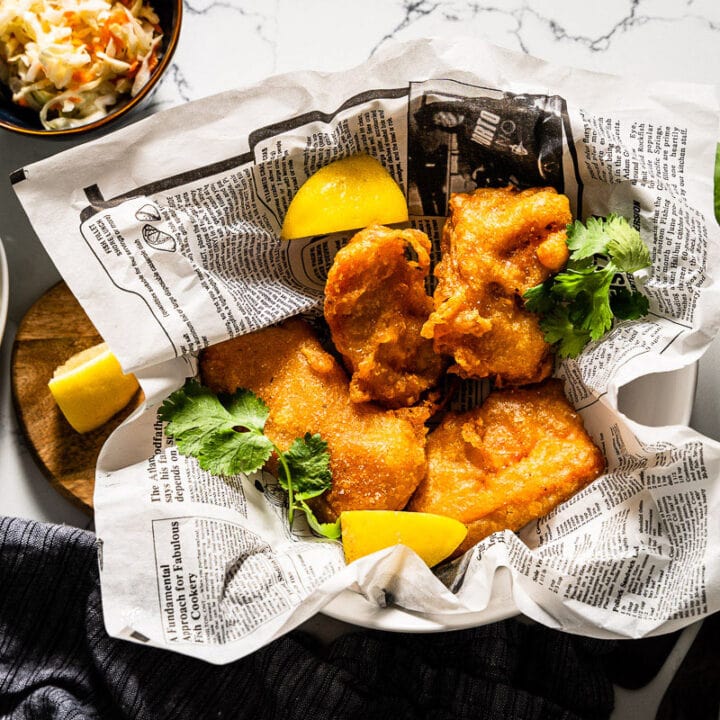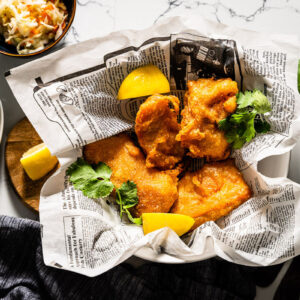 Deep Fried Salmon Recipe
This golden-brown deep-fried salmon is super light, crispy, crunchy, addicting and way better than fish and chips at a restaurant. It's also easy to make and comes together in about 20 minutes.
Print
Pin
Rate
Ingredients
2

pounds

wild salmon

Oil for frying

(canola or peanut oil)
Seasoned Beer Batter
1

cup

flour

½

cup

corn starch

1

teaspoon

baking powder

2

teaspoon

onion powder

1

teaspoon

paprika

1

teaspoon

kosher salt

½

teaspoon

pepper

12

ounces

light beer

or sparkling water (chilled)

1

egg
Instructions
Prep the fish by removing the skin and the pin bones. Slice the filets into even-size pieces, about 3 to 4 ounces each. Pat dry. Season well with salt and pepper.

Heat about 4 inches of oil to 375° F in a large pot or Dutch oven. Add enough oil to submerge the fish.

Make the batter in a medium bowl or container by first combining the dry ingredients, then gently whisking in the beer and the egg until smooth. *See note about the consistency.

Fry the fish. Using a fork (or your fingers), fully dip the salmon into the batter coating all surfaces. Let the excess drip off, then place it in the oil, dragging it across the top of the oil a few times before letting it drop in. Cook in batches of about 4 pieces at a time to keep the oil hot.

Cook for about 3 to 4 minutes per side, turning halfway through with a kitchen spider or slotted spatula until golden brown and cooked through (135 to 140° F internal temp).

Transfer to a wire cooling rack to let any oil drip off and immediately sprinkle with a little kosher salt.

Serve hot with homemade tartar sauce, lemon slices and slaw. Enjoy!
Notes
*The beer batter should be the

consistency of thick cream. If it is too thick, it will be clumpy and gooey. If it is too thin, it won't stick to the fish. Adjust by either adding more flour to thicken or more cold water to thin it out.
More Delicious Salmon Recipes