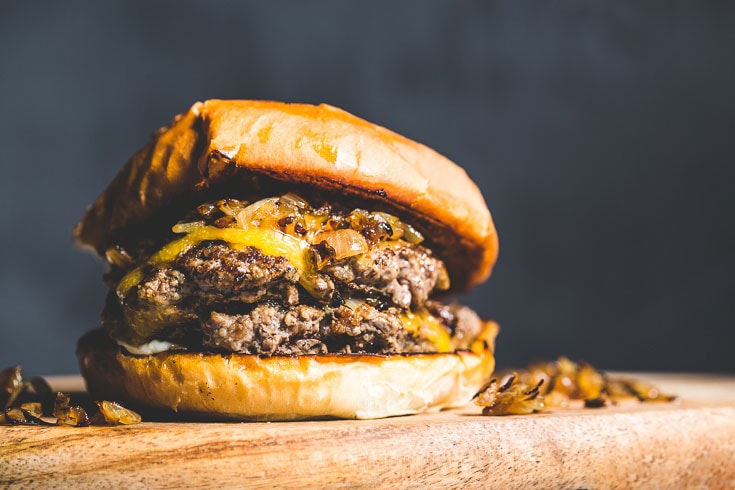 Here's some burger inspiration to satisfy your dirty cravings. We're doubling down on our cheeseburger. Two patties = double the surface area = tons more flavor.
SMASH that burger into the griddle. Go ahead, get your frustrations out from the day just before you indulge in a juicy cheeseburger. You aren't going to hurt anything. And no, you won't be smashing all the juices out of the burger if you smash the first side. Just don't go pushing on it after you flip.
While you are at it, smash the bun into the griddle with all the griddle flavors from the cooked burgers and onions.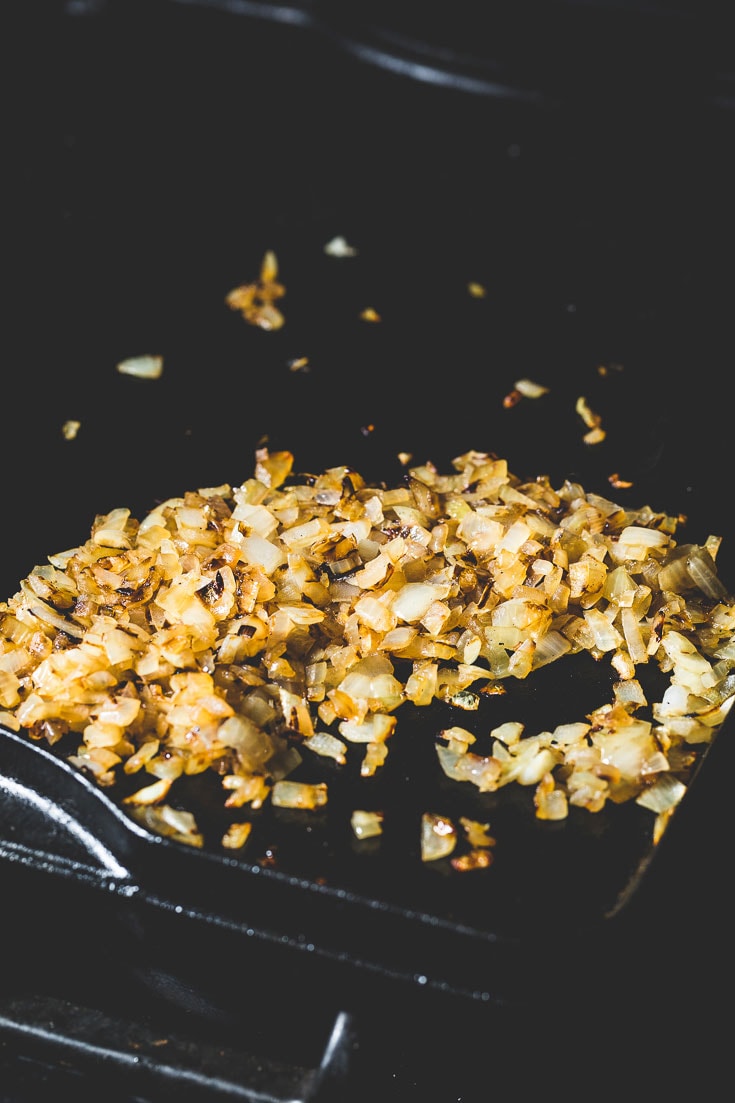 Get the caramelized onions going right away. There the only thing that takes more than a few minutes. You can cook them for as little or as much as you want. Leave them on the griddle when the burgers are cooking and get some of that burger flavor into them. Season with some salt once they are finished cooking.
The patties are 2 oz, so they cook really quickly. Season both sides well with kosher salt & freshly ground pepper. Use the back of a griddle spatula to smash them into the griddle for all that extra flavor.
Why cook burgers on a flat top?
A flat top griddle gives you lots of surface area for cooking multiple patties at the same time along with onions, buns and whatever else you want to put on there. The sides are also shorter so it's easier to get the spatula under for flipping.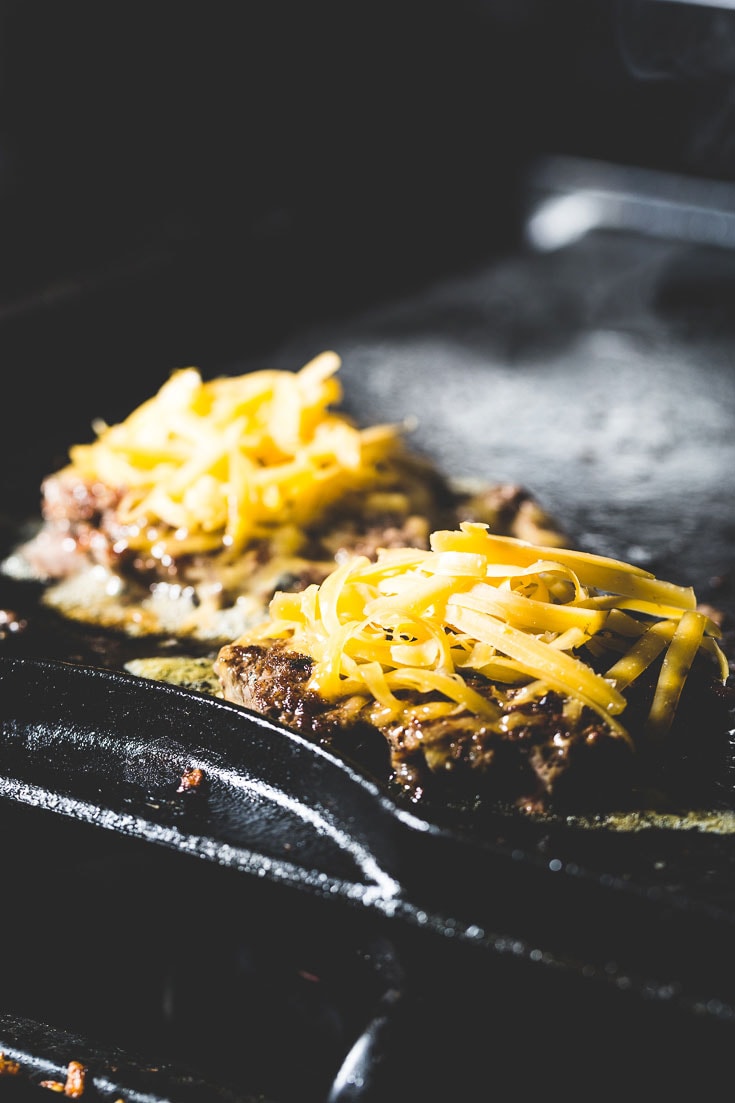 The burgers get a delicious caramelized crust because they are smashed into the griddle.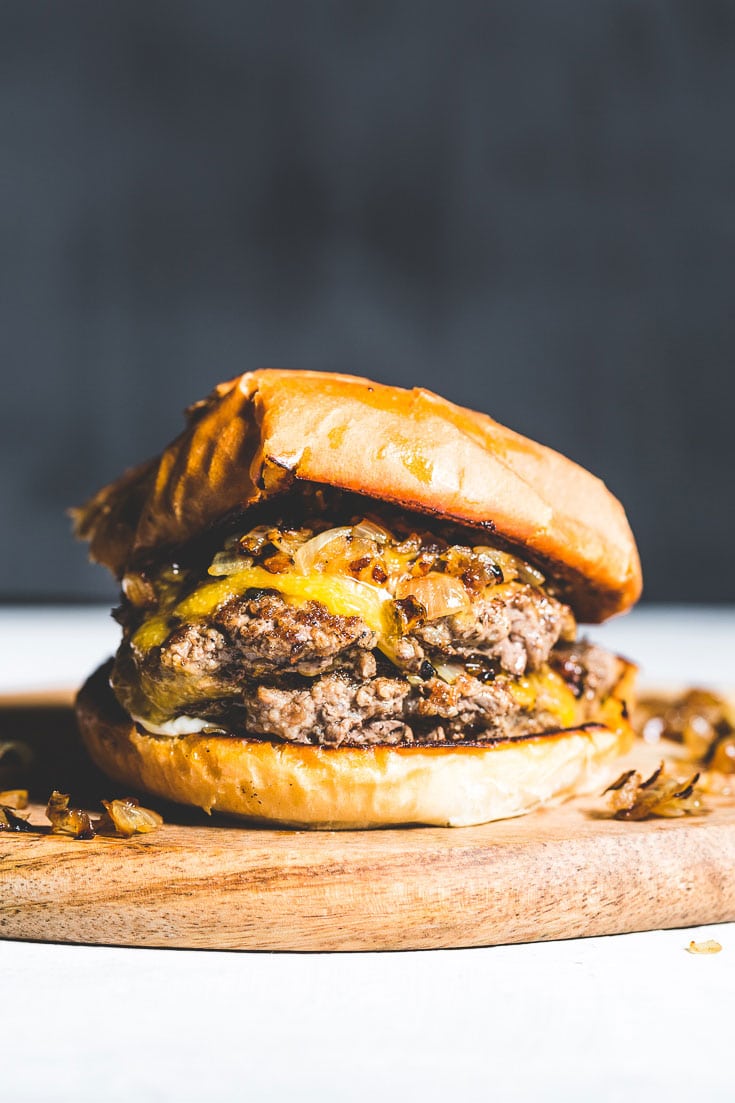 More Delicious Recipes to Try
Great with beef, but these burgers would also be delicious as lamb burgers or bison burgers.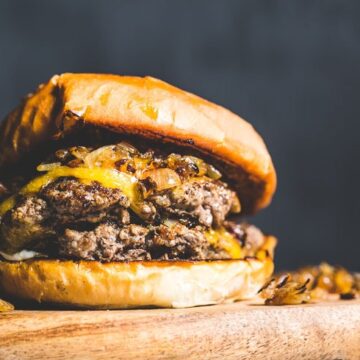 Ingredients
8

oz

Ground Beef

divided into 4 balls

Canola or vegetable oil

1

small onion

diced small

Kosher salt & freshly ground pepper

4

slices

American or Cheddar Cheese

2

buns

Mayo
Instructions
Heat the flat top griddle (or large cast iron skillet) on medium-high heat. Drizzle some oil and add the diced onions. Cook the onions until well caramelized, stirring every few minutes with a spatula.

Season the ground beef with salt & freshly ground pepper. Add a little more oil to the griddle and place each ball of ground beef on the surface. Flatten it into the griddle with the back of a spatula. Season the other side.

Flip the patties after a few minutes, then immediately add the cheese to start melting.

Spread a thin layer of mayo on the buns and smash them down into the griddle to toast.

Add caramelized onions to the top of each patty, then stack on the buns with more mayo or other sauces as desired.
Notes
If using cheddar cheese (or anything not American), I find it best for melting to grate the cheese instead of using slices.