There are a lot of ways to cook the humble chicken thigh, but one of the simplest ways is to grill them. Grilling up some perfectly juicy chicken thighs with that amazing flavorful crispy skin seems like an easy enough task. And that's exactly what it is with this simple technique.
Chicken thighs are the most flavorful and forgiving part of the yard bird. Nothing beats the crispy skin, juicy meat and tons of flavor from kissing the fire of the grill and absorbing some of that delicious smoke.
Let's get grilling...
What You Need
It all starts with the chicken. High-quality chicken thighs make a big difference. These organic beauties are from Perdue Farms. My preference is to grill skin-on bone-in-thighs. You can also go boneless skinless, but the cooking method will vary slightly since they don't have the skin to protect them from the hot sear.
A grill. My preference is charcoal, as the smoke from the charcoal adds so much flavor.
Sheet pans are your friend when it comes to taking things out to the grill and back in. Grab two sheet pans so you have a clean one for the cooked chicken, as you don't want to put the cooked chicken on a dirty pan.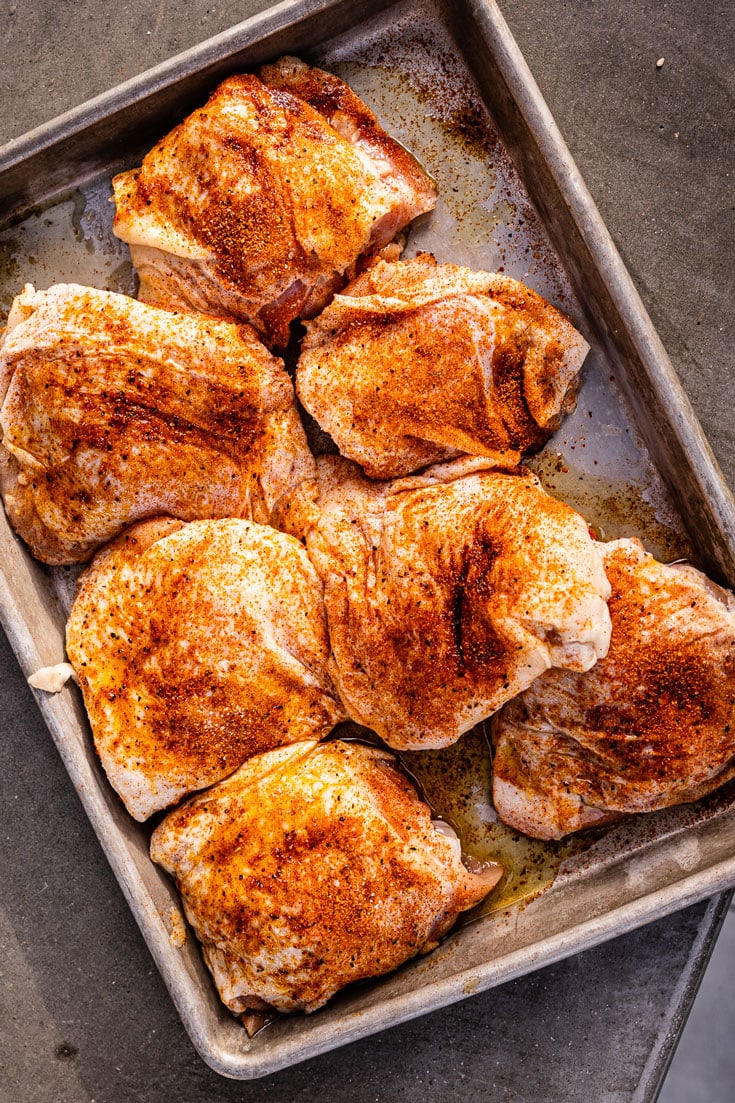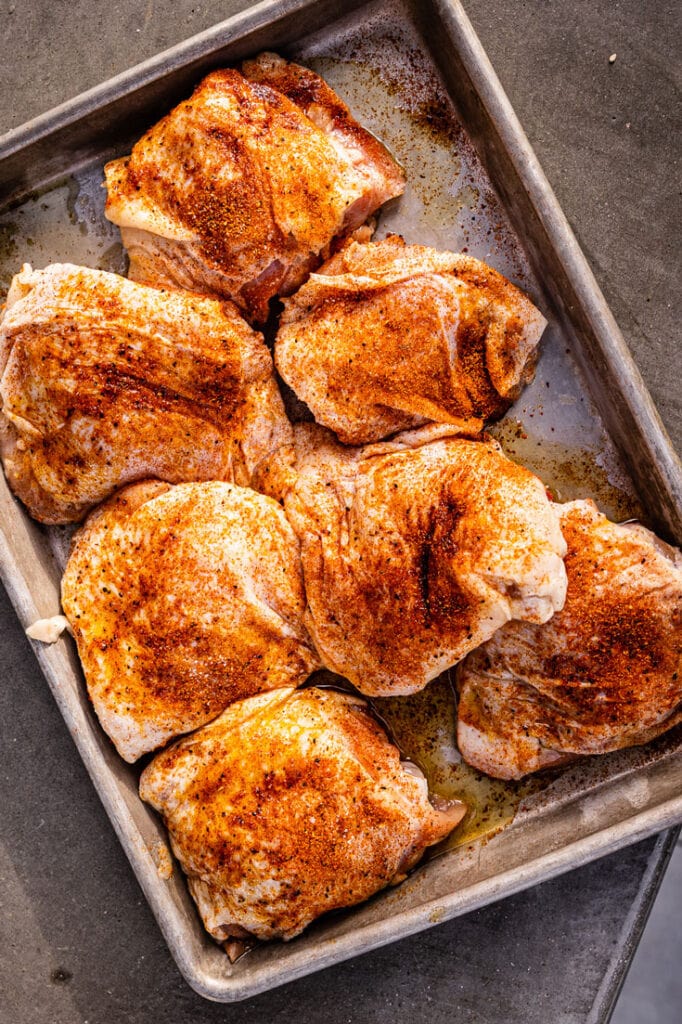 Marinade Ideas
Thighs are generally juicy and tender enough not to need much of a marinade. But if you use one, keep in mind that a lot of marinades will burn when grilling chicken over a direct flame. Especially when they have a high sugar content. And marinades that contain a lot of liquid can cause the chicken to steam rather than sear and crisp up, which isn't desirable. To mitigate this, you can marinade just the flash side.
My go-to seasoning is a dry rub. Dry rubs are generally pretty basic and can be as simple as salt and pepper.
Another option is an herb paste. Note that some lemon zest added to this Serious Eats recipe will brighten it up.
If you want something sweeter, try a Huli Huli Chicken or a sweet and tangy BBQ sauce. But keep in mind that it's probably best to add these sauces after the initial sear, as the sugars can burn really easily over direct heat.
The Technique
Two-zone grill setup: Chicken is one of those meats that needs both direct, high heat and indirect, low heat. A two-zone grill setup is simple and works with any type of grill. There is a hot side where the fire lives and a cooler side that is furthest from the heat. You want to sear the thighs on the hot side and then transfer them over to the cooler side to finish cooking.
The idea is to get the chicken crispy and flavorful on the outside over high heat, then let it gently finish cooking on the cooler side. This adds flavor and makes it tender, rather than cooking too quickly on high heat the whole time. While cooking on direct heat for a long time leads to exciting fire flare-ups that engulf the thighs, the end result is pretty awful: charred and usually undercooked inside.
How to Grill Chicken Thighs
Prep and season the chicken thighs ahead of time if possible. Trim off any excess skin with a sharp knife. Drizzle on some neutral oil (vegetable or canola or grapeseed) and season with plenty of kosher salt and freshly ground pepper, or the rub or marinade you love.
Bring the grill temp up to about 450° F, setting up a hot side and a cooler side on the grill. Getting the grill nice and hot beforehand allows a quick sear on the skin side, without the danger of the skin sticking to the grill grate.
Sear skin-side down first, over high, direct heat until the skin is nice and crisp, but not charred or burnt at all. This should take about 3-5 minutes. Flip the thighs and cook over high heat for 3-5 more minutes. Then move the thighs to the cooler side of the grill, and allow them to cook skin-side up until the internal temp reaches 175-185° F. This should take another 20-25 minutes.
How Long to Grill Chicken Thighs (Times and Temps)
Grill temp: Medium-high (425-475° F)
Finished internal temp: 165° F minimum (safe to eat), but 175 to 185° F is optimal for more tender thighs. The dark meat can take the extra heat.
Pro tip: Cook thighs longer and to a higher finished temp than you would the breasts. This makes the dark meat more tender while staying juicy.
Approximate cook time: 25-35 minutes.
Pro tip: Always cook to temperature rather than time.
Bone-in thighs: These (my fave) will take longer to cook than boneless as they are thicker and the meat around the bone will take longer to heat up to fully cook. Skin-on thighs also take a little longer than skinless thighs, but the crispy delicious skin is kind of the best part, right?
More Pro Tips
Make extra - Leftover thighs are great the next day. Or even make enough for the week to incorporate into other dishes. Great cold on salads or chopped and incorporated into pasta or tacos.
Prevent sticking - If the skin is sticking to the grill grates, it means that the grill wasn't hot enough.

Preheat the grill. That initial sear will give the chicken lots of flavor and prevent sticking.
Start with clean grill grates. Make sure you have clean grates (wipe with an oiled paper towel), drizzle some oil on the thighs before placing on the grill.

If the thighs are sticking, keep cooking them; they should release.
If they're still sticking and getting burnt, use a spatula to slide between the skin and the grill grate rather than tongs.

Grill the presentation side first. That means skin-side down first. The hot grill grate will give you nice-looking grill marks.
Avoid flare-ups - If the fire is too hot and the skin starts to drip fat, you will get flare-ups that will char the chicken, giving it unpleasant tastes. Keep a close eye out for flare-ups and be prepared to move the chicken.
An instant-read probe thermometer is your best friend. Use it to start checking for doneness after about 25 minutes. Always rely on temperature vs time for doneness.
Gas vs Charcoal Grill
I typically use a charcoal grill, which has the benefit of being able to use different charcoals and even wood chips, which produce smoke that adds flavor. Gas grills are usually seen as more convenient, as you just turn them on and they are pretty much ready to go. For gas grills, you can still use the two-zone grill setup by only turning on half of the burners. Use whatever you like; the chicken will taste great either way. Heck, you can even use a cast-iron grill pan.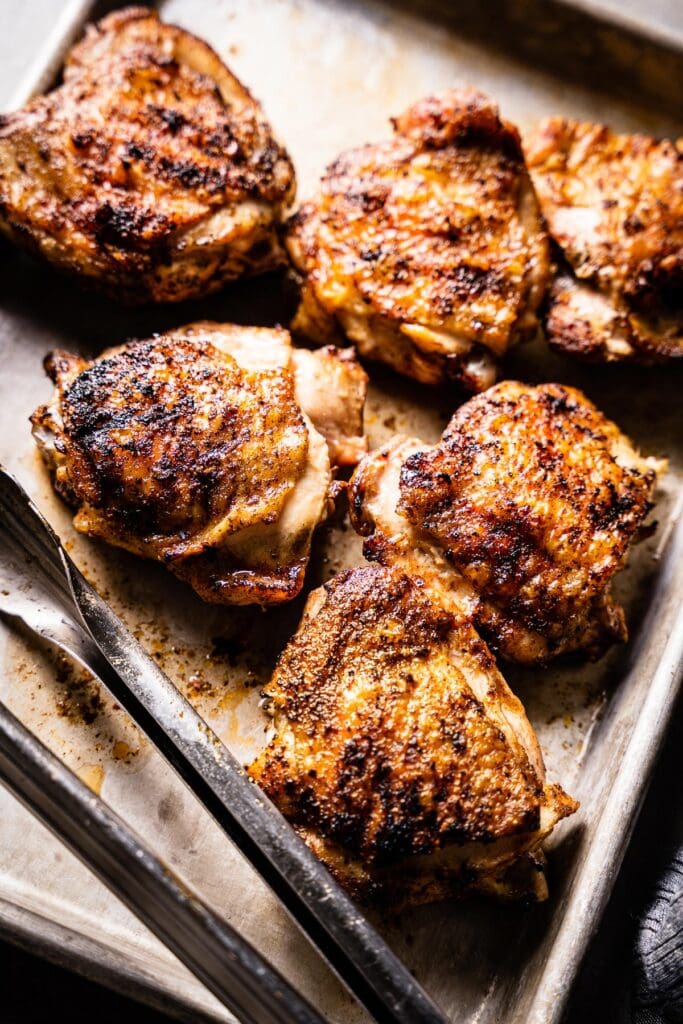 More Recipes You Will Love
FAQ
How to get crispy skin?
The crispy skin comes primarily from the quick, hot sear with the skin-side down at the start of grilling. It's important to have that skin be as dry as possible for an optimal sear, so dry it off with paper towels first. Adding a drizzle of neutral oil will also help get the skin crispy and not stick to the grill.
How long does it take to grill chicken thighs?
It should be about 25-35 minutes, but be sure to use a thermometer to verify the thighs are done.
Should I grill with the lid open or closed?
It is optimal to grill the thighs with the lid closed.
Instructions
Pat the thighs dry with a paper towel and brush on a little neutral oil and season on all sides. (Chicken can be prepped, seasoned and refrigerated uncovered for 3 to 24 hours before cooking for optimal flavor.)

Prep and preheat the grill to 450° F with a two-zone grilling setup (see note). Clean the grates with an oiled paper towel and tongs or grill brush.

Sear the thighs skin-side down for 3-5 minutes, keeping an eye on flare-ups.

Turn and cook for 3-5 more minutes, then transfer to the cooler side.

Continue to cook until the internal temperature reaches 175-185° F. About 25-35 minutes total for bone-in, depending on the thickness of the chicken and temperature of the grill.

Rest for 5 minutes before serving.
Notes
A two-zone grilling setup has one side of the grill with high, direct heat and the other side with lower, indirect heat.
If using a sauce like BBQ or Huli Huli, don't put any on until about 10 minutes before finished.
Be careful of sugary marinades and sauces, as they can easily char on direct heat/flame.