We are about to get another heat wave here, which I'm not super excited about. What I am excited about is all these ripe and juicy peaches that are plentiful towards the end of the summer. There are so many great things you can do with perfect peaches. You can add them to a salad, make peach ice cream, grill them, and so much more. One of my favorite ways to enjoy peaches is in a peach crisp where the natural sweetness of the peaches shines through and is complemented with a crunchy topping and maybe a little whipped cream.
I learned something new recently that I'm a little embarrassed to admit that I didn't know before, but I might not the only one. You know when you go cut your peach in half and try to pull it apart and sometimes it separates from the stone with ease, then other times it is stuck on there and you think it will never let go? Yeah, that happens to me too!
I just assumed that this had something to do with the ripeness of the peach. It frustrated me beyond belief when I buy these beautiful peaches only to be smashed while I tried to separate and they just didn't want to let go.
It turns out that there are Clingstone and Freestone varieties of peaches. Who knew this was the reason the stone sometimes releases with ease and sometimes doesn't.
I'm not sure why you would ever want Clingstone peaches if you had the choice. It seems a little like the seedless watermelon. Why would you ever want a watermelon with seeds again? Well, it's a little like that with peaches. Why would you want a cling peach? Maybe there is a reason. Maybe they taste better, but I really don't know. What I do know that I will be looking for Freestone peaches from now on.
You can't just look at the peach and tell which ones are freestone either. You will need to ask your produce expert farmer at the farmer's market for help when you are looking. You can read more about peaches and varieties from my friends over at Specialty Produce.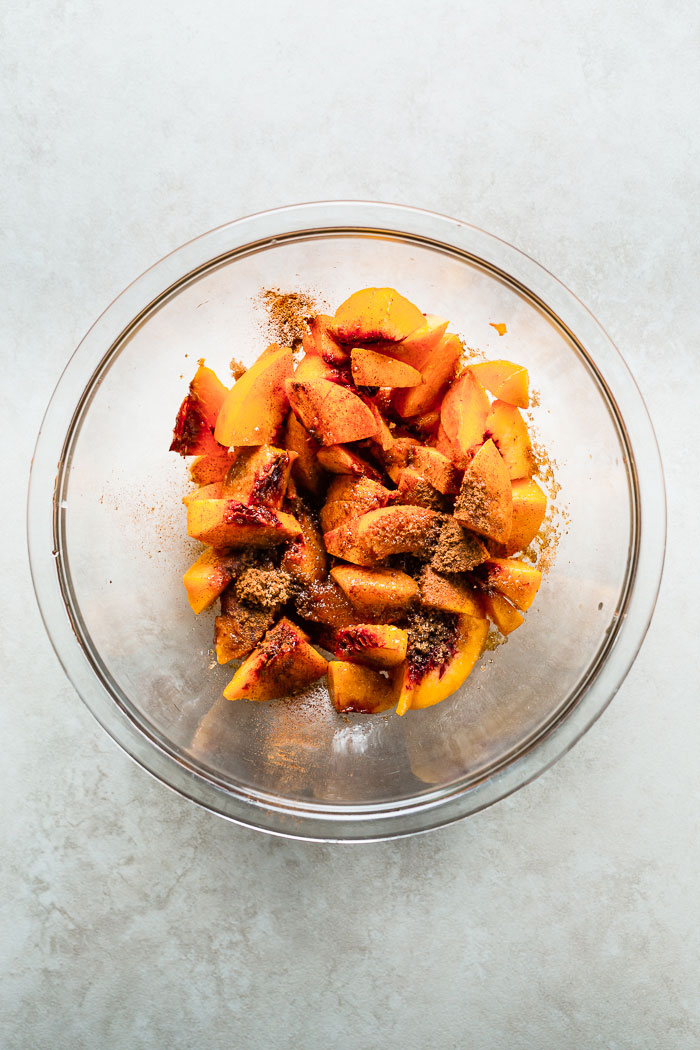 Ok, so back to the peach crisps. A seasonal fruit crisp is my go-to for a quick dessert. You can use whatever you have on hand or ask someone to grab some fruit on their way over, and you most likely already have all the other ingredients on hand.
Simply make the crumble topping, toss the peaches in a bowl with a little sugar, place in ramekins topped with the crumble and put them in the oven when you sit down to dinner. You will start to smell your wonderful dessert, which will be ready in about 45 minutes.
Since it's going to be warm, I definitely won't be turning the big oven on, which would heat up the entire house. I will be turning on my Breville Smart Air Oven to bake these peach crisps while keeping the kitchen cool. It also pre-heats in minutes and perfectly crisps up these crisps.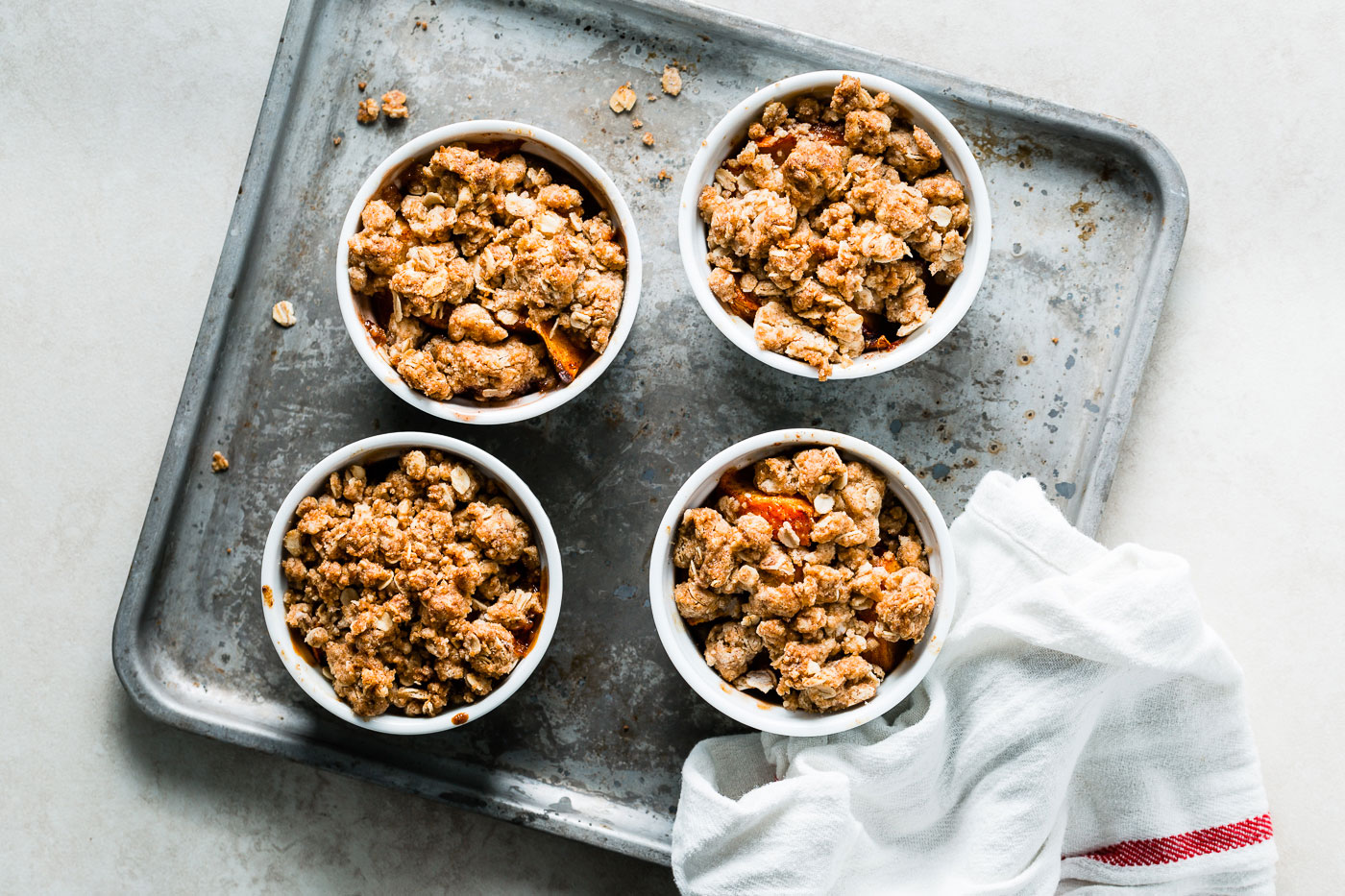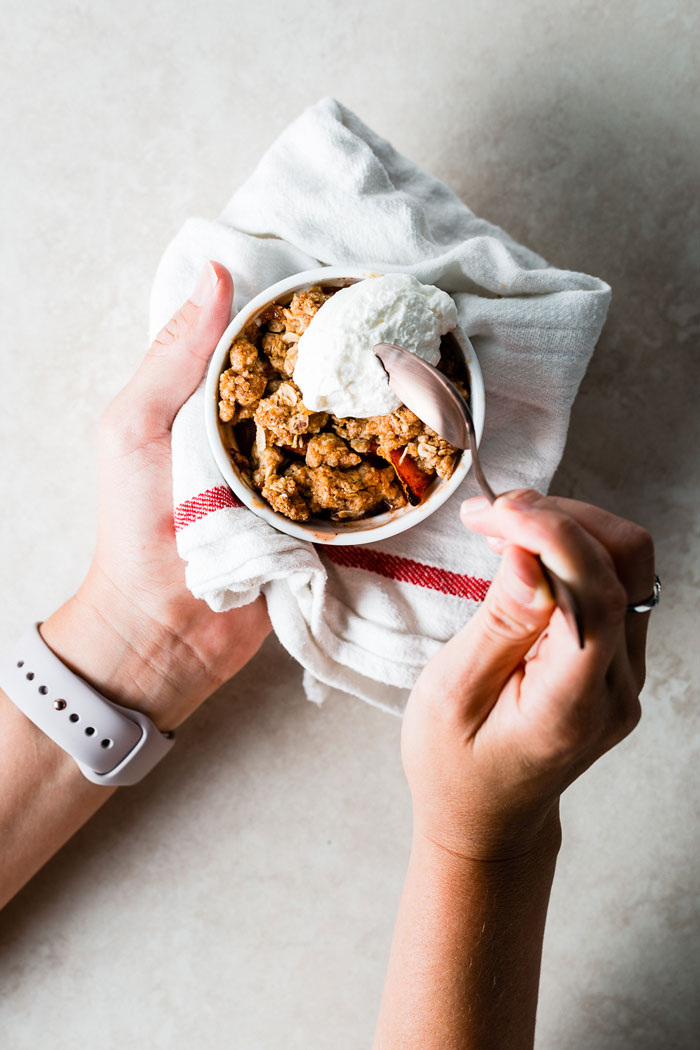 Be sure to share this recipe and the photos if you love it.
Individual Peach Crisps
Savor the natural sweetness of juicy peaches with this easy individual peach crisp recipe, featuring a delightful crunchy topping that perfectly complements the flavor of the fruit.
Print
Pin
Rate
Ingredients
3

large peaches

, pealed and sliced, about 12 oz

2

tablespoons

brown sugar

½

teaspoons

vanilla extract

¼

teaspoons

cinnamon
Crisp Topping
½

cup

flour

¼

cup

rolled oats

¼

cup

brown sugar, plus more for peaches

¼

teaspoons

cinnamon

pinch of salt

¼

cup

unsalted butter (2 oz), melted
Instructions
Pre-heat oven to 350 degrees.

Make the crumble topping by combining the flour, oats, brown sugar, cinnamon and a pinch of salt and in a medium bowl, mixing with a with a fork to combine.

Pour in the melted butter and stir with a fork to combine with the dry ingredients, being sure not to over mix so you maintain large clumps of crumble.

In a separate bowl, mix the sliced peaches with the brown sugar, vanilla extract and cinnamon.

Distribute the peaches into individual ½ cup ramekins.

Bake for 40 to 50 minutes, or until golden.

Let cool and serve with whipped cream or vanilla ice cream.
More Dessert Recipes
Special Equipment Used
Breville Smart Oven Air (affiliate link)