This post was created in partnership with Vitamix and The Feed Feed.
All thoughts and opinions are always my own.
A spectacular weeknight or special occasion dinner that can be made in under 30 minutes. Skip the restaurant and fire up the grill to make delicious lamb chops at home. Marinate the lamb the night before to make this meal a breeze and even more flavorful
I can remember cooking lamb chops for my mom when I was growing up. I would have the cast iron grill pan so hot that the entire house would fill up with smoke. She would always request a side of mint jelly. Since mint pairs so well with lamb, we're making a delicious and vibrant in color and flavor mint chimichurri sauce that you will be going back to again and again.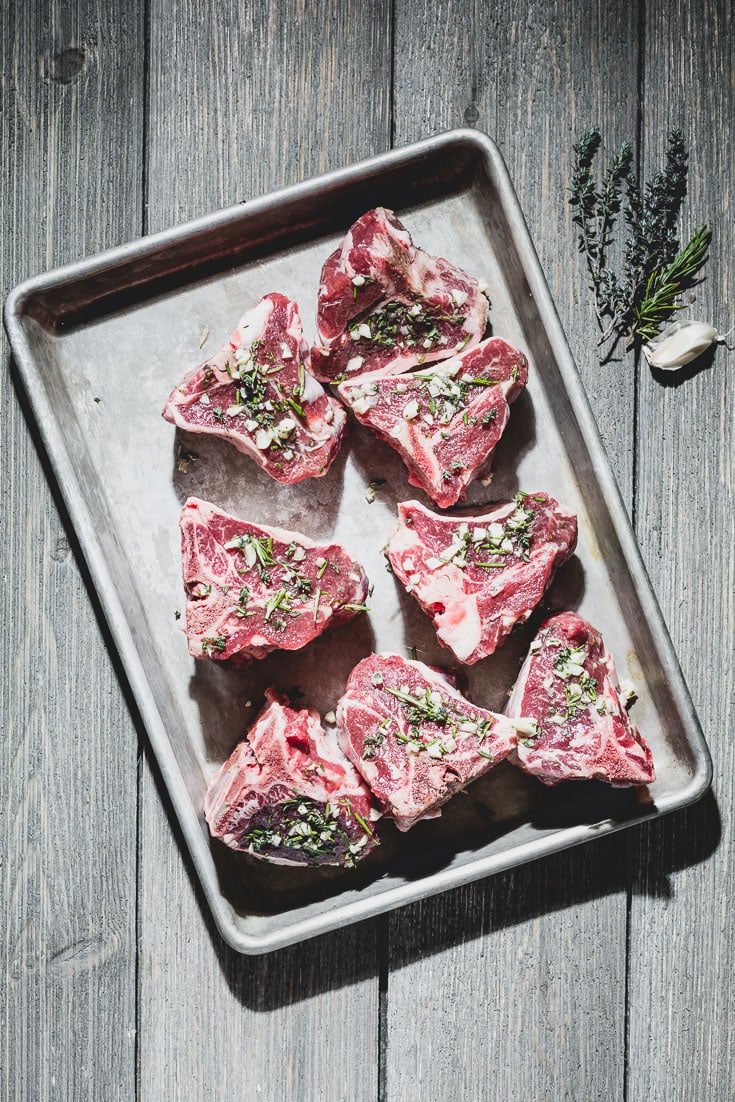 What cut of lamb to grill
For this recipe, we're using lamb loin chops, which are like the T-bone steak of the lamb. One side of the T-bone chop is the lamb loin, and the other side has the filet.
A few of the benefits of lamb chops is their availability and price. They are readily available from most grocery stores and butchers and are usually much less expensive than rack of lamb. The chops are also super forgiving and versatile. If you accidentally overcook them, they will still taste great, be tender and be super enjoyable.
Marinating the lamb chops
Marinate the lamb loin chops with chopped garlic, rosemary, thyme and a little olive oil for at least 30 minutes prior to cooking. The olive oil will help pull the aromatic flavors inside the meat. It's best to marinate overnight if possible for even more flavor.
It's up to your preference whether you wipe the garlic and herbs off of the lamb prior to grilling. The garlic can burn depending on the type of heat you are using, so I usually like to wipe off some of the marinade.
How to grill lamb chops
Bring the chops to room temperature before cooking. They can be grilled, pan seared or broiled. I prefer to use a cast iron grill pan because it's so quick and easy.
Pre-heat the grill over medium-high heat.
While the grill heats up; wipe off excess garlic and herbs then liberally season the lamb chops with kosher salt and black pepper.
Grill the chops for about 3 to 4 minutes per side to get a nice crust. Use a Thermapen instant-read probe thermometer to check for doneness. Cook to 120 to 125 degrees Fahrenheit for medium-rare.
Transfer the chops to a plate or cutting board and cover with aluminum foil to rest for 10 minutes before serving.
Learn more tips and techniques in the Grilled Lamb Guide.
How do you know when Lamb chops are done?
It's all about the internal temperature that tells you when the lamb chops are finished cooking. The best way to find the internal temperature is with an instant-read probe thermometer. I would highly recommend keeping one within arms reach whenever you are cooking.
Lamb doneness temperature chart
Rare: 115° to 120°F
Medium-rare: 120° to 125°F
Medium: 130° to 135°F
Medium-well: 140° to 145°F
Well-done: 150° to 155°F
The Mint Chimichurri sauce
This mint chimichurri sauce is so fresh and versatile. You can use it with so many different meats and substitute the herbs for whatever you have on hand or whatever flavors you feel like playing with. It's just a few very accessible ingredients and blends up in just a few seconds.
Ingredients for the Mint Chimichurri
For this version of chimichurri, we're using bright fresh mint, parsley, garlic, salt, red pepper flakes, red onion, red wine vinegar and olive oil.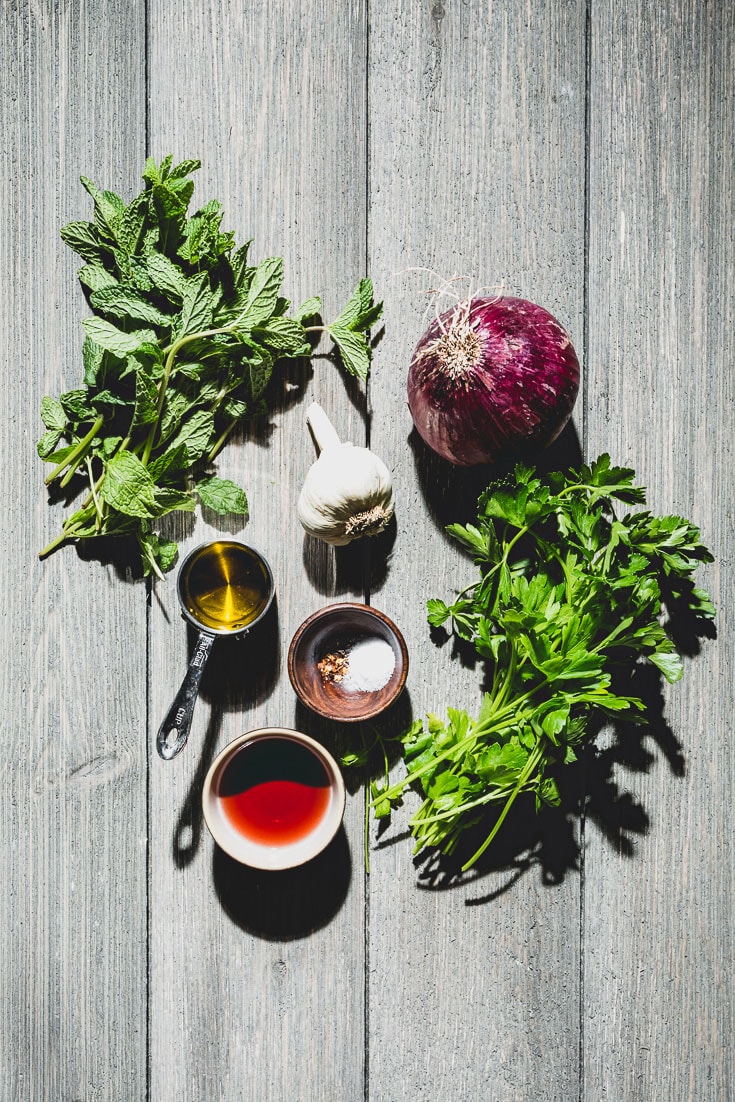 Making the Mint Chimichurri
Making the Mint Chimichurri is so simple. Just add all the sauce ingredients to the blender (starting with the liquids first) and pulse until well chopped but not completely pureed.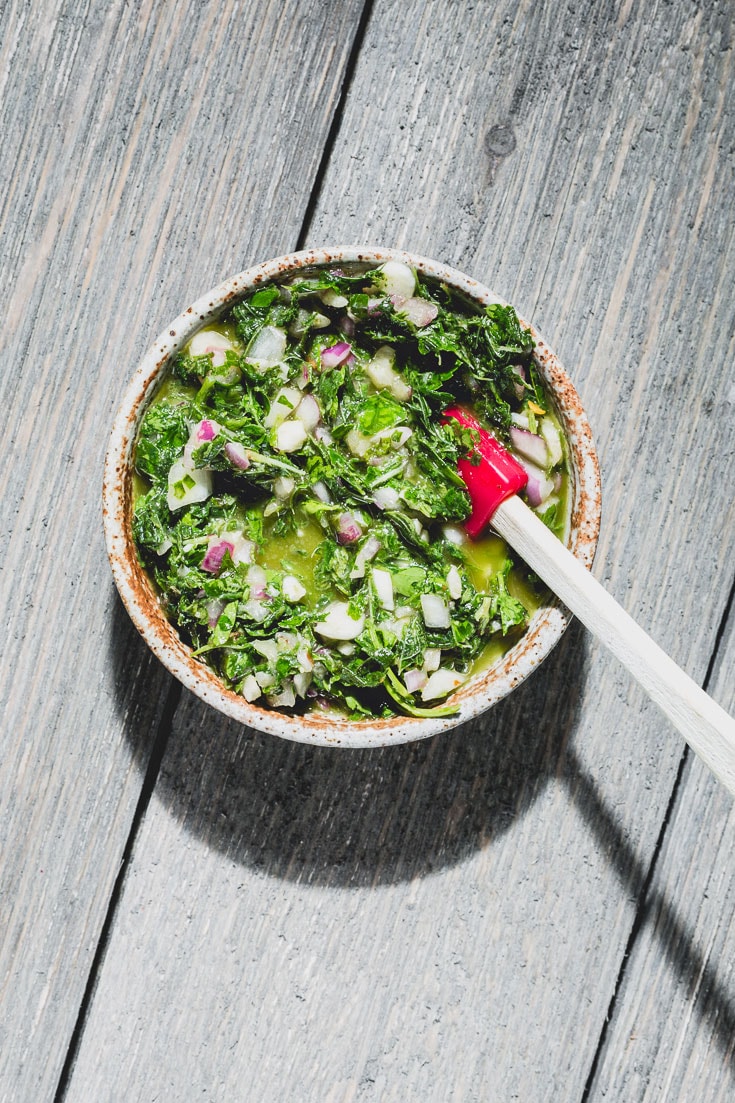 I must admit that I've always been a bit of a Vitamix super fan. They are probably the most sought-after kitchen appliance that everyone wants as part of their kitchen arsenal. No matter how fancy another blender is, the Vitamix just always seems to come out ahead.
Before I had one, I would see them on friend's counters and say "oh, you have a Vitamix? Must be nice." Fast forward to receiving our first Vitamix hand-me-down from my mother-in-law (yes, it's pretty much the best hand-me-down you could ask for). It's been life-changing and there's definitely no going back.
This new Vitamix 3500 Accent Series feels like a huge upgrade. Beautiful on the counter, it fits under cabinets, and all the built-in program settings make timing and power a no brainer. I really didn't think I would use the auto program settings. I'm more of a manual kind of guy. I kinda know how to cook, so I know when the smoothie is done, right? Well, sort of.
Pro tip: When blending in a Vitamix (or other blenders); always start by adding liquids first, then layer other ingredients on top. The liquids on the bottom create a vortex that can then pull the other ingredients down to blend consistently.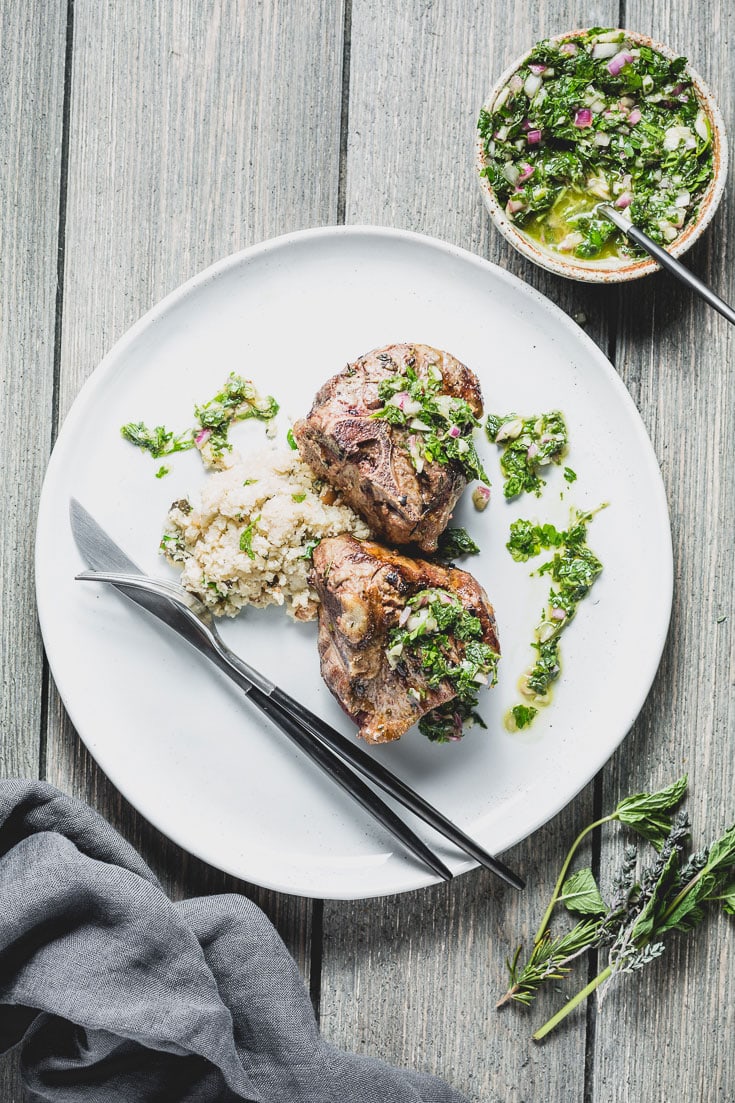 More Delicious Lamb Recipes
Equipment used for Grilling Lamb Chops
Grilled Lamb Chops with Mint Chimichurri
Garlic and herb marinated then grilled lamb chops, mint chimichurri and herby cauliflower rice. So delicious and easy to prepare in about 30 minutes.
Print
Pin
Rate
Ingredients
For the Lamb Chops
8

lamb chops

2

chopped garlic cloves

2

teaspoons

chopped fresh thyme

2

teaspoons

chopped fresh rosemary

1

tablespoon

canola oil

kosher salt & freshly ground pepper
Mint Chimichurri Sauce (makes about 2 cups)
1

cup

extra virgin olive oil

¼

cup

red wine vinegar

1

cup

packed fresh mint

1

cup

packed fresh italian parsley

4

coarsely chopped garlic cloves

½

cup

diced red onion

1

teaspoon

red pepper flakes

or to taste

1

teaspoon

kosher salt
Instructions
For the Lamb Chops
In a small bowl; mix the chopped garlic, thyme, rosemary, and canola oil. Rub mixture all over the lamb chops. Marinate for at least 30 minutes, or overnight in the fridge. Bring to room temperature before cooking.

Pre-heat grill or cast iron skillet over medium-high heat until it just starts to smoke. Add a small drizzle of canola oil if using a skillet.

Season the lamb on all sides with kosher salt and freshly ground pepper.

Sear the lamb chops for about 3 to 4 minutes on each side, depending on thickness. For medium-rare the internal temperature should be 120 to 125 degrees.

Rest the lamb chops for 10 minutes before serving.
To make the Mint Chimichurri
Add the olive oil, red wine vinegar, mint, parsley, garlic, red pepper flakes and salt to the Vitamix blender container. Pulse on high for a few times until the ingredients are well chopped, but not completely puréed.

Transfer the chimichurri sauce to a small bowl or jar. Taste for seasoning and add more salt, red wine vinegar or red pepper flakes as desired to your taste. Place plastic wrap directly on top of the chimichurri to preserve the color, and store in the refrigerator until serving.
Notes
The mint chimichurri recipe makes extra. Save for other uses up to two days in the refrigerator.