This post was created in partnership with Vitamix and The Feed Feed.
All thoughts and opinions are always my own.
A decedent Mother's Day dinner that can be made in under 30 minutes. Skip the restaurant and make Mom something from the heart. That's something she will really love. Marinate the lamb and prep the cauliflower rice the night before to make this meal a breeze.
I can remember cooking lamb chops for my mom when I was growing up. I would have the cast iron grill pan so hot that the entire house would fill up with smoke. She would always request a side of mint jelly. Mint really goes so great with lamb. These lamb chops are paired with a delicious mint chimichurri sauce that she will be asking for more of (or for the recipe).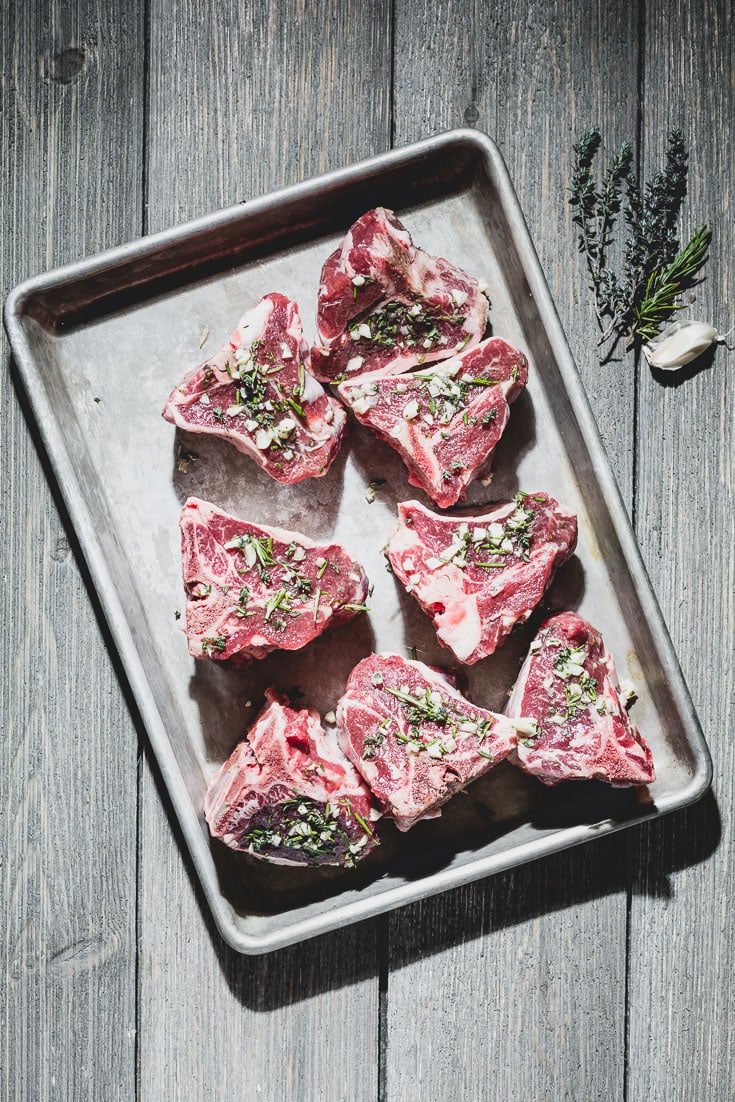 For this recipe, I'm using lamb loin chops, which are like the T-bone steak of the lamb. One side of the T-bone chop is the lamb loin, and the other side has the filet. They are super tender and readily available from most grocery stores and butchers. So tender, delicious and really easy to prepare.
Marinate the lamb loin chops for at least 30 minutes with chopped garlic, rosemary, thyme and a little oil. Adding a little oil will help bring the aromatics inside the meat. I prefer to marinate overnight for even more flavor.
Bring the chops to room temperature before cooking. They can be grilled, pan seared or broiled. I prefer to use a cast iron grill pan because it's so quick and easy. Depending on the thickness, they should be grilled for 3 to 5 minutes per side for medium-rare. Rest for 10 minutes before serving.
Now to the Mint Chimichurri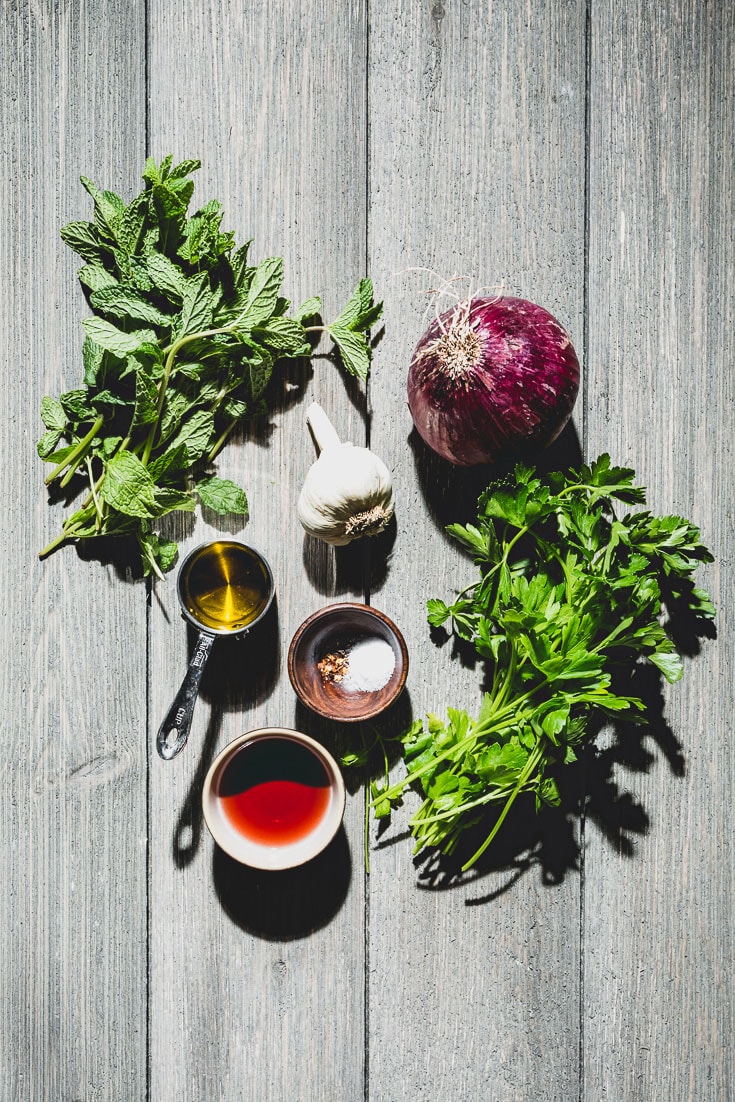 Gosh I love this sauce. It's so versatile and so fresh. You can use it with so many different meats and substitute the herbs for whatever you have on hand or whatever flavors you feel like playing with. For this version, I'm using mint and parsley because the mint pairs so well with lamb.


I super excited to have the opportunity to demo this grilled lamb and mint chimichurri recipe with The Feed Feed and Vitamix at Everything Food Conference in Salt Lake City. I got to test out the latest and greatest from Vitamix, and it did not disappoint.
I must admit that I've always been a bit of a Vitamix super fan. They are probably the most sought after kitchen appliance that everyone wants. No matter how fancy another blender is, the Vitamix just always seems to come out ahead. Before I had one, I would see them on friend's counters and say "oh, you have a Vitamix? Must be nice." Fast forward to receiving our first Vitamix hand-me-down from my mother-in-law (yes, it's pretty much the best hand-me-down you could ask for). It's been pretty life changing and there's definitely no going back.
This new Vitamix 3500 Accent Series feels like a huge upgrade. Beautiful on the counter, fits under cabinets, and all the built-in program settings. I really didn't think I would use the auto program settings. I'm more of a manual kind of guy. I kinda know how to cook, so I know when the smoothie is done, right? Well, sort of.
Now I can walk away and come back and it's done. So cool, and it actually gives me a few minutes extra every day that would have been for waiting to turn off the blender. That time is something you can't buy (or actually you can).
When blending in a Vitamix (or other blenders); always start by adding liquids first, then layer other ingredients on top. The liquids on the bottom creates a vortex that can then pull the other ingredients down to blend consistently.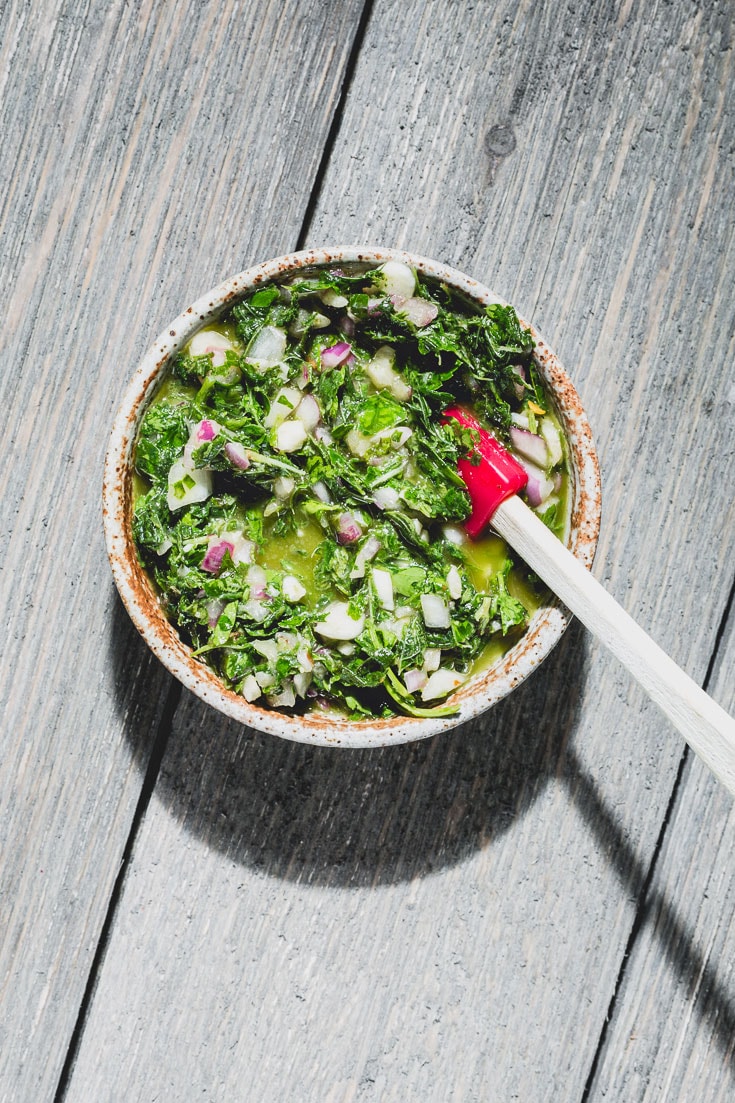 Let's talk about cauliflower rice for a minute. If you haven't had it by now, this is your chance to change that. It's a pretty amazing alternative to actual rice, that can taste even better than the real thing.
There are quite a few methods for creating rice out of a head of cauliflower. You can grate it on a cheese grater or food process it; but did you know that the easiest and most efficient method to make cauliflower rice is in a Vitamix? Yep, it's true!
Simply break-up the head of cauliflower by hand, place it in the Vitamix, cover with water and pulse 2 or 3 times on high. Drain the water and place on paper towels to pat dry. That's it. Your cauliflower rice is ready to cook. So easy.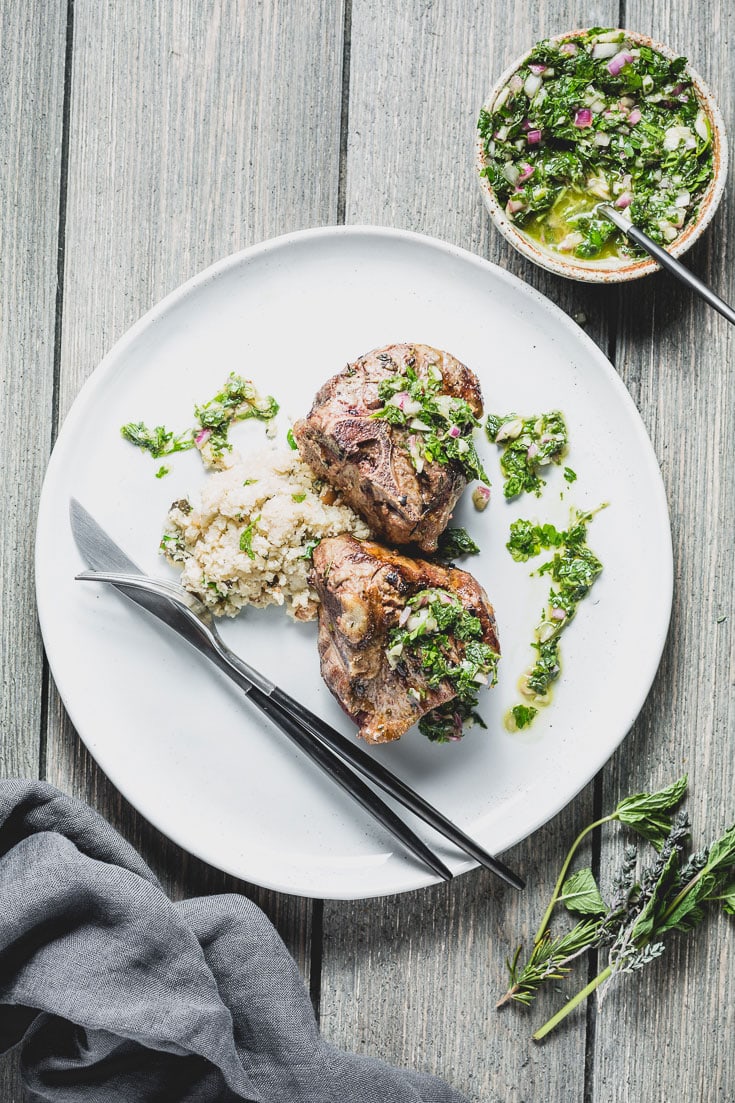 Grilled Lamb Chops with Mint Chimichurri and Cauliflower Rice
Print
Pin
Rate
Ingredients
For the Lamb Chops
8

lamb chops

2

chopped garlic cloves

2

teaspoons

chopped fresh thyme

2

teaspoons

chopped fresh rosemary

1

tablespoon

canola oil

kosher salt & freshly ground pepper
Mint Chimichurri Sauce (makes about 2 cups)
1

cup

extra virgin olive oil

1/4

cup

red wine vinegar

1

cup

packed fresh mint

1

cup

packed fresh italian parsley

4

coarsely chopped garlic cloves

1/2

cup

diced red onion

1

teaspoon

red pepper flakes

or to taste

1

teaspoon

kosher salt
Cauliflower Rice
1

medium size cauliflower,

broken into florets

2

tablespoons

unsalted butter

2

tablespoons

olive oil

1/2

cup

diced red onion

1

tablespoon

chiffonade fresh mint

1

tablespoon

chopped parsley

kosher salt & freshly ground pepper
Instructions
For the Lamb Chops
In a small bowl; mix the chopped garlic, thyme, rosemary, and canola oil. Rub mixture all over the lamb chops. Marinate for at least 30 minutes, or overnight in the fridge. Bring to room temperature before cooking.

Pre-heat grill or cast iron skillet over medium-high heat until it just starts to smoke. Add a small drizzle of canola oil if using a skillet.

Season the lamb on all sides with kosher salt and freshly ground pepper.

Sear the lamb chops for about 3 to 4 minutes on each side, depending on thickness. For medium-rare the internal temperature should be 120 to 125 degrees.

Rest the lamb chops for 10 minutes before serving.
To make the Mint Chimichurri
Add the olive oil, red wine vinegar, mint, parsley, garlic, red pepper flakes and salt to the Vitamix blender container. Pulse on high for a few times until the ingredients are well chopped, but not completely puréed.

Transfer the chimichurri sauce to a small bowl or jar. Taste for seasoning and add more salt, red wine vinegar or red pepper flakes as desired to your taste. Place plastic wrap directly on top of the chimichurri to preserve the color, and store in the refrigerator until serving.
To make the Cauliflower Rice
Add the cauliflower florets to a Vitamix and cover with water. Pulse on high 2 or 3 times until it is the consistency of rice, but not pureed.

Drain into a strainer and transfer the cauliflower rice to a paper towel-lined sheet pan. Pat dry with additional towels.

Heat oil and butter in a 12" skillet over medium-high heat. Sautée the onion until it starts to turn golden. Add the cauliflower and cook (stirring every few minutes) until it is golden and soft, about 3 to 5 minutes more. Add a splash of water if it becomes dry.

Season with salt & pepper and stir in the fresh herbs.
Notes
The mint chimichurri recipe makes extra. Save for other uses up to two days in the refrigerator.