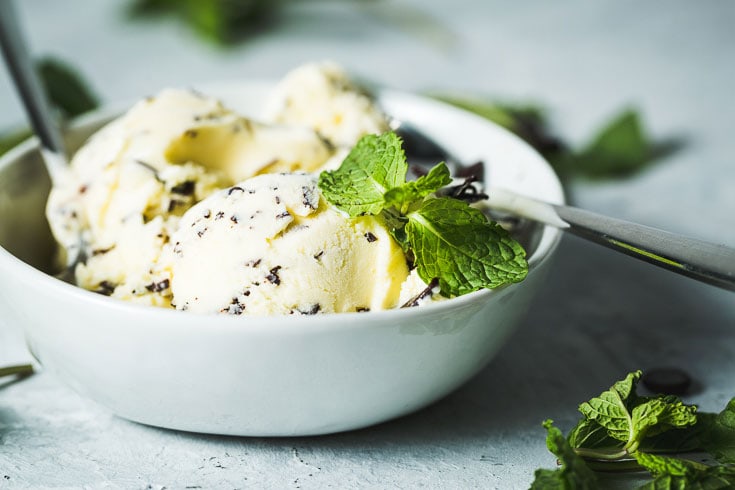 If there was only one ice cream flavor I could have for the rest of my life, it would probably be Mint Chocolate Chip. There's something so nostalgic about it. It's refreshing, not overly sweet and has a nice little crunch with every bite from the chocolate. It has lots of layers of flavors that hit you at different times on each bite. There's just no getting tired of it.
As a kid, it was either mint chocolate chip or coffee ice cream. The two mint chocolate chip ice cream brands I would eat as a kid were Breyers and Dryer's. We always had one or the other in the freezer. After dinner every night, I would grab the half gallon, a napkin for underneath and a spoon and go to town. I always preferred the Breyers brand, and maybe one of the reasons is because of the color. They didn't add any artificial green color, and I don't in this ice cream either.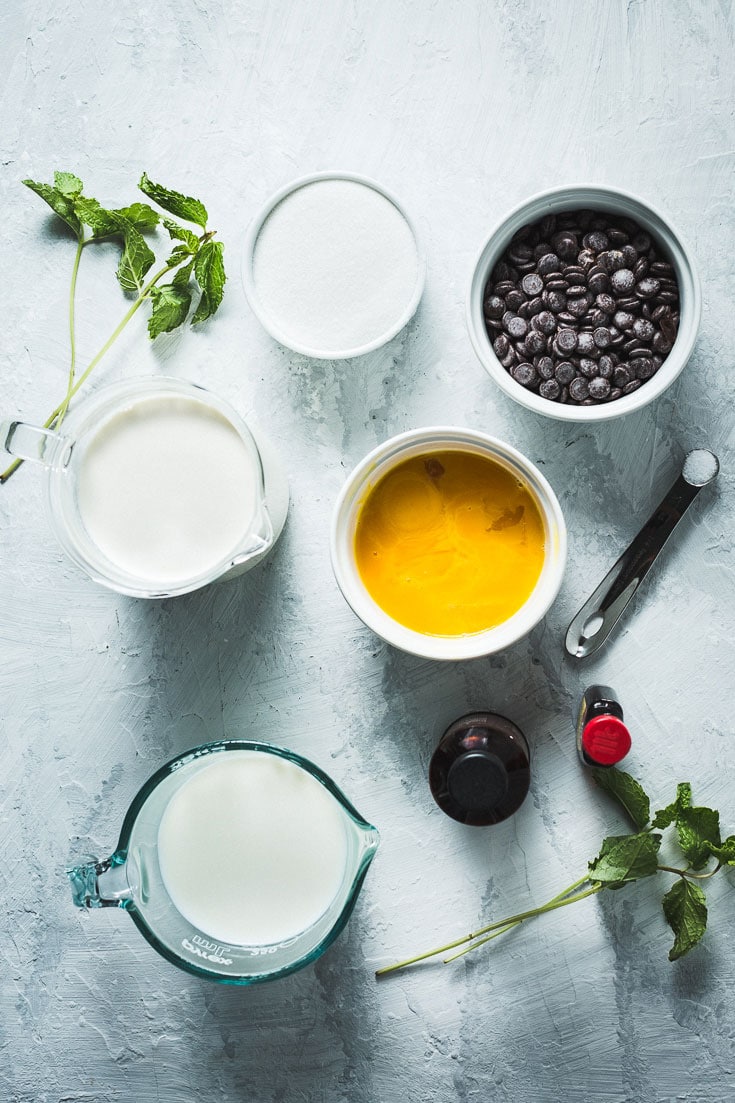 Making ice cream with this simple recipe is super easy and will probably leave you wondering why you would ever buy ice cream at the store again. Once you have all your ingredients out, you just have a few cooking steps and then it's just time for the freezer to do its work.
For a mint ice cream, you can go the route of steeping real mint leaves in the cream, or you can use mint extract. I'm sure the steeping option is a great method and all, but it takes quite a bit of mint and an extra hour of steeping time. I do want to try this method sometime, but using high-quality mint extract makes this is cream taste just about perfect to me.
How to make the best mint chocolate chip ice cream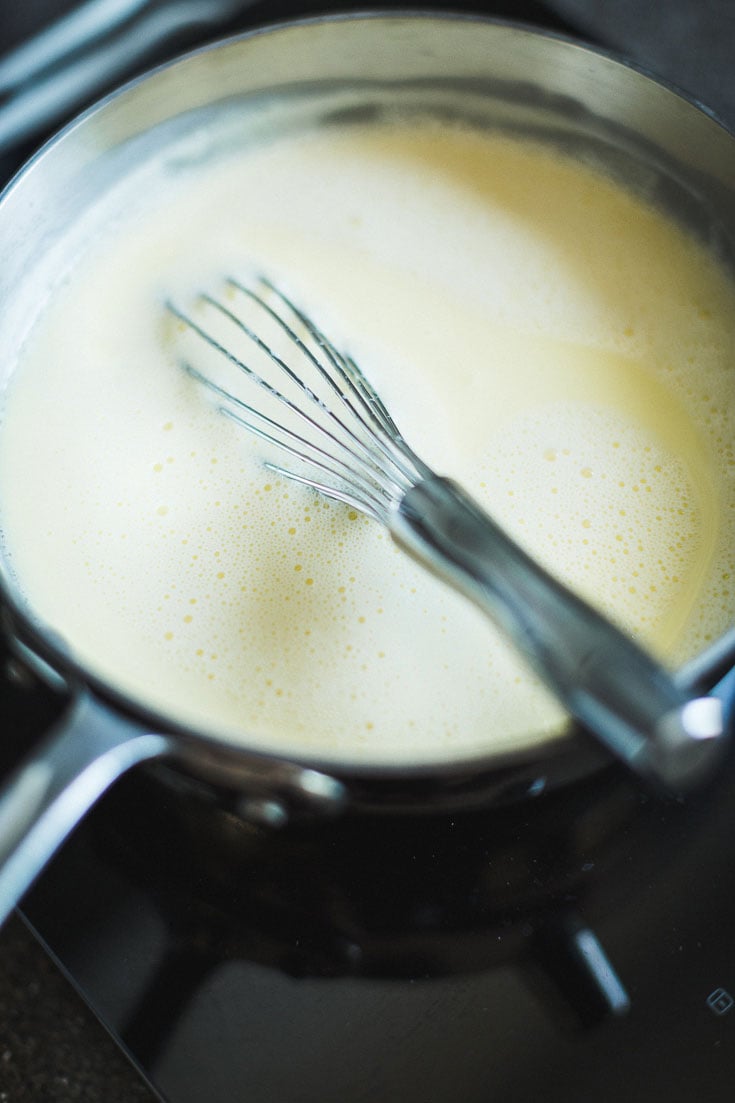 The mint ice cream is made by combining the milk, cream, sugar and salt in a saucepan to dissolve the sugar. In a separate bowl, the egg yolks are whisked and about one cup of the hot cream mixture is whisked into the yolks to temper them (which prevents them from scrambling). That goes back to the saucepan and is brought to a low simmer.
Pour it through a fine mesh strainer and add the mint and vanilla extract. Chill completely before spinning in your ice cream maker.
The difference is in the chocolate "swirl" method
The problem with a lot of mint chocolate chip ice creams is the "chip" part can be a little too large and those larger frozen chocolate chips can be a little uncomfortable to bite into.
By melting the chocolate over a double boiler, then swirling it into the chilled ice cream container, it creates tiny crunchy chocolate with every bite that is fantastic.
You will add a swirl of chocolate to the bottom of the container, add a layer of the spun ice cream, then more chocolate swirl. Repeat until all of the ice cream is in the container.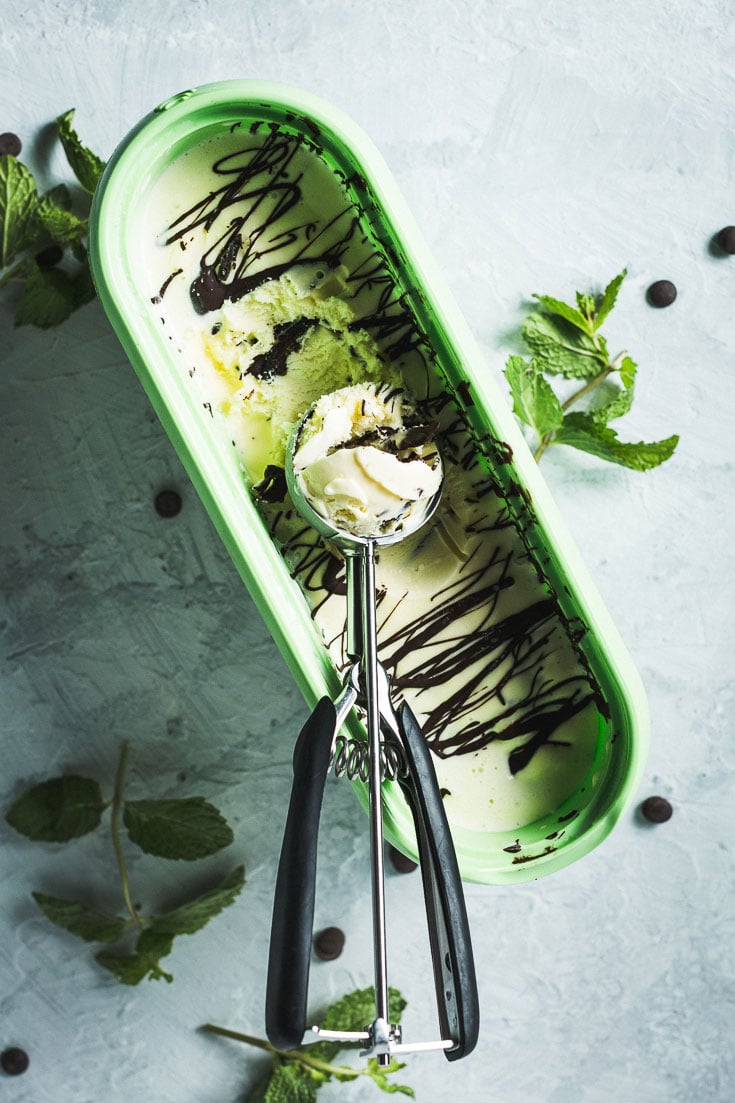 About ice cream machines
An ice cream maker is a great little tool to have. There are plenty of options out there; from a $79 Cuisinart machine, up to a $7,000 commercial ice cream machine that restaurant kitchens use.
I personally use the Kitchenaid Stand Mixer Ice Cream Bowl (affiliate link). Most people have a Kitchenaid stand mixer, and there's a reason I love this bowl so much. I don't have to have a separate machine and the Kitchenaid motor is much more powerful than the inexpensive stand-alone machines.
With any of the ice cream freezer "bowl" options, the bowl has to be stored in the freezer before you can use it. This really isn't a big deal unless you want to make a couple of batches of ice cream.
A cold bowl is really important when making ice cream. Without it, your ice cream will take longer to spin and this makes your ice cream much less smooth and creamy.
That's where compressor ice cream makers come in. Of course, I would really love a Breville Smart Scoop Ice Cream Maker or a Cuisinart Compressor Ice Cream Maker that has a built-in compressor. The benefit of the built-in compressors is there is no storing the bowl in the freezer before you can make it. The compressor does the cooling and you can just keep making ice cream all day. This is a great option if you are a serious and frequent ice cream maker. If you just do it occasionally, just stick to the Kitchenaid Stand Mixer Ice Cream Bowl or the Cuisinart machine (affiliate links).
Equipment Used
Mint Chocolate Chip Ice cream
A super refreshing and simple-to-make mint chocolate chip ice cream that is silky smooth and just might be the best ice cream you have ever tasted.
Print
Pin
Rate
Ingredients
1

cup

whole milk

2

cups

Heavy Cream

½

cup

Sugar

¼

teaspoon

Salt

(diamond kosher)

5

Large Egg Yolks

1

teaspoon

Mint Extract

½

teaspoon

Vanilla Extract

5

oz

Bittersweet Chocolate Chips
Instructions
In a medium saucepan, heat the cream, milk, sugar and salt over medium heat; whisking to dissolve the sugar (about 4 to 5 minutes).

In a separate bowl, whisk the egg yolks.

Gradually pour about 1 cup of the hot milk mixture into the egg yolk bowl, while continually whisking to temper the eggs.

Add the tempered egg yolk mixture back to the pan while whisking until it just comes to a simmer.

Remove the pan from the heat, then add the mint and vanilla extract.

Pour the ice cream base through a fine mesh strainer and chill completely either over an ice bath or in the refrigerator.

Spin the mint ice cream base in a maker according to the manufacturer's instructions.

While the ice cream spins, melt the chocolate in a double boiler.

In a chilled container where you will store the ice cream, drizzle chocolate over the bottom.

When the ice cream is finished spinning, add a layer of ice cream to the container, then another drizzle of chocolate. Continue this process until all of the ice cream is in the container, then freeze for at least 5 hours, or overnight before serving.
More Ice Cream Recipes