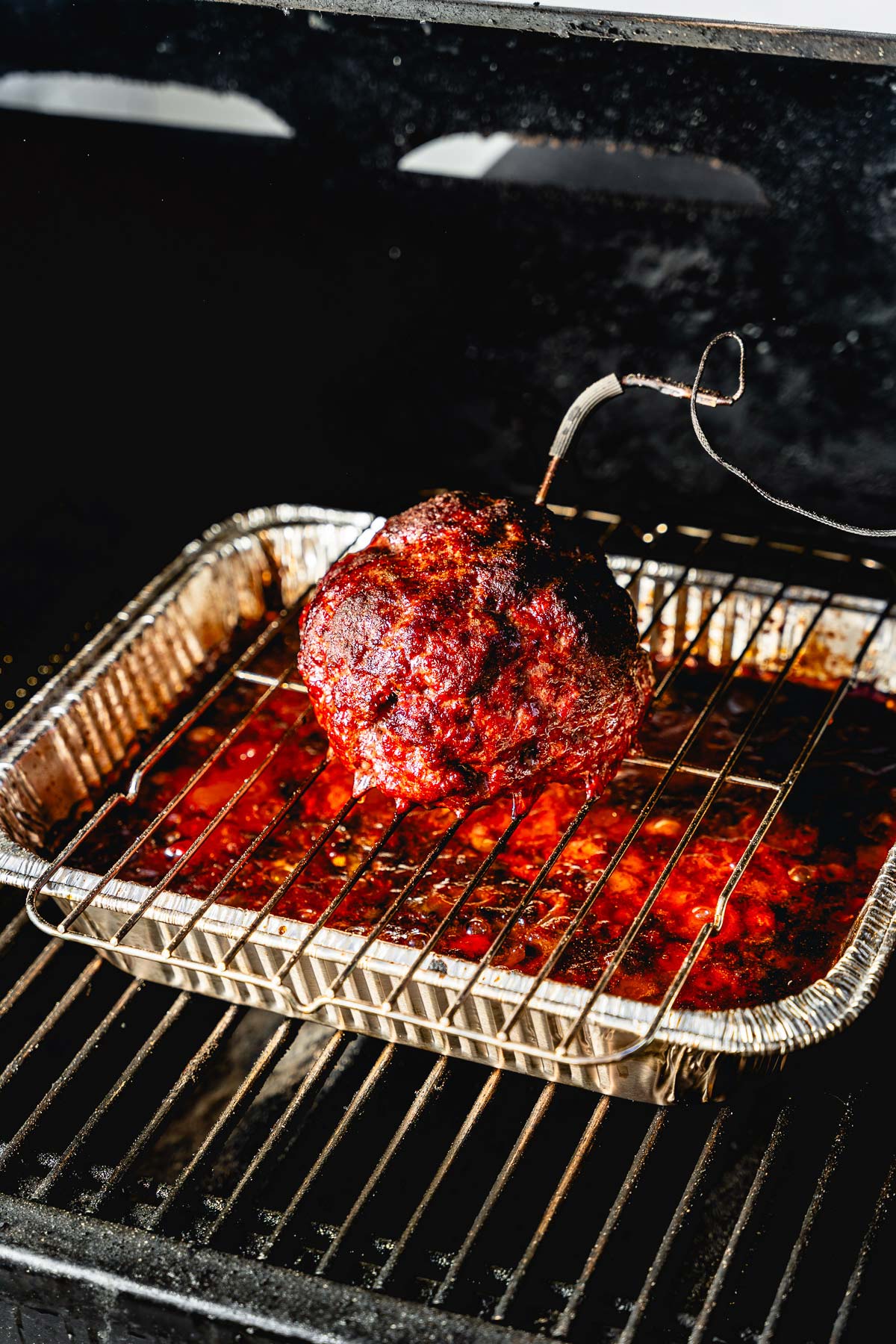 Over the top chili truly is over the top, in more ways than one. It lives up to its bold name. It's chili taken to the extreme in both flavor and technique. I first discovered this smoked chili while browsing Reddit. You make a chili base then smoke a meat loaf directly over the top it, letting the juices drip down. It's easy, gets you cooking outside, and just might be your new favorite chili.
I love all kinds of chili, from classic beef to white chicken chili. The chili base stays largely the same. While browsing smoking forums, I kept seeing over the top chili over and over. I just had to give it a try and this recipe is my version of it. The smoked meat adds an incredible depth of smoky flavor. Don't let the number of ingredients intimidate you. Chili is an art that will differ each time based on the chili peppers and your personal touches.
What is Over the Top Chili?
Over the top chili amps up classic chili with big, bold flavor. It starts with a traditional chili base. Ground beef is then smoked Iover the top" of the chili base, cooking it and letting the fat and juices driop down into it. The smoky meat then gets crumbled into the chili for an incredible flavor and texture. Layers of flavor from spices, beans, tomatoes, and smoky meat make this chili over the top.
From my research, it seems that the concept of "over the top chili" originated in 2016 from Dawn and Johnny Barnes. If you have further info, please leave it in a comment.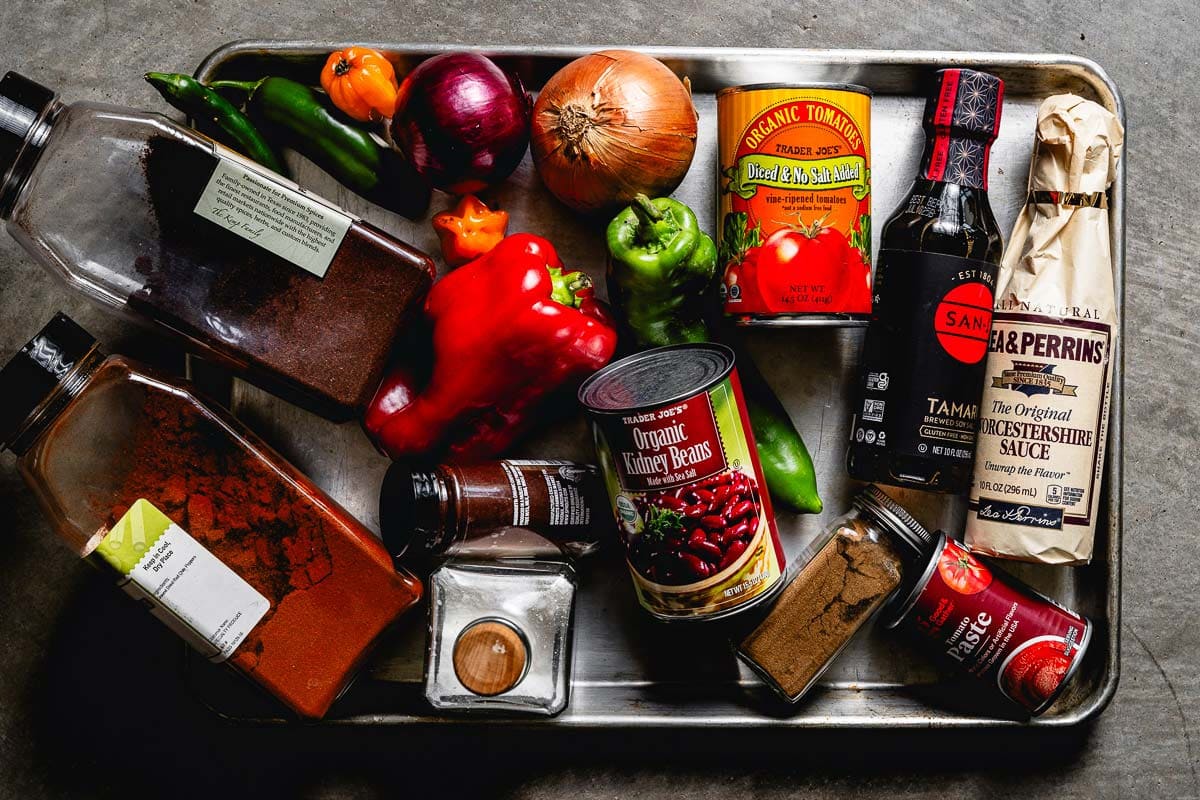 The Ingredients
For the chili base:
Onion and bell pepper - provides aromatic flavors
Assorted chili peppers - brings the heat and chili flavor
Tomato paste and diced tomatoes - thickens and adds tomato flavor
Beans - protein and texture. You can used kidney or pinto and either canned or cook your own fried dried beans.
Chicken stock - builds flavor in the base. I like to use homemade chicken stock for the best flavor.
Worcestershire and soy sauce - umami flavor boosters
Butter - adds richness and body
Spices like chili powder, cumin, cayenne - essential for chili flavor
For the ground beef "loaf":
Ground beef - Go with 85% lean. If there isn't enough fat, it can dry out. You can also go half and half with ground pork.
Smoked paprika - contributes to the smoky flavor
Chili powder - adds chili flavor to the beef
Barbecue rub (optional) - adds flavor to the outside of the beef as it smokes.
Smoke - While not often thought of as an ingredient, it definitely is a key one. I like to use oak, apple or pecan for smoked chili.
The key items are the ground beef, chili peppers, tomatoes, beans, and spices like cumin and chili powder. The variety of chili peppers gives a complex flavor to the finished dish, as well as vibrant colors and a great texture.
Special Tools & Equipment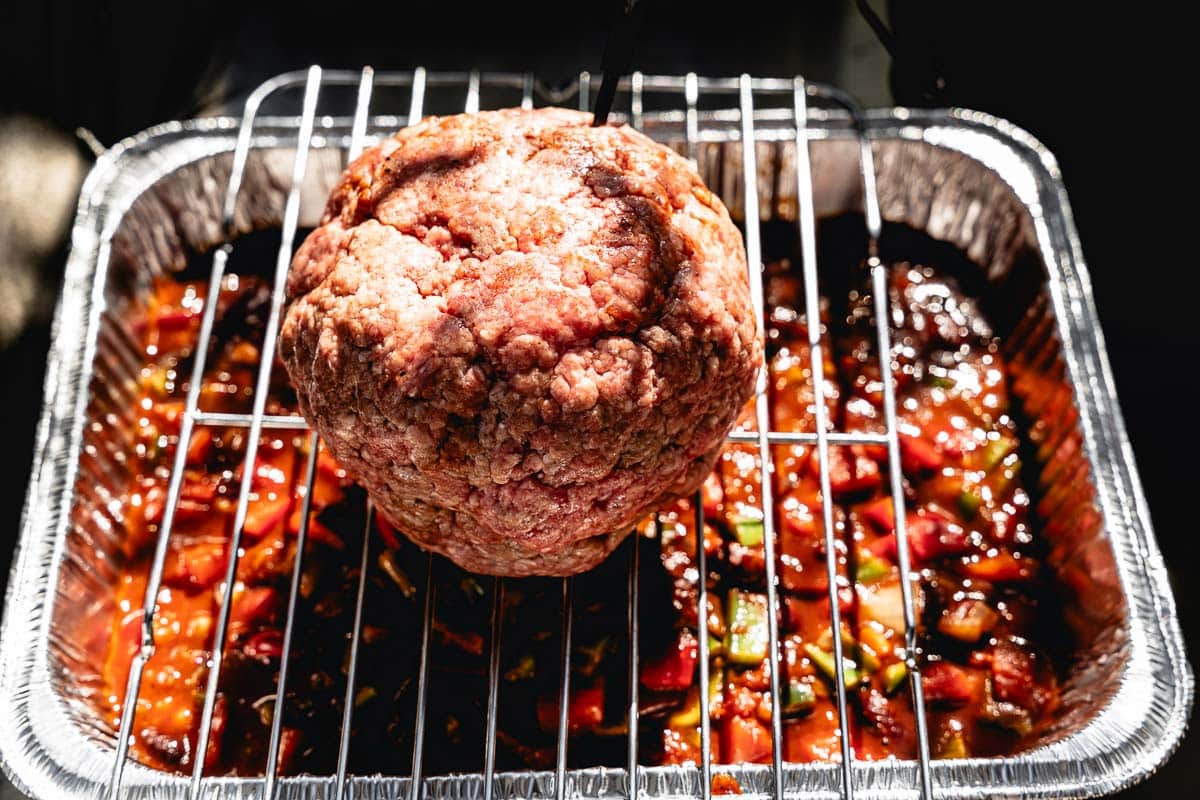 How to Make Over the Top Chili
Jump down to the recipe card for the complete instructions.
Preheat smoker to 250-275°F.
Make the chili base by sautéing onions, adding peppers, spices, tomatoes, beans, and stock. Simmer.
Form ground beef into a loaf. Coat with oil and rub.
Place meat loaf on a rack over the chili base to catch drippings.
Smoke meat loaf for 2-2.5 hours until 150°F internal temperature.
Increase the smoker temperature and cook until meat loaf reaches 155°F.
Rest meat loaf then crumble into the chili base.
Return to smoker and cook 30 mins - 1 hour until chili thickens.
Season to taste. Top with desired garnishes.
A Few Tips
For more smoke flavor when using a pellet grill, add a pellet smoke tube.
Use a meat thermometer to ensure the meat loaf reaches the proper internal temperature during smoking. Thickness affects cooking time, so always cook to temperature.
Try making this chili with leftover smoked meats like with brisket or this pulled pork chili.
Customize the heat to your taste by adjusting the amounts of jalapeno, habanero etc.
Make it ahead for convenience and more flavor - Allow the chili to rest overnight in the fridge to allow flavors to develop.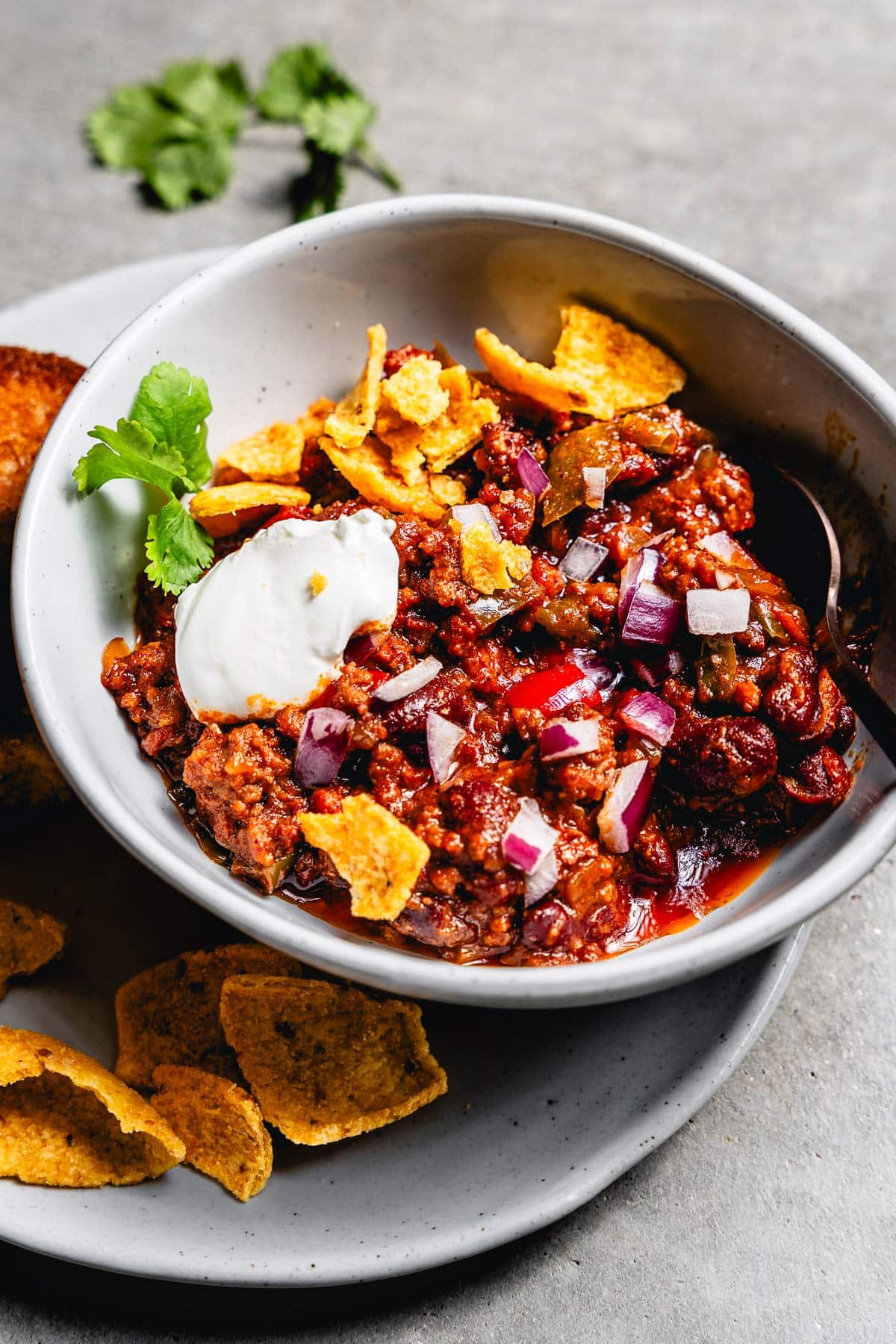 Suggested Toppings
Chili toppings are a personal thing, and you really can't go wrong. These are some of my favorites:
Chopped red onion
Chopped cilantro
Fritos (or corn tortilla chips)
Cornbread
Grated cheddar cheese
Sour cream
Diced avocado
Lime - adds a bright acidity to contrast the smoky-heat.
Since the smoker will be on already, try cooking some smoked bread pudding or smoked apple crisp right alongside the chili.
Is Over the Top Chili Greasy?
Fat from the ground beef and the butter can rise to the top after the chili is cooked, making it look a little greasy. You can simply spoon out some of this extra fat if it's not your thing or you can just stir it all in together. As the chili cools in the refrigerator overnight, the fat will also rise to the top so it is easy to scoop off.
Adjusting the Heat After Cooking
While this recipe offers a nice blend of chili peppers for medium-hot chili, you can easily adjust the heat level after cooking.
If the chili needs more heat:
Stir in a minced raw jalapeno or serrano pepper. The fresh chili will add some instant heat.
Add a splash of hot sauce like Tabasco or Cholula. Start with 1 teaspoon and add more to taste.
Sprinkle in a little cayenne pepper or ground chipotle chili powder. Add ¼ teaspoon at a time.
If the chili is too hot:
Add a little more sugar - just a little sweetness can help balance out the heat.
Top individual servings with cooling ingredients like shredded cheese, sour cream, avocado, or some fresh lime juice. Full-fat dairy helps cool down the hottest chili.
Storing & Reheating
To store the leftover chili, transfer it into an airtight container and refrigerate for up to 4-5 days.
When ready to reheat, place the chilled chili into a pot over medium heat on the stove. Stir frequently until heated through. Alternatively, you can reheat individual portions in the microwave until hot.
For longer term storage, the chili can be frozen for up to 3 months. Allow the chili to cool completely before transferring into freezer bags or containers. Thaw frozen chili overnight in the refrigerator before reheating.
More Recipes You'll Love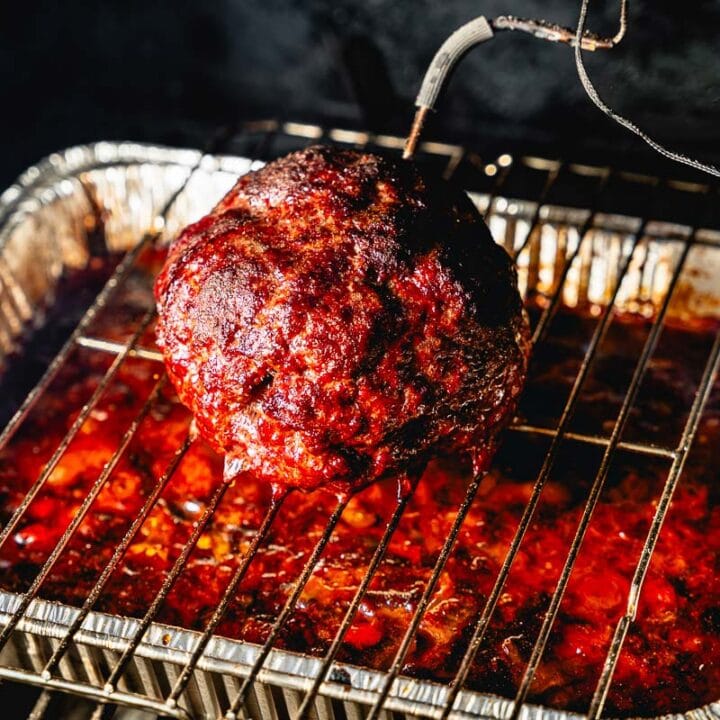 Over the Top Chili Recipe
This over-the-top smoked chili features a spicy chili base topped with a smoky, crumbled meat loaf made from ground beef.
Print
Pin
Rate
Equipment
Aluminum Drip Pan

Remote Probe Thermometer

Wire Rack
Ingredients
Chili Base
4

oz

unsalted butter

1

medium onion

, diced

1

red bell pepper

2

Habanero peppers

2

serrano peppers

1

Anaheim pepper

1

jalapeno peppers

1

tablespoon

kosher salt

(plus more as needed)

1

teaspoon

black pepper

6

oz

can tomato paste

14.5

oz

can diced tomatoes

16

oz

can kidney or pinto beans drained

1

cup

chicken stock

(homemade low sodium preferred)

3

tablespoons

Worcestershire sauce

1

tablespoons

soy sauce

3

tablespoons

dark chili powder

1

tablespoon

ground cumin

½

teaspoon

cayenne pepper

2

teaspoons

sugar
MEAT "LOAF"
2

lbs

85% lean ground beef

2

teaspoon

kosher salt

2

teaspoon

black pepper

2

teaspoon

dark chili powder

2

teaspoon

smoked paprika

oil for coating

BBQ rub

(optional)
Instructions
Preheat smoker to 250-275° F (121° to 135° C) using desired wood for smoke flavor, such as oak, pecan or apple.
Make the Chili Base
Wearing nitrile gloves, slice the chili peppers and remove seeds and pith. Chop peppers into ½" pieces.

In a large Dutch oven over medium heat, melt the butter. Add onions and a pinch of salt. Sauté until onions are soft and translucent, 5-7 minutes.

Add the chopped peppers and cook for 1 minute.

Stir in tomato paste, diced tomatoes, drained beans, chicken stock, Worcestershire, soy sauce, chili powder, cumin, cayenne, and sugar. Bring to a simmer.

Optional: Transfer chili base to a disposable aluminum baking dish for easier cleanup.
Make the Meat Loaf
While the chili base is on the stove, gently combine ground beef, salt, pepper, chili powder, and smoked paprika. Form it into a large oval shaped loaf. Lightly coat with oil and sprinkle with barbecue rub if desired.

Place a wire rack over chili base. Set the meatloaf on rack so drippings fall into the chili base. Insert a remote probe meat thermometer into the thickest part of the meat.
Smoke and Finish the Chili
Place in the smoker and cook for 2-2.5 hours until meat thermometer reaches 150° F.

Increase smoker heat to 350°F and continue to cook until the internal temperature reaches 155°F.

Remove the meat loaf from the smoker and let rest for 5 to 10 minutes before crumbling.

Crumble rested meat loaf into chili base and stir to combine.

Return to the smoker and cook for 30 minutes to 1 hour until thickened to desired consistency.

Taste and season with more salt, sugar, or spices as desired.

Serve with desired toppings or cool and refrigerate to serve the next day.
Notes
Use a smoke tube for extra smoke flavor if using a pellet grill.
Cooking directly in pots/pans can leave smoke residue. Use a disposable aluminum pan or plain cast iron Dutch oven for easy cleanup.
You can use half ground pork and half ground beef for the meat loaf.
Spoon off excess fat from the top for less richness, if desired. The fat adds flavor but can be removed to taste.
Nutrition
Calories:
468
kcal
|
Carbohydrates:
24
g
|
Protein:
28
g
|
Fat:
30
g
|
Saturated Fat:
14
g
|
Polyunsaturated Fat:
2
g
|
Monounsaturated Fat:
11
g
|
Trans Fat:
2
g
|
Cholesterol:
108
mg
|
Sodium:
2252
mg
|
Potassium:
1059
mg
|
Fiber:
7
g
|
Sugar:
9
g
|
Vitamin A:
2617
IU
|
Vitamin C:
38
mg
|
Calcium:
98
mg
|
Iron:
6
mg