Who doesn't love a perfectly cooked and super flavorful steak? Yep, everyone who eats meat. What you might love even more is a steak cooked in a skillet that is butter and herb-basted.
This is the perfect steak and potatoes dish. The garlic and herbs infuse into the hot butter, then the herby buttery flavor goes into the steak. Sure you can make a sauce in the pan after cooking the steak, but baby potatoes will get infused with all that flavor when they cook in the same skillet.
Pre-season that Steak
Season the steak with kosher salt at least 30 minutes prior to cooking, or even refrigerating overnight is great. Seasoning the steak right before you cook it is fine, but the salt never really has the time to absorb into the meat.
The salt will draw moisture out of the steak pretty quickly. If it rests for at least 30 minutes, that moisture will be sucked back in. You don't want to cook a steak while that moisture is on the outside, or your steak will steam instead of sear. Learn more about when to salt your meat.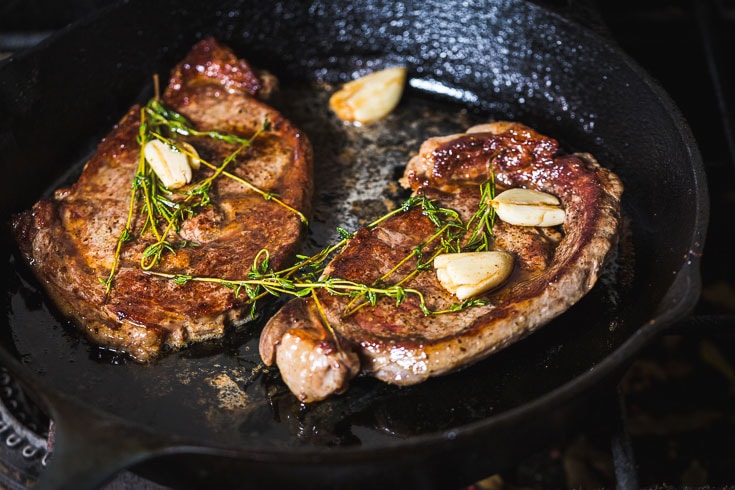 How to Cook Steak on the Stove
It all starts with a super hot cast iron pan. While "grilling" steak might be super popular; I'm going to say that cooking it on the stove in a cast iron frying pan is actually the superior method.
By cooking steak in a skillet, you are able to infuse a lot of flavor by butter and herb basting while it cooks.
Heat a large cast iron skillet over medium-high heat until it just starts to smoke, then add canola oil to lightly coat the bottom of the skillet.
Place the pre-seasoned steaks in the skillet and flip every 2 minutes until they reach 120 degrees.
This is when it's time to butter and herb baste. Add butter, thyme, rosemary and garlic cloves to the skillet and begin to baste this mixture onto the steaks with a large spoon until they reach the desired finished temperature, about 2 minutes more.
Remove from the skillet and rest on a cutting board for at least 5 minutes before serving.
For an alternate way to make it, try Steak au Poivre (pepper steak) with a cognac cream sauce.
Perfect Medium Rare Steak Temperature
The perfect steak is cooked to medium rare, and that always seems to be the goal. An internal temperature of 130 degrees Fahrenheit is the magic number for medium rare. Keep in mind that the temperature is always going to keep rising a bit after it's removed from the heat, so it's important to remove the meat from the heat before it reaches the final desired temperature.
Determining the internal temperature can be tricky. You definitely don't want to be cutting into your steak while it cooks or else those juices will come pouring out. Get more steak temps and charts.
The best way to determine the internal temperature is by using a Thermapen instant-read thermometer. A quick poke will give you a reading so you can be confident your steak is going to be perfect.
These beautiful little marble potatoes are parboiled to be fork tender. While the steak is resting, the potatoes are smashed into the hot skillet and cooked in the wonderful leftover juices to finish cooking.
So crispy and so wonderful. They go perfectly with the skillet butter-basted rib eye steaks.
Equipment Used
Skillet Ribeye Steak Recipe
One skillet ribeye steak basted in butter, garlic and herbs with crispy baby marble potatoes.
Print
Pin
Rate
Ingredients
2 10

oz

Rib Eye Steaks

2

teaspoon

Canola Oil

Kosher Salt & Freshly Ground Pepper

2

tablespoon

Unsalted Butter

4

Garlic Cloves

, crushed and peeled

8

sprigs

Fresh Thyme

2

sprigs

Rosemary
For the Potatoes
1

lb

Marble Potatoes

(any baby potatoes will work)
Instructions
Pat the steaks dry with paper towels, then liberally season on every side with kosher salt and freshly ground pepper. Let the steak sit at room temperature for 30-45 minutes.

heat a 12" cast iron skillet over high heat until it starts to smoke, then drizzle in the canola oil.

Carefully place the steaks in the skillet and turn every 2 minutes (this will promote even cooking) until the steaks reach 120-125 degrees for medium rare.

Reduce heat to medium-high and add the butter, garlic cloves, fresh thyme to the skillet and let it melt.

Use a large spoon to baste the steaks with the butter, garlic and herbs for about 1 minute more, or until the desired internal temperature is reached.

Remove the steaks and place on a cutting board to rest for at least 5 minutes before serving.
For the Potatoes
Par cook the potatoes in salted boiling water until knife tender and set aside.

After the steak is cooked and while it rests, add the potatoes to the hot skillet with all the leftover steak juices. Smash the potatoes into the skillet with a spatula and cook over medium heat until they start to brown, about 5 minutes.
More delicious steak recipes