Layers upon layers of thinly sliced Yukon gold potatoes, rich cream, salty Parmesan and aromatic fresh thyme all add up to velvety, ultra-flavorful and comforting scalloped potatoes. Scalloped potatoes are great on their own, but this satisfying side is better with a big holiday roast.
It's seriously one of the best potato side dishes you can make, but also surprisingly easy and quick to make.
Scalloped vs Au Gratin Potatoes: What's the Difference?
There have been a lot of blurred lines between these two very similar dishes. Technically, scalloped potatoes do not have cheese and the potatoes are cut thicker and are often topped with breadcrumbs. "Au gratin" means cooked with cheese and browned on top.
This recipe is actually a hybrid/combination of scalloped potatoes and au gratin potatoes, using the best of both. They have cheese, but they aren't "cheesy." The Parmesan just adds amazing to the flavor of the creamy sauce rather than making them cheesy.
What Makes This Recipe The Best?
Most recipes for scalloped and au gratin potatoes pour a sauce on the sliced potatoes in a baking dish and then it's sprinkled with cheese. They usually require flour to thicken the sauce.
There is a better way and no need to use flour. By simmering the sauce ingredients with the sliced potatoes, it will naturally thicken while absorbing that amazing potato flavor all while par-cooking the potatoes at the same time. This makes for more flavor, better texture and a shorter time in the oven.
The Ingredients
Yukon Gold potatoes
Unsalted butter
Heavy cream
Parmigiano-Reggiano cheese
Fresh thyme and/or rosemary
Diamond kosher salt and freshly ground pepper
Garlic powder (optional)
How to Make Scalloped Potatoes
Feel free to skip down to the full recipe card with all the details.
Peel and slice the potatoes thin using a mandoline slicer.
Make the sauce and simmer the sliced potatoes in the sauce to thicken and par-cook.
Transfer to a baking dish and bake in a preheated 400° F oven until golden brown on top.
Rest and serve garnished with fresh herbs.
What Type of Potato Is Best?
Go with Yukon Gold potatoes (often called yellow or gold) for scalloped potatoes. Their waxy, medium-starch content absorbs those wonderful Parmesan cheese and herb flavors while holding up well, delivering the optimal texture.
To Peel or Not to Peel?
For scalloped potatoes, I always peel the potatoes. The result is a much more delicate and tender texture. However, it's not completely necessary to peel them, so it's up to you.
Slicing the Potatoes
Go thin! With thin slices, around 1/16" to ⅛" if possible, you get many more delicate layers of amazingness. A more tender texture and more surface area and space for the creamy sauce.
A mandoline slicer is the best way to slice the potatoes thinly and evenly. Mandolines are extremely sharp, so always be super careful of your hands and use a hand guard.
A food processor with a slicer attachment can also do the job in just a few seconds. However, most (but not all) food processor slicer attachments that come with the appliance won't slice as thin as I like. It will still work, but my preference is the super-thin slices.
A sharp chef's knife can work if in a pinch, but it's a lot of slicing and difficult to achieve consistent results.
The Benriner Japanese Mandoline Slicer is my favorite mandoline that I have been using for over 20 years. It gives you precise control over the thickness of the slices.
The Cheese
Parmigiano-Reggiano has always been my go-to for this dish and the flavor it gives can't be beaten. Gruyère is also a great choice or a combination of the two.
I prefer to use this type of cheese rather than a melty cheddar-like cheese, which totally changes the texture. This dish isn't all about the cheese. Rather, the specific cheese adds flavor to the creamy sauce as it does for an alfredo sauce.
Coarsely grating the cheese also leads to better results rather than using a fine grater.
Tips
Make 'em individual portions: A big casserole dish is great, but it is also fun to use ramekins or small cast-iron skillets to bake and serve as individual portions.
Make ahead: Scalloped potatoes can be made ahead, which makes them super convenient. They can be fully baked and reheated in the oven when you need them. Or once the potatoes are in the baking dish, simply refrigerate and bake when you need them; just make sure the potatoes are fully par-cooked in the sauce to prevent them from changing color.
Prevent sticking: There are a few easy ways to keep the scalloped potatoes from sticking to the pan. Greasing the pan with butter or a cooking spray works well. You can also line the baking dish with parchment paper, then lift out the contents after baking. Place it on a cutting board and slice individual portions. However, I usually just butter the dish and cut out individual portions with a serving spatula.
Reheating: These potatoes are even better the next day. Just gently warm them in the microwave 30 seconds at a time (usually only takes a minute max). Be careful not to heat them too high or the cream can break. You can also warm them covered in a 350° F oven until warmed through.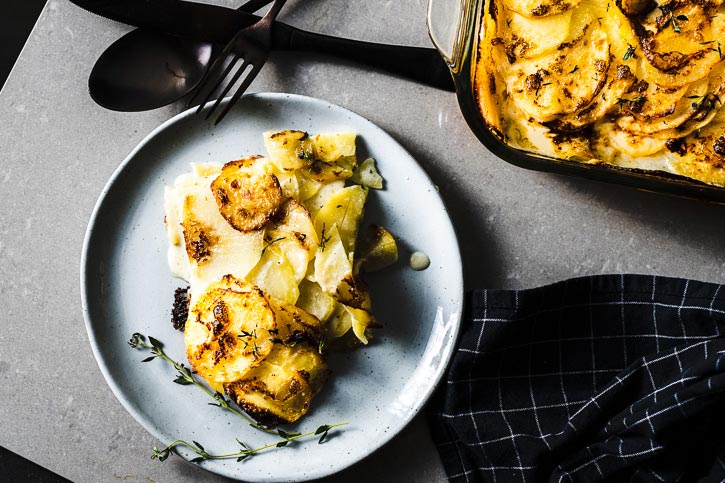 Serve It With
Special Equipment Used
Scalloped Potato Recipe
Creamy, cheesy, potato-y and simply irresistible. The thinly sliced potatoes are layered with a creamy sauce made of milk, cheese and butter, and then baked to golden perfection.
Print
Pin
Rate
Ingredients
3

lbs

Yukon gold potatoes

(about 4 to 5)

3

tablespoon

unsalted butter

1 ½

cups

heavy cream

½

cup

milk

1

cup

Parmigiano-Reggiano cheese, coarsely grated

(or Gruyère cheese)

2

teaspoon

chopped fresh thyme

½

teaspoon

garlic powder

(optional)

1 ½

teaspoon

Diamond kosher salt

Freshly ground pepper

Chopped fresh thyme, parsley and/or chives for garnish
Instructions
Peel the potatoes, then slice to 1/16" to ⅛" thin if possible with a mandoline slicer.

Heat the butter, cream and milk in a large pot and bring to a simmer. Add the cheese, herbs and garlic powder. Taste test and then season with salt and pepper before adding the sliced potatoes. Stir well to get sauce between all of the slices.

Simmer gently over low heat to thicken for about 10 minutes, stirring occasionally.

Grease a 13x9" baking dish (or line with parchment paper). Transfer the potatoes to the baking dish and spread them evenly with a spatula.

Bake for about 30 to 45 minutes, or until the top is golden brown.

Cool slightly and then garnish the top with fresh thyme, parsley and/or chives. Enjoy!
Notes
Can be cooked ahead of time, chilled and reheated later.
Once the potatoes are in the baking dish, you can refrigerate and bake when you need them. Make sure the potatoes are fully par-cooked in the sauce to prevent them from changing color.
For leftovers, gently warm them through in the microwave 30 seconds at a time (usually only takes a minute max). Be careful not to heat them too high or the cream can break. You can also warm them covered in a 350° F oven until warmed through.
Nutrition
Calories:
383
kcal
|
Carbohydrates:
34
g
|
Protein:
9
g
|
Fat:
25
g
|
Saturated Fat:
15
g
|
Polyunsaturated Fat:
1
g
|
Monounsaturated Fat:
6
g
|
Trans Fat:
0.2
g
|
Cholesterol:
74
mg
|
Sodium:
684
mg
|
Potassium:
811
mg
|
Fiber:
4
g
|
Sugar:
3
g
|
Vitamin A:
947
IU
|
Vitamin C:
35
mg
|
Calcium:
183
mg
|
Iron:
2
mg