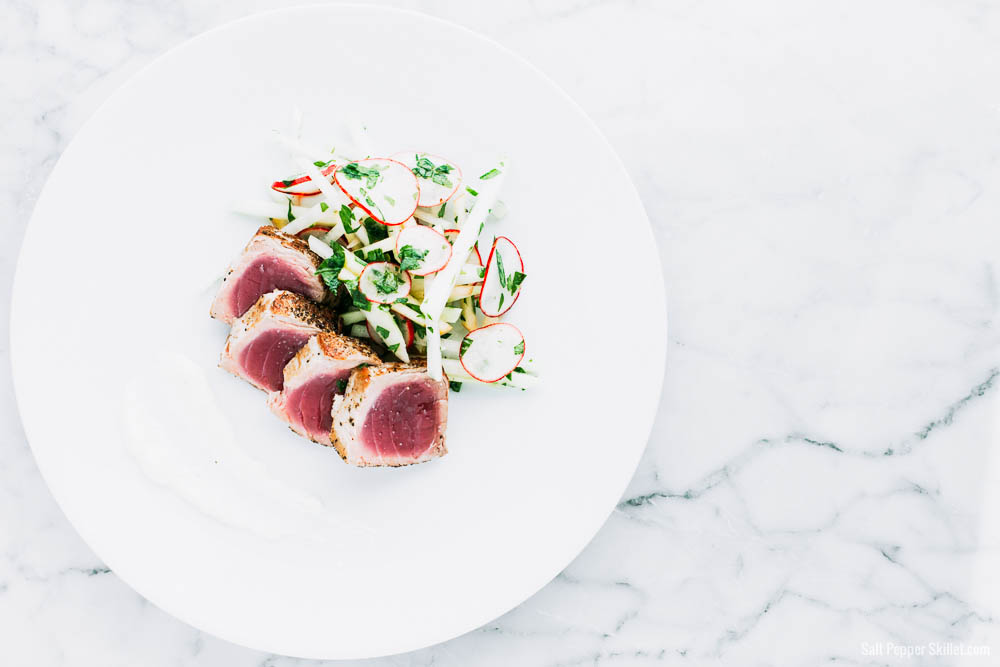 Tuna gets no better than this. If you can find top quality fresh tuna, there really isn't much that you have to do to it. Just season with plenty of kosher or sea salt and lots of freshly ground pepper, quickly sear in a smoking hot skillet, slice, and enjoy. A quick and easy Kohlrabi Slaw -- crisp, light and fresh -- pairs perfectly with the melt-in-your-mouth Tuna. The Ginger-Lime aioli comes together in a matter of seconds and adds a little acidity and creaminess to perfectly balance the dish.
Of course, you can marinate tuna in all kinds of things, but if you have high-quality fish, there's nothing better than tasting it pure. It's tender and practically melts in your mouth.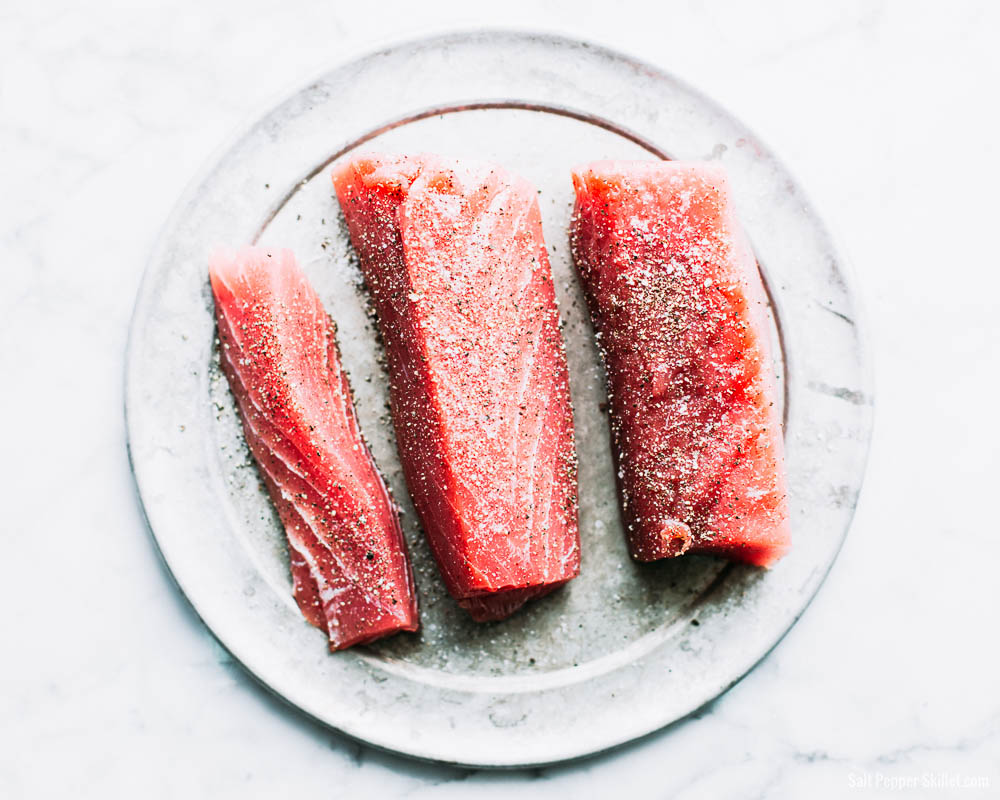 This is some beautiful Bluefin Tuna that was caught off the San Diego coast. Ahi, Yellowfin, Bluefin or any other type of tuna or meaty fish would be great for this dish. While it's not healthy to eat tuna all the time due to elevated mercury, it's totally fine as a special treat every once in a while.

You could really make this slaw with any veggies that you have on hand, but I prefer to highlight kohlrabi. Kohlrabi is a veggie that is related to cabbage, kale, and broccoli and tastes like a crisp and sweet combination of all three. Radishes add a peppery taste that goes great with the sweet kohlrabi, fresh parsley and bright lemon juice. This kohlrabi slaw recipe is inspired by the beautiful NOPI cookbook, which I highly recommend.
Ingredients
Kohlrabi Slaw
1

kohlrabi

peeled, julienned, stored in ice water

1

apple

cored, julienned, stored in ice water

12

radishes

thinly sliced, stored in ice water

1

cup

parsley

finely chopped

2 ½

tablespoons

lemon juice

1

teaspoon

sugar

1 ½

tablespoons

olive oil

salt & pepper
Ginger-Lime Aioli
3

tablespoons

ginger

coarsely shredded

½

cup

mayonnaise

1

garlic clove

minced

1

lime

juiced
Tuna
4

tuna steaks

such as ahi, yellowfin or bluefin

salt & pepper

canola oil
Instructions
Make Kohlrabi Slaw
Drain all ingredients from the ice water and dry well with a kitchen towel. Place in a bowl and add the parsley, lemon juice, sugar and olive oil. Season well with kosher salt and freshly ground pepper. Mix to combine.
Make Aioli
Blend all ingredients in a blender until smooth.
Sear Tuna
Heat a large heavy skillet over high heat with just enough oil to coat the pan. Pat the tuna steaks dry and season heavily with kosher salt and freshly ground pepper of salt.

When the oil starts to shimmer and just starts to smoke, place the tuna in the skillet and sear for 1 minute on each side for a rare. Cook longer for a more done tuna steak.

Slice with a very sharp knife to the desired thickness and serve with the slaw and aioli. Sprinkle the tuna with a little more sea salt for garnish.