Sautéed zucchini is my go-to quick and easy vegetable side dish, especially when cooking with kids. Get the kids involved using a kid-safe veggie knife to slice up the zucchini, as it's so simple to cut into rounds, quarters, halves or any shape you like.
In less than 10 minutes, the fresh zucchini is quickly fried in olive oil with aromatic garlic and shallot for tons of flavor. With just 3 main ingredients and endless ways to customize with herbs, cheese, or other add-ins, this simple sautéed zucchini comes out great every time. Any way you slice or dice it, this is my favorite fast and delicious method for zucchini that the whole family will love.
Why You'll Love it
4 simple ingredients
Inexpensive - zucchini is one of the less expensive vegetables and they are easy to grow (or find from a neighbor who grows them).
Kid-friendly
Super flavorful - As the zucchini sautees, it starts to brown with the garlic and shallot, bringing out tons of flavor that goes great with some melted parmesan cheese.
The Ingredients
At a minimum, you will need zucchini, some fat in the form of oil or butter, and some simple seasonings. There are some other simple add-ins that will boost the flavor even more.
Zucchini - Choose a fresh, firm zucchini without wrinkles or soft spots. Avoid zucchinis that are super large, as they are usually not as flavorful.
Olive oil or butter - Either olive oil or butter will work great. I will generally use olive oil and then will sometimes add a little butter at the end for extra flavor.
Salt & Pepper - The zucchini will absorb plenty of seasoning.
Optional add-ins:
Garlic or shallot - Garlic and/or shallot pair wonderfully with the zucchini. Just be careful about burning the garlic if the heat is too high. Garlic powder (granulated garlic) can also be used to add some great flavor.
Grated parmesan - sprinkle on a little parmesan cheese (or your other favorite cheese) at the end to make it even more kid-friendly.
Fresh herbs such as basil or parsley at the end.
Cherry tomatoes - Tomatoes add a pop of acidity and juiciness. I like to brown the zucchini before adding the tomatoes.
Cutting the Zucchini
Start by cutting the two ends of the zucchini and then decide on which shape is going to be best. It often depends on the size and thickness of your zucchini for which will work best. Whichever the size, I like to cut them into bite-size pieces. For really small zucchinis, rounds are great. For an average size, go with quarters and you can even do eights if it's really large.
Rounds - Slice the zucchini crosswise into the desired thickness round slices.
Quarters - First cut the zucchini in half lengthwise, then cut it in half lengthwise again to make four quarters. Then cut it crosswise into even but sizes.
Halves - Simply cut it in half lengthwise and then crosswise into even bite-size pieces.
Sticks - Cut lengthwise into quarters and then cut crosswise into 3 to 4" sticks.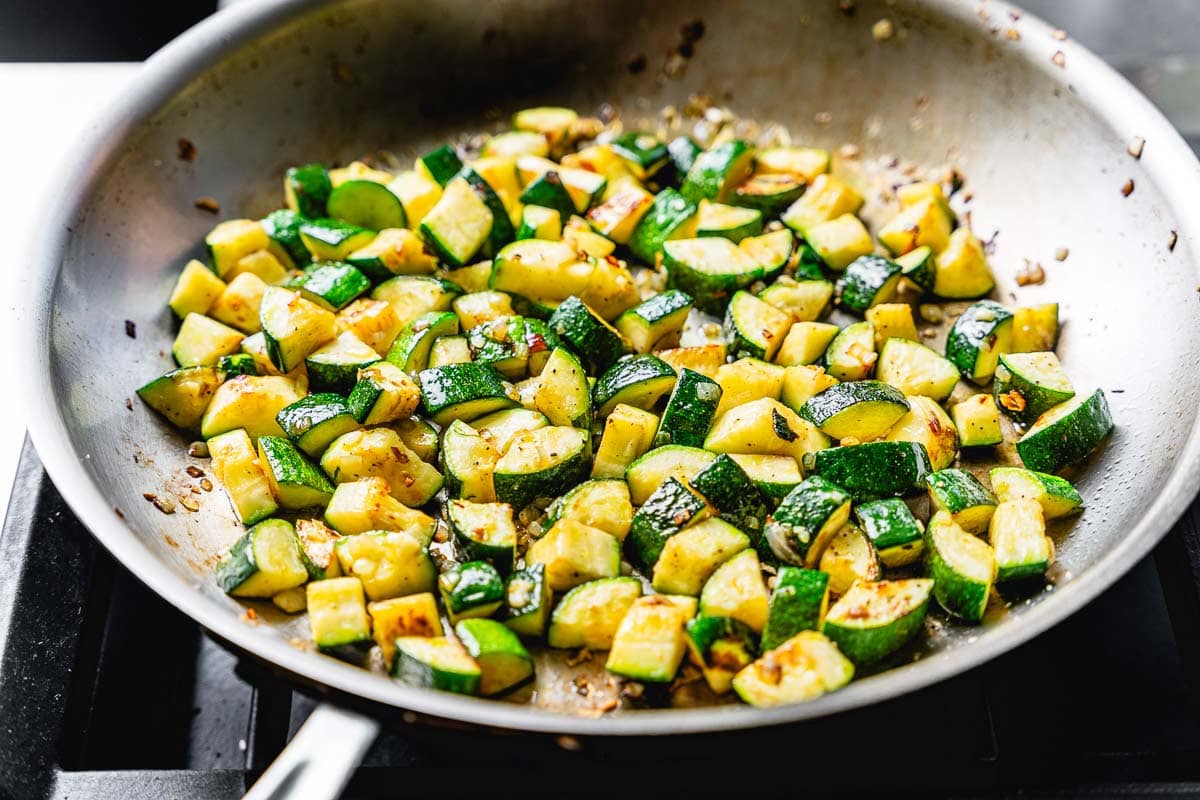 How to Saute Zucchini
Cut zucchini into bite-sized pieces of your preferred shape.
Heat oil in a skillet over medium-high heat until shimmering.
Add zucchini and cook undisturbed for 2 minutes to brown.
Add garlic and shallot and sauté 4-5 more minutes until zucchini is cooked through.
Remove from heat and season with salt, pepper, Parmesan and herbs.
Serve and enjoy!
Storing and Reheating
To store: Allow the sautéed zucchini to cool completely, then transfer to an airtight container. It will keep refrigerated for 3-4 days.
To reheat: Place the zucchini in a skillet over medium heat with a teaspoon of oil to prevent sticking. Gently warm through for 2-3 minutes until hot. Microwave individual portions for 30 seconds to 1 minute until warmed through.
More Recipes You'll Love
Check out all my go-to vegetable recipes →
Simple Sautéed Zucchini Recipe
In just 10 minutes, slices of fresh zucchini quickly sautéed in olive oil with garlic and shallot become the perfect, versatile side for any meal that is so simple to prepare.
Print
Pin
Rate
Ingredients
1

lb

zucchini

(about 2 to 3 medium-size zucchini)

2

tablespoon

olive oil or butter, or a combination

2

cloves

garlic

, chopped

1

small shallot

, chopped

2

tablespoon

grated parmesan cheese

kosher salt and pepper to taste

optional: Fresh herbs like basil, thyme or parsley
Instructions
Cut the zucchini into bite-sized pieces. You can make rounds, quarters, halves or sticks - whatever shape you prefer.

Heat a large skillet over medium-high heat. Add the oil and let it shimmer.

Add the zucchini pieces to the hot skillet. Do not stir for 2 minutes to let the zucchini start browning.

Add the chopped garlic and shallot. Sauté for 4-5 more minutes, stirring occasionally, until the zucchini is lightly browned and cooked through.

Remove the skillet from heat. Season with salt and pepper and sprinkle on the parmesan cheese over the zucchini and add chopped fresh herbs if desired.
Notes
Yellow squash and other veggies with a similar texture to zucchini can be added to the mix.
Avoid overcrowding the pan for better browning.
Great with eggs, pasta, fish, steak and more.
Nutrition
Calories:
98
kcal
|
Carbohydrates:
5
g
|
Protein:
2
g
|
Fat:
8
g
|
Saturated Fat:
1
g
|
Polyunsaturated Fat:
1
g
|
Monounsaturated Fat:
5
g
|
Cholesterol:
2
mg
|
Sodium:
54
mg
|
Potassium:
328
mg
|
Fiber:
1
g
|
Sugar:
3
g
|
Vitamin A:
249
IU
|
Vitamin C:
21
mg
|
Calcium:
45
mg
|
Iron:
1
mg