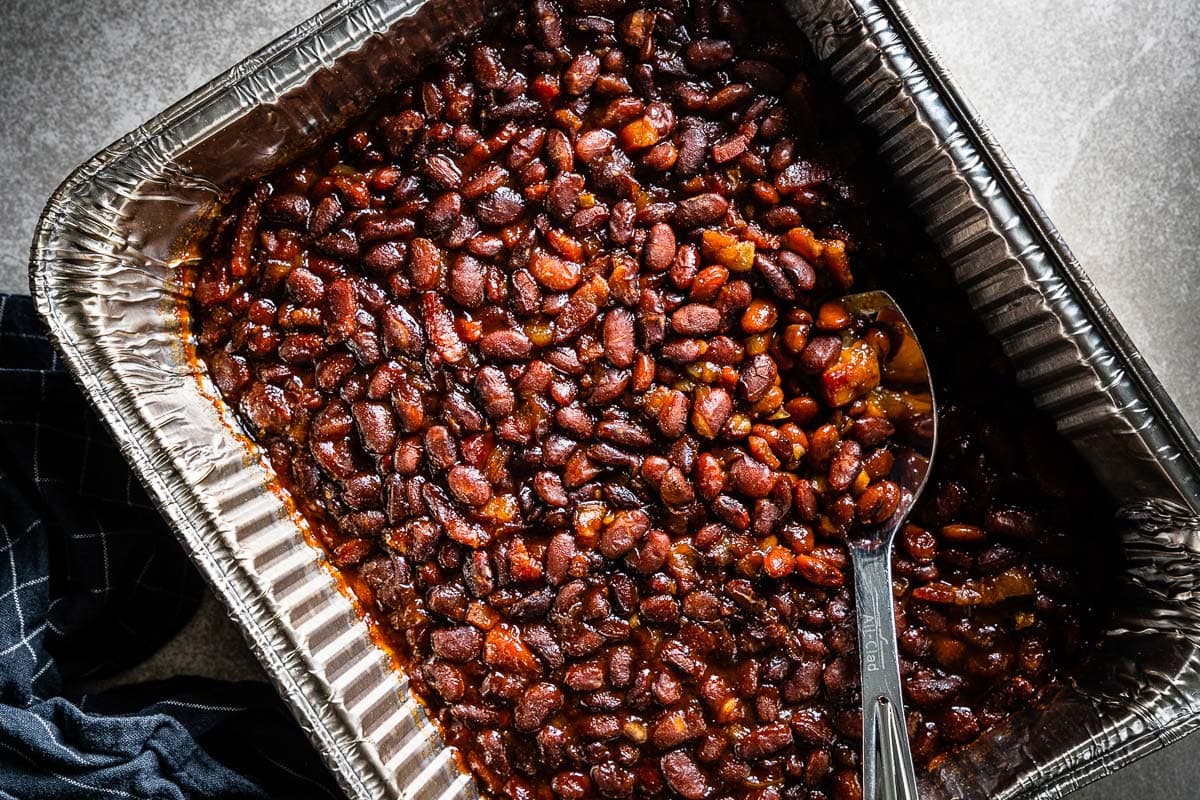 Baked beans in the smoker? You bet! And baked beans that are smoked are on another level. These are waaaay better than canned baked beans, and they are surprisingly easy to make. Especially easy, because your smoker is pulling double duty with your sides and your main dish. And there's no need to heat up your house by turning on the oven.
It's all about the perfect balance for these perfect baked beans. We all know how amazing baked beans are: Sweet and tangy, but also savory and spicy, and hearty and satisfying. They are one of those sides that can steal the show, especially with the smoky flavor we're going to give them.
What You'll Need
Beans - pinto, butter, white northern beans or red kidney beans. You can even use a combination. Use canned or cook them yourself (I cook them in the pressure cooker and it only takes about 25 minutes).
Bacon - I prefer thick-cut bacon for the great texture in the beans. Of course, you can leave it out if you prefer.
Aromatics - yellow or white onion and garlic. These get cooked in the pan before adding the rest of the ingredients, otherwise the onion will stay crunchy even when cooked with the beans in the smoker.
Sweeteners - dark brown sugar and maple syrup. I use both, but you can use more of one if that's all you have. Or you can use honey.
Barbecue sauce - Making your own is the way to go, but store-bought will work great, too.
Worcestershire sauce - Adds depth to the flavors.
Dijon mustard - A little spice.
Apple cider vinegar - For some acidity and tang to balance out the richness.
Kosher salt and black pepper - Always, right?
Heat - I personally prefer sweeter baked beans to spicy, but if heat is your thing, just add a chopped jalapeño or some cayenne pepper to kick up the heat.
See recipe card for exact quantities.
Equipment to Make It Happen
A smoker - A pellet model like a Traeger or charcoal or electric... any type of smoker will work. That said, there will be more smoke flavor if you use a charcoal smoker or a smoker with dedicated wood for smoking versus a pellet smoker.
A pan - Use either a large cast-iron skillet or a disposable aluminum pan for smoking the beans. Since the smoke will discolor the outside of the pan, you want to use something that will be easy to clean (or that you don't have to clean at all). A benefit to going the cast-iron skillet route is that you can make the base of the baked beans in the same pan and place it right in the smoker.
How to Make Smoked Baked Beans
Step 1 - Make the base: Cook the bacon in a large skillet, then add the onions and garlic until the onions are soft.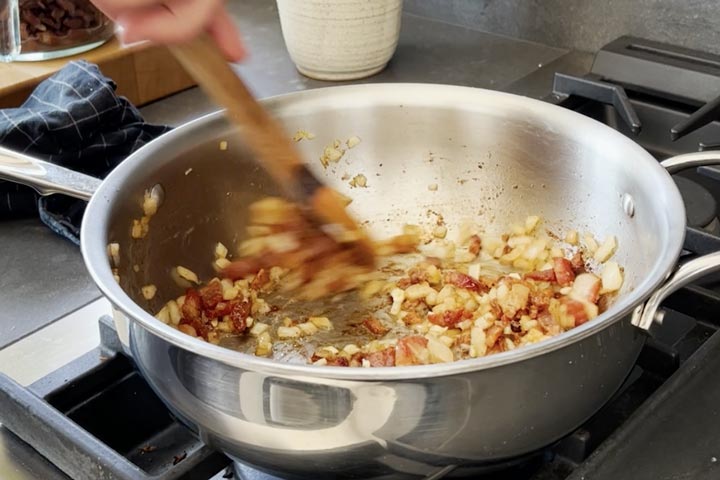 Stir in the remaining ingredients and bring to a simmer. Taste for seasoning and balance.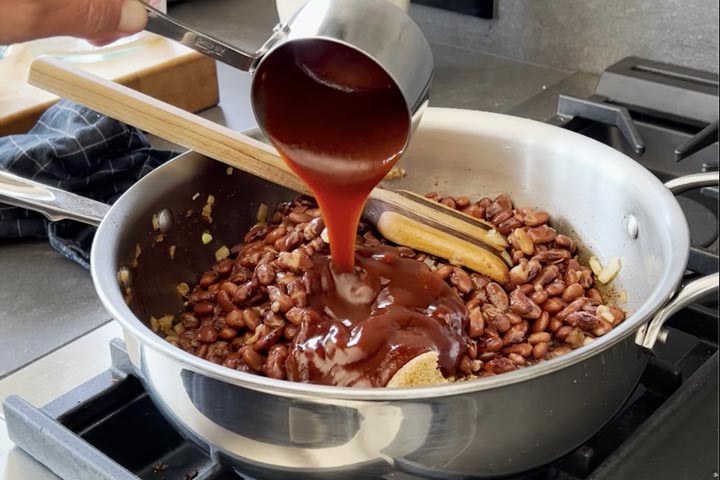 Step 2 - Smoke the beans: Set up the smoker to cook with indirect heat and preheat to 225° F (if you are smoking something else that needs to be at a different temperature but is close to 225° F, that's totally fine). Either leave the baked bean base in a 12" cast-iron skillet, or transfer to a large disposable aluminum pan. Place in the smoker and cook for 2 to 3 hours.
Tip: Taste test at 2 hours. If they are nice and smoky and have a great texture, then they are done smoking. If they need some more time, leave them in.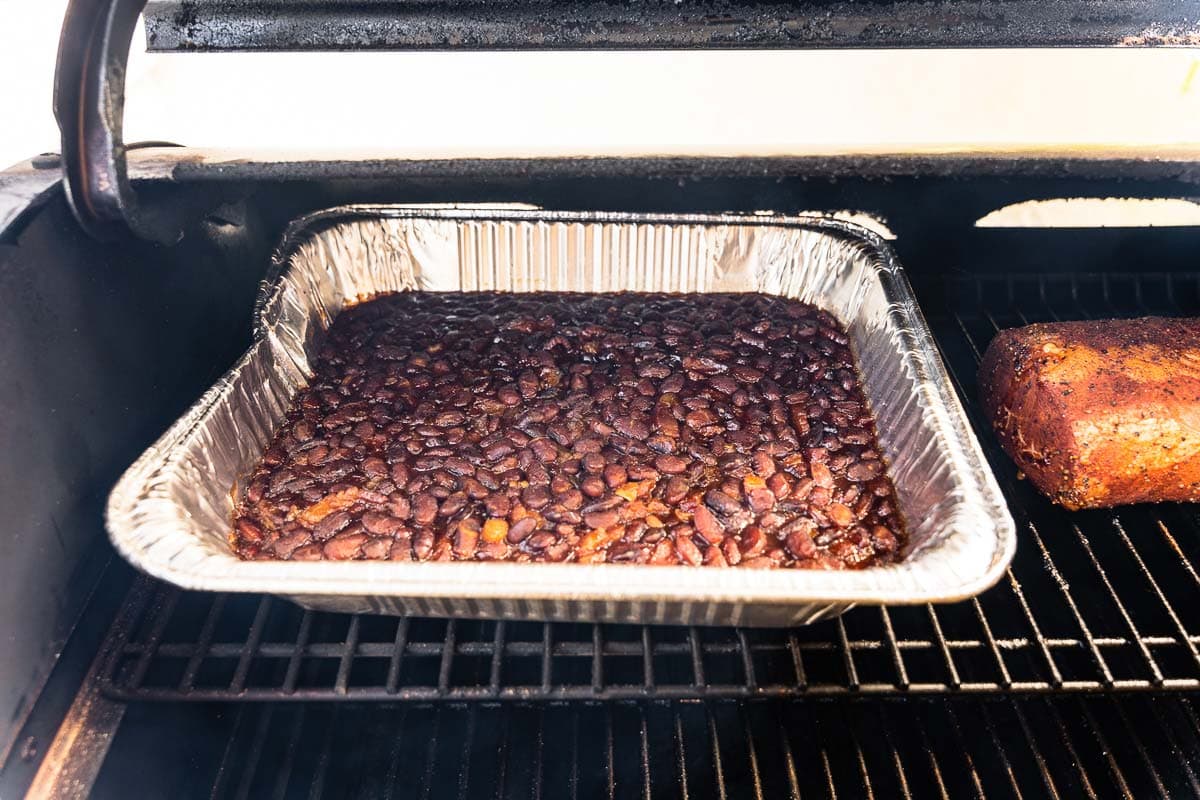 Step 3: Remove from the smoker and let rest for 5 to 10 minutes to cool slightly before enjoying.
Make these your own - the great thing about not just opening a can but making something from scratch is that you are in control. If you want it sweeter, add more sugar or syrup. If you want tang, use more vinegar or mustard. Just go for it and have fun!
Cooking the beans yourself? It's better to err on the side of overcooking rather than undercooking beans. (I learned this the hard way.)
Mix up your beans - One type of beans is great, but adding a variety makes them even better. Different textures, slightly different flavors and various colors elevate this classic even more.
Don't stress on the wood: Use whatever type of wood you are already smoking with, and it will be just fine for the beans. Fruitwood like apple, or hickory or even oak will be great. If the wood has stronger smoke flavor, you just smoke it for less time. This is also why you want to taste the beans after 2 hours, to make sure you're hitting the smoky sweet spot.
Shortcut to Baked Beans in the Smoker
Ok, let's say you don't have the time or ingredients, but still want to make some super-easy baked beans in the smoker next to the other food that you are making. Go ahead and add those canned baked beans to a skillet and place them in the smoker to warm them through while you make your other food. Sure, they definitely won't be the same, but they will still be kicked up from the boring can.
FAQ's Answered
How long to smoke baked beans?
Smoke the baked beans at 225° F for 2 to 3 hours. Taste test after 2 hours and give them more time if needed.
How to store the baked beans?
Cool and store the baked beans in an airtight container in the refrigerator for up to 5 days. Or remove the air and keep in the freezer for 3 months.
How to reheat baked beans.
The easiest way to reheat the beans is to use the microwave, but you can also gently warm them up on the stove or in the oven.
More BBQ Sides Recipes You'll Love
Did you make this recipe?
I'd love to know how it turned out!
Please leave a note and a rating in the comments section below, or tag @SaltPepperSkillet on Instagram.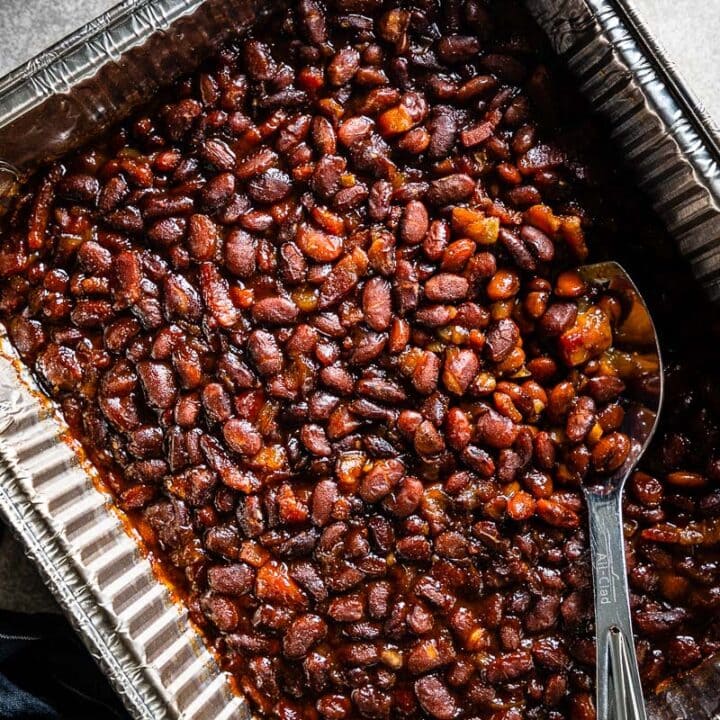 Smoked Baked Beans Recipe
All the amazingness that comes with baked beans, only smokier. Smoky, sweet, a little zesty and just so easy and delicious.
Print
Pin
Rate
Ingredients
½

pound

smoked thick-cut bacon,

sliced crosswise ¼"

1

small yellow onion,

diced

2

garlic cloves,

peeled and minced

½

cup

dark brown sugar

¼

cup

maple syrup

¾

cup

barbecue sauce

1

Tbsp.

Worcestershire sauce

2

Tbsp.

Dijon mustard

¼

cup

apple cider vinegar

1

tsp.

Diamond kosher salt and freshly ground black pepper

4

cups

cooked or canned beans

(3 15-oz. cans) drained and rinsed pinto, butter beans or red kidney beans
Instructions
Heat a 3- to 4-quart Dutch oven or a 12" cast-iron skillet over medium heat and sauté the bacon until the fat is rendered and it just starts to brown but doesn't get crispy, about 10 minutes.

Remove all but about 2 tablespoons of the bacon fat (save it for another use).

Reduce the heat to medium-low and add the diced onion with a pinch of salt. Cook until the onion is soft and translucent, stirring frequently for about 3 to 5 minutes. Add the chopped garlic during the last minute.

Stir in the remaining ingredients except for the beans. Then gently incorporate the beans stirring until fully combined and bring to a simmer. Taste for seasoning.

Transfer from pot or pan to a disposable aluminum pan, or leave right in a cast-iron skillet. Leave uncovered so the smoke can penetrate.

Set up and preheat your smoker to 225° F for indirect heat cooking with whatever wood you planned to use for the main dish.

Transfer the beans to the smoker and smoke for 2 hours. Taste and smoke up to 3 hours for desired smoky flavor.

Remove from the smoker and let cool for at least 5 to 10 minutes before serving.
Notes
Vessel: You can make these baked beans in a large 12" cast-iron skillet or a separate pan and transfer to an aluminum pan. I like to double a foil pan as they can bend.
If you are cooking something else in the smoker that needs to be at a different temperature but is close to 225° F, that's totally fine. Just note that the cook time will change slightly.
Best type of wood for smoking the beans: Use whatever you are already cooking with. If you are making them on their own, go with a fruitwood like apple, hickory or oak.
Timing: 2 hours, but can go to 3 hours since we're cooking at such a low temperature. Taste test after 2 hours to see how they are tasting. If they need more smoke, let them go longer.
If the beans start to dry out, simply stir in some water to rehydrate them.
Nutrition
Calories:
326
kcal
|
Carbohydrates:
47
g
|
Protein:
8
g
|
Fat:
12
g
|
Saturated Fat:
4
g
|
Polyunsaturated Fat:
2
g
|
Monounsaturated Fat:
5
g
|
Trans Fat:
0.04
g
|
Cholesterol:
19
mg
|
Sodium:
763
mg
|
Potassium:
444
mg
|
Fiber:
5
g
|
Sugar:
30
g
|
Vitamin A:
75
IU
|
Vitamin C:
2
mg
|
Calcium:
82
mg
|
Iron:
2
mg