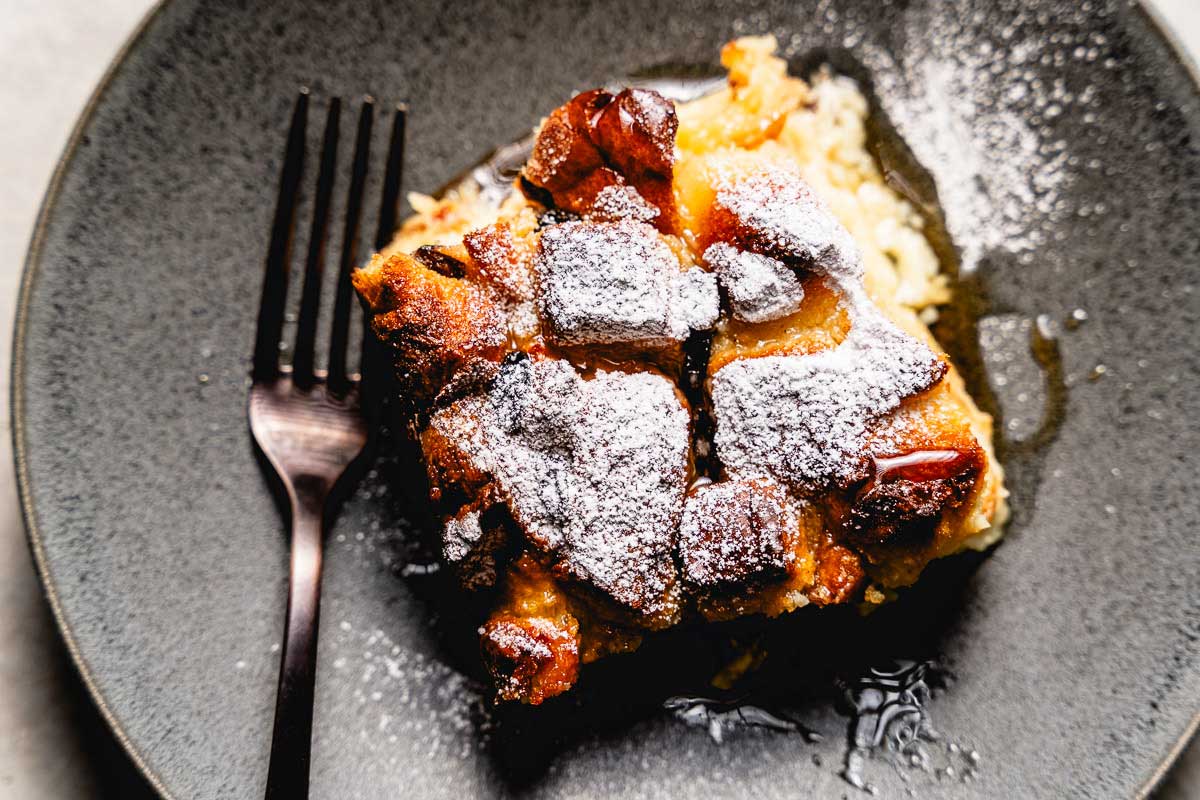 Bread pudding has always been a favorite dessert of mine, especially during the holidays. It is heaven in a bite - the delicate custard and slight crunch on top pair perfectly with the subtle smoke flavor. This croissant bread pudding recipe gets raving reviews whenever I make it. With 12 hearty servings, it's a definite crowd-pleaser.
This year, I took this dessert outside and cooked it in the smoker along with the rest of the meal. It picked up a delicate smoky essence that complemented the flavors beautifully. Using the smoker freed up oven space and saved energy since I was cooking outdoors anyway. Don't have a smoker? No problem - you can bake this in the oven instead.
This recipe makes the perfect potluck or holiday meal contribution. Make it ahead of time for easy transport and serving. If you love the magic of smoke and sweet, try smoked apple crisp next. You'll be amazed at how well desserts turn out when taken outside.
A Few Tips
Pan selection - I like to use disposable aluminum baking pans (you can actually recycle these) when cooking in the smoker for easy clean-up, as the smoke residue can be difficult to clean off. You can also use a 12" cast iron skillet, which has just about the same capacity.
Cook Time - Depending on your smoker and the pan you use, there can be some variability in the bake time. Use an instant-read probe thermometer to check that it reaches 170° F internal temperature.
Make Individual Portions - Use small pans or small cast iron skillets to make individual portions of bread pudding.
Type of Wood - I suggest a mild, fruity wood like apple, or going with pecan. Hickory can also be used for a stronger flavor.
Smoke Flavor - There will only be a slight smoke flavor in the bread pudding when cooking at 350° F depending on your smoker's setup, and especially in a pellet smoker. You can use a pellet smoke tube to add more smoke, if desired.
Serving Suggestions
Serve it up warm with a simple dusting of some powdered sugar, make the bourbon-butter sauce to pour over the top, make a creamy creme anglaise, or go as simple as a little maple syrup to sweeten the deal. It's also great with some whipped cream or vanilla ice cream.
Storing and Reheating
Storing Smoked Bread Pudding:
After smoking, allow the bread pudding to cool completely before covering tightly with plastic wrap or aluminum foil. Store in the refrigerator for up to 5 days.
Reheating Smoked Bread Pudding:
To reheat individual portions, reheat in the microwave for 30-45 seconds, or until heated through. Check temperature and continue microwaving in 15 second intervals if needed.
Alternatively, portions can also be reheated in a 300°F oven for 10-15 minutes if you prefer warming them up oven-style.
More Delicious Recipes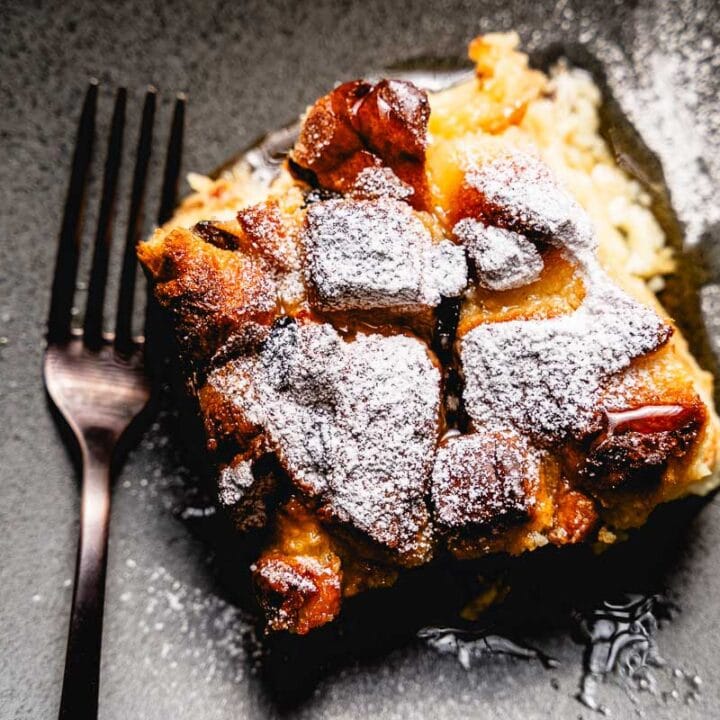 Smoked Bread Pudding Recipe
Elevate classic bread pudding with a kiss of smoke and decadent bourbon sauce. Cubes of bread soaked in a rich vanilla custard are smoked until golden and puffed.
Print
Pin
Rate
Equipment
Container: disposable aluminum or 12" cast iron skillet
Ingredients
1

lb

brioche bread or croissants

8

large eggs

1 ½

cups

heavy whipping cream

3 ½

cups

whole milk

2

cups

sugar

¼

teaspoon

kosher salt

1

teaspoon

vanilla extract

½

cup

raisins

3

tablespoon

bourbon for soaking the raisins

(can use the same bourbon for the sauce)
Bourbon Sauce (Optional)
½

cup

butter

¾

cup

packed brown sugar

3

tablespoons

bourbon

(drained from the raisins)

½

cup

heavy cream

½

teaspoon

ground cinnamon
Instructions
To make the bread pudding
Dry the Bread: Preheat your smoker to 225° F (107° F). Your oven can also be used for this step.

Slice the bread with a sharp serrated knife into 1" cubes.

Place the bread cubes into a 13x9" disposable aluminum roasting pan. Place into the smoker or oven until slightly dried out, about 30-45 minutes (tossing a once or twice so they dry evenly. ) Cool slightly before adding to the custard.

While the bread is drying, soak raisins in 3 tablespoon bourbon in a small bowl.

Make the Custard: In a large bowl, whisk together eggs, milk, cream, sugar, salt, and vanilla until dissolved.

Coat the baking dish with butter or spray. Add the dried bread cubes.

Drain the raisins, reserving bourbon. Add to custard. Pour over bread, pressing down to soak.

For Creamier Pudding: Refrigerate 30 minutes to overnight.

Pour the custard over the cubed bread, mixing and pushing down with your hands to fully submerge all of the bread.

For a creamier and more flavorful bread pudding: Cover and refrigerate for at least 30 minutes or overnight to allow the bread to fully soak up the custard. (If you are in a hurry, you can skip this step, but it is much better to let it soak)

Preheat smoker to 350°F (176°C). Smoke uncovered 50-70 minutes until puffed and golden brown and internal temperature reaches 170°F (76°C).

Let the bread pudding cool slightly before serving with bourbon sauce or your favorite sauce.
To make the bourbon sauce
In a saucepan over medium heat, melt butter with brown sugar, stirring until smooth.

Add reserved bourbon and cook 30 seconds.

Stir in cream and cinnamon. Simmer 5 minutes, stirring frequently.

Add bourbon and cook for 30 seconds before adding the cream and cinnamon. Bring to a simmer, reduce the heat and cook for about 5 minutes, stirring frequently.

Keep the sauce warm until ready to serve over bread pudding, or chill and gently re-heat when ready to serve.
Notes
Using a glass or ceramic baking dish can make it difficult to remove the smoke stains. Disposable aluminum baking pans are recommended. A 12-inch cast iron skillet with similar capacity also works well.
The recipe can be scaled down or made into individual portions using smaller containers. Reduce cook time accordingly.
Push the raisins down into the custard mixture to prevent burning on top.
Cooking time will vary based on the specific smoker and container used.
To reheat individual portions, microwave for 30-45 seconds.
Either rum and bourbon work well for making the sauce.