Smoked chicken thighs deserve to be on your table in the spotlight much more often. Too often overlooked for breasts or wings, bone-in thighs boast an unbeatable combination of succulent meat, crispy skin, and rich flavor—all at a very affordable price. You really just can't mess them up, you can only make them even better in the smoker.
The key to the best smoked chicken thighs is a two-stage cook so the smoke permeates the meat at a lower temperature, while keeping the thighs tender and juicy. Then they are finished at a higher temperature to add even more flavor and crisp the skin.
They make for such a satisfying main dish on their own, but they are also super versatile to be added to other dishes such as salads, sandwiches, tacos, pizza, pasta, and more.
What You'll Need (Ingredients & Equipment)
Chicken Thighs - Either bone-in and skin-on or boneless skinless will work. Bone-in skin-on thighs are ideal for smoking because the bone and skin keep them moist and flavorful, but boneless skinless thighs can also be used with slightly shortened cook times to avoid drying out.
Dry Rub - Use the one in this recipe containing black pepper, brown sugar, garlic powder, onion power, paprika and a little cayenne for heat or use your favorite rub that you have on hand.
Smoker - Any type of smoker will work. Charcoal smokers give more smoke flavor, but pellet grills are easier to set up.
Thermometer - Use an instant-read meat thermometer to check for doneness.
How to Smoke Chicken Thighs
The best way to smoke chicken thighs is with a two-stage cook. First smoking the thighs at a lower temperature will give them plenty of smoke flavor, while finishing at a hotter temperature will render more of the fat of the skin.
Season the Thighs
Smoke the thighs for 1 hour in a 225-250° F smoker
Crank up the heat to 350° F to crisp up the skin and continue to cook until the internal temperature reaches 175° F. Brush on BBQ sauce during the last 10 minutes of the cook for even more delicious flavor.
Rest for 10 minutes before enjoying.
Tips
Use a remote probe thermometer so you don't have to open lid to check for doneness.
Dry brine overnight if possible for more juicier and more flavorful chicken. Learn more about when to salt meats.
A little BBQ sauce at the end goes a long way to some extra flavor pop, but it's totally optional.
Things to Know
How Long to Smoke Chicken Thighs
It will take approximately 1 ½ to 2 hours to cook bone-in, skin-on chicken thighs in the smoker. Always cook to temperature, rather than by time for best results.
The Best Temperature for Thighs
Cook chicken thighs to a higher temperature than you would breast meat. I like to cook the thighs to 175° F, which will have some carry-over cooking and raise it up to about 180° F. This makes the thighs even more tender and flavorful.
How to Get Crispy Skin
Getting crispy skin on chicken on chicken that is cooked at a low temp in the smoker can be tricky. Here are a few tips if you crave that delicious crispy skin.
Dry the skin well - Make sure chicken skin is fully dried before smoking. Gently pat with paper towels. Allowing the skin to air dry uncovered in the fridge overnight helps too.
Use baking powder in the rub - Add a little baking powder to the rub, which will help dehydrate the skin so it can get crispier.
Smoke skin-side down - Place thighs skin-side down in the smoker so it is closer to the heat source.
Higher heat at the end - Crank up the heat to 375-400°F for the last 15-30 mins to crisp the skin.
Avoid sauce until the end - Brushing on sugary, sticky sauce too early can make the skin soggy. Apply only in the last 10-15 mins if you want sauce.
Bone-in vs Boneless Thighs
You can definitely use either bone-in, skin on thighs or boneless skinless thighs. For ideal moisture, flavor, and textural contrast, bone-in skin-on thighs are my pick, but boneless, skinless thighs can also be used in this smoked chicken recipe with slightly adjusted cooking times. Keep an eye on boneless thighs to avoid overdrying. Bone-in thighs are also much less expensive per pound.
The Best Type of Wood for Smoking Chicken
Use a mild or sweet fruitwood like apple, cherry or maple that pairs perfectly with chicken. Learn more about the different types of wood for smoke.
What to Serve Them With
Smoked chicken thighs pair well with a variety of classic sides that complement and contrast the smoky, savory-sweet chicken. Try sauteed garlic green beans, smoked baked beans (made right alongside the chicken), creamy mashed potatoes or macaroni salad. For heartier choices, go for grilled broccolini with lemon and olive oil or cucumber salad.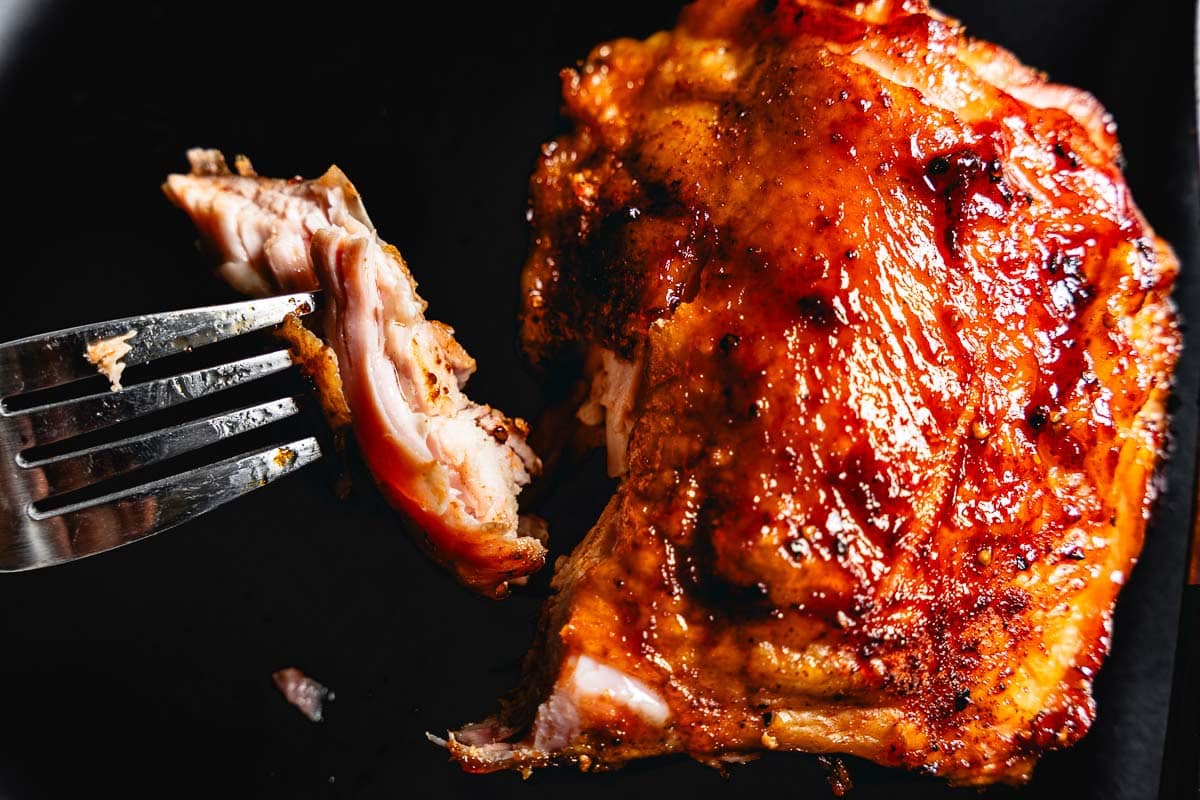 Storage and Reheating
Refrigerating Leftovers: Store in airtight container up to 4 days
Freezing: Allow to cool completely, then freeze for up to 3 months preferabely vacuum sealed or in ziplock freezer bags with the air removed.
Reheating: Preheat oven to 325°F. Heat in oven-safe dish, loosely covered with foil, for 15-20 mins, or until the internal temp reaches 165° F. Alternately, they can be reheated in the microwave for about 60 to 90 seconds.
More Recipes You'll Love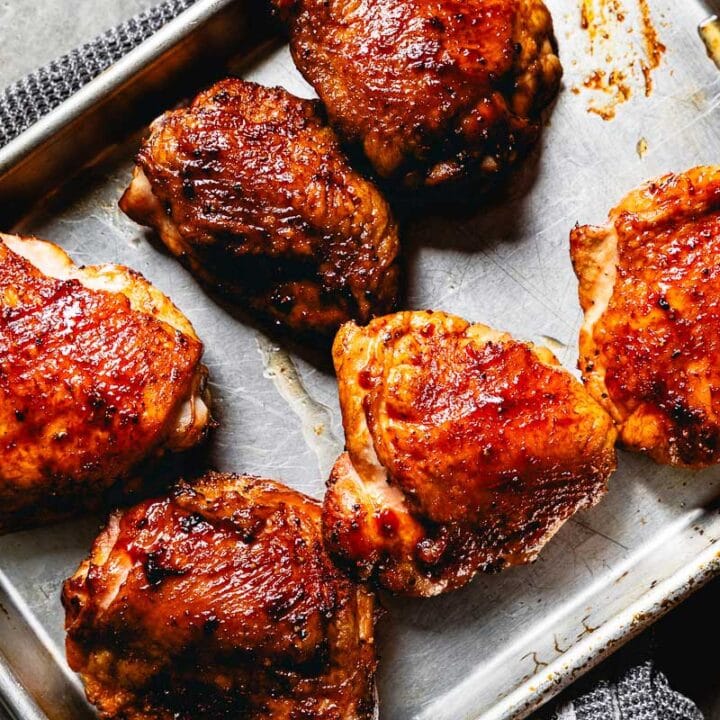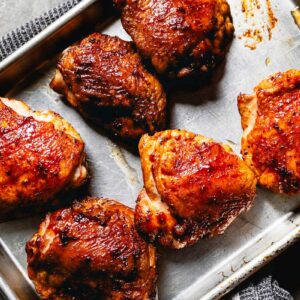 Smoked Chicken Thighs Recipe
Transform inexpensive, flavorful bone-in chicken thighs into tender, smoky perfection with this fail-proof smoking method.
Print
Pin
Rate
Ingredients
2

pounds

bone-in, skin-on chicken thighs

2

teaspoon

canola oil for drizzling

Diamond kosher salt

(only if rub does not contain salt)

¼

cup

Barbecue sauce

(optional)
Dry Rub (or use your favorite rub)
1

teaspoon

black pepper

1

teaspoon

brown sugar

¼

teaspoon

garlic powder

¼

teaspoon

onion powder

1

teaspoon

smoked paprika

⅛

teaspoon

cayenne

optional for heat
Instructions
Prepare the Chicken Thighs: Trim excess fat and skin from thighs using a sharp knife. Pat the thighs dry with paper towels. Drizzle both sides with canola oil and generously season all over with kosher salt if needed and the dry rub. For extra flavor, you can refrigerate seasoned thighs uncovered on a wire rack set on a baking sheet overnight.

Preheat Smoker: Set up your smoker for indirect cooking and preheat to 225-250° F (107-121° C).

Smoke the Thighs: Place thighs in smoker and smoke for 1 hour.

Finish Cooking: Increase heat to 350° F (177° C). Continue cooking until thighs register 175°F (79° C)internally, about 30 more minutes. The temperature will rise to 180° F (82° C)as they rest. During the last 10 minutes of cook time, you can brush the thighs with barbecue sauce if desired.

After 1 hour, increase the temperature of the smoker to 350° F and continue to cook the chicken until the internal temperature reaches 175° F internal (will continue to rise to about 180°), about 30 minutes more. *Optionally brush on BBQ sauce during the last 10 minutes of the cook.

Rest and Serve: Remove from smoker and let rest 5-10 minutes before serving.
Notes
For ideal flavor and moisture, dry brine the night before. Coat the chicken thighs with rub 12-24 hours before smoking and refrigerate. If short on time, apply rub at least 45 minutes prior and refrigerate if left to sit more than 1 hour.
Boneless skinless thighs can be used but will cook faster. Adjust time accordingly.
Figure 1 to 2 thighs per person, depending on how hungry you are. Easily adjustable for any quantity of thighs.
A dry spice rub and the sauce are optional. You will still get great smoked thighs with simple salt, pepper and smoke.
For crispier skin, place skin-side down closer to the heat source.
If using a pellet grill, follow tips to increase smoke flavor.
Nutrition
Calories:
478
kcal
|
Carbohydrates:
10
g
|
Protein:
32
g
|
Fat:
34
g
|
Saturated Fat:
9
g
|
Polyunsaturated Fat:
7
g
|
Monounsaturated Fat:
15
g
|
Trans Fat:
0.2
g
|
Cholesterol:
189
mg
|
Sodium:
333
mg
|
Potassium:
461
mg
|
Fiber:
1
g
|
Sugar:
7
g
|
Vitamin A:
465
IU
|
Vitamin C:
0.2
mg
|
Calcium:
26
mg
|
Iron:
2
mg