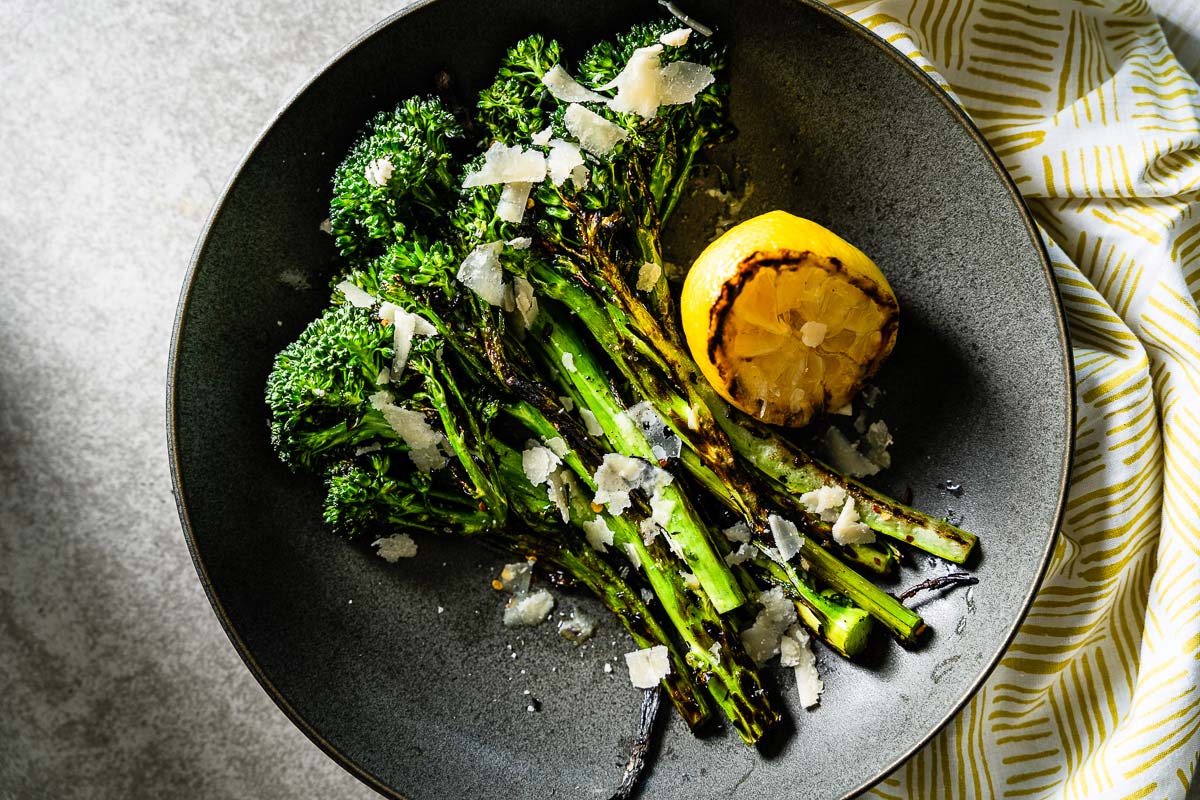 At this beautiful time of year, grilled greens keep it healthy and keep all the cooking outside. And this is a super-easy side dish you can whip up at home or easily bring to a party. Throw it on the grill right when your other food is done and is resting, since it's ready in under 10 minutes.
Broccoli is a favorite around here. It has the savory satisfaction of asparagus with the heartiness of broccoli. And on the grill, the flavor goes to another level, as does the presentation, with slight charring (or a lot, if that's what you like).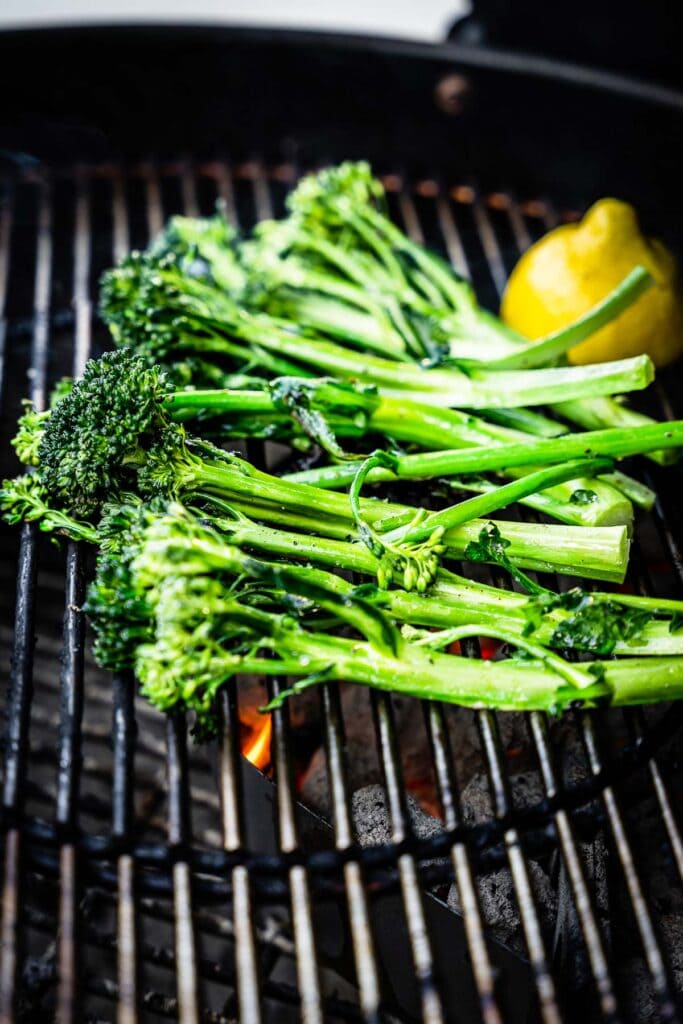 Love broccolini? Be sure to check out the simple sauteed broccolini recipe.
The key to the best-grilled broccolini is to coat it with plenty of olive oil and keep the crowns furthest from the direct flame so they don't char too much before the stems are perfectly tender. Use plenty of salt and a drizzle of the grilled lemon for some bright acidity that perfectly complements the flavors.
Whether it's a side for grilled meats or tossed with some fresh tagliatelle pasta with plenty of butter and Parm, broccolini gets the job done.
What Is Broccolini?
Broccolini was developed in Japan in the early 1990s and came to the U.S. in 1996. You might also see it called broccoletti, Italian Sprouting Broccoli (despite its Japanese heritage) or baby broccoli. But broccolini isn't simply young broccoli, but actually a hybrid between broccoli and Chinese broccoli.
What it tastes like: Broccolini has a subtle sweetness, with slight hints of pepper, and very tender edible stems. It has a lighter, less earthy flavor than broccoli and the shoots and florets are both more delicate. It is low in calories, but loaded with vitamin C, vitamin A and dietary fiber, just like its burlier cousin.
The best way to store broccolini when you bring it home is to slice off ¼" of the bottom of the stem and place it upright in water to keep it crisp and fresh for a lot longer.
What You'll Need
Broccolini
Red pepper flakes - for as much or as little heat as you prefer. I will also use some freshly ground black pepper.
Lemon - halved and grilled right alongside the broccolini for an even deeper lemon flavor.
Olive oil - a little before grilling and a drizzle after.
Parmesan cheese - shaved with a vegetable peeler right over the grilled broccolini.
Jump to the full recipe card for quantities and specifics.
Equipment
Optional Add-in Ingredients
Garlic - chopped garlic will usually burn or fall off on the grill; use a little garlic powder instead.
Lemon zest - if you are already using a lemon, you can zest it before grilling, and sprinkle a little on after it comes off the grill for a fresh flavor.
Breadcrumbs - sprinkle on some garlic-panko breadcrumbs for an extra crunch.
How to Grill Broccolini
Preheat the grill to medium-high with a two-zone setup (see photo below). Toss the broccolini with olive oil and some salt and pepper, then place on the grill with the stems over the direct heat and the crowns off the heat so they don't char. Put the lemon half over indirect heat, too.
Turn every few minutes with tongs until they are tender and evenly cooked, about 6 to 8 minutes, depending on the size.
Remove from the grill and place on a serving platter. Drizzle on a little more olive oil, season again with salt, a squeeze of grilled lemon juice and a sprinkle of shaved Parmesan cheese.
Plump it up - sometimes your broccolini can become a little wilted. The solution is simple. Just slice ¼" off the stem end, place it in a bowl of ice water and wait 30 minutes for it to rehydrate.
Evenly-sized stems - if the stems are of different thicknesses, slice large stems in half or in quarters. Make them all even for even cooking.
Season before and after - some of the seasonings will fall off on the grill, so you will want to lightly season again after you take it off the grill.
Keep the heads/florets away from direct heat so they don't burn.
Charring optional - broccolini can pretty easily become charred over the hot flames of the grill. It adds a nice subtle crunch, as long as it doesn't get too charred.
Use a peeler to grate the Parm - larger strips of Parmesan are much more satisfying than the finely grated stuff.
Put an egg on it - a simple way to make a meal out of this grilled veggie is to add an egg. Whether it's fried, scrambled or sous vide poached, the egg will be amazing with the flavors of the grill.
Tip: Use your tongs as a lemon squeezer to get every last drop of juice out of those grilled lemons. You could also make a grilled lemon vinaigrette with the juice.
Common Questions
What temperature do you grill broccolini?
Grill broccolini over medium heat on the grill using a two-zone setup so the stems are over the direct heat and the crowns aren't. This prevents the heads from charring before the stems are cooked.
How long does it take to grill broccolini?
Broccolini will be cooked within 6 to 8 minutes on the grill with the lid closed. Turn it frequently with tongs for even cooking.
More Easy Sides You'll Love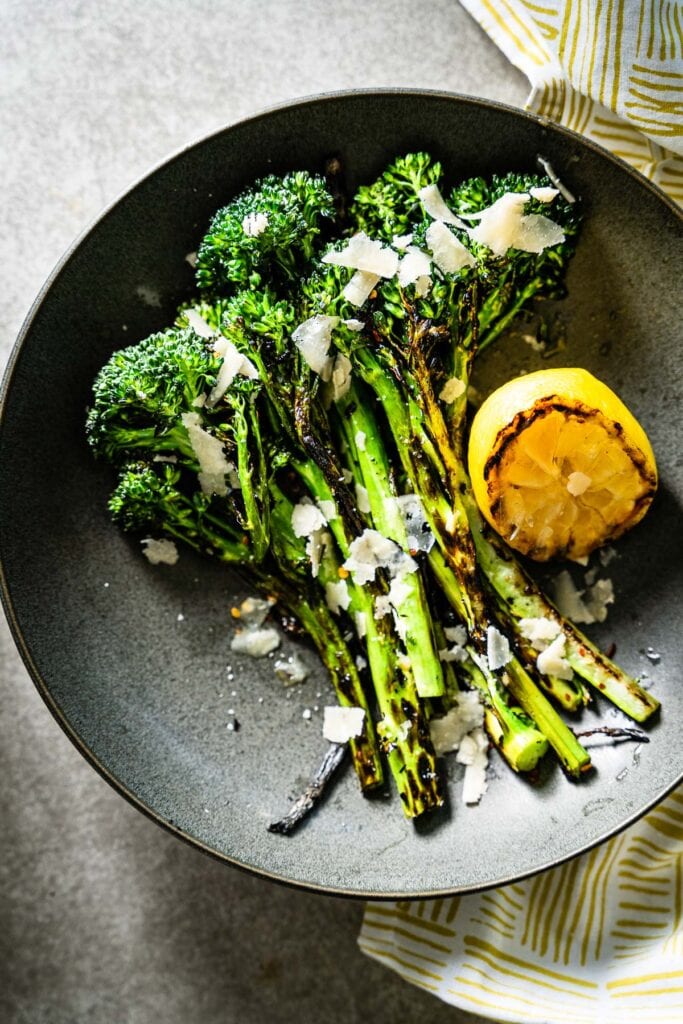 Did you make this recipe?
I'd love to know how it turned out!
Please leave a note and a rating in the comments section below, or tag @SaltPepperSkillet on Instagram.
Grilled Broccolini Recipe
Broccolini tossed with olive oil, salt and pepper, and then grilled to tender perfection. Finished with charred grilled lemon and shaved Parmesan.
Print
Pin
Rate
Ingredients
1

bunch broccolini

(ends trimmed)

1

tablespoon

olive oil

1

teaspoon

Diamond kosher salt

¼

teaspoon

red pepper flakes

(optional)

1

lemon

(halved)

2

tablespoon

shaved Parmesan
Instructions
Place the broccolini on a small sheet pan or plate, and toss with olive oil and salt and red pepper flakes, using your hands or tongs to evenly distribute.

Place the broccolini directly on the grill with the stalks across the grates over the direct heat and the crowns and the lemon halves furthest from the heat.

Turn every few minutes using tongs until cooked and tender, 6 to 8 minutes.

Remove from the grill and place on a serving platter. Sprinkle on lemon juice, shaved Parmesan and a little flaky salt (such as Maldon) and more pepper flakes if desired.

Serve immediately (or it's still great when cold).
Notes
If some of your broccolini stems are thicker than others, take a paring knife and split the stems in half or into quarters (maintaining the rest). This will get them to evenly cook like the smaller ones.
The crowns will char pretty quickly, so keep them farthest from the high heat. Charring the broccolini will make it crispy. I like to char some of it, but not all.
Garlic optional - you can toss it with chopped (which can burn when grilling) or some garlic powder if looking to add garlic flavor.
Store your uncooked broccolini in a few inches of water like a bouquet of flowers to keep it fresh longer.
If you're starting with wilted broccolini, just cut off the very bottom and place it in an ice water bath to rehydrate.
Use a peeler to grate the Parm.
Nutrition
Calories:
50
kcal
|
Carbohydrates:
3
g
|
Protein:
1
g
|
Fat:
4
g
|
Saturated Fat:
1
g
|
Polyunsaturated Fat:
1
g
|
Monounsaturated Fat:
3
g
|
Cholesterol:
2
mg
|
Sodium:
628
mg
|
Potassium:
44
mg
|
Fiber:
1
g
|
Sugar:
1
g
|
Vitamin A:
69
IU
|
Vitamin C:
15
mg
|
Calcium:
30
mg
|
Iron:
1
mg