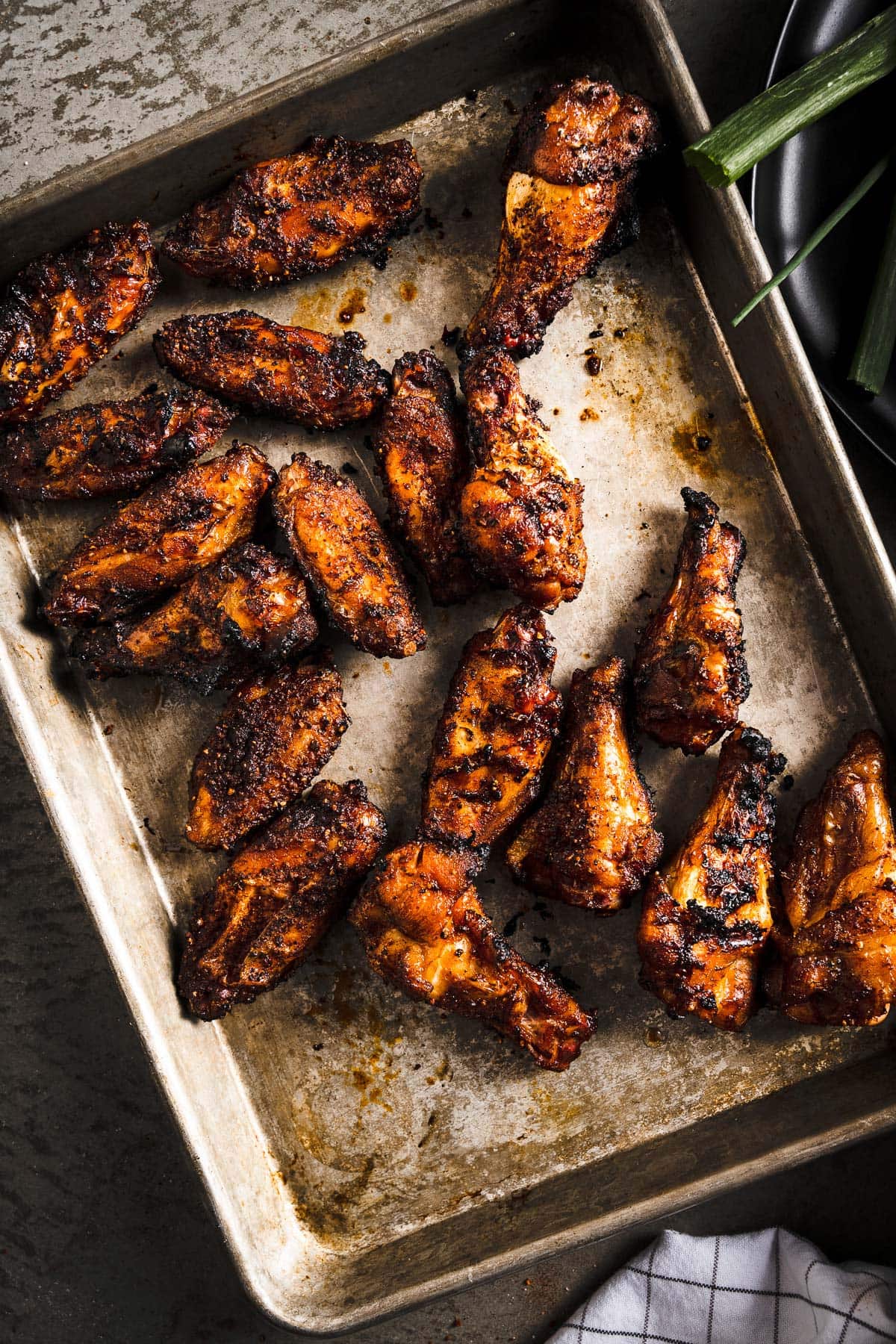 Smoked wings have so much flavor when you cook them low and slow, and then finish at higher heat to crisp 'em up. Eat them as is or slathered in your favorite sauce.
If you need an excuse to have a party, stop right here and just make these. They will disappear before you have time to wipe that juicy smile off your face.
There are two keys to unlocking the best smoked chicken wings. One is starting with a brine to keep them juicy. The second is a two-stage cook where they are first smoked for flavor, then crisped up with higher heat.
You can't mess them up. You can only make them better.
A Brine Keeps Wings Juicy
Wings are actually white meat and can dry out easier than dark meat. A simple brine of water, salt and sugar for a few hours will keep the wings juicy and add flavor. It is optional but worth the super-easy step.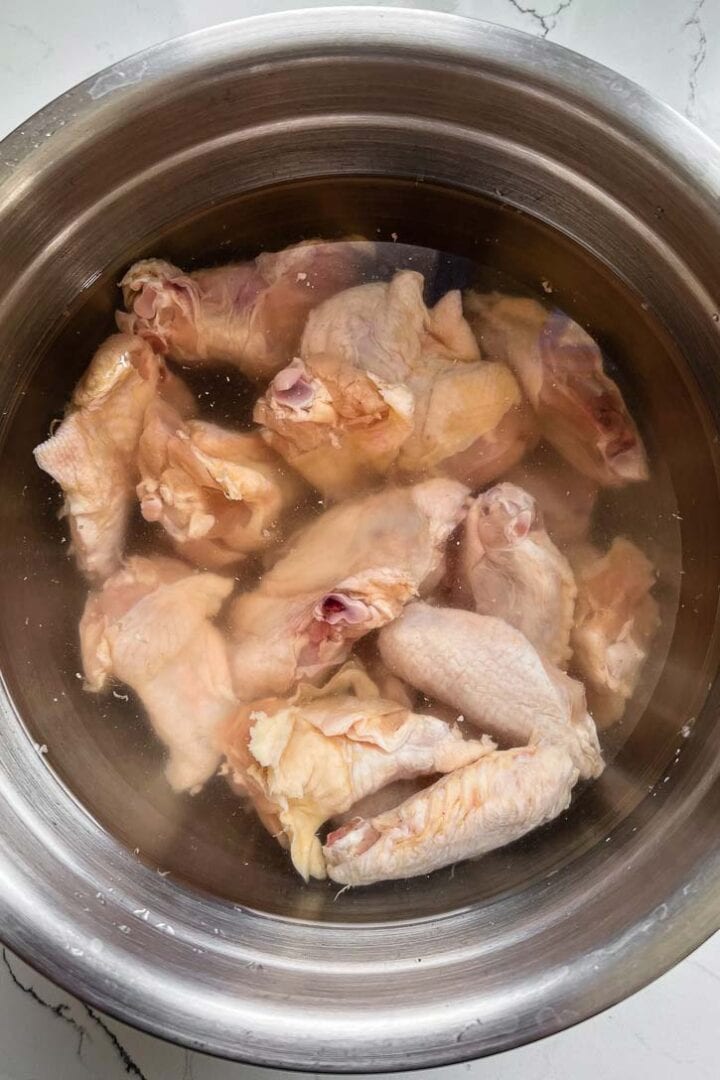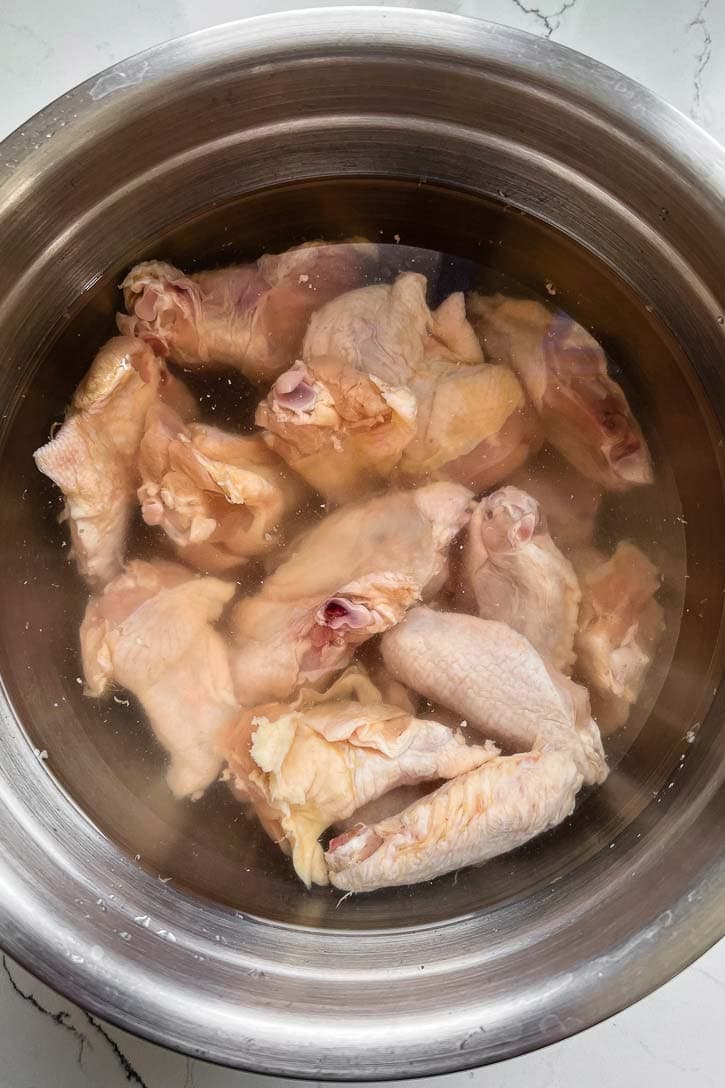 Dry Rub = Flavorful Wings
A dry rub adds tons of flavor to the outside of the wings. I like to make a quick dry rub consisting of black pepper, smoked paprika, brown sugar, chili powder, onion powder, garlic powder, cumin and a little cayenne. Get the full chicken dry rub recipe.
If you are brining the wings, you can omit salt from the dry rub and just sprinkle a little salt on the surface. Since the rub has sugar, it can burn if too close to the heat source.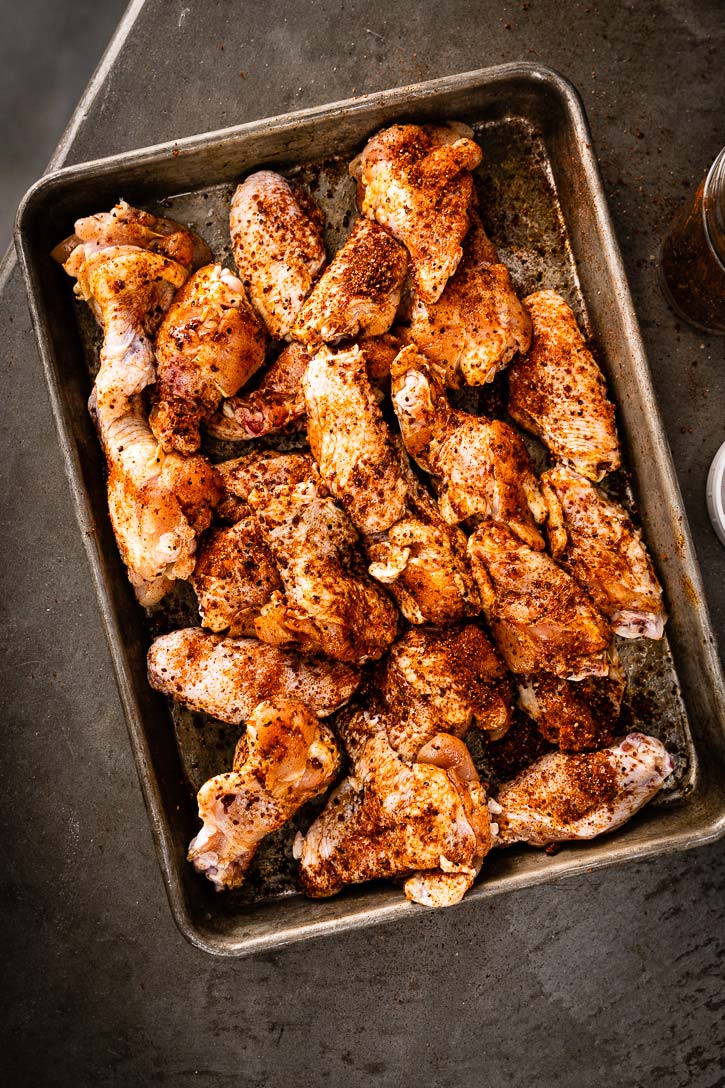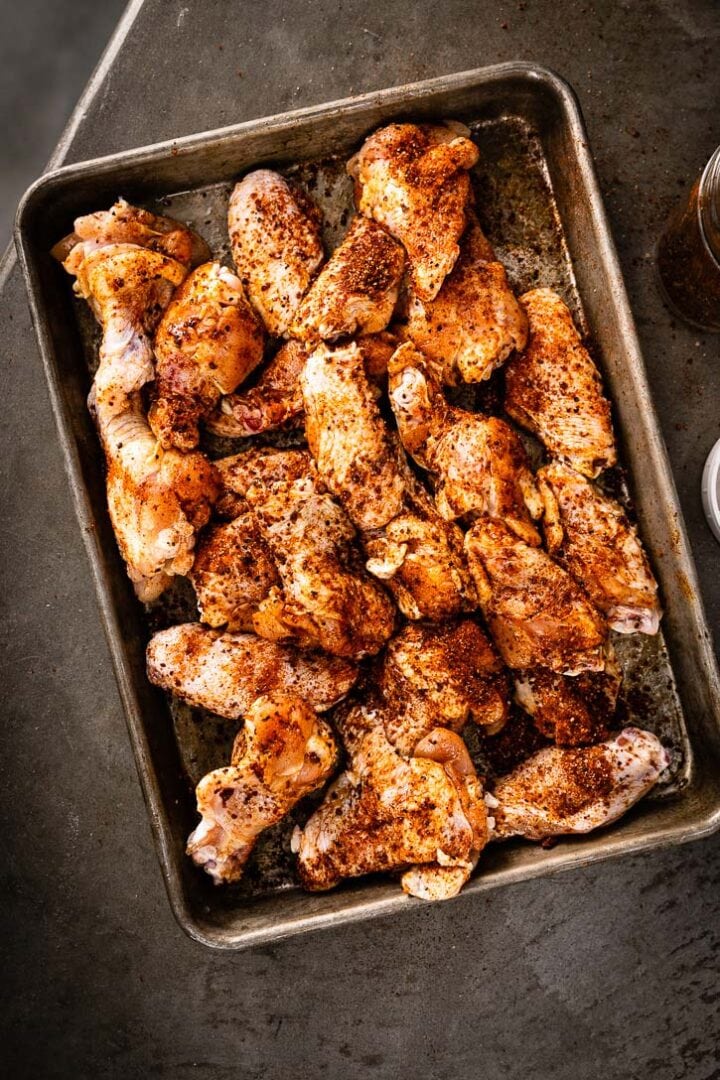 Time for Smoke
The flavorful smoke and a little heat is what is going to cook these babies. Cook them with indirect heat. For wings, apple or other fruit woods add a wonderful sweet flavor, but you can also go with oak or hickory for slightly stronger smoke.
Preheat the smoker to 225° F with indirect heat — meaning you don't want them to be directly over the flame/heat source.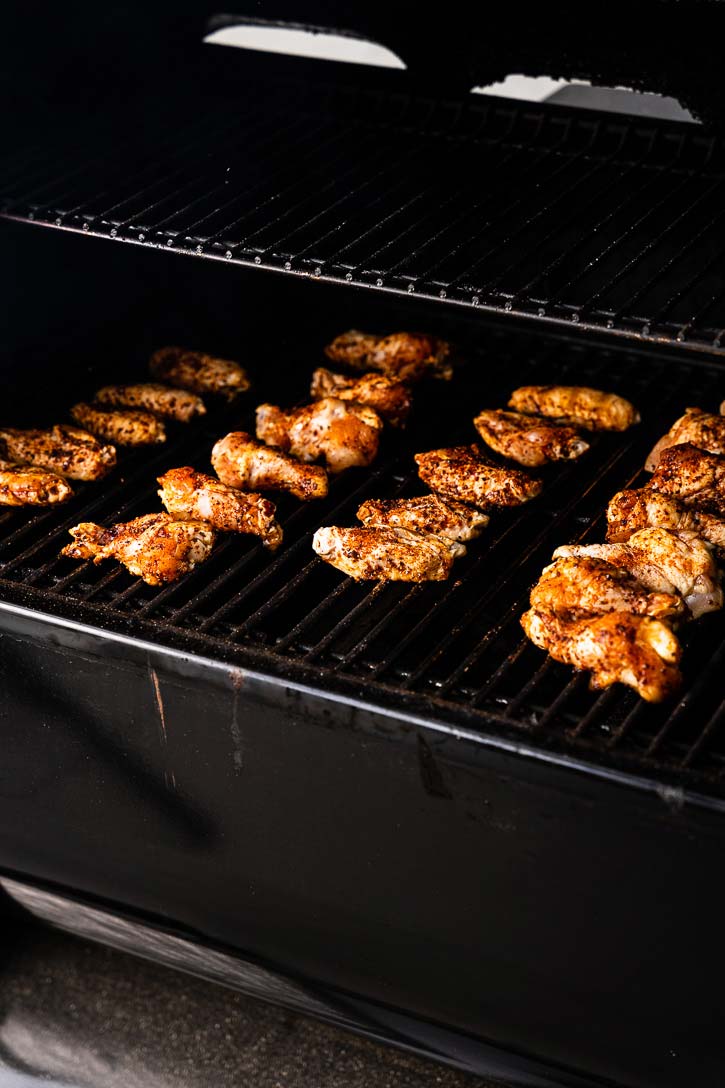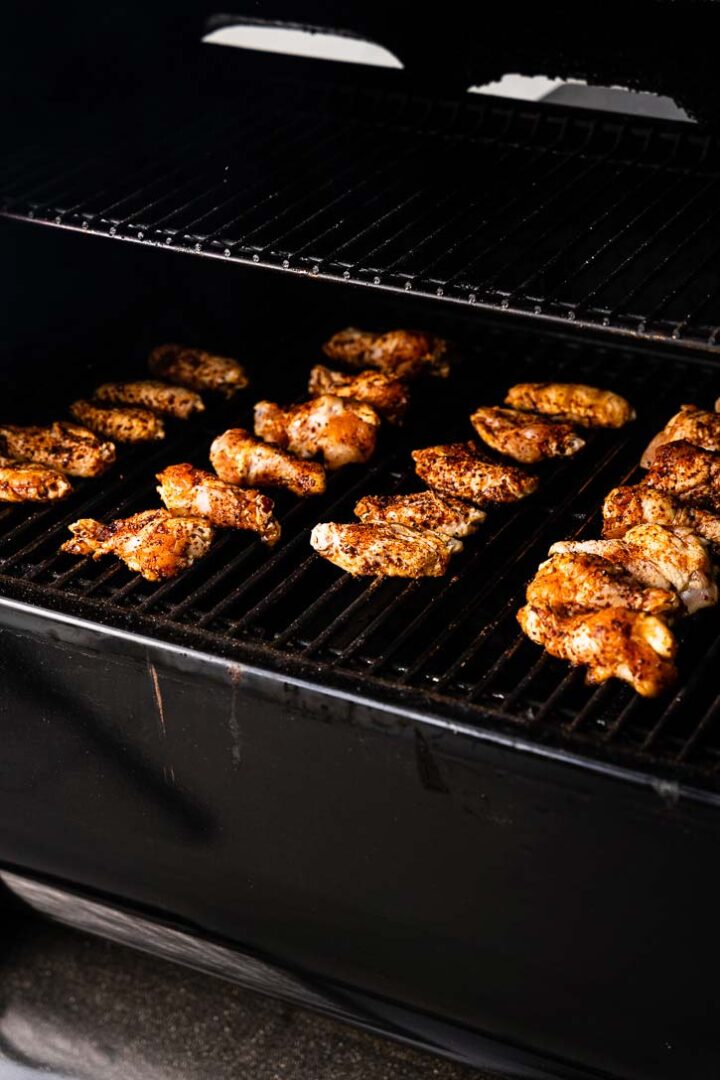 Keep placement of the wings in the smoker in mind: Keep the drumettes together and the flats together, as they can cook at slightly different rates. Place the drumettes closer to the heat, as they are slightly larger and can handle it.
Flipping the wings when smoking is optional but can be a good idea for even cooking and browning. You will want to check them out about halfway through to see how they are looking. If they are significantly darker on the top or the bottom, then give them a flip. If they look pretty even, you can leave them without flipping.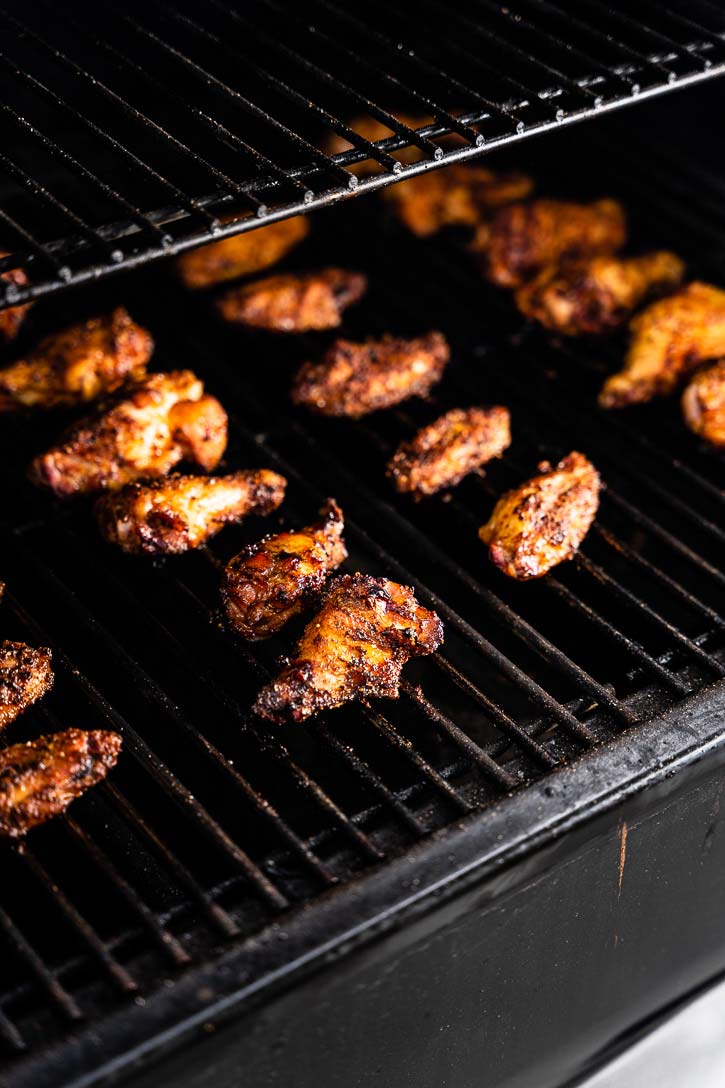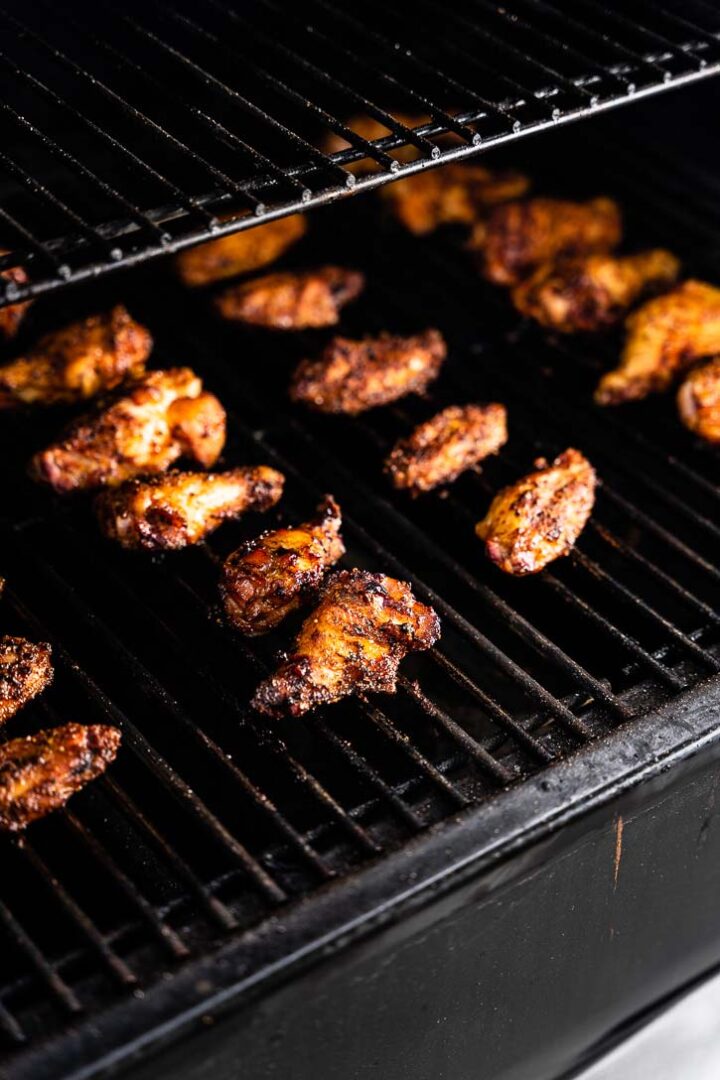 How do I get the skin crispy on smoked chicken? A two-step cook! First comes the smoke for flavor, then heat to crisp.
Getting Skin Crispy
Because crispy smoked wings are the best wings, let's talk about crisping up the skin. Leaving wings to cook at a low temperature will usually result in rubbery skin and an undesirable texture. We can avoid this simply by finishing the wings with higher heat. And there are a few options for how to do this:
Smoke - Turn up the temp of your smoker to 425° to 450° F during the last 15 or so minutes of the cook.
Grill - Remove from the smoker and place on a hot grill for a few minutes per side to crisp up the skin.
Air Fry - Place in the air fryer at 425 °F for about 15 minutes.
Oven - Place the wings on a sheet pan and into a 425° F oven (with convection on if you have it) for about 20 minutes, or until crisped up.
Deep Fry - Yep, you can definitely deep fry. They are already cooked so they just need a few minutes in 375° oil to crisp up the skin.
Include Potato Starch in the Dry Rub - This sounds strange but adding a little potato starch (or baking powder) to the rub will help make them nice and crispy. I prefer using potato starch, because I like the texture and flavor compared to baking powder.
When Smoked Chicken Wings Are Done
A probe thermometer is the easiest way to tell when the chicken has reached temperature. Insert the probe into the thickest part of the drumette to get a reading. Going by time isn't accurate because of the variation in the size of the wings and your particular smoker.
The larger the wings, the easier it is to get a good reading. They are done when they reach an internal temperature of 165° F, but I like to bring wings all the way to 175° F for more tender results and that crispy skin.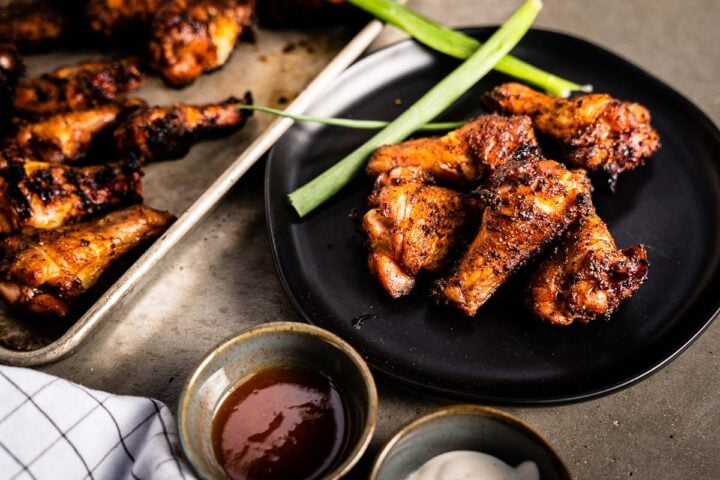 Saucy or Dry Wings
Once the wings are crisped up using your preferred method above, you can sprinkle on a little more dry rub or toss in a delicious BBQ sauce to finish them. Wings are great either way.
Dry wings aren't dry — they just don't have a sauce on them before they are finished. Making a variety can be great!
Smoked Chicken Wing Tips
Plan for brine-soaking time before cooking.
Since the rub has sugar, it can burn if wings are too close to the heat source.
Keep larger wings closest to the flame.
Flip wings if they are unevenly cooking on the top versus bottom.
Use a thermometer to make sure you are cooking wings to a safe temperature.
FAQ: What's the Cook Time?
How long does it take to smoke chicken wings?
It takes approximately 1 ½ to 2 hours to fully cook chicken wings in the smoker at 225° F, depending on the size of the wings. Use a probe thermometer and verify the internal temperature has reached at least 165° F.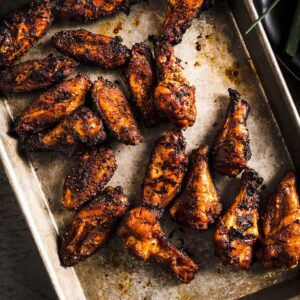 Ingredients
4

lbs

chicken wings

Apple, cherry, hickory or oak wood for smoke

BBQ sauce

optional
Brine
2

quarts

cold water

½

cup

Diamond kosher salt

(see note)

¼

cup

sugar
Instructions
Prep the wings by cutting off the wingtips and separating the drumette from the flat (if they didn't already come this way).

Make the brine by combining the water, salt and sugar in a large bowl, whisking to dissolve completely. Brine the wings for 1 to 3 hours (they are small, so they don't need a ton of time with the brine).

Generously season all sides of the wings with the dry rub.

Set up the smoker for indirect heat smoking at 225° F.

Place the wings in the smoker and smoke for about 1 ½ to 2 hours or until the internal temp of the thickest part of the wings reaches 165° F.

Crisp up wings by turning up the smoker temp to 425° to 450° F and continuing to cook until the internal temperature of the wings reaches 175° F.

Immediately toss with sauce or sprinkle with spice rub (as you prefer).
Notes
Figure about 1 to 1 ½ lbs of wings per person (about 5 to 6 whole wings) as an entree.
Salt conversion for the brine: Use ½ cup Diamond Crystal kosher salt or ¼ cup table salt.
The size of the wings makes a difference in cook time. Some wings are tiny and others are larger. It's all about the internal temperature which you can verify with a probe thermometer.
Alternative ways to crisp the wings:

You can also crisp up the wings in an air fryer or oven at 425° F for about 15 minutes, on a hot grill for a few minutes per side or deep-fried in 375° F oil for just a few minutes.
More Wings and Smoker Recipes