This recipe was created in partnership with the American Lamb Board. All thoughts and opinions are always my own.
Lamb is such an under-utilized protein. Most people don't think of it when it comes to smoking like they do pork or beef. However, you are totally missing out if it isn't on your BBQ menu and here's why: Lamb shoulder takes the smoke flavor so well and with its own unique flavor that you don't have to try to overpower.
As with most things in the smoker, it's going to take a while to cook but will be so worth it. Pulled or sliced, it's a flavorful and succulent addition to your BBQ repertoire.
Even our 5-year-old loved it. My wife said it tasted much like a more-tender version of the brisket we had just a few weeks before, but with its own subtle and distinctive flavor.
What Is Lamb Shoulder?
Lamb shoulder comes from the upper front shoulder of the lamb. The shoulder of any animal bears a lot of weight and will be a tough cut that needs to be cooked low and slow in order to break down the connective tissue and make it tender.
It is different from the "leg of lamb," which comes from the rear leg, and is leaner and more tender. The shoulder has a higher fat content, is richer in flavor and is less expensive than the lamb leg. Because of the higher fat content, it is also more forgiving and stays juicier.
Lamb shoulder is a great value and is much more affordable than other premium cuts like the rack. You can also feed a lot of people with one shoulder!
Where to Source the Best Lamb Shoulder
I highly recommend buying American lamb shoulder from your local butcher. They can prep it for you so it's ready to cook, and it's going to be fresher because it likely came from somewhere close.
When you buy food locally, it's more likely to be fresh. And supporting your small local farms that care about sustainability is important to both the economy and the planet. This is especially true of lamb; about half of imported lamb comes from Australia and New Zealand, 10,000 miles away. Some lucky sheep even graze in vineyards, reducing weeds and enriching the soil naturally.
Your local neighborhood butcher is usually the best place to source American Lamb. Not only does your butcher likely know the farm where the lamb is from, but they can answer your questions about it and cut it to your specific needs. This is a big benefit, especially when buying a shoulder that requires a little prep. They can handle all of that for you. You can also source American Lamb at several grocery stores. For shoulder roasts, you will most likely need to talk to your meat department and have it ordered.
This lamb was picked up from The Wise Ox butcher shop here in San Diego.
The Rub and Seasoning
It's best to apply kosher salt to the shoulder the night before, so it really has a chance to penetrate the meat, but even an hour before cooking will work.
We're going simple here with a basic rub of black pepper, sweet paprika for color, a little sugar to promote beautiful bark and some dried rosemary for that wonderful savory flavor.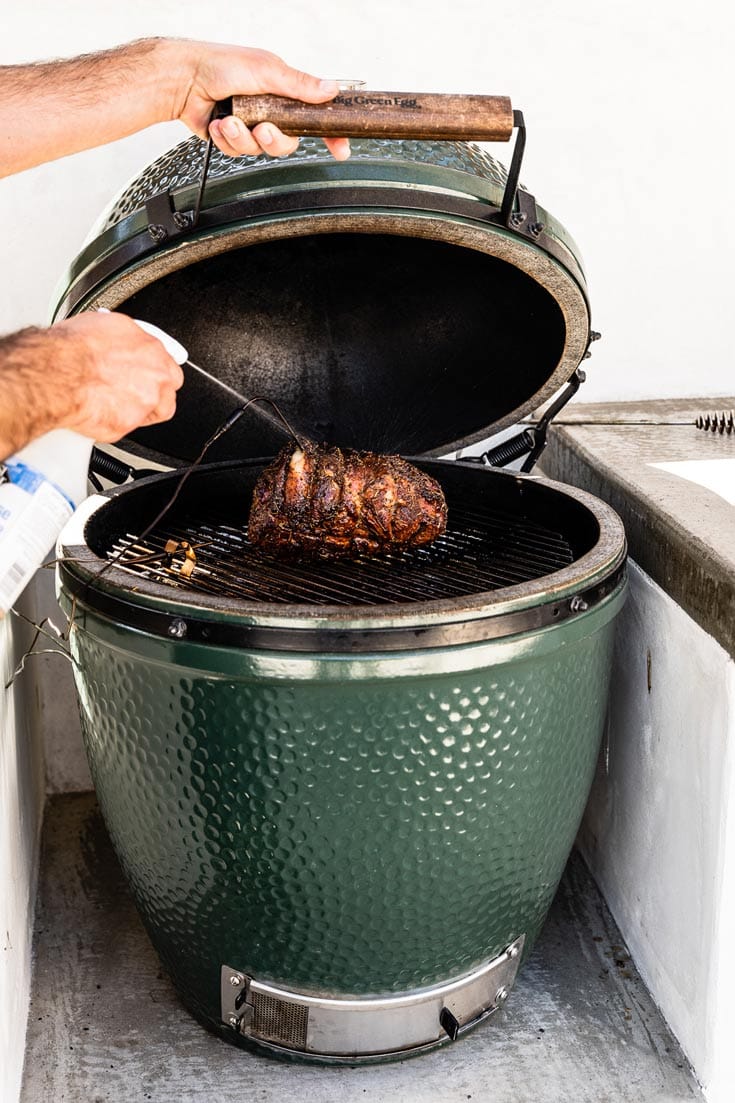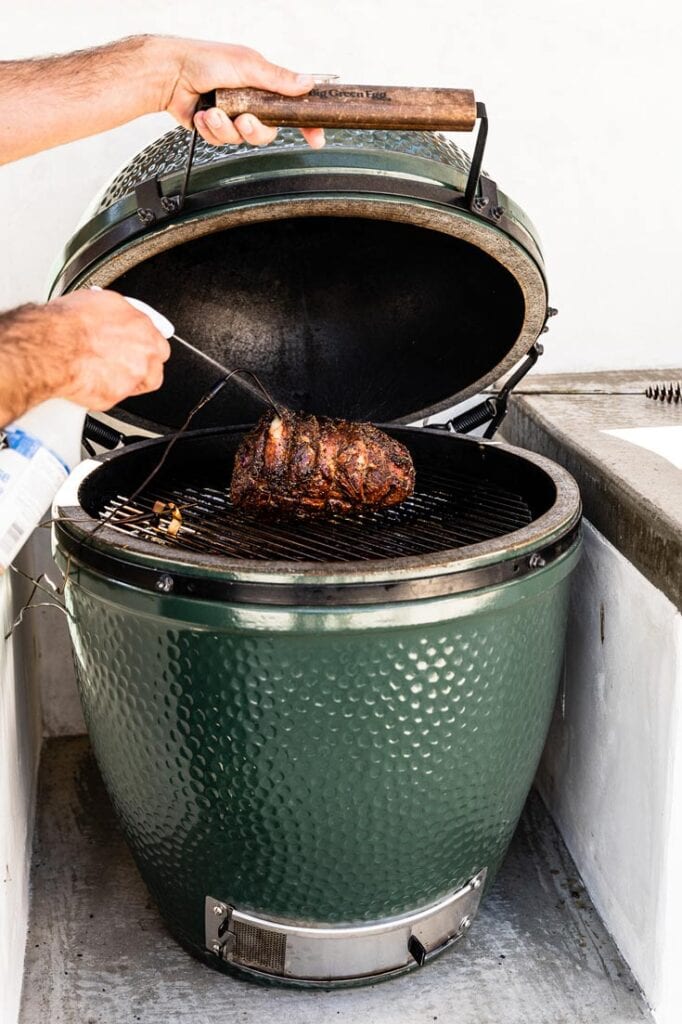 To Spritz or Not to Spritz
First off, just in case you aren't familiar, spritzing is simply spraying a liquid onto the meat during the cook. It helps keep a moist environment that keeps the meat juicy and the wet surface will also attract smoke, which adds more flavor.
Some people believe in spritzing no matter what. Personally, I believe it depends. If you use a drip pan filled with water, it's less necessary. That said, since the lamb shoulder usually has less of a fat layer than other proteins, I found it best to spritz about every hour with a 50/50 mixture of apple cider vinegar and water.
A downside to spritzing is that you are opening the lid to your smoker, which causes temperature fluctuations, so it can be more difficult to regulate a consistent temp and will slow the cook time.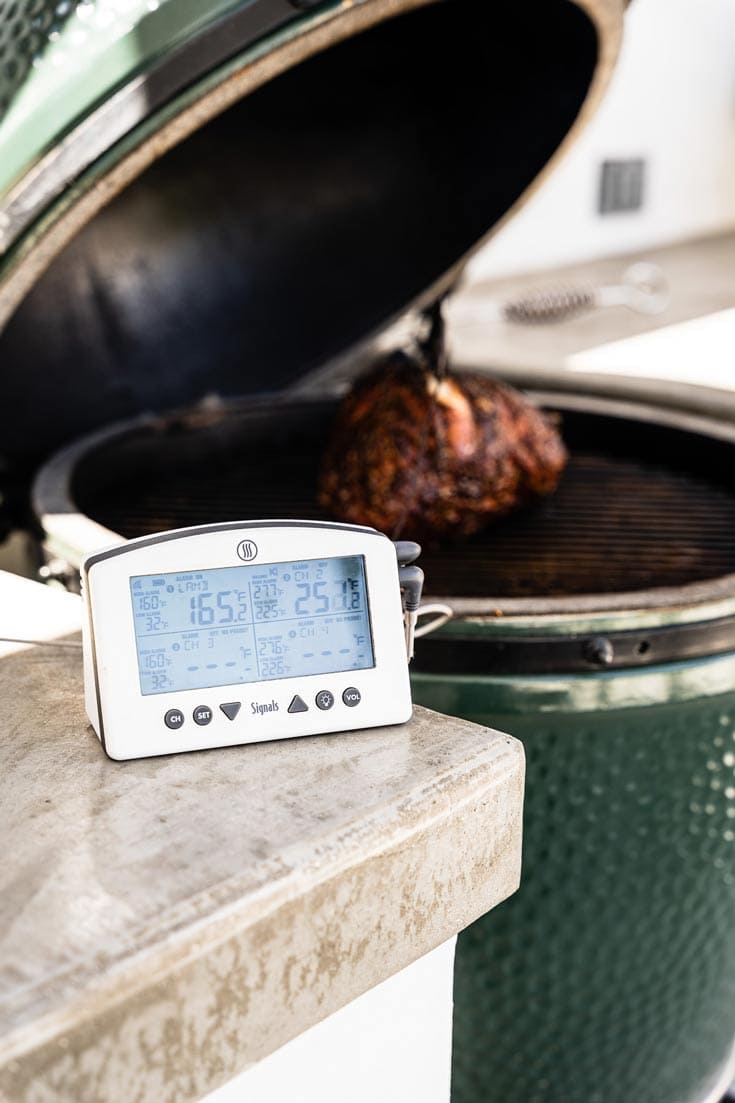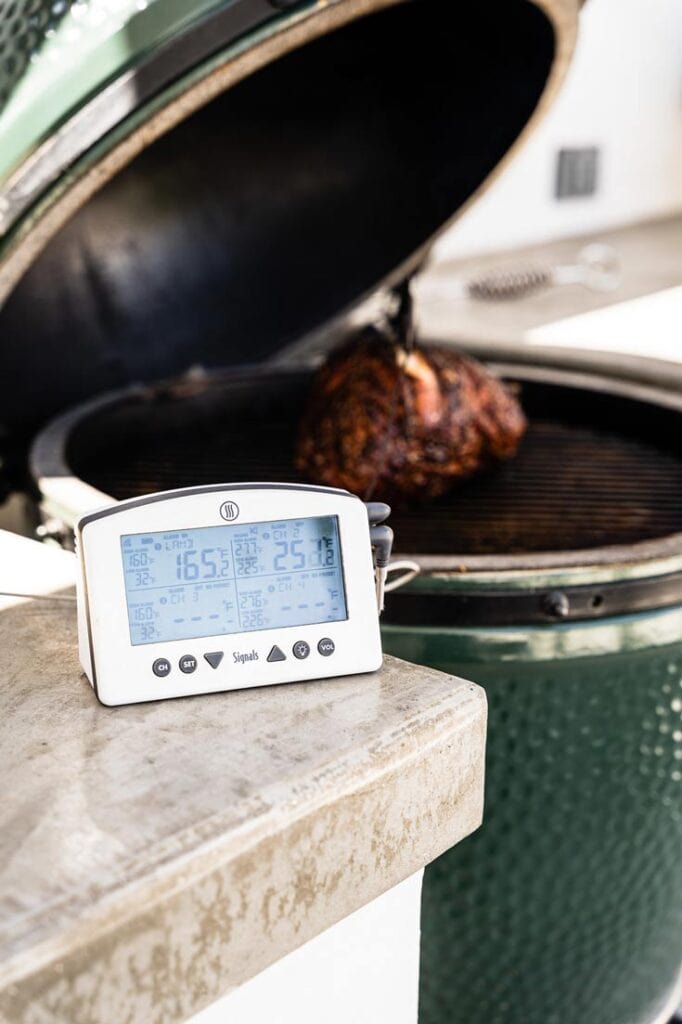 Key Temperatures & Times
Smoker temperature: 250° F
Finished internal temperature: 195° F to 205° F (check and wrap around 165° F)
The cook time will be about 5 to 7 hours for boneless and 6 to 8 for bone-in. Always go off of temperatures rather than times as there are so many variables.
Learn more techniques in our Lamb Grilling Guide.
To Wrap or Not to Wrap
Wrapping the lamb with foil or butcher paper is optional and often depends on what the bark is looking like. When a beautiful bark is formed and doesn't need any more color, wrapping it until it's finished cooking will help prevent the meat from drying out. So it's going to depend on your situation.
Once your lamb shoulder reaches 165° F, do your own analysis. If the bark and the color look good, go ahead and wrap it and place it back in the smoker. If it looks like more color will be a benefit, let it keep going unwrapped.
If you cook it unwrapped the whole time, I still recommend wrapping for the rest.
In my opinion, the time to wrap is when the color is perfect. That might be when it reaches 165° F, or full temp, or not until it's time to rest. Once it is rapped, it won't develop any more delicious bark, so you don't want to wrap it too soon.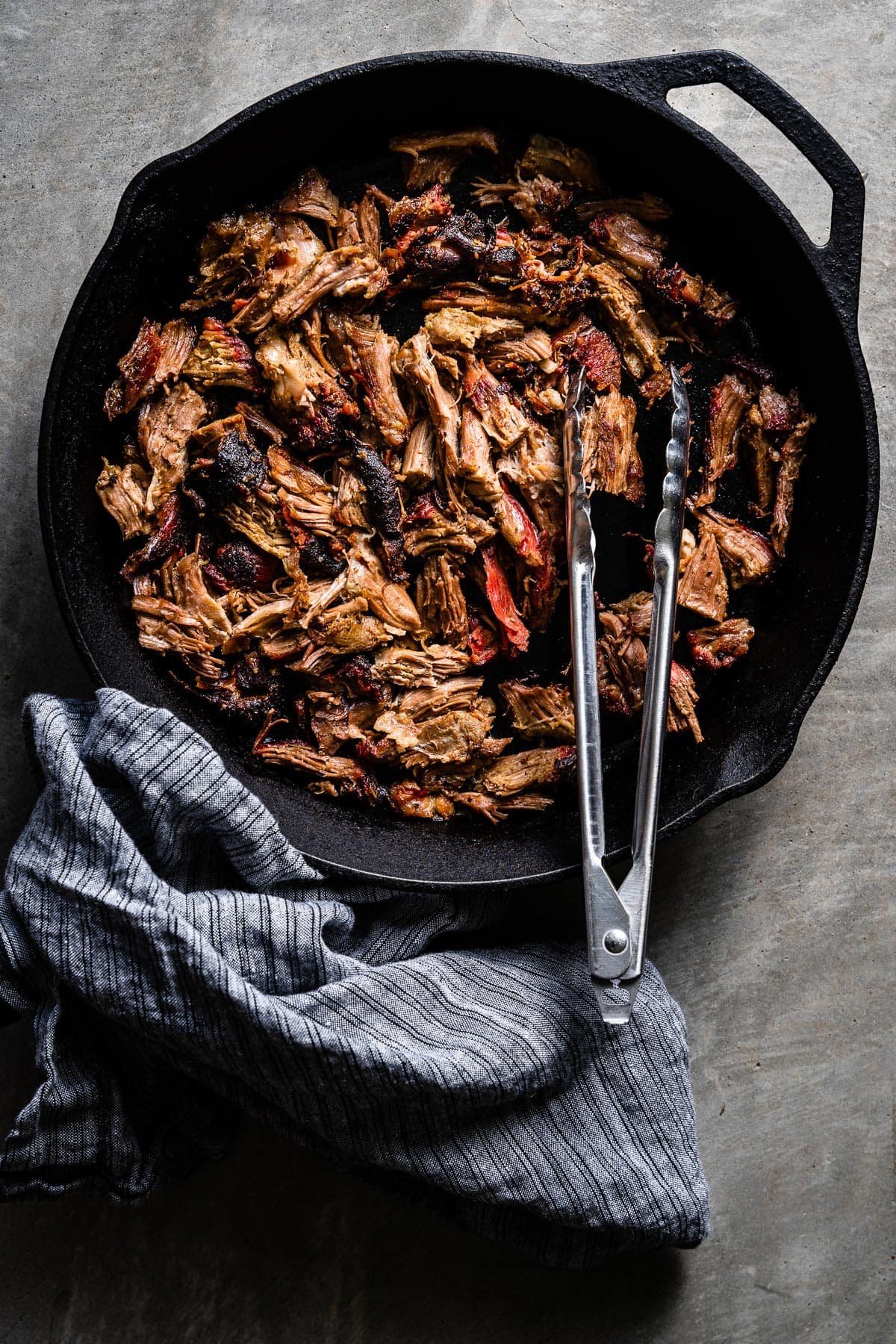 Tools and Equipment
Smoker - Any type of smoker will work. I used a Big Green Egg for this one.
Drip pan
Foil or butcher paper
Wood chunks, chops or pellets
Spritz bottle
Pro Tips
Salt the night before - This acts as a dry brine and allows the salt to penetrate deep into the meat, keeping it juicy and bringing out more natural flavor.
Temper the meat (bring to room temperature) prior to placing it in the smoker.
Use your local butcher to prep the shoulder for you.
Use 3 to 5 oak wood chunks, which will be enough smoke for this 5- to 7-hour cook. Alternatively, use hickory or apple wood. And pellets if using a pellet smoker.
Use a quality probe thermometer to remotely monitor the internal temperature.
FAQs
What temperature should lamb be when pulled?
203° F internal temp is the magic range to cook the lamb to for pulling. Go with 195° F internal if you would rather dice the lamb and would like it to be slightly firmer.
How do you keep the lamb moist?
Using a water drip pan in the smoker will help maintain a humid environment. Don't let your smoker temp get too high, and spritz every hour to help keep the lamb moist.
How to reheat lamb shoulder?
In a 350° F oven wrapped in foil until the internal temperature reaches 165° F. You can also shred the lamb while it is still warm and then heat it up in a skillet with a little oil.
How long does cooked lamb last?
The smoked lamb will be good for 4 to 5 days if safely cooled and stored in the refrigerator.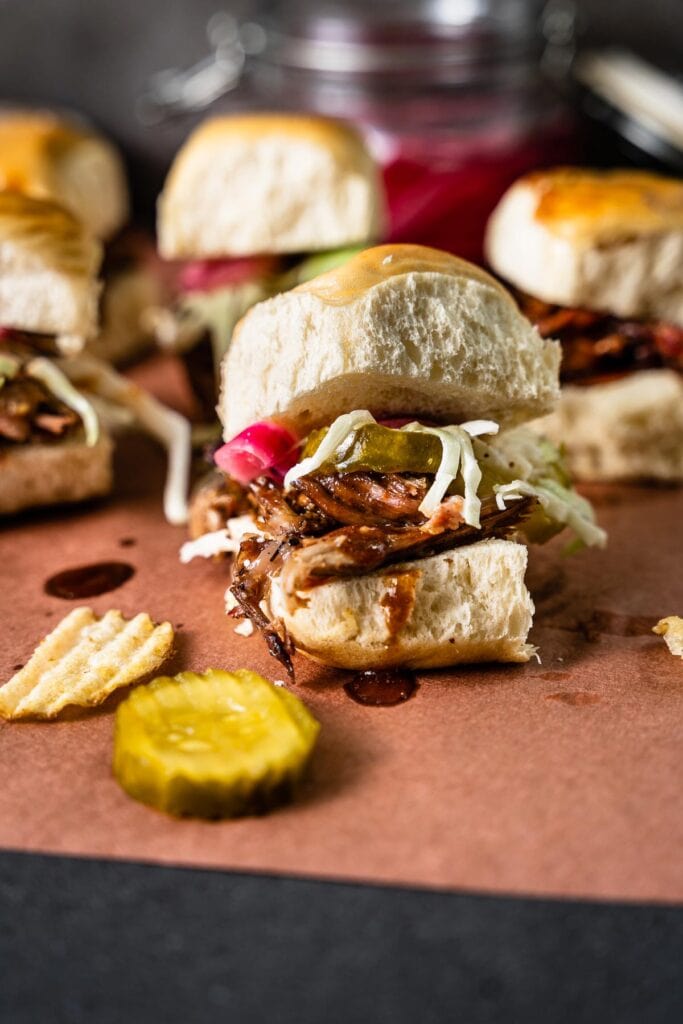 6 Ways to Use Smoked Lamb Shoulder
Siders with a bbq vinaigrette
Tacos
Rice bowls
Wrapped in pita with a yogurt-mint sauce
In a ragu on top of polenta, risotto or pasta
Sliced leftover sandwiches
What to Serve with it: Sides & Condiments
Smoked Lamb Shoulder Recipe
Pulled lamb that melts in your mouth. The slow-smoked shoulder shreds into tender, juicy strands like the best brisket or pork shoulder. Follow the recipe for all the tips, tricks and what to serve with your new favorite BBQ cut.
Print
Pin
Rate
Ingredients
3 to 5

lb

American lamb shoulder

(boneless or bone-in)

2

tablespoon

Diamond kosher salt

1

tablespoon

neutral oil

½

cup

spritz: 50/50 ratio of water and apple cider vinegar in a spray bottle

oak, hickory or apple wood chunks or pellets
Dry Rub
2

tablespoon

ground black pepper

1

tablespoon

sweet smoked paprika

1

tablespoon

dried rosemary

(crushed up)
Instructions
Preferably salt the lamb liberally the night before, or at least an hour prior to placing in the smoker.

Bring the shoulder to room temperature while you set up the smoker for indirect heat with a water drip pan in place and preheat to 250° F.

While the smoker comes to temperature, make the rub by combining the pepper, paprika and rosemary. Drizzle a little neutral oil over the shoulder and sprinkle the rub on all sides.

Place in the smoker. Start spritzing every hour or so after the first 2 hours. Monitor for moisture to make sure it isn't drying out, but try not to open the lid too often.

When the shoulder reaches 165° F and the bark looks good, you can optionally wrap the meat in foil or butcher paper for the remainder of the cook.

The lamb is done when the internal temperature reaches 195° F to 205° F after a total of 6 to 8 hours.

Wrap and rest preferably in a cooler for 30 to 60 minutes before shredding or slicing.
Notes
If using a boneless lamb shoulder, be sure to use butcher twine to tie it together.

A note about salt: Use ½ teaspoon Morton kosher salt to 1 pound of meat, or ¾ teaspoon per pound of meat for Diamond kosher salt.

Use a probe thermometer to remotely monitor the temperature while it cooks.
The cook time will be approximately 5 to 7 hours for boneless and 6 to 8 for bone-in.
Nutrition
Calories:
216
kcal
|
Carbohydrates:
2
g
|
Protein:
29
g
|
Fat:
10
g
|
Saturated Fat:
3
g
|
Polyunsaturated Fat:
1
g
|
Monounsaturated Fat:
4
g
|
Trans Fat:
0.01
g
|
Cholesterol:
91
mg
|
Sodium:
2425
mg
|
Potassium:
444
mg
|
Fiber:
1
g
|
Sugar:
0.1
g
|
Vitamin A:
70
IU
|
Vitamin C:
2
mg
|
Calcium:
32
mg
|
Iron:
3
mg