Say, "Cheese...cake!" Because this recipe will bring smiles to faces.
I recently fell in love with making desserts sous vide. There are so many benefits: Perfect results every time. Fewer steps. Individual portions. Longer lasting sealed up in their little containers. With traditional cheesecake, overbaking is a problem, as is cracking and gooey crusts; none of those problems with sous vide.
Great for a Party, Fun for a Date Night
Especially these days, sharing a whole cake isn't a good option. Individual desserts come in handy. Plus, you won't want to share yours.
Top That!
Cheesecake loves that crust in every bite to balance the flavors and texture. But with the crust at the bottom, that doesn't always happen. A crumble on top helps mix it into every bite. Add as little or as much as you want.
We're also making up a quick strawberry compote that also cooks up in the same sous vide water bath as the cheesecake.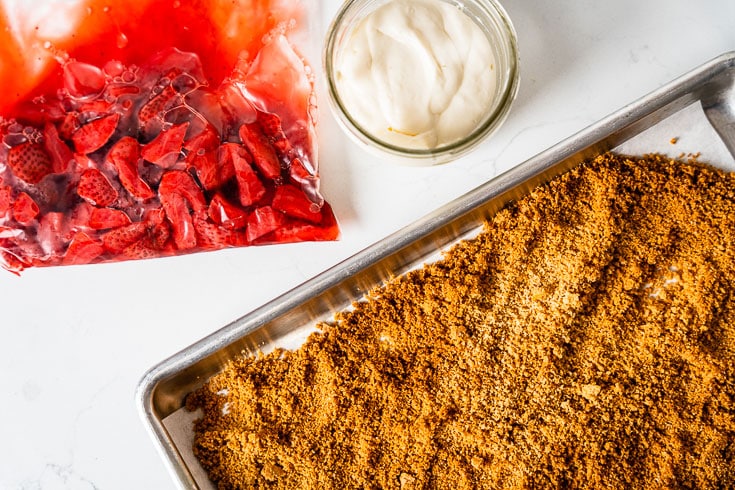 Mix Up
The mixer does almost all of the work for you in this recipe. And once the cheesecake ingredients are all mixed, just fill the jars and close the lids (being careful not to overtighten). Then put them in the bath.
Making the Toppings
While the cheesecakes are having their soak in the hot tub, make the compote and the Graham cracker crumble. The compote is soooo easy, just add the strawberries and sugar to a Ziploc bag, remove the air and add to the bath for 30-45 minutes.
The Graham cracker crumble isn't much harder. Just pulse the Grahams in a food processor, adding the melted butter, sugar and salt until it's all mixed. Then bake on a parchment-lined cookie sheet at 325°F until browned.
Equipment Used
Contains affiliate links where I might receive a commission if you make a purchase, at no additional cost to you. When you buy through these links, it helps me put more effort into making this site a better resource for you. Thanks for your support!
Recipe adapted for sous vide from America's Test Kitchen New York cheesecake recipe.
Ingredients
Graham Cracker Crumble
7-8

Graham crackers

6

Tbsp.

unsalted butter

, melted

1

Tbsp.

granulated sugar

⅛

tsp.

salt
Cheesecake
8

oz.

cream cheese

(at room temperature)

½

cup

granulated sugar

⅛

tsp.

Diamond kosher salt

8

oz.

sour cream

(at room temperature)

1

tsp.

vanilla extract

1

tsp.

lemon juice

1

large egg

(lightly beaten)
Strawberry Compote
1

cup

strawberries

(hulled and quartered)

2

Tbsp.

sugar
Instructions
Preheat water bath to 178°F / 81°C
Make the Cheesecake Filling
Using a stand mixer with the paddle attachment (or hand mixer), beat the cream cheese, sugar and salt until incorporated (1 to 3 minutes at medium speed). Add the sour cream, vanilla and lemon juice and continue to mix for 1 to 3 minutes more minutes. Add the egg last and mix just until combined.

Evenly distribute filling into 4 jars, leaving at least ½" room between fill line and top of the jar. Finger tighten the lids; do not overtighten, as that can cause the glass to crack while cooking.

Using tongs, carefully lower the jars into the water bath. Cook for 1 ½ hours.

Remove jars from the water bath using tongs and transfer to the counter to sit for 15 minutes to cool slightly before transfering to an ice bath to fully chill. Or refrigerate overnight.
Make the Compote (optional)
Combine the compote ingredients in a Ziplock bag. Use water displacement method to remove the air and seal the bag. Cook in the water bath with the cheesecakes for 30 to 45 minutes. Cool before serving with the cheesecakes.
Make the Graham Cracker Crumble While the Cheesecake Cooks
Hand crumble the Graham crackers into a food processor, then pulse with the sugar until there are no large pieces left. Add the melted butter and pulse a few more times until fully incorporated. Spread out onto a parchment-lined sheet pan and bake at 325°F for about 10 to 15 minutes, or until browned. Set aside to cool.
Serve It Up
When ready to serve, remove the jar lids and spoon on the crumble and strawberry compote.
Notes
Recipe is for 4 individual cheesecake jars, but can easily be doubled.
Get the cheesecakes in the bath first, then make the fruit compote and the Graham cracker crumble topping.
More Sous Vide Recipes to Try