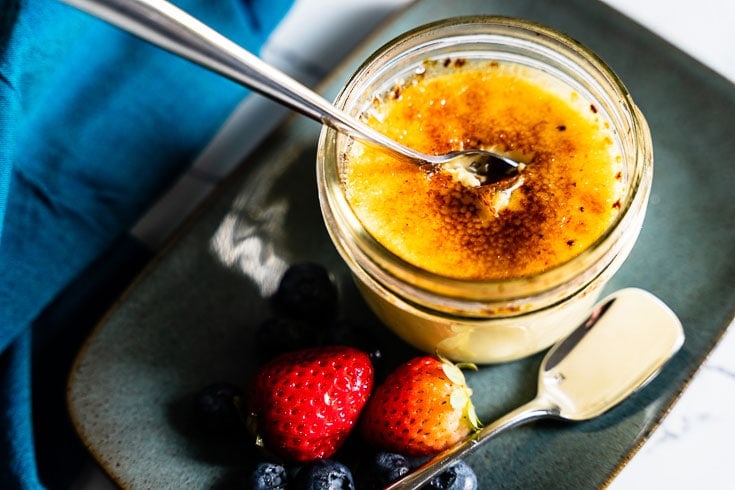 Creme brulee is a decadent, luxurious and iconic French dessert that translates to English as "burnt cream." There's a big chance that it will be on most restaurant menus, but I promise you that you can make it even better than they can. The secret is using the sous vide technique to make it foolproof.
The rich texture should be silky smooth with a contrasting crunch of the caramelized sugar on top. Breaking into the top is a little like cracking the shell of an egg, or a thin layer of ice on a lake. The flavors should have just a hint of vanilla (or whatever you decide to flavor it with) that leaves you spooning out every last morsel.
Benefits of Sous Vide for Making Creme Brulee
Creme brulee is traditionally cooked on the stove and finished in the oven, which gives a few opportunities for potential disaster. These are all eliminated when you make it sous vide. The benefits of sous vide:
The unbelievably silky smooth texture.
No scrambled eggs.
You can't overcook it.
Don't have to turn on the oven.
Already sealed in their jars perfect for storing in the refrigerator for up to 5 days.
They are great as gifts or to bring to a dinner party.
5 Simple Ingredients
These are the 5 basic ingredients that are the base of tons of amazing desserts, including ice cream and bread pudding. Heavy cream, sugar, vanilla extract, Diamond kosher salt and egg yolks come together to make this magical dessert.
Vanilla Extract vs Vanilla Bean
When making creme brulee the traditional way with the custard first cooked on the stove, a vanilla bean has the opportunity to cook with the custard, extracting all its flavors. When making creme brulee sous vide, it is cooked the entire time in the jar and the bean won't get fully incorporated.
This is why I recommend using a quality vanilla extract instead of a whole bean when making creme brulee sous vide. Vanilla extract still gives a wonderful vanilla flavor.
If you really want vanilla beans in the brulee, then vanilla bean paste is the way to go. The paste is a little harder to find and can be pretty expensive.
Step by Step How To
Combine ingredients in a bowl.
Gently whisk to completely dissolve the sugar and salt, while not generating lots of air bubbles.
Strain through a fine mesh strainer into a large measuring cup or pitcher to make pouring into mason jars easy.
Evenly divide into mason jars. You can do 4 larger portions or 6 slightly smaller portions. Up to you.
Place in the water bath and bring the temp up to 178°F. (You can place in the water bath before it reaches temperature.)
Cook in the water bath for 1 hour at 178°F / 81°C.
Carefully transfer to an ice water bath to fully cool for 25 to 30 minutes.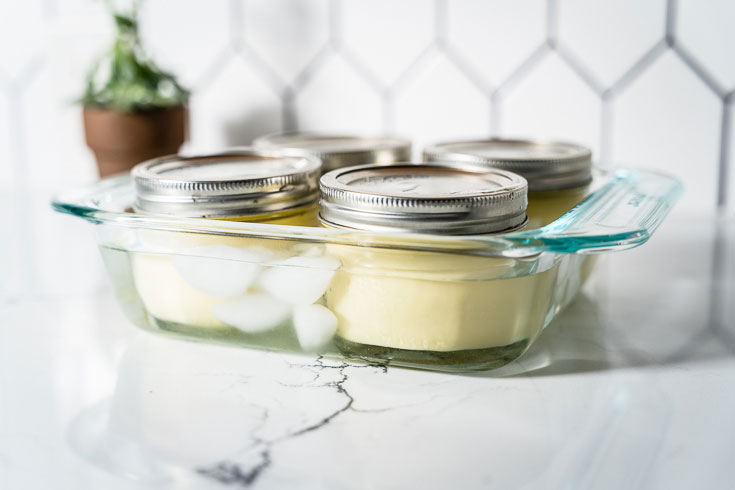 Just before serving: Sprinkle a thin layer of Turbinado sugar on top and use a kitchen torch to caramelize the sugar. Be careful not to put the flame directly on the glass, as it potentially could crack.
Enjoy your creme brulee in all its glory a few minutes after the sugar solidifies.
Tips
Don't overtighten the lids before placing them in the water bath. This can cause the jars to crack in the hot water.
Don't overfill the jars past the thread line.
Use high-quality jars with thicker glass and reduce the possibility of the glass breaking.
Keep the water bath temperature below 180° F to reduce the chance of the glass breaking.
You can add the jars to the water before it fully heats up. This will also reduce the possibility of the jars cracking. Just start your timer once the cooking temp is reached.
You can use other serving dishes. The custard will still be runny after it cooks and will solidify after cooling. While it is still runny, you can pour it into ramekins if preferred.
Use turbinado sugar for caramelizing. Turbinado is sugar in the raw. You really don't need a whole lot of it for the creme brulee, so maybe pick a few extra packets next time you get coffee to go. 🙂
The top of the custard should be dry before sprinkling with sugar. If the top of the custard has extra moisture on it, you can gently dry it with a paper towel before caramelizing sugar on top.
Special Equipment Used
If you love making sous vide desserts, be sure to try Sous Vide Cheesecake!
Sous Vide Crème Brûlée
5-ingredient sous vide vanilla Crème Brûlée is almost completely hands-off, making it so easy to make and even easier to enjoy. Perfect out-of-this-world velvety texture and flavor.
Print
Pin
Rate
Ingredients
5

egg yolks

⅓

cup

granulated sugar

¼

tsp.

Diamond kosher salt

2

cups

heavy cream

1

tsp.

vanilla extract

Turbinado sugar (or sugar in the raw)

(for the brulee)
Instructions
Gently whisk the egg yolks, granulated sugar, salt, heavy cream and vanilla in a medium bowl to completely dissolve (about 30 seconds).

Pass the custard base through a fine-mesh strainer into a large measuring cup for easy pouring.

Pour even portions into mason jars without overfilling past the thread line.

Set water bath to 178°F / 81°C.

Place lids on the jars and finger tighten (but don't overtighten); then carefully transfer to the water bath using tongs.

Once the water is at temperature, cook for 1 hour.

Using tongs, remove the jars from the water bath and place on a high-lip baking dish with ice and water to chill for 25 to 30 minutes. Give a light twist to tighten the jars further before storing.
To Finish the Creme Brulee
Right before serving, sprinkle a thin layer of turbinado sugar on top of each custard. Use the cooking torch on low, brûlée (caramelize) the surface of the sugar, being careful not to get too close to the glass. Let the sugar cool and solidify for a few minutes before serving.
Notes
Whisk the ingredients together gently as to not generate air bubbles.
Don't overtighten the jars.

Makes about 6 (½ cup) portions.

The brûlée will still be runny after it cooks, but will solidify after cooling.
These will last 5 days sealed in the refrigerator.
Nutrition
Serving:
0.5
cup
|
Polyunsaturated Fat:
-10
g