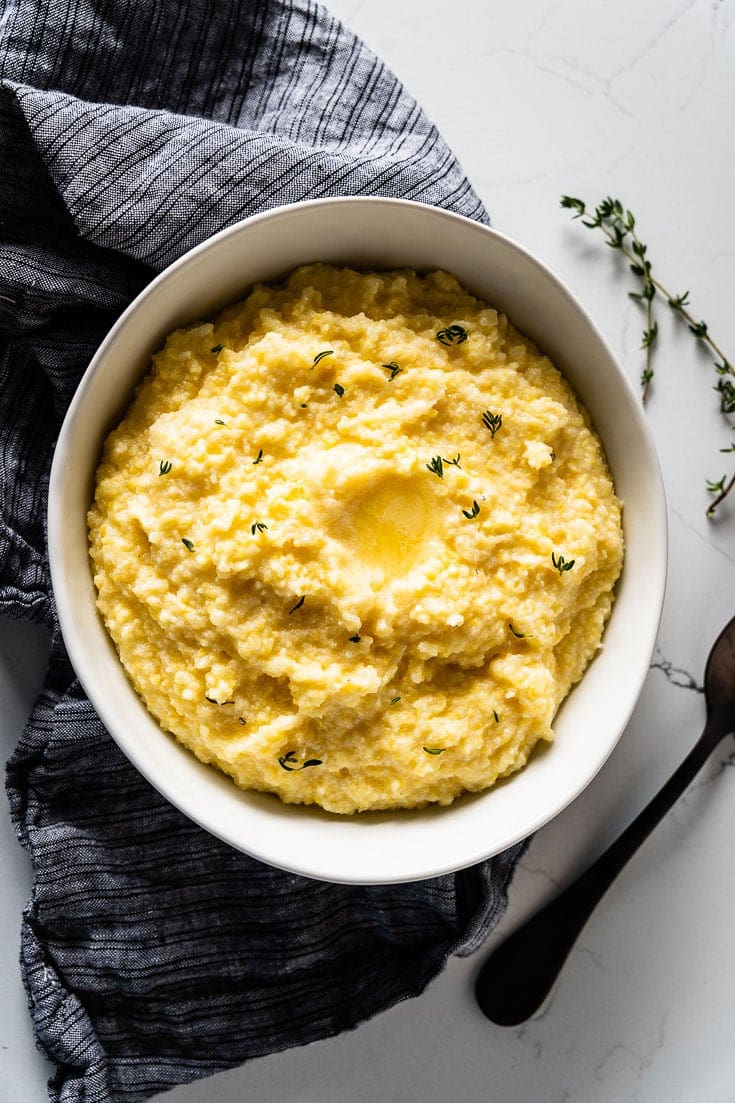 Polenta is a wonder. A mix of cornmeal, liquid, some butter and Parmesan cheese. You can add more or less of whatever you want, mixing flavors to match your meal. Polenta can also either be served creamy or crispy, for dinner or breakfast.
It's a side you might not make every day, but you just might want to start making it every week.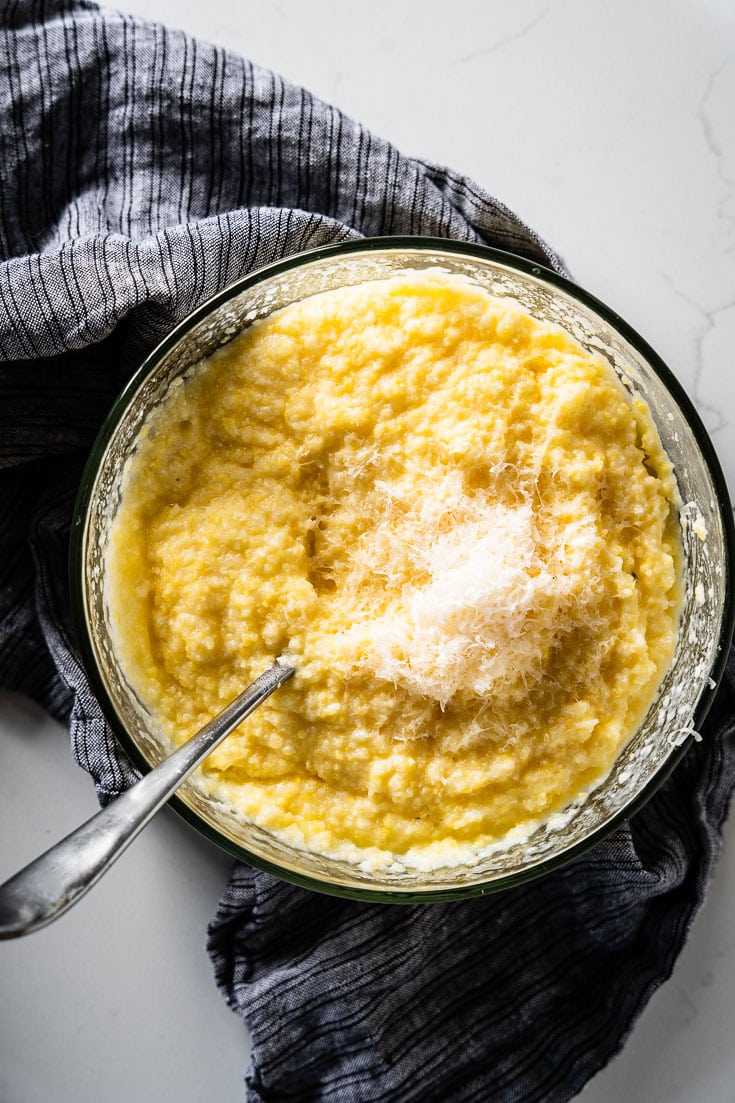 Not sure if I love polenta so much because I grew up eating Cream of Wheat or from my trips to Italy. This northern Italian staple actually dates to Roman times, when it was made from whatever starch was available, from farro and millet to chestnut or chickpea flour. Corn (maize) has been the polenta grain of choice since the 1500s, when it arrived from North America.
Quite easy to make. Perfected with a little practice. Traditionally, a lot of stirring. Doesn't "hold" well in a pot. And the pot you make it in can take a lot of scrubbing to clean. Well, it's time to ditch the pot.
Why Sous Vide Works
That's where sous vide technique comes in. Cooks in a bag, and voilà! It can sit there indefinitely until you are ready for it. No stirring required. Once you make it sous vide (if you have the equipment), there's no reason to go back to the fussy traditional method.
How to Make It
First, you don't have to buy "polenta" at the store, as any cornmeal will do. Regular cornmeal will have a consistent texture, whereas "stone-ground" will have a slightly varied grain size, giving a more varied feel. The meal should be coarse for polenta.
Second, do not buy the "instant" polenta, as it doesn't have optimal taste or texture; it's often way too finely ground or partially cooked and gooey. And since we're making this sous vide, it's already easy enough.
Next, you need to decide what kind of liquid to use. Purists use water, which lets the flavor shine through. Milk makes a creamier polenta. Stock, like chicken or veggie, adds flavor. For this recipe, I use a combo of water and milk: creamy, but not too heavy. Feel free to try variations and see what you like best. You may even vary by the type of dish you're serving it with.
The seasonings you use will also vary depending on your meal or mood. Fresh herbs and Parmesan cheese are great for dinner. A lighter dose is better for breakfast.
Once you've decided on your ingredients, it's easy:
Combine the cornmeal, liquid, butter and salt in a bag.
Gently squish everything around with your hands to make sure it is mixed well.
Then it's into the 185° F / 85° C sous vide bath for two hours, leaving you free to make your main dish and other sides (or just enjoy some wine and a friendly conversation).
Serve It Up
The polenta will come out of the bag beautifully creamy, and you're ready to mix in the Parmesan cheese and herbs before serving warm, as it will firm up slightly as it cools.
One trick is to warm your serving bowl by giving the bottom a quick dip in the hot water bath; or you can keep the polenta in the bag and in the warm water bath at 140° F/ 60° C until ready to finish and serve.
To Make Crispy Polenta
Creamy polenta is a treat, but crispy polenta is a delight, too. And great for breakfast. You can choose whether to add the Parmesan and/or herbs, and then pour the cooked polenta into a loaf pan or spread on a parchment-lined baking sheet. Cool slightly then place in the refrigerator overnight to cool completely. Use a cookie cutter or a knife to make slabs of polenta. Brown both sides in a hot skillet with a little butter or olive oil.
Serve It With...
Sous Vide Polenta Recipe
Take the hassle out of this terrifically variable side, and introduce yourself to the wonderful flavors of polenta the easy way.
Print
Pin
Rate
Ingredients
1

cup

coarse cornmeal (polenta)

2

cups

water

2

cups

whole milk

1

tsp.

Diamond kosher salt

(or to taste)

4

Tbsp.

unsalted butter

½

cup

grated Parmigiano-Reggiano cheese

1

Tbsp.

chopped fresh herbs such as thyme, rosemary, chives

(optional)
Instructions
Preheat bath to 185° F / 85° C.

Combine the cornmeal, water, milk, salt and butter in a large Ziplock bag.

Hand squeeze to mix ingredients (especially the butter).

Place in the water bath and use the water displacement method to remove the air and seal the bag. Cook for 2 hours.

Remove bag from the water bath and transfer to a warmed serving bowl. Mix in the Parmesan cheese and fresh herbs. Taste for seasoning and serve warm.
Notes
Any combination of water, milk and chicken/veggie stock can be used, depending on taste and creaminess desired. Or just one of them.
Milk adds richness. Stock adds flavor. Water allows the polenta flavor to shine.
You can vacuum seal, but using a Ziplock allows you to reseal the bag for keeping the polenta warm. If it cools, it will harden a bit.
Make crispy polenta (either with or without the Parmesan and herbs) by pouring into a loaf pan or spreading out on a parchment-lined sheet pan, and refrigerating overnight before slicing and browning in the oven or a skillet.

Polenta can also be "held in the bag" in the sous vide bath at 140° until serving to maintain the texture.

When serving, warm the bottom of the serving bowl in the water bath for around 30 seconds so it doesn't cool the polenta down.