This is not your typical "meat and potatoes" kind of dinner. It's a steak that would turn heads if served at a top steakhouse. Over 2 pounds, and with a giant rib bone still attached, the Tomahawk Steak is something you have definitely seen if you have ever watched a grilling show or browsed through Instagram.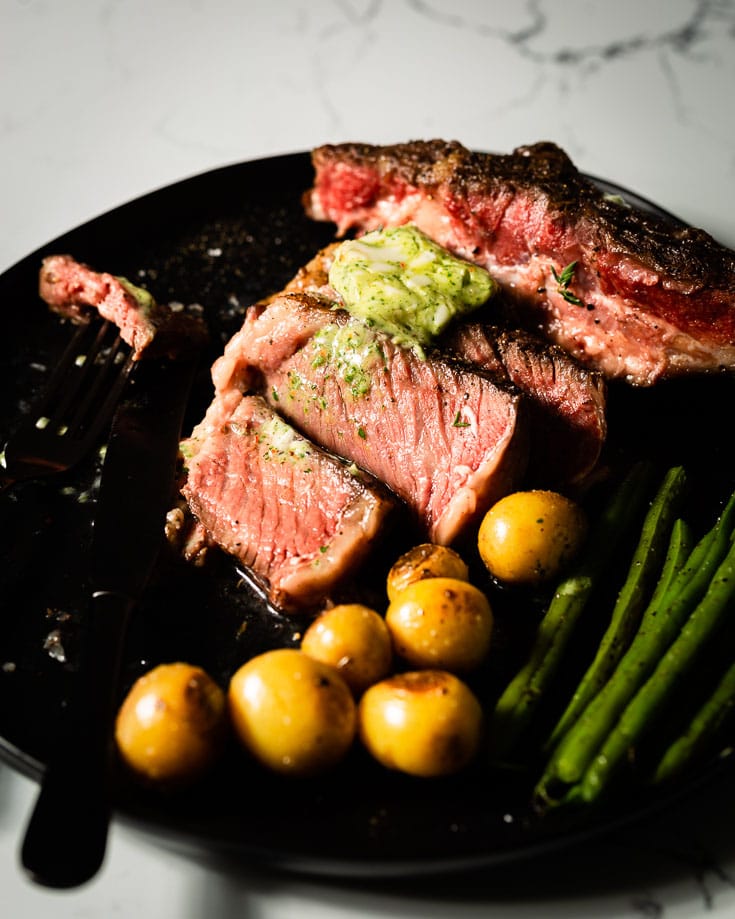 A tomahawk ribeye steak is not something you want to just throw on the grill and hope it comes out perfect. A little more technical cooking and some technology is required.
There are really two ways to properly cook a tomahawk ribeye. One is to sous vide, then sear it (like we do in this recipe). The other is to reverse sear it. We're covering the sous vide method which guarantees success, but if you want to try the reverse sear method, I cover that in my post on reverse-sear steak.
How to Sous Vide a Tomahawk Steak
Cooking perfect tomahawk steak ain't hard. No seriously, it's actually super easy and you can do it perfectly too. Here's a step-by-step guide.
Start with a high-quality prime grade Tomahawk Ribeye Steak (affiliate) that is between 2 ½ and 3 lbs and 1 ½" to 2" thick. Really any size will work though because we are cooking it sous vide. Preheat your sous vide water bath to the desired doneness. See the temperature chart for reference.
Season liberally on all sides with kosher salt and add some fresh thyme (or your favorite fresh herbs) to each side. (skip the butter like I have in the photo)
Vacuum seal the steak, being sure to get all the air out.
Completely submerge in the pre-heated water bath for 2 to 3 hours. Use clips to secure it to the container or weights to keep it down.
Remove from the bag and pat as dry as possible with paper towels to prep for searing. Season again with kosher salt and freshly ground black pepper.
Preheat the grill or a skillet on high heat. Sear on all sides for 1 to 2 minutes to brown. If using a skillet, add some high-smoke-point oil like canola to the skillet before searing.
Carve it off the bone, slice and serve with the chimichurri compound butter.
Tomahawk Steak Doneness Temperature Chart
You know how you like your steak cooked. Just set your immersion circulator for the desired temperature and time and it will be perfect.
| | | |
| --- | --- | --- |
| Doneness | Temperature | Time |
| Rare | 125° F / 51.6° C | 2 to 3 hours |
| Medium Rare | 130° F / 54.4° C | 2 to 3 hours |
| Medium | 140° F / 60° C | 2 to 3 hours |
| Well Done | 160° F / 71° C | 2 to 3 hours |
A note about tomahawk steaks: These steaks are delicious, showy and so much fun to throw on the grill over an open fire. However, if you are looking for value, then the tomahawk steak is not where you want to put your money. You are paying a premium for a big bone, and last time I checked, the bone itself isn't really edible. If you are looking for a showpiece steak that is something to talk about, then definitely go with a tomahawk cut for the special occasion.
The Chimichurri Compound Butter
Chimichurri sauce and steak are just meant for each other. So are butter and steak. This is the amazingness that happens when you combine the three into a chimichurri compound butter.
To make the compound butter, you will make a simple chimichurri sauce and combine the desired amount with softened butter. Form a log within plastic wrap and place it in the freezer to harden. Just slice off what you need and it will melt all over your delicious hot sizzling steak.
There will be plenty of chimichurri left that doesn't get used for the butter. Serve this up with the steak, grilled chicken, and just about any other grilled dish.
What to Serve With the Steak
Shop the Tools for the Recipe
More Steak You'll Love
Check out all the Sous Vide and Steak recipes >
Sous Vide Tomahawk Steak Recipe
How to sous vide a tomahawk steak to perfection then seared over a smoking hot grill and served with a delicious chimichurri compound butter. This is the best way to perfectly cook a tomahawk ribeye steak.
Print
Pin
Rate
Ingredients
1 to

Tomahawk Ribeye Steak

(2 to 3 lbs and 1 ½" to 2" thick prime grade preferred)

kosher salt & freshly ground black pepper

1

bunch

fresh thyme
Chimichurri Compound butter
½

cup

packed fresh cilantro

¼

cup

packed fresh Italian parsley

2

coarsely chopped garlic clove

1

Fresno chili

seeded and diced fine

½ to ¾

cup

extra virgin olive oil

⅛

cup

red wine vinegar

½

teaspoon

red pepper flakes or to taste

½

teaspoon

Kosher Salt

1

small shallot

chopped

½

cup

(1 stick) unsalted butter at room temperature
Instructions
To sous vide the steak
Heavily season the tomahawk steak with kosher salt on all sides, add fresh herbs, then vacuum seal the steak.

Pre-heat sous vide water bath to 130° F / 54.4° C for medium-rare, or to the desired temperature.

Sous vide the steak for 2 to 3 hours.

Remove the steak from the bag and pat dry with paper towels to remove moisture on the outside. Season the steak again with kosher salt and freshly ground pepper before searing.
To sear the steak
Pre-heat grill or skillet to high.

Sear for 1 to 2 minutes per side (including the sides) to brown.

Slice off the bone and serve with slices of the chimichurri compound butter or with the fresh chimichurri sauce.
To make the chimichurri compound butter
While the steak is cooking sous vide, make the chimichurri butter. Add the cilantro, parsley, garlic, chopped Fresno chili, olive oil, red wine vinegar, red pepper flakes, shallot and salt to a blender or food processor.

Pulse until the ingredients are well chopped, but not completely puréed. Use a spatula to scrape down the sides to process evenly. Transfer the chimichurri to a container.

To make the compound butter, combine 2 to 3 tablespoons of the chimichurri and the softened butter in a small bowl. Use a spatula to combine until smooth. Place the butter on a piece of plastic wrap, forming a log and completely wrapping. Transfer to the freezer to harden before slicing and serving.
Notes
This recipe for the chimichurri compound butter makes plenty of extra chimichurri sauce that can be served with the steak or with other dishes. Completely cover and refrigeratore or freeze it for a lter use.