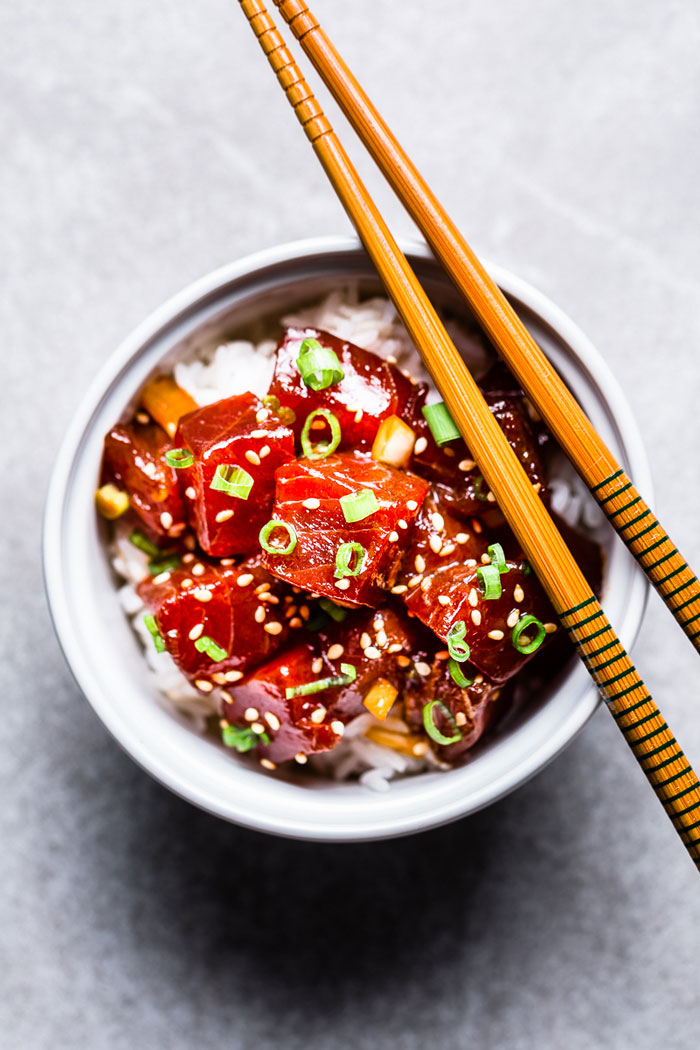 The simplest things (like ahi poke) require the highest-quality ingredients because there is nothing for them to hide behind. That's really the point, and what makes really great and simple food. Poke is so easy to prepare, and it's really only about 8 ingredients, most of which you probably already have in your pantry.
There are more poke shops around here than you can count on two hands and feet. It seems like they've all popped up in jut the last few years. That's great, right? Well, maybe not. The problem is that not all these poke bowl spots are using high-quality fish, and that's not good for you or the environment.
When you are eating raw tuna, you really want to make sure you know where it comes from. Not only for the best taste, but for your health and the environment.
Making really good sushi is hard; making delicious poke at home is super easy.
Poke is all about the fish + a little sauce to flavor it.
What you do beyond that is all up to you, and it's all good.
What Is Poke, Anyway?
Poke, pronounced "Poh-keh," (rhymes with "okay") originates in Hawaii and is a raw fish salad. Super-fresh sushi-grade fish is carefully diced into bite-sized cubes and combined with a very simple sauce of tamari soy sauce and sesame oil. In my opinion (and I think you will agree), it's the best way to enjoy the freshest and highest quality ahi tuna.
Now, there's poke and then there's a poke bowl. What's a poke bowl? The poke is the actual marinated fish, and a poke bowl is a combination of the poke with any add-on that you want. Sushi rice is a typical base to place the poke on top of, and you can add all kinds of ingredients like avocado, nori, sprouts, zucchini noodles (zoodles), sesame seeds, (everything bagel), cucumbers, seaweed salad, fried onions or just about anything else you can think of.
What Is Authentic Hawaiian Poke?
Look, your favorite poke spot likely has toppings and fish options that aren't authentic to Hawaiian poke, which is totally fine. Authentic poke comes from Hawaii and is made using Aku (Skipjack Tuna) and sometimes octopus as the main ingredients.
Ingredients for Tuna Poke Bowls
With the exception of high-quality sushi-grade tuna; all of the ingredients to make poke bowls at home can be found at just about any grocery store. Here's a list of the basic ingredients, but you can totally add whatever other toppings you love to customize it to your taste.
Contains affiliate links.
Where to Buy/Source the Best Ahi Tuna for Poke
Those of us who live in San Diego are really spoiled. Not just because the sun is always out, or because the average temperature is a perfect 70 degrees. We are spoiled in San Diego because of our fishermen and their families are dedicated to bringing us the best sustainability caught seafood available anywhere in the world. This includes ahi tuna, perfect for making poke at home.
Catalina Offshore Seafood Products
If you don't live in San Diego or a city that gives you access to super-fresh and sustainably caught sashimi grade tuna, then you're still in luck. Catalina Offshore (based in San Diego) is a supplier to restaurants as well as the public. They have a fantastic e-commerce store to give you access to their seafood to be delivered to your doorstep.
Shop Tuna at Catalina Offshore (affiliate)
Tuna Harbor Dockside Market (the best place to buy fish in San Diego)
The Tuna Harbor Dockside Market is an open-air seafood market open every Saturday from 8:00 am to 1:00 pm down at San Diego's Seaport Village. This is the spot to buy seafood that you can see being offloaded right in front of you. You will be supporting your local fishermen and your fish gets no fresher than this. Trust me, there's a huge noticeable difference.
What is Sushi-Grade Fish (Also Called Sashimi-Grade)?
We see it all the time, but do you really know what it means to have sushi-grade tuna? Sushi-grade tuna is meant to be eaten raw.
When choosing tuna for poke, you want to pick sushi- or sashimi-grade with very little connective tissue (white streaks), which can make it chewy. The color of ahi should be a deep red and somewhat translucent look to it, though the colors can vary. It should smell fresh and not fishy.
How to Make Poke
Slice the fish into ½" cubes with a very sharp knife.
In a medium-sized bowl; whisk the tamari soy sauce, sesame oil, green onions, red pepper flakes, sesame seeds, rice vinegar and diced Maui onion to combine.
Add the diced fish to the bowl and gently mix with the sauce.
Cover and refrigerate the poke for 30 minutes to allow the flavors to seep into the fish before serving it over rice.
How to Cut Tuna for Poke
You don't have to be a sushi chef to cut your tuna for poke, but you do need a sharp knife. Start with a very sharp sashimi-style knife (affiliate) and a plastic cutting board. A longer knife will allow for long cutting strokes, which will slice right through the ahi tuna without causing any damage like short cuts would. Slice against the grain and take as few strokes as possible. The size of the cubes is up to you, but I recommend ½". If you like them a little smaller or bigger, that's totally fine too.
What to Add to Your Tuna Poke Bowl
You can add a lot of wonderful sides to your poke bowl, and you should. But when you get your tuna right from the boat it was caught on, you kinda want to enjoy it in its purest form. Ingredients that are great to add to accompany your tuna in the bowl include avocado, cucumber, seaweed salad, edamame beans, nori, sprouts, zucchini noodles, sesame seeds, everything bagel seasoning, crunchy fried onions, and just about anything else you can think of.
This recipe is really just a guide that you can use to personalize your poke to on your taste. If you like more heat, add a little sriracha sauce; if you like it a little saltier with more umami flavors, add more soy sauce. Make it yours. Just be careful not to overpower that wonderful fish that is meant to be the star of the show.
How to Assemble the Poke Bowls
Once you have made your poke and decided on what you want to add to it, the time to assemble it into a bowl has come. Simply spoon the fish on top of the cooked rice and add your toppings. Gently stir it up if you want it all mixed together, or leave the layers separate if you want to pick out individual bites of each ingredient. It's all up to you!
The Best Way to Eat Poke
Chopsticks are the perfect delivery vehicle for eating poke. The chopsticks allow you to pick up pieces of fish, or a little bit of all the toppings. Of course, a fork also works great if you aren't super comfortable using chopsticks. Serve it alongside a refreshing and simple cucumber salad!
Is Eating Poke Safe?
There is always a risk of foodborne illness when you eat raw or undercooked seafood. With that being said, think about how many poke shops and restaurants there are and how many times you have heard about people becoming sick or how many times you have become sick. The answer is likely none, but of course, there's still a risk.
The best you can do is source the highest quality fish to know that it is fresh and has been handled properly.
Is Poke Healthy?
Just like any other type of salad, it all depends on what you put in it. A bowl full of protein-rich seafood that is high in heart-healthy omega-3 fatty acids can be very healthy. The fat that is in ahi tuna is the good kind of fat. If you keep it to the fish and veggies, it's definitely nutritious and healthy; but if you start adding a lot of unhealthy toppings and sauces, probably not so much.
Can You Eat Leftover Poke?
Poke is definitely best eaten the day that it is made, but it can be stored in the refrigerator in a sealed airtight container for up to two days.
Alternative Fish to Ahi Tuna
While Ahi tuna (aka yellowfin tuna) is the most authentic fish for making poke, there are some alternatives that are also wonderful to use for making poke. It should really come down to what is the freshest available. Try making salmon poke or poke out of albacore or yellowtail, which are all fantastic alternatives.
The freshest of those options is what you should use. You can even totally mix it up by making it vegan by using watermelon or roasted beets as a substitute, which still taste great and have a similar vibrant look of tuna.
Poke Bar Party Idea
So you are having a party and need a unique idea to entertain and feed your hungry guests? Make it a Hawaiian-themed party and set up a poke bar so everyone can make their own personalized poke bowls. Make the poke and put it in a bowl over ice so it stays chilled, put out all the other amazing toppings and let your guests go to town.
Serve it with some delicious Hawaiian Macaroni Salad.
Equipment Used for Making Poke
More Delicious Tuna Recipes
Ingredients
1

lb

sushi grade ahi tuna

(cut into ½" cubes)

¼ to ½

cup

tamari soy sauce

2

teaspoon

sesame oil

⅓

cup

thinly sliced green onions

½

teaspoon

crushed red pepper flakes

1

teaspoon

toasted sesame seeds

1

teaspoon

rice vinegar

⅓

cup

diced sweet maui onion

cooked sushi or brown rice
Instructions
Whisk the tamari soy sauce, sesame oil, green onions, red pepper flakes, sesame seeds, rice vinegar and diced onion in a medium bowl to combine.

Gently mix in the ahi tuna (or other fish you are using).

Cover and refrigerate for 30 minutes.

Serve over rice and garnish with more toasted sesame seeds, green onions and any other toppings you wish.
Notes
Serve with avocado, cucumber, edamame beans, seaweed salad or whatever other toppings you wish.
* Consuming raw or undercooked seafood may increase your risk of foodborne illness.