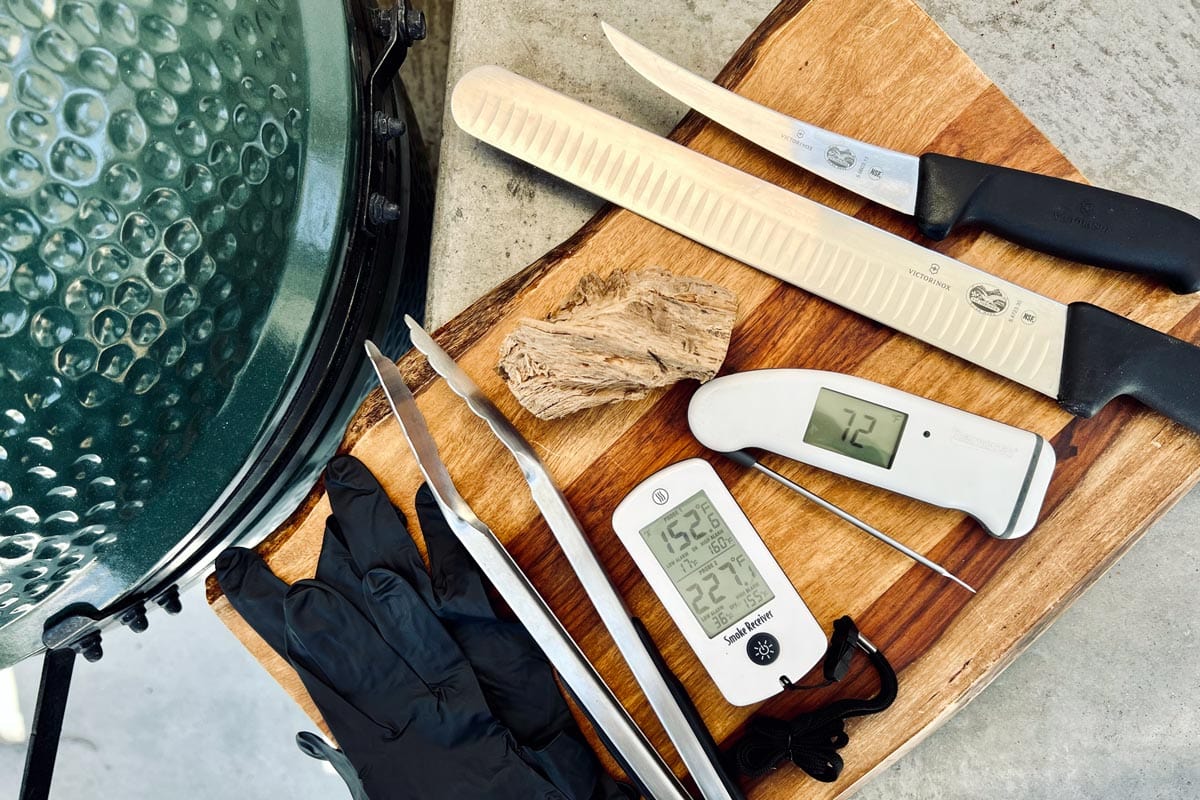 Whether you are a seasoned pitmaster, it's your first attempt at using your smoker or you are looking for gift ideas, the right tools and equipment are going to make this labor of love a whole lot easier (and safer)! Investing in quality equipment the first time means they will last a long time, they will make things more enjoyable, and yeah, the food will taste better, too.
Jump to
4 Reasons Having the Right Tools Is So Important
Consistency - Smoking a brisket (or almost anything) requires controlling the temperature of your smoker, as well as cooking the meat to a precise temperature. Without the right tools like a thermometer, it's much more difficult to get the best results.
Efficiency - Your time and the number of trips out to the smoker can be cut way down by using the right tools.
Safety - Dealing with heat and fire can be dangerous. Using the right heat-safe gloves, long tongs and sharp knives greatly reduces the risk of injury.
Flavor - Using the right type of wood and fuel while you smoke the brisket has a big effect on the flavor of your brisket. Choosing the right type and size of wood is super important.
Now let's get to the list:
Thermometers
A quality thermometer (or two) is one of the single most important tools in your arsenal when it comes to smoking meat. Being able to remotely monitor your smoker's temperature and meat as it cooks is an absolute game changer. And cooking to temperature, rather than to a time, is key for the best results.
Knives & Boards
Your sharpest knife is going to be the best knife, but if you plan on frequently smoking meat, investing in some specific knives is going to make it so much easier. You want a specific knife for trimming before the cook and another specialty slicer for slicing the smoked meat like brisket (this is an often-overlooked important step).
Miscellaneous Essentials
Fuel & Smoking Wood
Quality fuel is so important for a long cook like for a brisket or pork shoulder, and for hot and fast cooks like a steak. You want it to be easy to light, burn clean and for a long time so you get the best flavor, efficiency and consistent temperature.
Whether you use wood chunks, chips or pellets depends on your specific type of smoker. Learn more in the wood for smokers and the best wood for smoking brisket.
Recap
If I had to start with one thing, it would definitely be a high-quality thermometer. While you can get away with making some pretty darn good smoked meat without any special tools, in the long run, it's going to make a big difference on the amount of fun and the best results you can get. Slowly start building out your toolkit arsenal and have a blast!
More Smoker Content