Note: I am not a professional appliance reviewer and there are no scientific tests behind this brief review. These are just my thoughts and opinions from using the product. I did receive a small discount when I purchased my appliances through the appliance retailer.
We have had our Fulgor Milano Sofia 36" Range for about 6 months now (as of February 2020) and really couldn't be happier. It's the centerpiece of our new kitchen and we are so happy we decided to go for the upgrade.
We first discovered the Sofia range when shopping at Aztec Appliance here in San Diego. We had stopped by to look for a new range hood. Ken, our salesperson was walking us around (and we weren't even stove shopping). He walked us by the Fulgor range and told us how much people are loving them and chefs have been buying them. Oh, and it happened to come with a free Zephyr range hood worth up to $1,100. Wow, is that an incentive or what?
We placed the idea on the back burner (no pun intended), but it kept creeping into our thoughts and we just couldn't not strongly consider buying a new range for our new kitchen.
The online research phase began to find out more about Fulgor ranges. The problem was, I could barely find any information on the range other than from the company website and a few reviews on the big online appliance stores websites.
I had to turn to other local appliance stores and everyone had great things to say about the range. It was feeling more and more like taking the risk of a lesser-known brand in the US would be the way to go.
That's how we ended up being convinced. And then we decided to go big (as in 6" bigger) to the 6-burner 36" version of the Sofia range and went with a Zephyr Venezia Wall hood to go with it.
This started a snowball of buying all new appliances rather than just a range and a hood. You can check out our full kitchen reveal to see everything we used.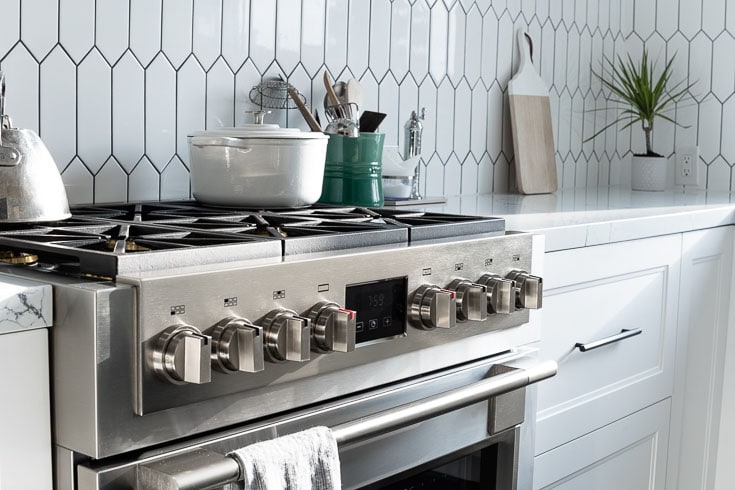 5 features that convinced me to go with the Fulgor Milano Sofia
The beautiful looks. Ok, so performance and quality is super important when purchasing a high-end range. But how it looks is right up there, and the Sofia range has the cleanest lines and boldest looks out there.
The burners - All of the burners are dual crescendo, which means they each have a large powerful outer burner and a smaller inner simmer burner. All 6 of the burners are like this and are each 18k BTUs. For me, this is visually so much cleaner looking means you don't have to move to a different burner if you want to simmer.
Easy to clean surface - matte finish porcelain burner bowl is durable and feels a bit like a nonstick surface when it comes to cleaning with a damp sponge.
Soft-close oven door - Once you get used to not having to manually bring the oven door from open to close, there is no going back. It's just so nice to be able to tap it closed with your knee when your hands are full carrying something very hot.
The ability to change the door color - You can purchase a different color door to totally change the look of the range to match your kitchen.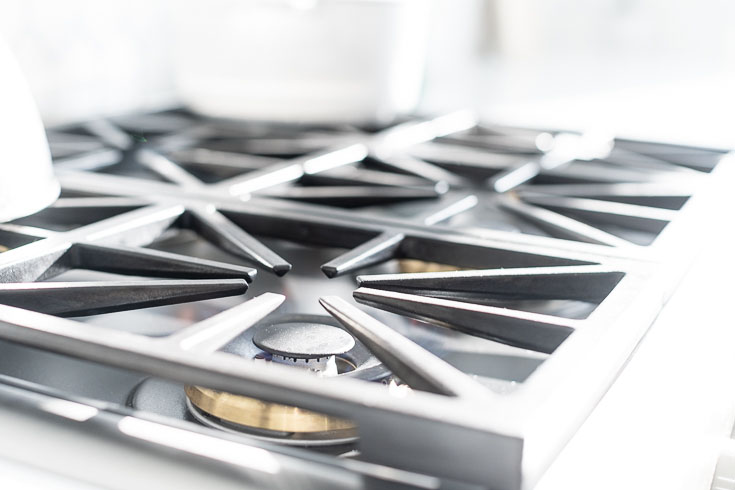 Why consider upsizing to a 36" range?
Most home kitchens have a somewhat standard size 30" range. While these are great and work perfectly fine, adding just 6 more inches has some big benefits.
It's a true centerpiece of your kitchen - A larger range makes a statement of your kitchen and totally changes the look.
Oven size - The increased oven size means no more cramped oven during holiday baking. Plus, it can be used for extra cookware storage when not in use.
Room on the range - I'm not sure about you, but things can get a little cramped when you have a large frying pan and a few other pots going at the same time. This cramped feeling is eliminated with the extra space of a 36" range.
Dedicated griddle - You can leave a griddle on two of the burners and not have to worry about moving it.
The price difference is negligible - A 36" range will be around $500 to $1,000 more than a 30". While this might sound like a lot, you would be buying cabinet and counter for that space anyway, so the extra price is a little less in that aspect. Also, the beauty of the range makes up for spending more on decorations.
More random thoughts about the range
If you really love to cook, this range is for you. It is a much better value than a Wolf or a Viking.
I absolutely LOVE the power of the burners at 18,000 BTUs. They heat heavy-bottom skillets very quickly and I almost turn the burner down because they are so powerful.
We paired the range with a Zephyr Venezia 36" wall range hood, which we also love. This hood is quiet, powerful and has baffles which look great and are much easier to clean compared to mesh filters
Gas ovens aren't as precise as electric, so I place an oven thermometer (affiliate) that stays in the oven so you can get a second opinion on the temperature to verify.
I love the "manual" ness of the range. As appliances get smarter and smarter with built-in computers and wi-fi, I really prefer to be able to just set the temperature and the setting and have it work. That's what you get with this range and oven.
All gas vs dual fuel with electric oven
It can get a little confusing reading up on different types of ranges and fuels. It's actually pretty simple.
The all gas version is just that; gas for the oven and gas range burners. Dual fuel has gas range burners and an electric oven.
Electric ovens are known to be more precise. If you bake a lot, this might make a difference for you. Personally, I don't really bake and just roast so I am fine with a gas oven.
For an electric oven, you will need to have a 220v outlet already in place. If you don't, it can add extra expense to have one added. If we had a 220v outlet in place, I probably would have gone with the dual fuel model.
A few things that could be improved
With everything we love, there are just a few things that could be improved on, in my opinion.
The all gas model does not have a self-cleaning oven feature, though the dual-fuel version does.
No warming/storage drawer below oven. Not a huge deal, but having a pull out drawer for storing sheet pans below the oven would be nice.
The oven dial temperatures are a little strange and it's probably because it is European.
The timer and clock interface isn't super intuitive.
Final thoughts and recommendation
I recommend the Fulgor Sofia range to everyone I talk to who is remodeling their kitchen or looking for an upgrade. While it's not for everyone, if you love to cook and love the look, a Sofia range is something you should strongly consider.
Fulgor Milano Model Numbers
All thoughts and opinions are my own. Please see the Fulgor website and an authorized retailer for tech specs and documentation.