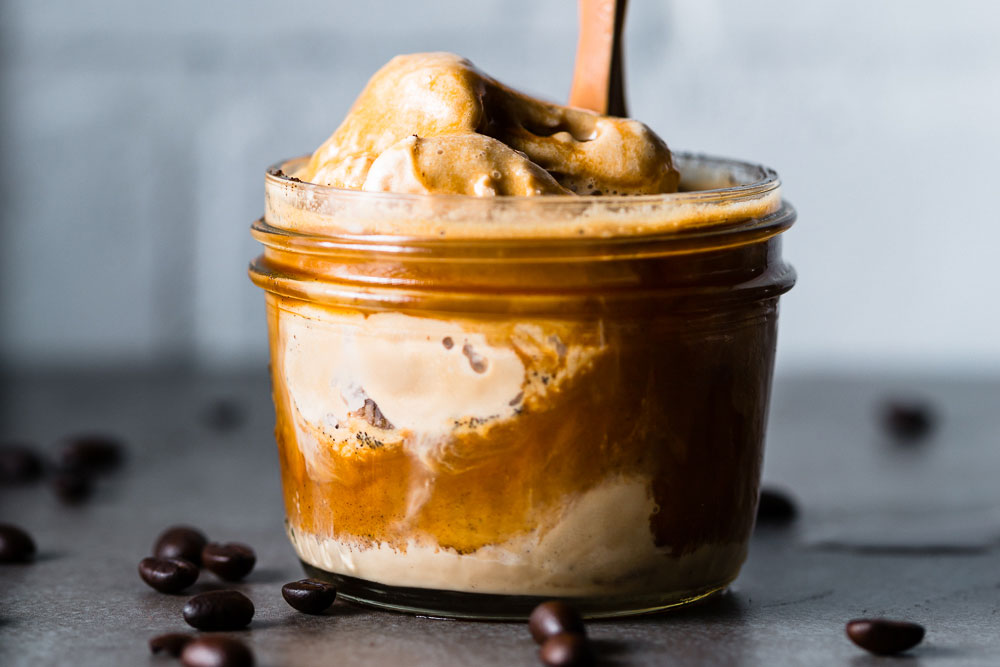 An Affogato is one of those things that you really have to try to believe. You have probably seen them on cafe menus like I had. It seemed a little gimmicky to me, so I never ordered one. If you haven't heard of it, an Affogato is a coffee drink made by pouring espresso on top of ice cream.
On a warm afternoon, I was craving for an espresso. I was going to make it an iced espresso with a splash of cream, and then I remembered that we had some ice cream in the freezer. I thought I would finally try out what I had been seeing all over to see what the hype was about. I made the espresso, placed a scoop of vanilla ice cream in a cup, and then poured the espresso over. I'm not sure if the first taste was a bite with a spoon or a sip from the cup; but I remember thinking, "holy cow, this is amazing!"
Since I recently made espresso ice cream, I wanted to try making an Affogato with it. It turned out to be the coffee lovers' ultimate Affogato. The coffee flavor is rich and it all melts together perfectly. This is a must-try if you love coffee and ice cream.
Espresso Ice Cream Affogato
The most refreshing and satisfying sweet Italian coffee treats for a hot summer day. Made with espresso (or coffee) ice cream and a shot of espresso.
Print
Pin
Rate
Ingredients
1

scoop

espresso ice cream

(or your preferred flavor of ice cream)

1

espresso shot