A crumble is my absolute go-to dessert. They can be thrown together in minutes and you can fill it with any fruit that you have on hand. They are fantastic to make when guests are coming over for dinner. If they happen to be the type of guests that ask "what can I do to help?", you can say "you can make the crumble." They might start to feel like they should never have asked because it sounds so complicated, but once they get started, they will be amazed by how simple it is and want to make one at home themselves.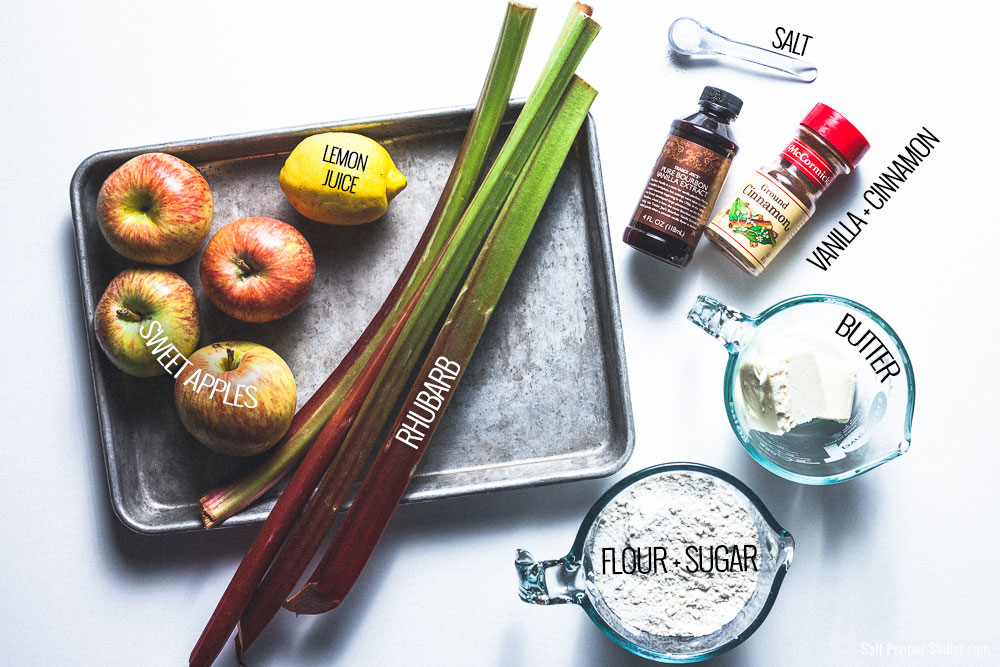 I have to confess that this is the first time that I have ever cooked with Rhubarb. I have always loved the flavor it added to strawberry desserts, but I had never even tasted it raw to know what it is like by itself. When I was shopping for ingredients at Specialty Produce in San Diego, the fresh Rhubarb caught my eye and seemed like it would fit very nicely in the crumble with the apples. I asked for some advice on which apples would pair up best with the Rhubarb. Turns out that un-cooked and un-sweetened Rhubarb is very tart and needs to be paired with something sweet. That's where these apples come in. Specialty Produce paired me up with Cameo Apples, which are so delicious. If you can't find Cameos, use any sweet apple for baking.

Peel and slice the apples into the same width as the sliced rhubarb (about ¼") so they have the same cook time.
Heat a little butter in a large skillet over medium heat and cook the apples, rhubarb, some sugar, cinnamon, vanilla and a pinch of salt for about 5 minutes. The apples and rhubarb will soften and create their own little sauce. This combination is absolutely delicious! It's amazing how the tart rhubarb softens and gets sweet so quickly.

I see a lot of recipes that throw raw apples in, but it has always been my preference to cook the fruit before it goes into the crumble to bake. Cooking the fruit is satisfying in itself. The aroma fills the house and the flavors get concentrated and it smells so darn good. It gives you the control to create the consistency and flavor that you are looking for, knowing it will concentrate even more when it is baked.
The actual crumble can be totally customized to your taste. My dad taught me the basic ratio years ago, and I've been using it ever since. I would have to call him to remind me what the recipe is; but once I remembered you just need a 2-cup measuring device and three ingredients, I had it down.
Fill 1 ½ cups with flour, and the remaining ½ cup with sugar (white, brown or a combo). Melt 1 stick (or ¼ lb) of butter, then combine all three ingredients in a bowl. First stir around a little bit with a fork, then finish it with your hands to make sure the large crumbs remain intact. There's your basic crumble recipe. I usually add a little cinnamon and a pinch of salt to the mix. You can substitute brown sugar, add oats, nuts or whatever else sounds good and it will still come out great.

This crumble can either be baked in a single baking dish, or can be made in a pie or rectangular baking dish, or you can make them in individual ramekins.
More Recipes You'll Love
Ingredients
Filling
1.5

lbs

sweet baking apples

such as cameo or honey crisp, peeled, cored and sliced

1

lb

rhubarb

sliced into ¼" pieces

½

lemon

juiced

1

tablespoon

butter

¼

cup

sugar

½

teaspoon

Cinnamon

½

teaspoon

vanilla extract

pinch

of salt
Crumble
1 ½

cups

flour

½

cup

sugar

cinnamon

pinch

of salt

¼

lb

butter

melted
Instructions
Filling
Heat 1 tablespoon butter in a 12" skillet over medium heat and cook the apples, rhubarb, sugar, lemon juice, cinnamon, vanilla and a pinch of salt for about 5 minutes.
Crumble
Pre-heat your oven to 350 degrees.

Stir the dry crumble ingredients in a medium bowl with a fork, then stir in the melted butter. Use your hands to finish mixing and keeping the large crumbles intact. Be careful not to over-mix and turn the crumble to dust.

Grease a 7x10x5" baking dish (or pie dish) with butter wrapper or cooking spray.

Place a layer of crumble on the bottom and sides, saving enough for the top (the most important part).

Add filling, then sprinkle the remaining crumble on top.

Bake for 30 to 45 minutes, or until the crumble turns golden.

Let cool and serve with ice cream or whipped cream.
Special Equipment Used