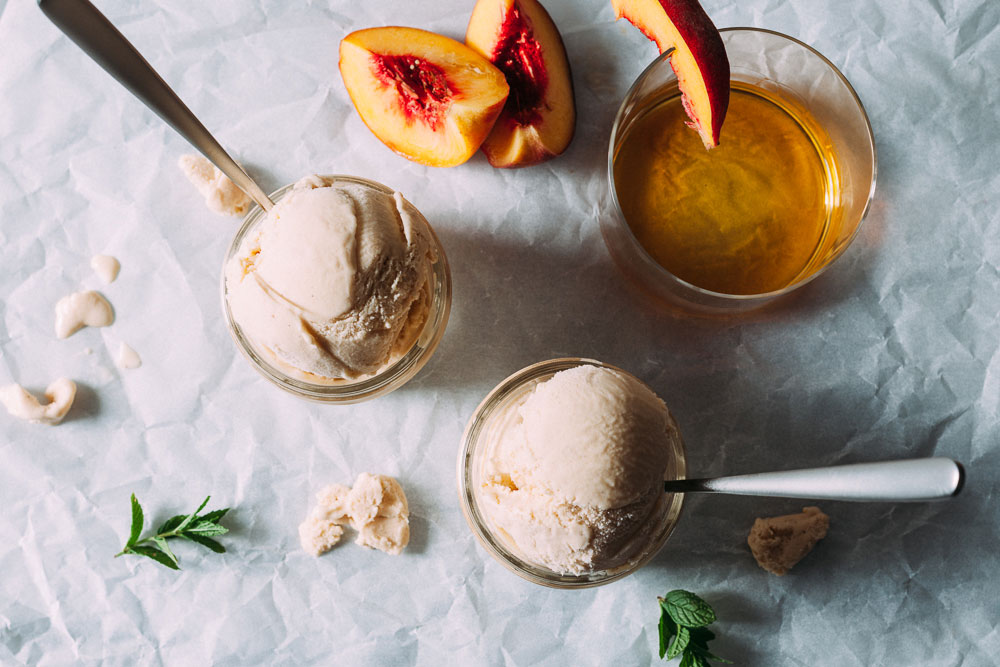 We are surrounded by beautiful ripe peaches in the summer and what could be a better way to use them than in some ice cream with some bourbon? Well, maybe grilling them first could make it even more fun and add some extra flavor. This Grilled Peach-Bourbon ice cream pairs wonderfully with more peach slices and of course, a nice glass of bourbon, which your friends will thank you for.
While grilling the peaches doesn't add a ton of "grilled" or smokey flavor to the ice cream, it does cook the peaches which intensifies their flavor and eliminates the need to make a peach syrup for the ice cream. If you don't have a grill handy, it's fine to cook the peaches in a skillet with a little butter.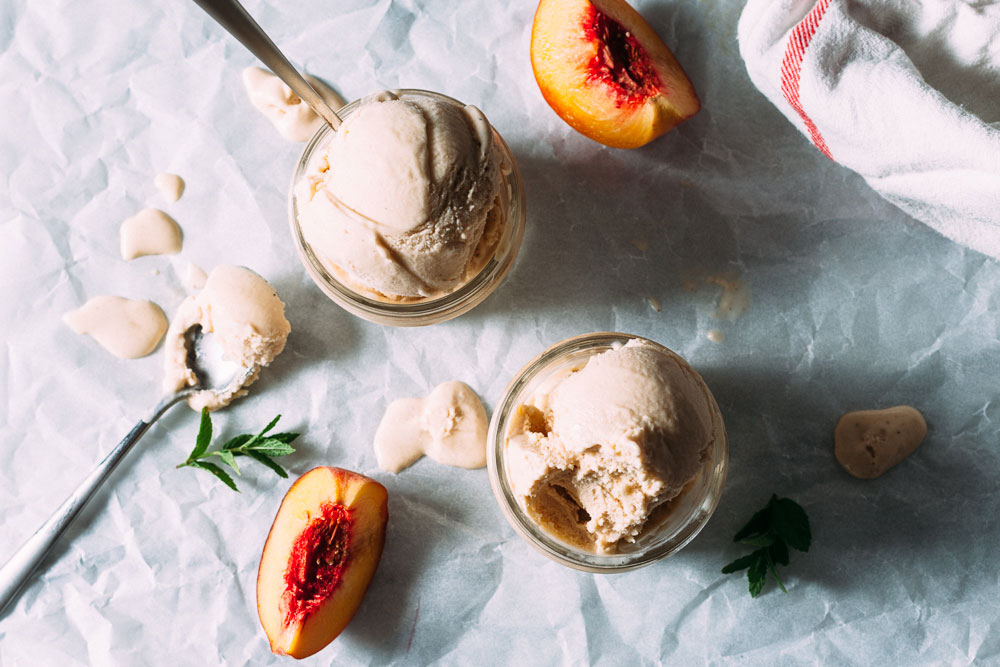 I used Yellow Peaches for this recipe, but you could use whatever kind of peaches look best at the market. After the peaches are peeled and grilled, you make a simple ice cream base, add the bourbon, chill and spin it in your ice cream machine.
Special Equipment Used
Grilled Peach-Bourbon Ice Cream
A boozy smooth and creamy grilled peach ice cream with a hint of bourbon to balance out the sweetness.
Print
Pin
Rate
Ingredients
1 ½

lb

peaches

½

cup

sugar

2

cups

heavy cream

1

cup

milk

5

egg yolks

½

teaspoon

salt

4

tablespoons

bourbon
Instructions
Peel the peaches by scoring a small X on the bottom with a pairing knife, then place in boiling water for 30 seconds and then into an ice bath. Use a pairing knife to pull the skin off. Cut in half and remove the stone.

Heat your grill on high and wipe with canola oil to prevent sticking. Grill the peaches on both sides until they have some nice color. A skillet with a little butter can also be used to caramelize the peaches if a grill is not handy. Purée the grilled peach halves in a blender or food processor until smooth.

Heat the cream, milk, sugar and salt in a sauce pan over medium heat while whisking to completely dissolve the sugar (about 4 to 5 minutes).

In a separate bowl, whisk the egg yolks, then gradually pour about 1 cup of the hot milk mixture into the egg yolk bowl, while continually whisking to temper the eggs. Add the tempered egg yolk mixture back to the pan while whisking until it just comes to a simmer. Add the bourbon and then remove the pan from the heat. Add the peach purée and chill completely.

Spin the ice cream mixture according to the manufacturer's instructions, then freeze for at least 5 hours, or overnight.
More Delicious Dessert Recipes