Chimichurri sauce is a favorite in our kitchen. It's my go-to sauce to eat on almost everything–on a juicy steak, drizzled over crispy potatoes, as a marinade for grilled pork tenderloin, as a dip for pizza, topping scrambled eggs for breakfast. Seriously, almost anything.
Not only is this chimichurri recipe incredibly tasty, but it's also made with fresh, whole foods: fresh herbs, garlic, shallot, red pepper flakes, heart-healthy olive oil and a bit of red wine vinegar. So simple and yet so, so wonderfully delicious.
You may have tried other chimichurri recipes, but this one is really next level. It's SO tasty! It has such a great zesty flavor with a tiny hint of heat and the perfect consistency–not too thick, not too thin. This is a sauce that works well with almost any dish.
What is Chimichurri?
Chimichurri is a simple uncooked sauce that doubles as a marinade and an accompaniment to all cuts of meat. Most Chimichurri recipes call for fresh parsley, garlic, olive oil and red wine vinegar. Many also call for cilantro and oregano. Chimichurri is most often seen served with steak, but it's also great on everything from fish to chicken and so much more.
A Little History of Chimichurri
The name Chimichurri is thought to mean "a mixture of several things in no particular order". Chimichurri is an essential part of Argentinean cuisine; a bowl of chimichurri can be found on every dinner table. It is also used to cook with and can be brushed, basted, or spooned onto meat as it cooks, or onto the cooked surface of the meat as it rests. There is even a red version, although not as common, made with tomato and red bell pepper.
Chimichurri Ingredients
The ingredients to make homemade Chimichurri sauce can conveniently be found at any grocery store. Here's a list of the basic ingredients and feel free to add in or take out anything you prefer, to customize it to your taste.
Cilantro - If you're not a fan of cilantro, replace it with more Italian Parsley.
Italian Parsley - Look for flat leaves. Regular parsley has curly leaves and is not as flavorful.
Olive oil - Use high-quality olive oil or avocado oil; taste-test to ensure it's not overly bitter.
Garlic - Garlic is a signature flavor in chimichurri sauce. Don't leave it out.
Shallot or red onion - A shallot is a type of onion that has a sweet and mild flavor, with a hint of garlic. You can use any onion for this recipe, but a shallot or red onion will taste best.
Fresno Chili - This is an optional ingredient, but I love the subtle smokiness and slight kick of heat it adds to the chimichurri.
Red Wine Vinegar - The vinegar adds the perfect tang and brightness to the sauce.
Red Pepper Flakes - Most Chimichurri recipes include red pepper flakes for that slight hint of heat. But if you're extra sensitive to spice, leave it out.
Tips for Making Chimichurri
Start with about ½ teaspoon salt and increase it to taste.
Don't over blend the chimichurri. It should still have plenty of texture and should not be a purée.
Don't have a food processor blender handy? No problem at all! You can totally make it by hand and it will still be super delicious. Just finely chop all the ingredients with a very sharp chef knife and combine in a bowl.
Adjust flavors to your liking. We all like things a little differently. Add more pepper flakes to make it spicier; add more vinegar for more zest, etc.
Add some ingredients after processing. Sometimes it's nice to have the onions left more chunky rather than being finely chopped. You can just stir in the chopped onions after you make the sauce in the food processor.
How to Make Chimichurri
It's almost too easy! Let's do this!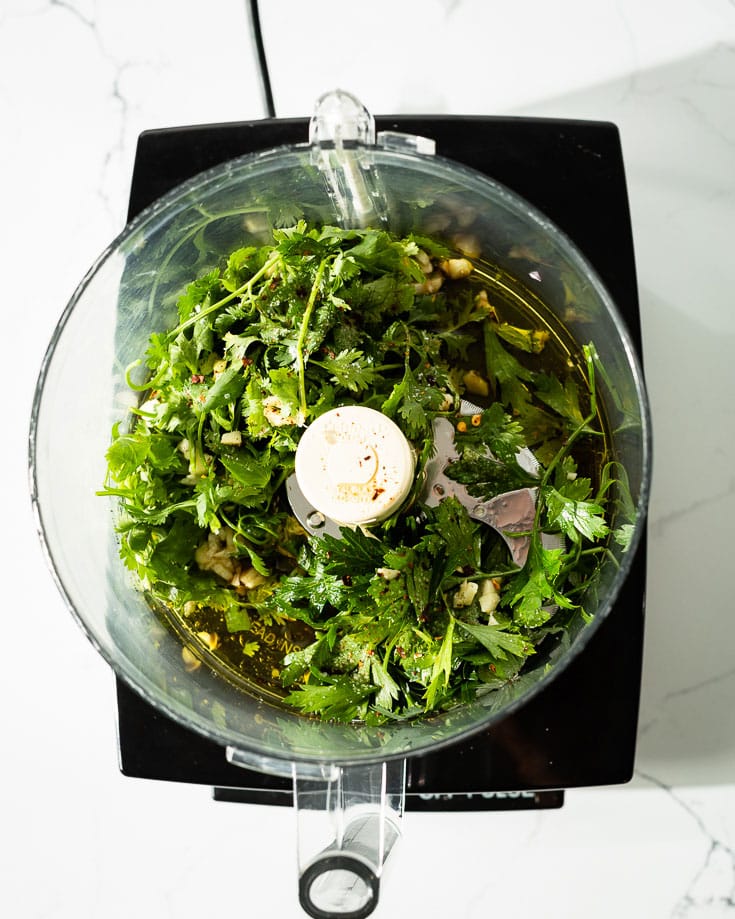 Add the fresh herbs and all other ingredients except for the shallot or red onion to a food processor or blender and pulse until chopped. Don't get carried away. It should be "chopped" and not a purée.
Transfer the sauce to a container or jar and stir in the onions. Taste for seasoning and enjoy immediately or refrigerate.
What to Use Chimichurri With
Just about every single dish imaginable can benefit from some chimichurri sauce. From grilled meats to roasted vegetables. Shrimp, steak, pork chops, pork tenderloin carrots, grilled salmon, crispy potatoes. It's even wonderful as a marinade. I like to keep a jar in the fridge, so it's ready to go at a moment's notice. You may even want to double the recipe! It's that good!
How to Store Chimichurri
Store in a container with a thin layer of oil on top (which might come naturally with the sauce) and then place plastic wrap right on top of the surface. Alternatively, you can store the sauce in a mason jar with a lid. Store in the refrigerator for 2 days or freeze in ice cube trays for 1 month.
Does Chimichurri Go Bad?
Chimichurri does go bad after a few days. The bright fresh herbs turn dark and the flavors are not nearly as vibrant after two days. Just freeze the sauce if you need it to last more than a few days. Since it's so easy to make, try to just make it fresh every time.
Chimichurri Recipe
This easy-to-make Chimichurri Sauce Recipe has the most wonderful fresh flavor! A blend of herbs, garlic and red wine vinegar.
Print
Pin
Rate
Ingredients
½

cup

packed fresh cilantro

¼

cup

packed fresh Italian parsley

2

chopped garlic cloves

½ to ¾

cup

extra virgin olive oil

⅛

cup

red wine vinegar

½

teaspoon

red pepper flakes

(or to taste)

½

teaspoon

Kosher Salt

1

small shallot chopped

(can also use red onion)

1

Fresno chili

seeded and diced fine (optional)
Instructions
Add all of the ingredients except for the shallot and optional chopped Fresno chili to a blender or food processor.

Pulse until the ingredients are well chopped, but not completely puréed. Use a spatula to scrape down the sides to process evenly. Transfer the chimichurri to a container and add the shallot or onion and the Fresno chili.

Taste for seasoning and add more salt, red wine vinegar and pepper flakes as desired for your taste.

Cover with plastic wrap directly on top of the chimichurri and store in the refrigerator until you are ready to use it.
Nutrition
Calories:
1010
kcal
|
Carbohydrates:
11
g
|
Protein:
2
g
|
Fat:
108
g
|
Saturated Fat:
15
g
|
Polyunsaturated Fat:
11
g
|
Monounsaturated Fat:
79
g
|
Sodium:
1350
mg
|
Potassium:
265
mg
|
Fiber:
3
g
|
Sugar:
4
g
|
Vitamin A:
2101
IU
|
Vitamin C:
32
mg
|
Calcium:
53
mg
|
Iron:
2
mg
More delicious recipes