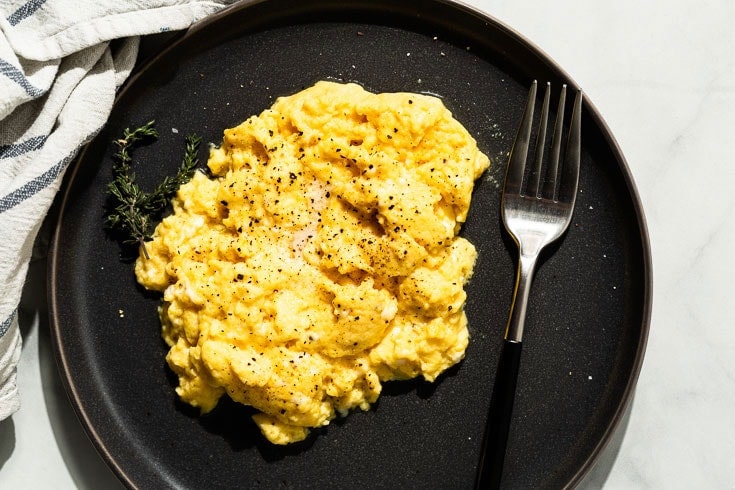 There are so many theories about scrambled eggs. There's the hot-and-fast theory, the low-and-slow method, and just about everything in between. This modern version is inspired by a Heston Blumenthal method where the eggs are mixed with a little whole milk and melted butter and cooked in a sous vide water bath.
The texture is just amazing. They come out so light and cloudy; almost nothing like when cooked in a pan.
Tips for Sous Vide Scrambled Eggs
Add any flavorings (but not salt) to the eggs before adding to the bag.
Agitate the eggs every 5 minutes or so when they are in the water bath. They will be hot, so use a kitchen towel instead of your hands.
You can make perfect sous vide poached eggs at the same time as you make these scrambled eggs. The water bath is the same temp, and they get done in just about the same amount of time.
Since the eggs are cooked in the bag, there's no way for water to evaporate when they cook. You can use a paper towel to blot up a little water that might seep out onto the plate.
How to Make Sous Vide Scrambled Eggs
Pre-heat the water bath to 75° C / 167° F.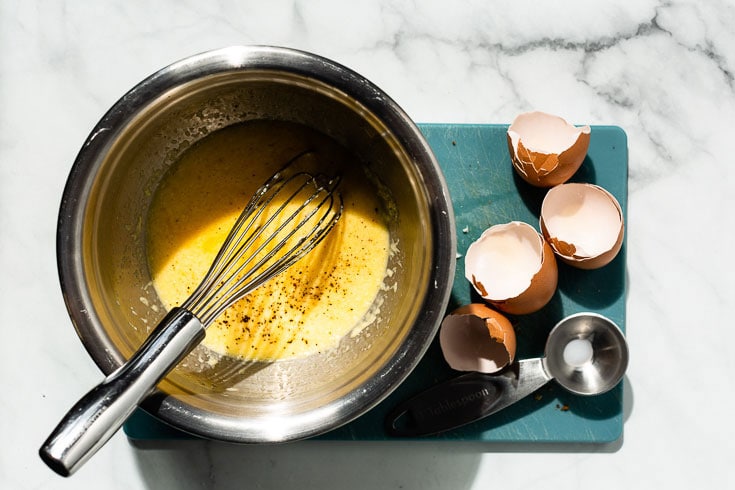 Whisk up your eggs, whole milk, melted butter and any add-ins -- like chopped fresh thyme, bacon, scallions or anything else you love -- with your scrambled eggs.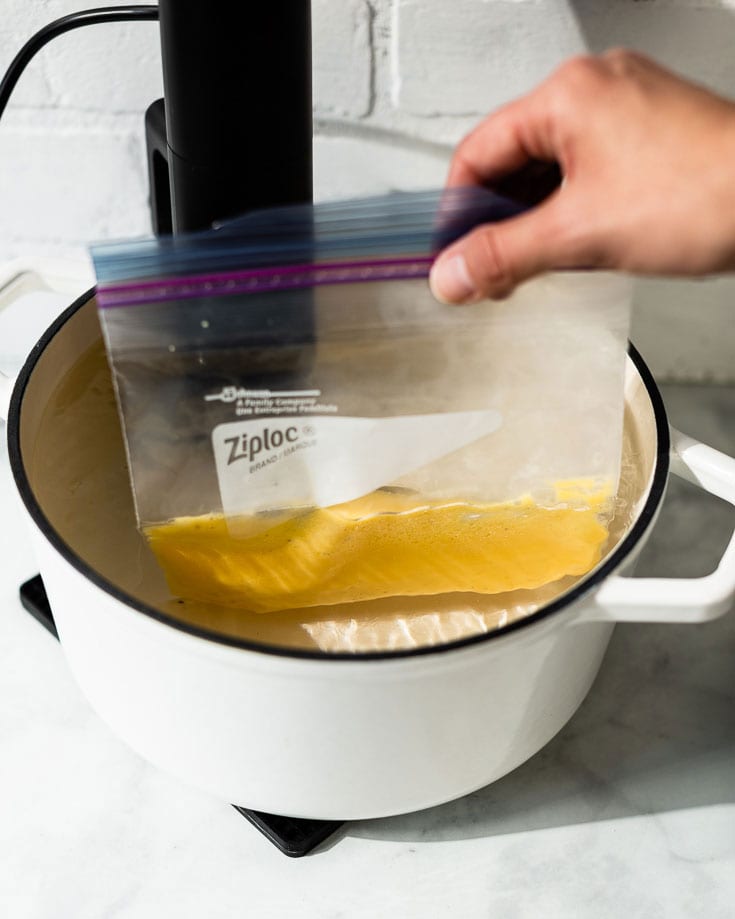 Place the whisked eggs in a Ziplock freezer bag, and use the water displacement method to seal the bag.
Sous vide for 15 to 16 minutes, pulling the bag out every 5 minutes or so to mix it up with your hands. The bag will be hot, so it's helpful to hold the bag in a kitchen towel so it's not too hot.
Serve immediately topped with salt and plenty of freshly ground pepper.
These eggs go wonderfully with some leftover sous vide ham.
Tools and Equipment for Sous Vide Scrambled Eggs
You can check out the equipment used (below) or check out the post all about Essential Sous Vide Accessories.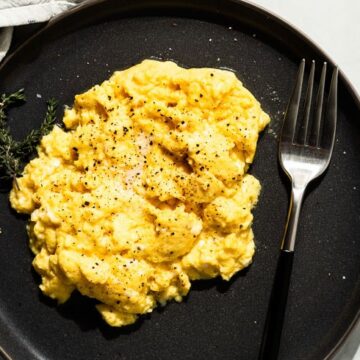 Sous Vide Scrambled Eggs
Cloudy, light and fluffy is what comes to mind when you take your first bite of these sous vide scrambled eggs.
Print
Pin
Rate
Ingredients
3

large fresh cold eggs

2

tablespoons

whole milk

1

tablespoon

melted butter

Optional add-ins: fresh thyme, chopped bacon or whatever you like to add to your scrambled eggs

kosher salt & freshly ground pepper
Instructions
Pre-heat the sous vide water bath to 75° C / 167° F.

Whisk the eggs, milk, melted butter and any add-ins in a bowl, then pour into a ziplock freezer bag.

Place in the water bath and seal using the water displacement method. Clip the bag to the side of the container to keep the ziplock bag above the water line.

Cook for 16 to 17 minutes, removing every 5 minutes to massage with your hands.


Remove from the bag and season with salt & pepper. Serve immediately.
Notes
This technique is inspired by Heston Blumenthal.
The eggs in the water bath will be hot to the touch, so you can use a kitchen towel to mix them during the cook.