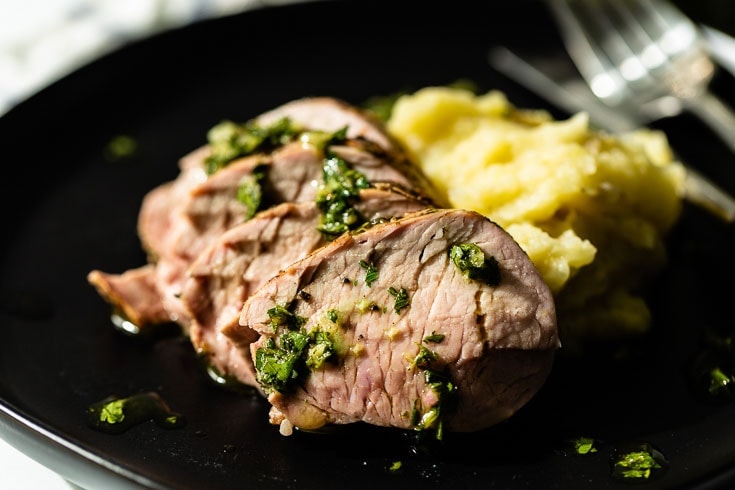 Sometimes you make something and it satisfies far beyond your expectations. That's what happened with this dish. Smoky flavors from charcoal fire and a little smoke from applewood chips on the grill with that wonderful chimichurri flavor on the outside that contrasts with the fresh chimichurri it is served with.
Grilling pork tenderloin is one of the easiest most satisfying proteins for a weeknight meal, a Saturday gathering or a Sunday supper. The smell and the taste of the food when you grill over an open fire... There's really nothing else like it. It adds an unmistakable flavor that makes all the difference.
Whether you are grilling, smoking, roasting or cooking sous vide, the humble pork tenderloin is such a diverse, accessible and super-healthy protein. The advantage of pork tenderloin is they cook so quickly and are super tender. There are virtually endless marinade and seasoning options that will work great.
You can even slice the tenderloin into medallions before grilling. This will give them even more of that wonderful grilled flavor because there is more surface area for the grill to touch.
An even better way to add tons more grilled flavor is to pound the tenderloin to flatten it out into steaks. This gives way more surface area than when it is round. It also helps it cook even quicker. I learned this awesome trick from fry friends over at America's Test Kitchen.
Grilled Pork Tenderloin Marinades
No matter which marinade or seasoning you go with, the grilling concept remains the same. Marinate the meat for a minimum of 3 hours, and overnight for best flavor results.
Chimichurri (shown in this post)
Not only is chimichurri a great sauce for pork, but it's a fantastic marinade as well. It is a blend of fresh herbs, garlic and red wine vinegar.
Herb and Garlic
Simply drizzle the pork with olive oil and your favorite fresh herbs such as thyme, rosemary, oregano and add some crushed garlic cloves.
Tuscan
An Italian Tuscan marinade includes olive oil, lemon zest, lemon juice, garlic, rosemary, and pepper.
Asian (soy-honey, miso-glazed)
Going Asian with pork tenderloin is a great way to change things up. Use a combination of soy, honey and ginger or go with a miso glaze. Just be careful as these can easily burn on the grill.
Dry rub
Applying a sweet & spicy dry rub as a great way to quickly get BBQ flavors on your grilled pork tenderloin.
Tips for Marinating Pork Tenderloin
For the most efficient marinade, use 1-gallon ziplock bags. This cuts down on the amount of marinade that you will need.
Set aside some of the marinade to brush on the pork towards the end of the grilling time. This adds even more wonderful flavor to the crust.
Whenever you are using a marinade that has sugar, you have to be careful that it doesn't burn on the grill.
Season cautiously when using marinades that contain salt.
How to Grill Pork Tenderloin
1. Gently pound the tenderloin to slightly flatten it out. This will promote even cooking.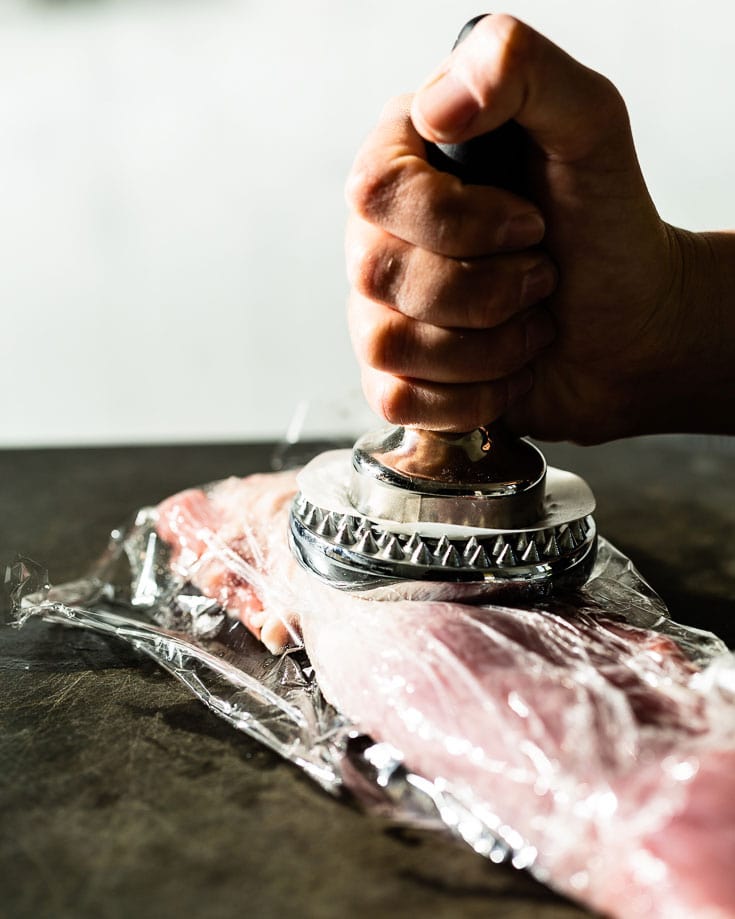 2. Marinate the pork tenderloin for 3 to 24 hours.
3. With the pork at room temperature; drizzle a little olive oil (if marinade doesn't contain oil) on all sides and season with kosher salt and freshly ground pepper.
4. Set up the grill for two-zone grilling and pre-heat.
5. Grill over direct heat for about 3 to 4 minutes per side to brown slightly.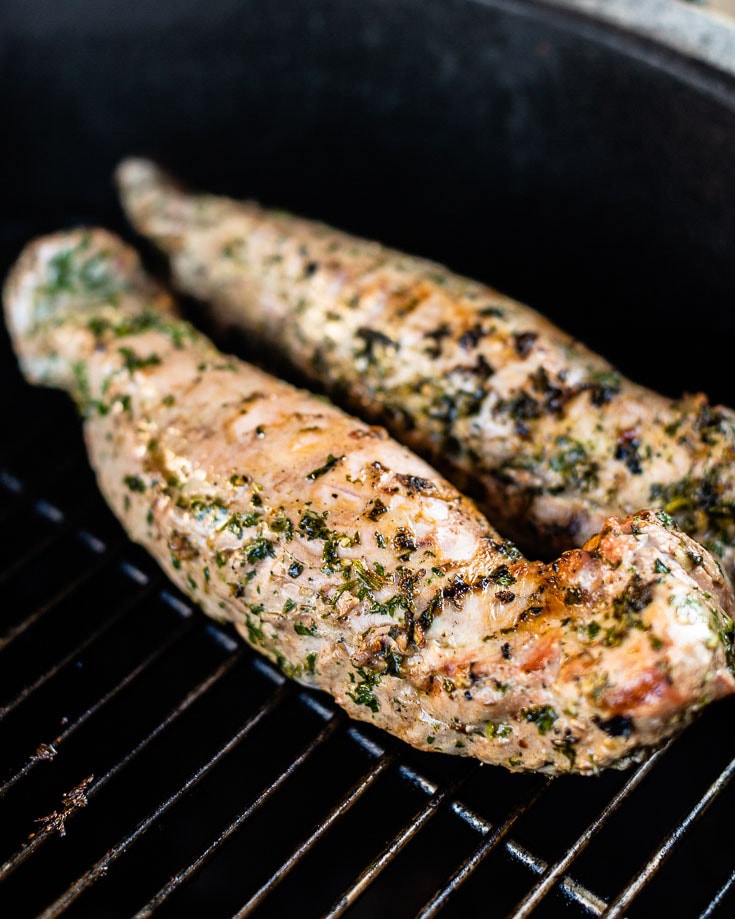 6. Move the pork tenderloins to indirect heat and continue cooking until the internal temperature reaches 145° F. Test with a probe thermometer.
7. Rest for 5 minutes, slice and enjoy.
Meal Prep Idea
Since pork tenderloins usually come with 2 in a package (sometimes 4), they are great for stretching over a few meals. Sure you could cook both tenderloins the same way, but wouldn't it be even more fun to use two different marinades for some nice variety?
Shop the Tools for the Recipe
Contains affiliate links where I might receive a commission if you make a purchase, at no additional cost to you.
More Pork Tenderloin Recipes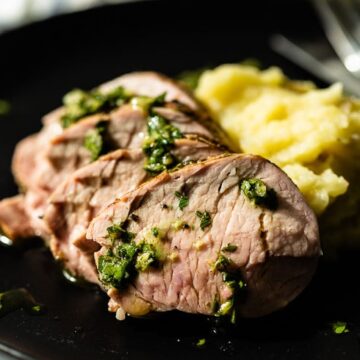 Grilled Pork Tenderloin
Amazingly juicy and super flavorful grilled pork tenderloin with 5 marinade variations that cooks up in about 15 minutes.
Print
Pin
Rate
Ingredients
2

(1 pound) Pork Tenderloins

olive oil

seasoning or rub

kosher salt & freshly ground pepper
Instructions
Gently pound the pork tenderloins with a meat pounder to flatten them out. (optional)

Marinate the pork for 3 to 24 hours using your favorite marinade (see the post for marinade ideas).

Remove from the marinade and bring to room temperature while you prep the grill for two-zone grilling.

Season the tenderloins generously on all sides with kosher salt and freshly ground pepper and a drizzle of oil.

Grill the pork tenderloin over direct medium-high heat for 3 to 4 minutes per side to brown slightly, then move to the cooler side of the grill and continue to cook covered until the internal temperature reaches 145° F, about 10 to 15 more minutes. Use a probe thermometer to verify.

Transfer the cooked pork to a cutting board and rest for 5 minutes before slicing and serving with your favorite sauce.
Notes
Marinating is totally optional but highly recommended. If you don't marinate the tenderloins, drizzle canola or olive oil over the entire surface before seasoning. This will help the seasoning stick and prevent sticking to the grill.