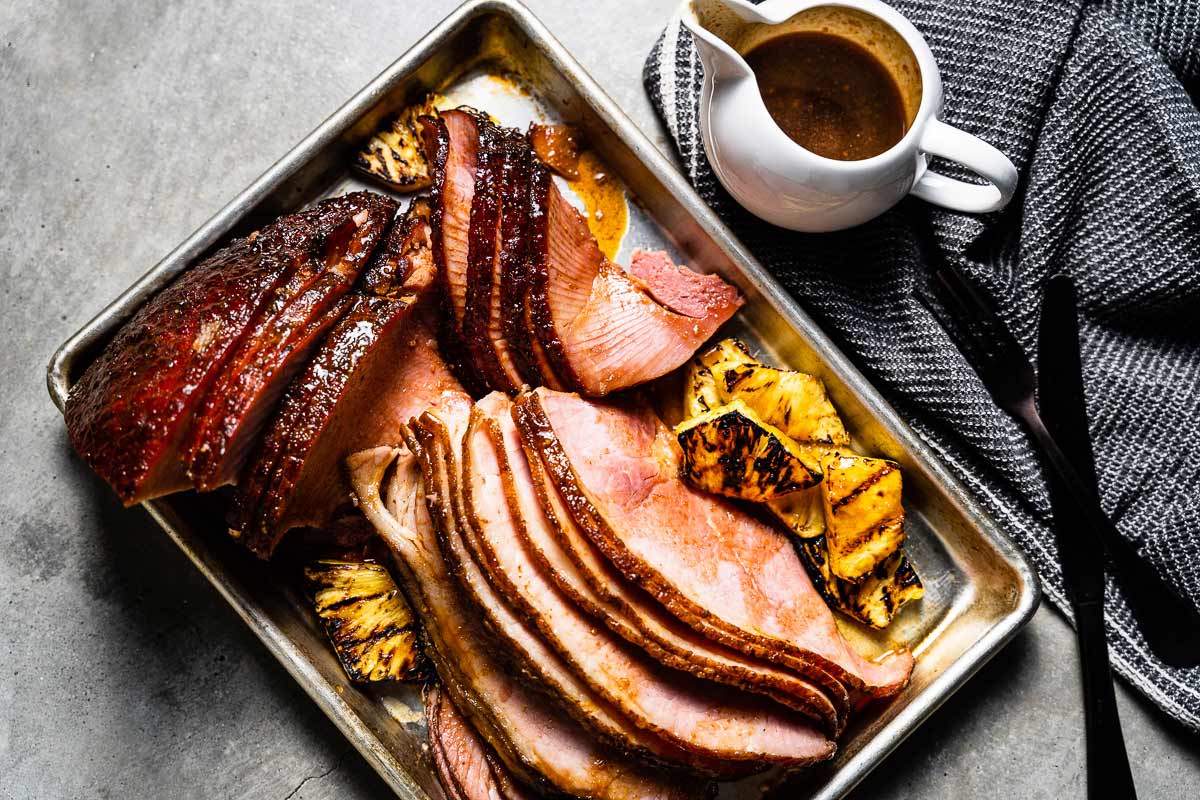 There's ham, smoked ham and then there's double smoked ham. Most precooked spiral-sliced ham is already smoked when you buy it, and it is really good as is. But smoke that same ham again and it's even more amazing, with more intense flavors.
We're going to ditch the package instructions and the prepackaged glaze, and double smoke that beautiful ham for a spectacular and delicious feast.
Smoked and glazed spiral-sliced ham doesn't have to just be for a holiday. It's great anytime for making the best sandwich meat. It's way cheaper than buying meats at the deli, and you can vacuum-seal and freeze it in individual portions.
Tools & Equipment Needed
The Pineapple-Brown Sugar Glaze
The glaze by itself is so delicious. Then when you pair up the sweet with the smoky ham and some grilled pineapple, each bite is off the flavor charts.
The glaze is easy to make. Just combine all the ingredients in a small saucepan, whisk to fully combine and bring to a simmer until it starts to thicken. Just keep the heat low enough so the glaze doesn't splatter in the pot.
How to Make Double-Smoked Ham
Quick step-by-step overview or you can skip down to the full recipe card.
Season - Coat the ham with some Dijon mustard and then a dusting of your favorite sweet dry rub (or see below for rub recipe to make your own).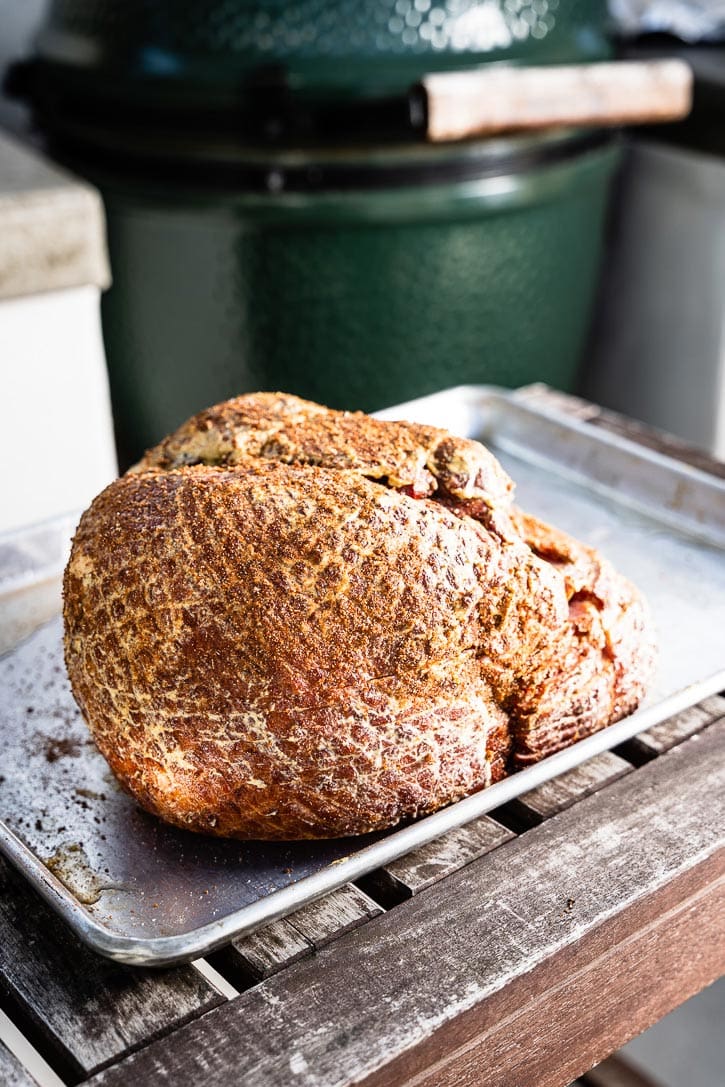 Smoke the ham - With a remote thermometer inserted, place the ham in a 250° F smoker with apple wood chunks for smoke. Warm until the internal temperature reaches 130° F.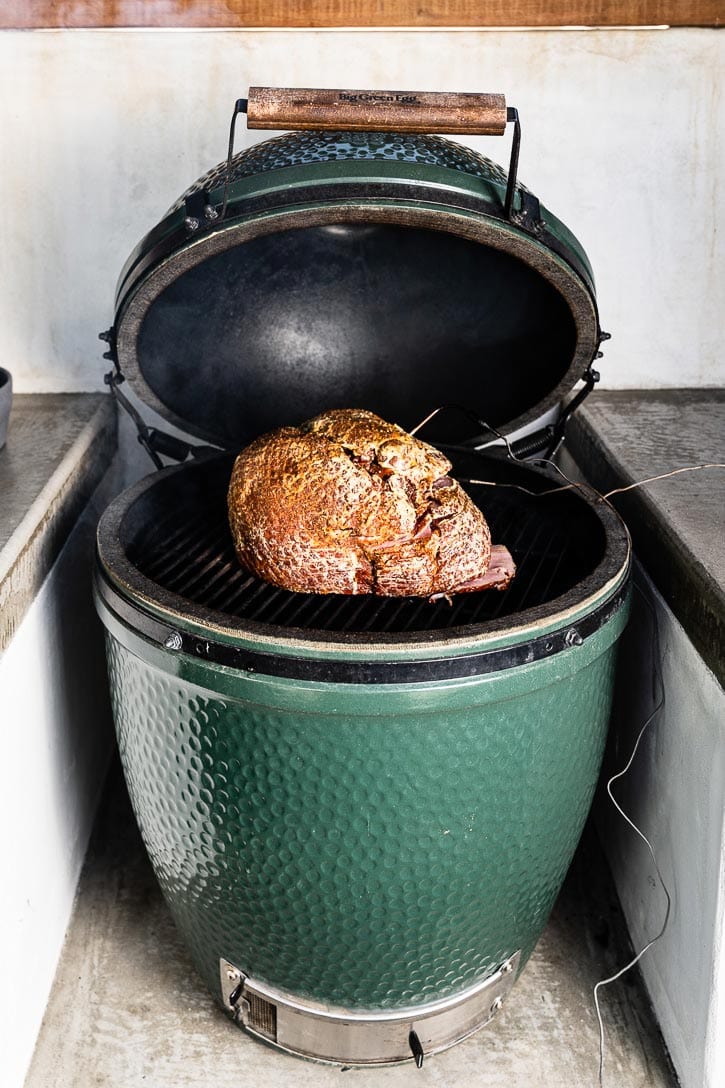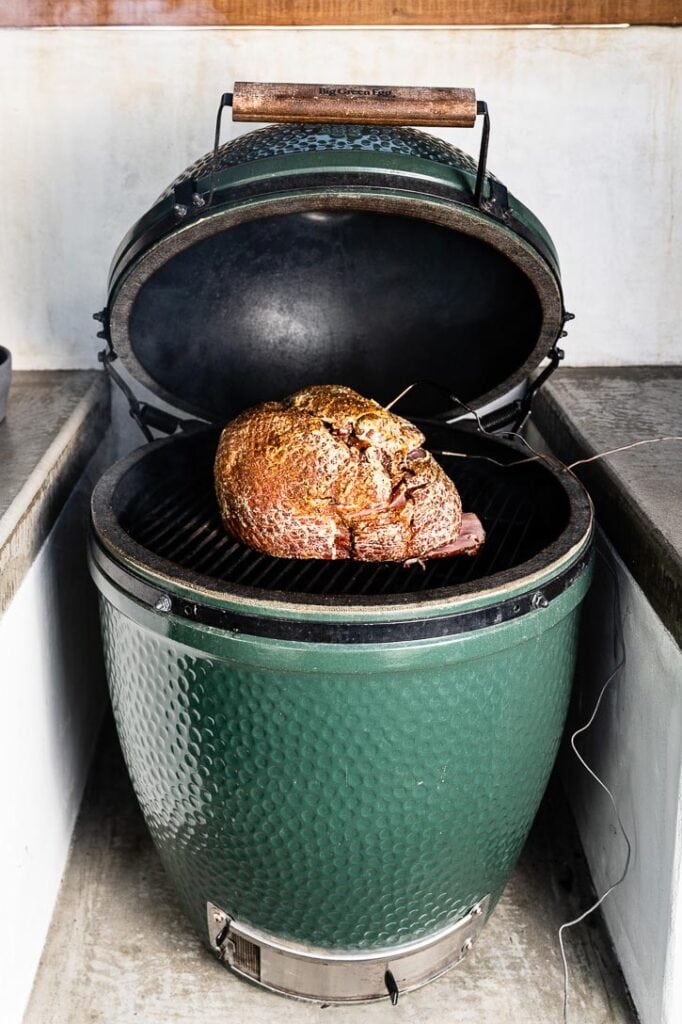 Glaze the ham - Remove the ham from the smoker and place in a disposable aluminum pan or a large cast-iron skillet. Brush the glaze over the ham, then place back into the smoker.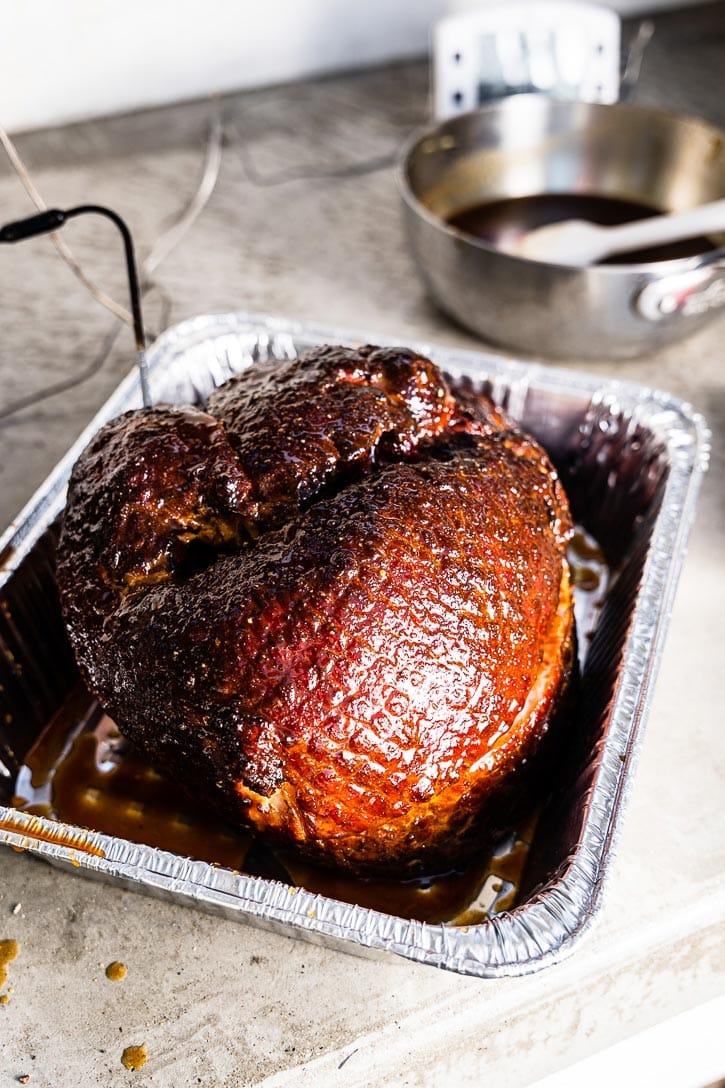 Continue glazing - Baste every 15-20 minutes, and remove from the smoker when the internal temperature reaches 140° F.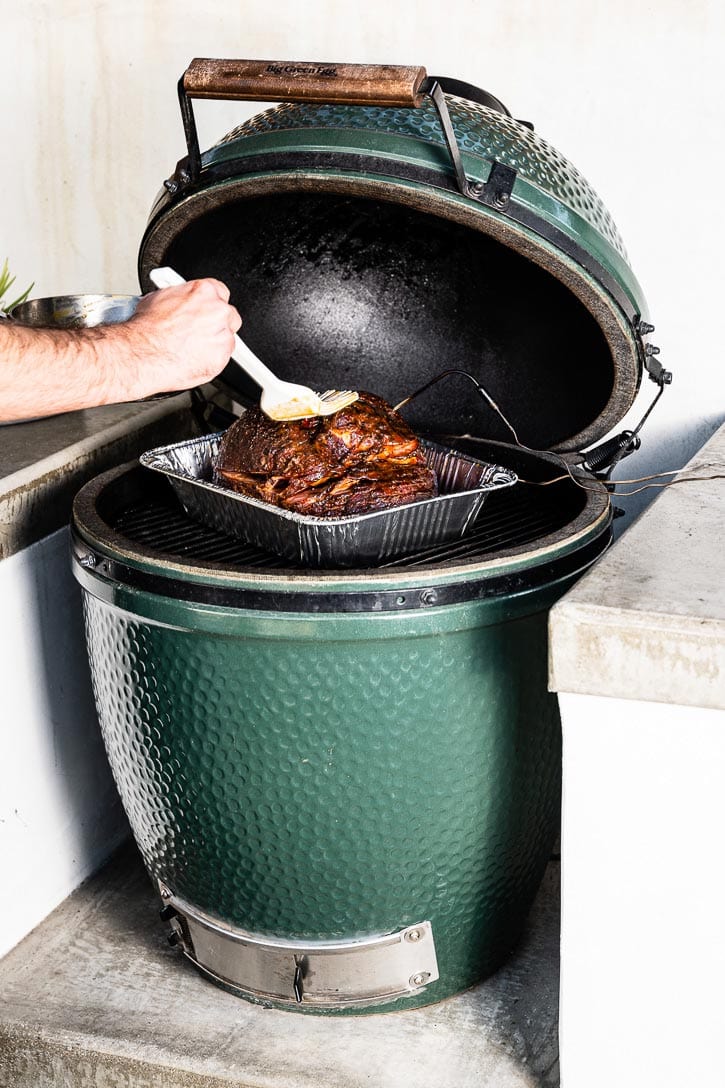 Rest and serve - Remove the ham from the smoker, cover and rest for 30 minutes before serving and enjoying.
Serve It With
Smoked and glazed ham was just meant to be eaten with scalloped potatoes, crunchy green beans, grilled pineapple and more of the glaze. And if you love sliders, grab some sweet Hawaiian buns and combine a slice of ham, the pineapple and a drizzle of the glaze. Even add some bright coleslaw to the mix for a crunchy texture.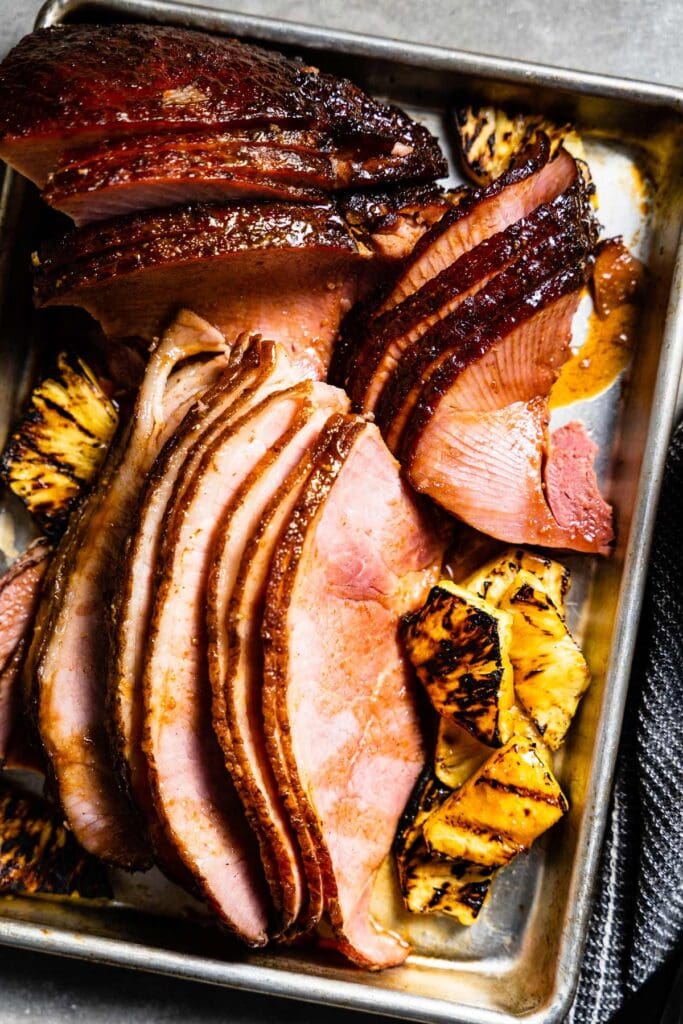 Storing the Double Smoked Ham
Store cooked ham tightly sealed in the refrigerator for 3 to 5 days. It's great to vacuum-seal individual portions and freeze it to be used within 6 months.
More Delicious Recipes to Try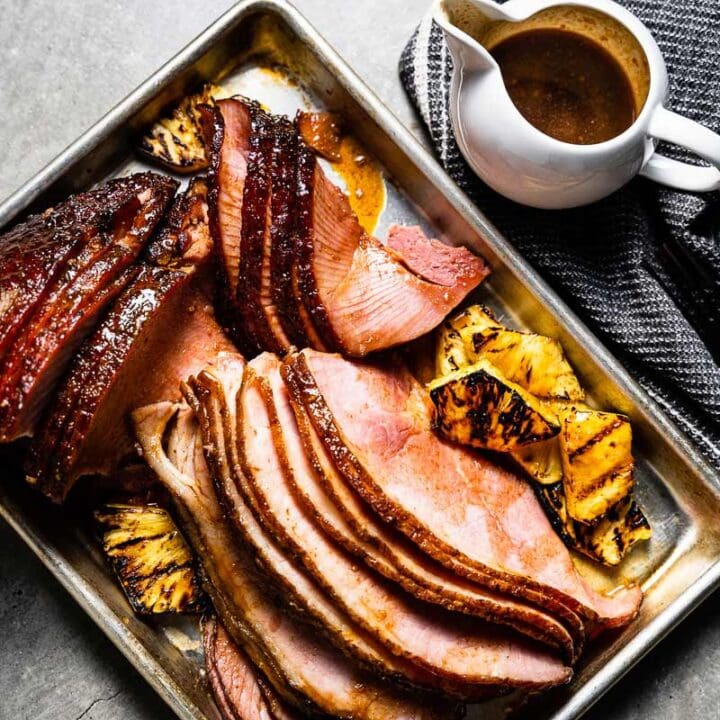 Double Smoked Ham Recipe
Juicy delicious smoky ham with a succulent glaze and bursting with flavor grilled pineapple slices.
Print
Pin
Rate
Ingredients
10

lb

city ham

(see note below)

2

tablespoon

Dijon mustard

Dry rub

(use your own or see ingredients below)

Wood chunks or pellets

(apple, cherry or other sweet fruit wood)

Sliced pineapple for grilling

(optional)
Dry Rub
½

teaspoon

smoked paprika

1

teaspoon

sugar

1

teaspoon

brown sugar

½

teaspoon

garlic powder

½

teaspoon

cinnamon

⅛

teaspoon

chili powder

⅛

teaspoon

black pepper
Glaze
1

cup

pineapple juice

¼

cup

apple cider vinegar

1

cup

brown sugar

4

tablespoon

butter

2

tablespoon

Dijon mustard
Instructions
Remove the ham from the refrigerator 30 minutes to 1 hour prior to smoking.

Lightly coat the ham with Dijon mustard as a binder, and apply a thin dusting of dry rub over the entire surface. Insert your remote probe thermometer into the thickest part of the meat.

Set the smoker up for indirect heat cooking at 250° F, with a water drip pan in place, and use 2 to 3 wood chunks for a charcoal smoker. Once the smoker is at temperature, wipe the grates with oil on a paper towel and place the ham in the smoker.

While the ham smokes, make the glaze: Add glaze ingredients to a small saucepan over medium heat, whisking to combine. Bring to a low simmer and reduce heat for 5 to 7 minutes, or until thickened slightly. Set aside.

Smoke the ham until the internal temperature reaches 130° F, about 3 hours.

Transfer the ham to a cast-iron skillet or disposable aluminum pan. Apply the first coat of glaze with a heatproof brush, then place back in the smoker.

Continue to cook, glazing every 15 to 20 minutes, until the ham reaches 140° F internal.

Transfer to a cutting board, cover with aluminum foil and rest for 30 minutes.

Grill pineapple slices while the ham rests.

Carve and slice the ham, serve with grilled pineapple and a drizzle of the glaze. Enjoy!
Notes
City ham is considered already fully cooked. It is cured, smoked then usually spiral-sliced and has the bone in.
The size of your ham doesn't matter, as we are cooking to temperature and not by time.
Cook time will be approximately 15 to 20 minutes per pound.
A water drip pan is important to prevent it from drying out.
The glaze can be messy. Oil your grates and use foil for easy cleanup.
Use the remaining glaze as a sauce, which can be combined with the pan drippings.

Use a sharp boning knife to cut around the bone to easily separate the ham from the bone and cut slices in half.
Nutrition
Calories:
523
kcal
|
Carbohydrates:
18
g
|
Protein:
57
g
|
Fat:
23
g
|
Saturated Fat:
5
g
|
Polyunsaturated Fat:
2
g
|
Monounsaturated Fat:
9
g
|
Cholesterol:
221
mg
|
Sodium:
3546
mg
|
Potassium:
908
mg
|
Fiber:
1
g
|
Sugar:
17
g
|
Vitamin A:
48
IU
|
Vitamin C:
72
mg
|
Calcium:
41
mg
|
Iron:
3
mg