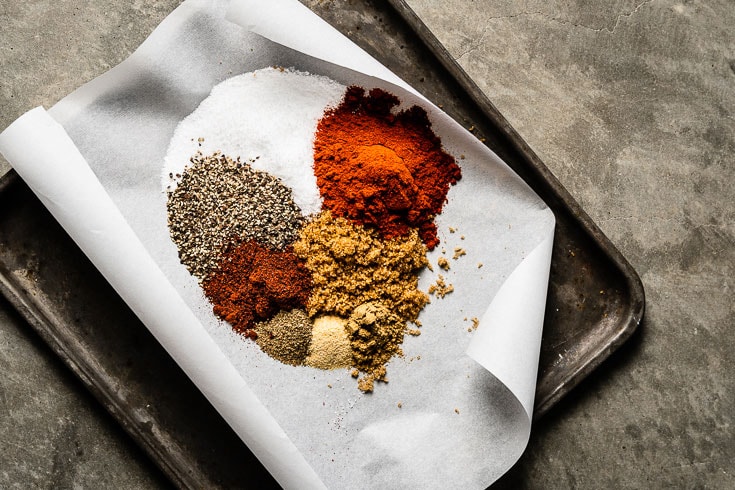 A multi-use homemade dry spice rub for chicken that is subtly sweet, smoky and with a little kick. It adds lots of flavor with 8 simple ingredients and customizable ingredients you likely have in your pantry.
This amazing and simple dry rub for chicken is great for smoking, grilling or even roasting. It adds tons of flavor to a quick sheet pan chicken, BBQ chicken thighs, a whole bird or perfect crispy wings. Adding a spice rub on the chicken will totally enhance the flavors of the outside, while the salt will penetrate deep into the meat acting as a dry brine.
Keep it simple and add ingredients and spices you actually like the taste of. There's no reason to add something you aren't a fan of. And if there's something you have in your pantry that you want to experiment with, just go for it.
Spice it up! Seriously, why not? If you like things spicy, the rub is where to start. Add in some cayenne pepper or other spices that pack a punch.
Sure, you can buy an off-the-shelf spice rub that will probably be good, but it's not going to be as great as the one you tailor to your specific taste preferences. And making your own will save a lot of money.
Some rubs are better than others. The one you love is the best one.
Ingredients for the Rub
Diamond kosher salt, dark brown sugar, sweet or smoked paprika, ground black pepper, dark chili powder, celery seeds, ground cumin and granulated garlic and/or onion.
Optional add-ins: Cayenne pepper (optional for extra heat) and herbs (usually dried but fresh works too) can be added to the rub to add even more flavors.
This is a great base for making your own fully custom homemade dry rub for your favorite chicken recipes. It's really about subtly tweaking the ingredients to make it your own if you wish. Be sure to write down the changes you make so you can keep track!
Whatever ingredients you use, be sure they aren't well past their expiration date. It really does make a difference. If you do have a spice like pepper that tastes a little flat, you can bloom on the stove in a skillet for a few minutes to brighten it up.
Missing some of these ingredients? Totally no problem. Just mixing up salt, pepper and a few others will add lots of flavor and color to your chicken.
How to Make a Dry Rub
I like to measure out all of the ingredients onto a sheet of parchment paper when I plan on putting the rub into a shaker. This makes for a super easy transfer to the storage container. You just pick it up and funnel everything into the container. Once in the container, give it a shake with the lid on to fully combine the ingredients.
If you plan on applying the dry rub with your hands, then just combine the ingredients in a bowl, being sure there aren't any clumps left.
Taste It Before You Use It
It's important to taste the rub before you use it. Yes, it should actually taste good. If you want it to be spicy, it should taste spicy. If it doesn't taste spicy, then add some more cayenne.
Make It Your Own
Your tastes are different than mine. Maybe you like it spicier or want a more pungent garlic flavor. Just add more of what you like and less of what you don't, or just leave it out altogether. You can't mess it up unless you add too much spice or sugar.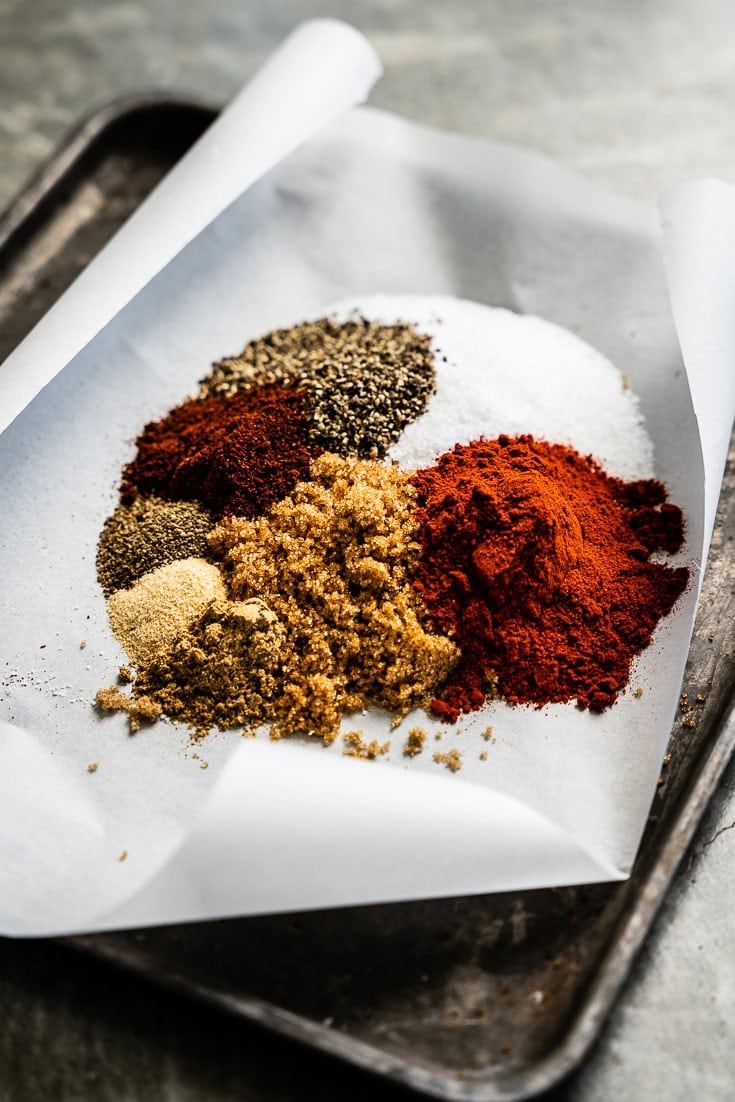 How to Apply the Dry Rub
Use a large spice shaker to evenly distribute the rub onto the meat. Apply it from a height that will spread the rub out over the meat so it doesn't clump in certain spots.
If the rub isn't sticking, you can use a "slather," which can be anything from oil to mustard. Use just as much as you need and don't over-slather. I will usually use a very light drizzle of canola oil, which will help the rub stick and help get an even sear on the chicken skin.
Apply the rub to the presentation side last. This will keep it looking its best.
How Long Should Dry Rub Sit on Chicken?
My preference is to apply the rub the night before, or for at least 12 hours. This rub can either be applied right before you cook the chicken, or it can be applied ahead of time (the night before).
Applying it ahead of time will infuse flavors (primarily the salt) deep into the meat and act as a dry brine, whereas applying it right before cooking will be more like adding a super kicked-up salt and pepper to flavor the outside of the chicken.
How to Store a Dry Rub
If you have leftover rub, it can be stored in an airtight container. It will last for several months in an airtight container away from heat and moisture. Just don't leave it in a container that has holes, or the rub can absorb moisture and will clump up.
It's great to keep some on hand so you can quickly bring it out when needed.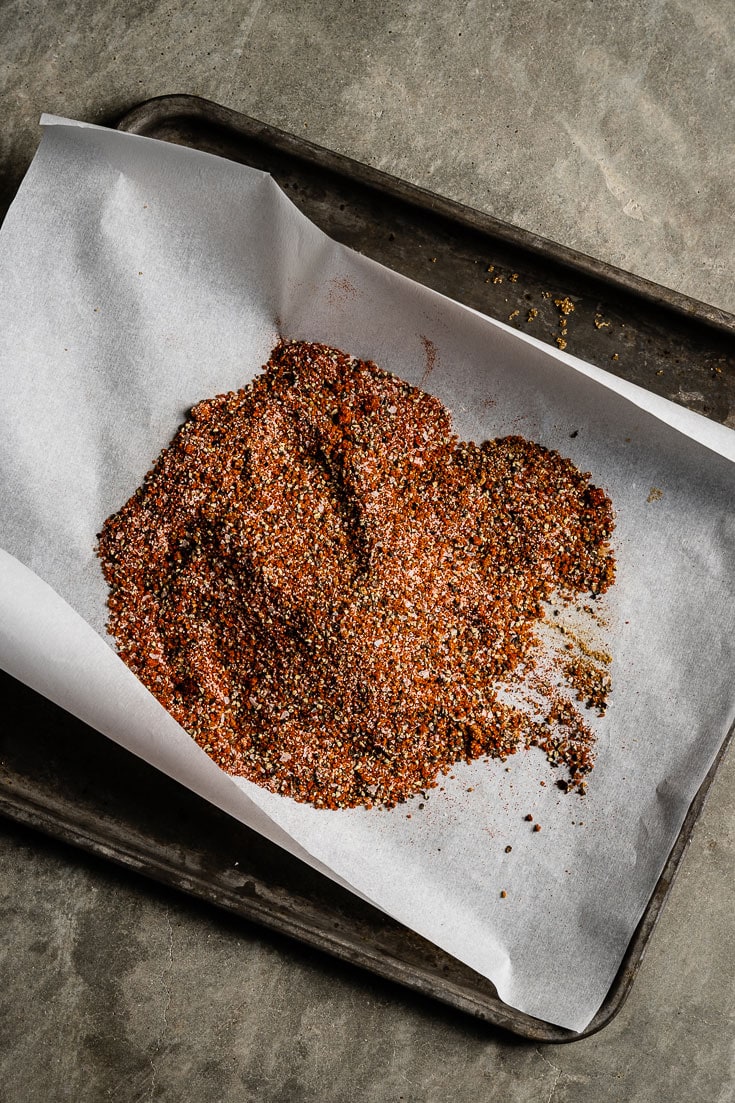 Inspiration for What to Use This Rub On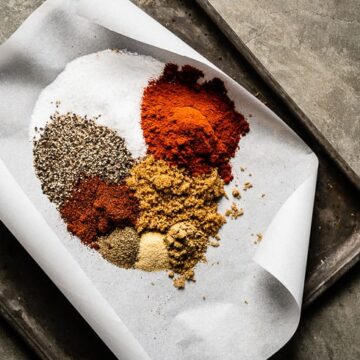 Ingredients
¼

cup

Diamond kosher salt

(Use less salt if not using Diamond brand kosher.)

¼

cup

packed dark brown sugar

2

tablespoon

sweet or smoked paprika

2

tablespoon

ground black pepper

2

teaspoon

dark chili powder

½

teaspoon

celery seeds

½

teaspoon

ground cumin

½

teaspoon

granulated garlic and/or onion

½

teaspoon

cayenne pepper

(optional for extra heat)
Instructions
Add all ingredients in an airtight container or a bowl. Either shake the container to fully mix, or stir in a bowl with a whisk.
Notes
Makes about 1 cup of spice rub.
Make sure all brown sugar clumps are mashed or they can burn during cooking.
Place on parchment for easy transfer to a storage container.
Everything is optional and can be substituted. Make it your own with what you have in your pantry.
This rub contains salt, so don't over-salt when you go to season your chicken.
If your chicken has been brined, you will want to reduce the amount of salt in the rub.
Knowing how you will be cooking the chicken should play a role in what you use in the dry rub. If you are grilling over high heat for a longer period of time, be cautious of using too much sugar as it will caramelize and potentially burn.
Store in a dry airtight container for up to 3 months.