Duck breasts are one of the more magical proteins available. Their distinctive fat content is unlike any other meat, in that it provides so much of the flavor (and is a healthier choice compared to other animal fats). If I see duck on a menu, I usually can't help but order it. It's not often that you hear about people cooking duck breasts at home, and that's really a shame.
When was the last time someone told you that duck was on the menu when they invited you over? Probably never, and I challenge you to try making it for some friends so they can taste what they have been missing out on.
A common misconception is that duck is super fatty. Ok, it's not really a misconception. As semi-aquatic creatures, ducks have a thick layer of subcutaneous fat to help them float and protect them from cold water. But once the meat is done cooking, there shouldn't be much of the fat left. The key is slowly rendering that fat down until it gets super crispy, while not overcooking the breast.
Duck might seem like a holiday protein, but it really is fantastic for every season. It pairs wonderfully with fruits, and whatever is in season is what you should go with. Examples include strawberries in spring, cherries in early summer, peaches in late summer, and apples or cranberries in fall.
One of my favorite dishes of all time is crispy skin duck breasts with duck fat potatoes, a port wine sauce, with some figs cooked in the port. The pairing is out of this world.
Types of Duck
There are 3 main types of duck that you will see available for sale.
While the flavors and sizes of the duck breast might vary, the technique for perfectly cooking them will be the same.
Pekin Duck
Those white ones you think of on a farm are called Pekin ducks, or "Long Island" ducks. They were first imported from Peking (now Beijing), China in the 1870s, where they had been domesticated for thousands of years. They are descended from and related to the common Mallard, and were initially farmed heavily on Long Island. The meat is lighter in color and more delicate in flavor than the other commonly available ducks. So if you're hesitant, Pekin might be a good duck to try.
Muscovy Duck
The Muscovy duck is native to warm climes of North and South America (not Moscow, as the name implies), and was domesticated by Native Americans prior to the arrival of Europeans. Also called Barbary duck, the meat is darker, less fatty, and more strongly flavored than the Pekin. Muscovy is often compared more to beef than fowl, but can have gamey notes.
Moulard Duck
The Moulard, or Mulard ("mule duck") is a hybrid of female Pekins and male Muscovys. They are commonly raised for foie gras as well as meat, and the flesh is dark and strongly flavored like a Muscovy, but with a bigger fat layer like a Pekin. The breast meat is often called Magret, and can be a bit tough, though it is considered a specialty.
Where to Buy Duck Breasts
Duck breasts by themselves can sometimes be difficult to source locally. It's better to buy fresh, but whole ducks are much more available in the frozen section of your grocery store. Ducks have the same anatomy as chickens, so if you are comfortable breaking down a chicken, get a whole duck.
It is nice to be able to pick up just the breast and they are available from:
Whole Foods - Mary's Duck Breasts and duck legs are usually available.
Your local butcher - if they don't stock it, they should be able to get them for you.
4 Reasons to Buy Whole Duck
Buying a whole duck instead of just the breasts does have some advantages if you are up for it.
Saves money - Can be almost the same price for a whole duck as it would be for two breasts.
Duck Fat is awesome! You can render all of the flavorful fat for making duck confit instead of having to buy it separately. And duck fat can be a savory replacement for many dishes. It is also lower in saturated fats than most other animal fats, including butter.
You can make duck confit with the legs.
You can make duck stock with the leftover bones which can be frozen and used to make a sauce the next time you plan on making duck.
Tips for Cooking Duck Breasts
Score the skin when the duck breast is cold using a very sharp knife. Just slice through the skin and not through the flesh of the breast.
Buy whole ducks instead of just the breast. If you are comfortable butchering a chicken, you can easily break down a duck. The benefit of buying the whole bird is you also get the wonderful legs and more of the fat.
Dry the breasts well with a paper towel before cooking. You can store them uncovered in the refrigerator for a few hours to let them air dry.
Keep the breasts cold and start with a cold pan. This will allow the fat to render and skin to crisp up without overcooking the meat.
Don't rush it. Let the magic (and the pan) do the work for you.
Don't use too small of a skillet. A wider pan will help catch the splatter.
Save the fat from the pan as long as it isn't burned. Strain and save it for making duck fat fried potatoes or for making duck confit. It can be stored in the freezer if you don't plan on using it right away.
A Note on Temperature
Duck breasts are best-served medium-rare, in my opinion. The FDA and USDA recommend cooking to 165 degrees, which will be more medium-well. But most chefs agree that a lower temp is better, and since duck is not a common carrier of food-borne illness.
I prefer to cook the duck breasts to a temperature between 125° and 130°F for medium-rare. If you are a food-safety stickler, maybe the higher temp is for you. But know that there are a lot of other, more likely ways for pathogens in your kitchen to make you ill than medium-rare duck.
If you are really into precision temperatures, try making sous vide duck breasts.
Scoring the Skin
It is important to score the thick skin of the duck breasts to properly render the fat and encourage crispy skin.
To score the skin, use a sharp long knife and very carefully slice a ½" crosshatch diamond pattern, being careful to only slice the skin and not the flesh of the breast. It is easiest to slice the fat when the breasts are cold and dry.
How to Cook Duck Breasts (The Foolproof Method)
Precision is important when it comes to cooking duck breasts. Too cooked and they become tough and dry. Undercooked and they are chewy. And there's also getting the fat rendered off and crisping the skin without overcooking the meat. Seems like it might be difficult to do, but it's not!
This is the foolproof method to perfectly cooked duck breasts.
It's the 80/20 rule (but closer to 90/10). The breasts are cooked at least 80% of the time with the skin/fat side down at a low temperature. Once the fat is rendered and the skin is crispy, the breasts are flipped over and cook for just a few minutes on the meat side. That's it!
Using a very sharp knife; score the skin of the breasts then pat dry with a paper towel and season liberally with Kosher Salt and freshly ground pepper.
Drizzle a thin layer of canola oil into a heavy bottom skillet, then place the duck breasts fat side down and place the skillet over medium heat. Gently press the breasts down into the skillet so the skin fully makes contact.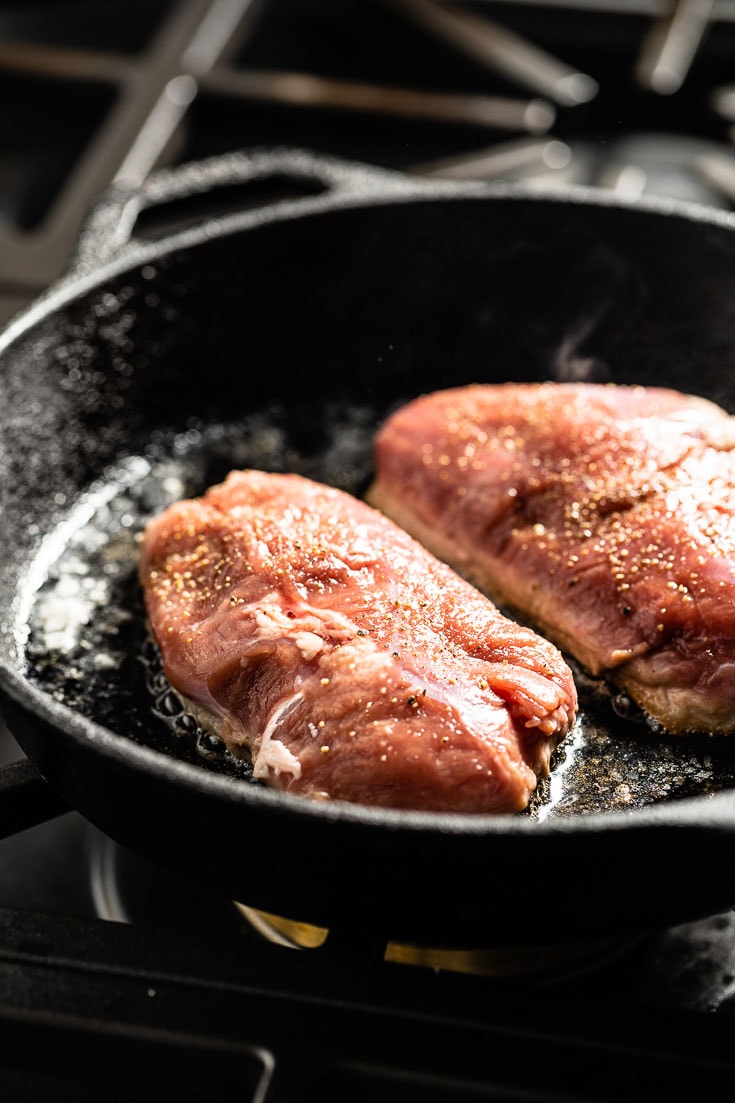 Cook on the fat side for about 20 minutes to render the fat and crisp the skin. The breasts should be cooked about 80% to 85% of the way on the skin side.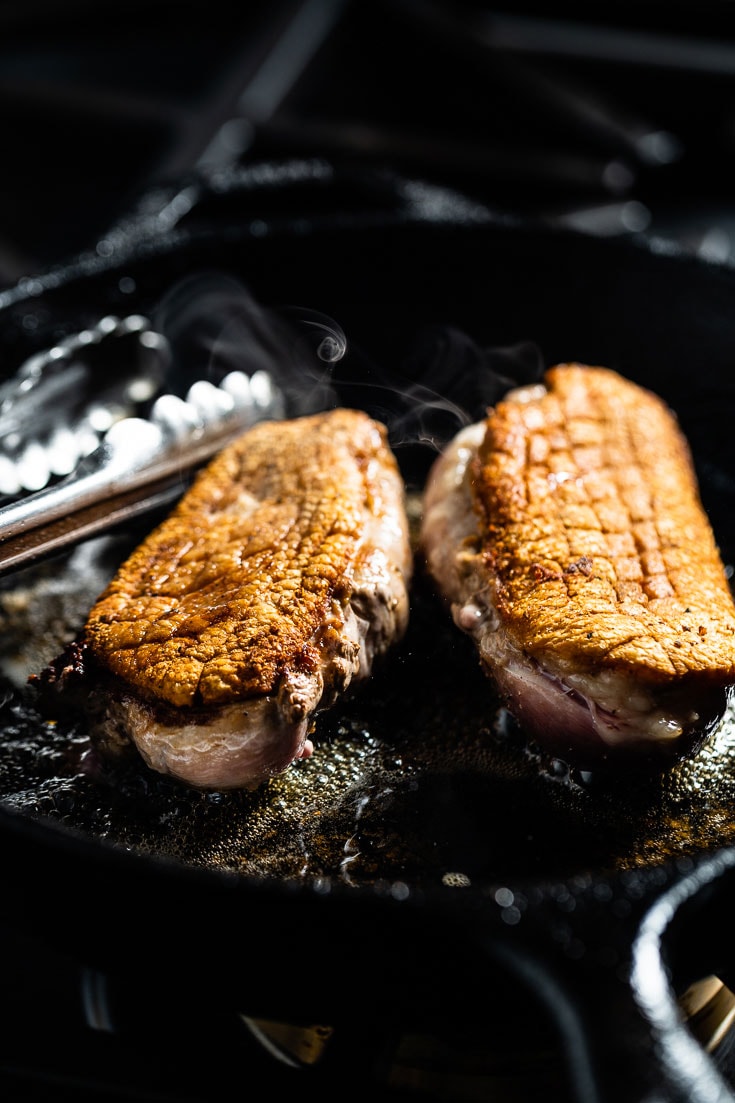 Turn the heat down to low and carefully turn the breasts over. Finish cooking on the flesh side for just 2 to 5 minutes, or until the internal temperature registers 125° to 130°F for medium-rare.
Tip: Always cook to temperature rather than by time.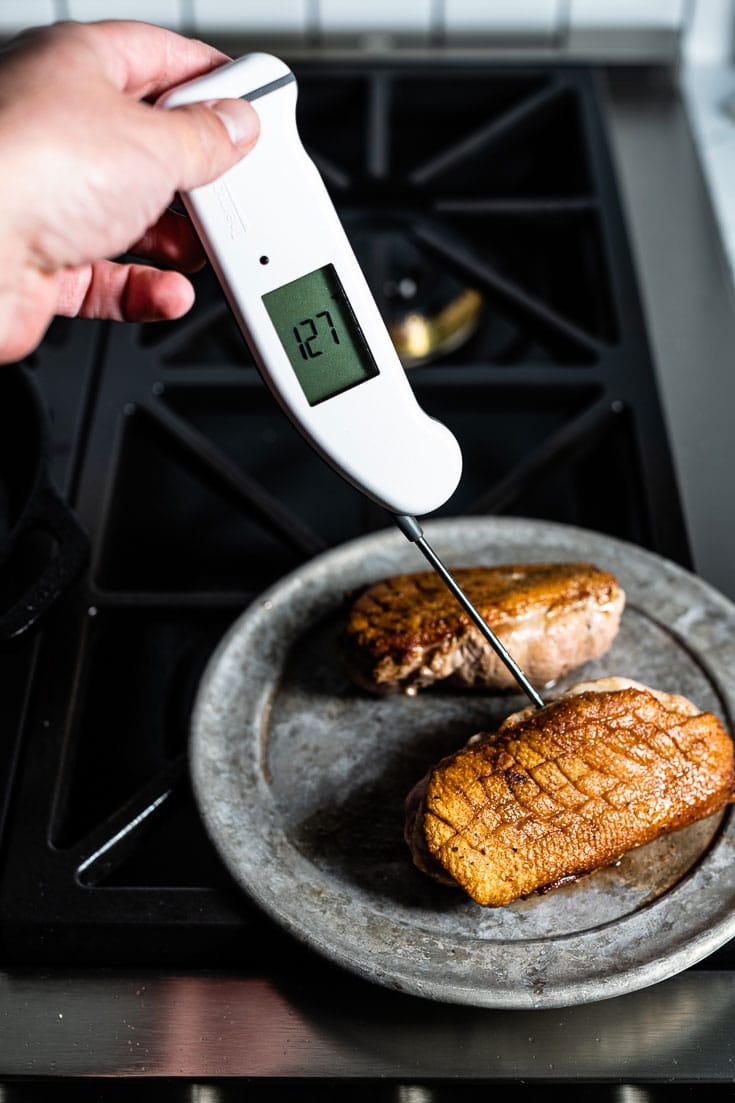 Remove from the skillet and rest for 10 minutes before slicing.
Sides that Go Well with Duck
Sauces for Duck Breasts
Cherry port sauce
Simple aged balsamic vinaigrette or seasonal fruit vinaigrette. The acidity sauce will pair great with fatty duck.
Blackberry red wine sauce
Wine to Pair with Duck
With a strong flavor and a high-fat content, a wine with a sharpness or acidity will balance the duck. Pinot Noir is a great pairing. And be sure to consider the sauce and sides you choose as well. Read more about food and wine pairing basics.
Tools & Equipment
Pan Seared Duck Breast
The foolproof method for perfectly pan-seared duck breasts with that wonderful crispy skin lies in the simple 80/20 rule.
Print
Pin
Rate
Ingredients
Duck Breasts

Kosher Salt and Freshly Ground Pepper

Canola Oil
Instructions
Score the fat of the chilled breasts with a sharp knife into a ½" hatch being careful not to pierce the meat.

Pat dry and season well with Kosher Salt and pepper. Rub the seasoning into the skin.

Drizzle a thin layer of canola oil into a cold heavy carbon steel or cast iron skillet, then place the breasts fat side down and turn the heat on to medium. Press the breasts down so the skin fully makes contact with the pan.

Render the fat render for about 20 minutes, or until the skin is crispy and most of the fat is rendered off.

Turn the heat down to low and carefully turn the breasts over to finish cooking on the flesh side. Immediately sprinkle a little more salt on the hot skin.

Cook on the flesh side for 2 to 5 minutes, depending on the size of your duck breasts. Until the internal temperature reaches 125° to 130°F for medium-rare.

Remove from the skillet and rest skin side up uncovered for 10 minutes before slicing and serving.
Notes
Cook 80% on the skin side and finish on the flesh side for just a few minutes.
Cook times depend on the size of the duck breasts.