If duck breast isn't part of your culinary routine, I highly suggest giving it a shot. There is so much unique flavor packed in every bite. Duck can be a little intimidating, because it's easy to overcook (or undercook) and isn't something usually seen outside of a restaurant setting. But cooking it sous vide takes that anxiety out of the equation, and you will get a perfectly cooked medium-rare duck breast with crispy skin every time.
Be sure to check out our post about How to Pan Sear Duck Breasts with lots of great info about the different types of duck, where to buy it and more. So if you're a duck newbie, have a look.
That post shows the more traditional way of cooking duck breast, in a skillet skin-side down over fairly low heat for a long period to render the fat, crisp the skin and gently cook the flesh. While this method is fairly easy, there is little margin for error, and you must be careful not to overcook it.
Cooking the duck sous vide will give you more margin for error, as well as fully cooking the protein to tenderize it without overcooking.
Time and Temperature
Set your sous vide bath to 130° F / 54.4° C, and score the skin in a crosshatch pattern for a beautiful sear later. Drizzle with a little olive oil, then season liberally with salt and pepper. Then let the bath do its magic for 1 ½ to 3 hours. I will usually cook it for 2 hours. But again, with sous vide you can't really overcook it, it just gets more tender.
Searing It Up for Crispy Skin
When it comes to duck breasts, crispy skin is a requirement. While the duck comes out of the bath fully cooked, as with most proteins, the finishing sear is critical. You will be searing the duck for longer than you might other sous vide proteins, because the thick, fatty skin needs to render and crisp, rather than just brown.
Start by preheating a heavy-bottom skillet (I love carbon steel) over medium-high heat and place the duck breasts skin-side down and sear for about 5 minutes.
Remove the skillet from the heat and turn the breasts over to warm through for about 30 seconds, being careful not to leave on too long to overcook.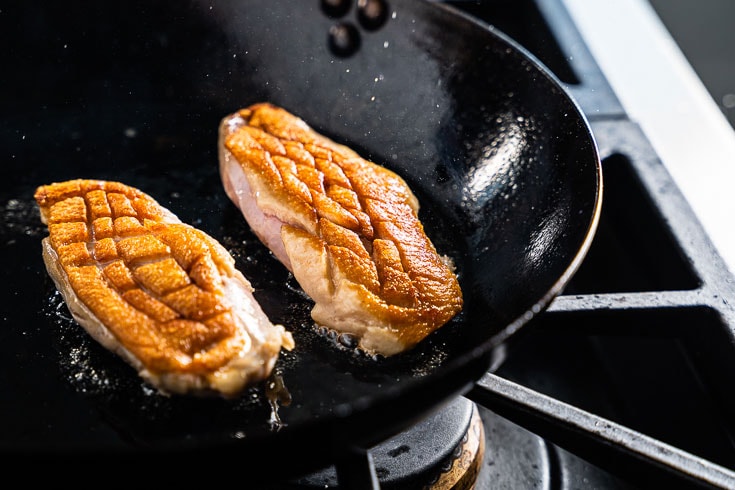 Serve It Up With
Tools & Equipment Used
Ingredients
2

duck breasts

Olive oil

Kosher salt & freshly ground pepper
Instructions
Preheat water bath to 130° F / 54.4° C.

Score the fat side of the chilled breasts with a sharp knife into a ½" hatch being careful not to pierce the meat. Drizzle with a little olive oil and liberally season the breasts on both sides.

Place in a vacuum-sealed bag or a Ziplock, and use the water displacement method to remove the air and seal the bag.

Cook in the water bath for 1 ½ to 3 hours.

Remove the bag from the water bath and place on the counter to cool for about 5 minutes before submerging in an ice bath to chill before searing. You can also chill, refrigerate and sear later.

Remove the breasts from the bag and pat dry with paper towels.

To sear: Preheat a heavy-bottom skillet over medium-high heat then place the duck breasts skin-side down for about 5 minutes to crisp the skin. Turn the breasts over and remove the skillet from the heat. Continue to cook on the flesh side for 30 seconds to warm through.

Transfer to a cutting board and rest for 5 minutes before slicing and serving with a sprinkle of coarse salt on top.
Notes
Duck breasts can be cooked sous vide ahead of time, chilled and seared right before you are ready to serve.
The recipe is for two duck breasts but can easily be scaled up.