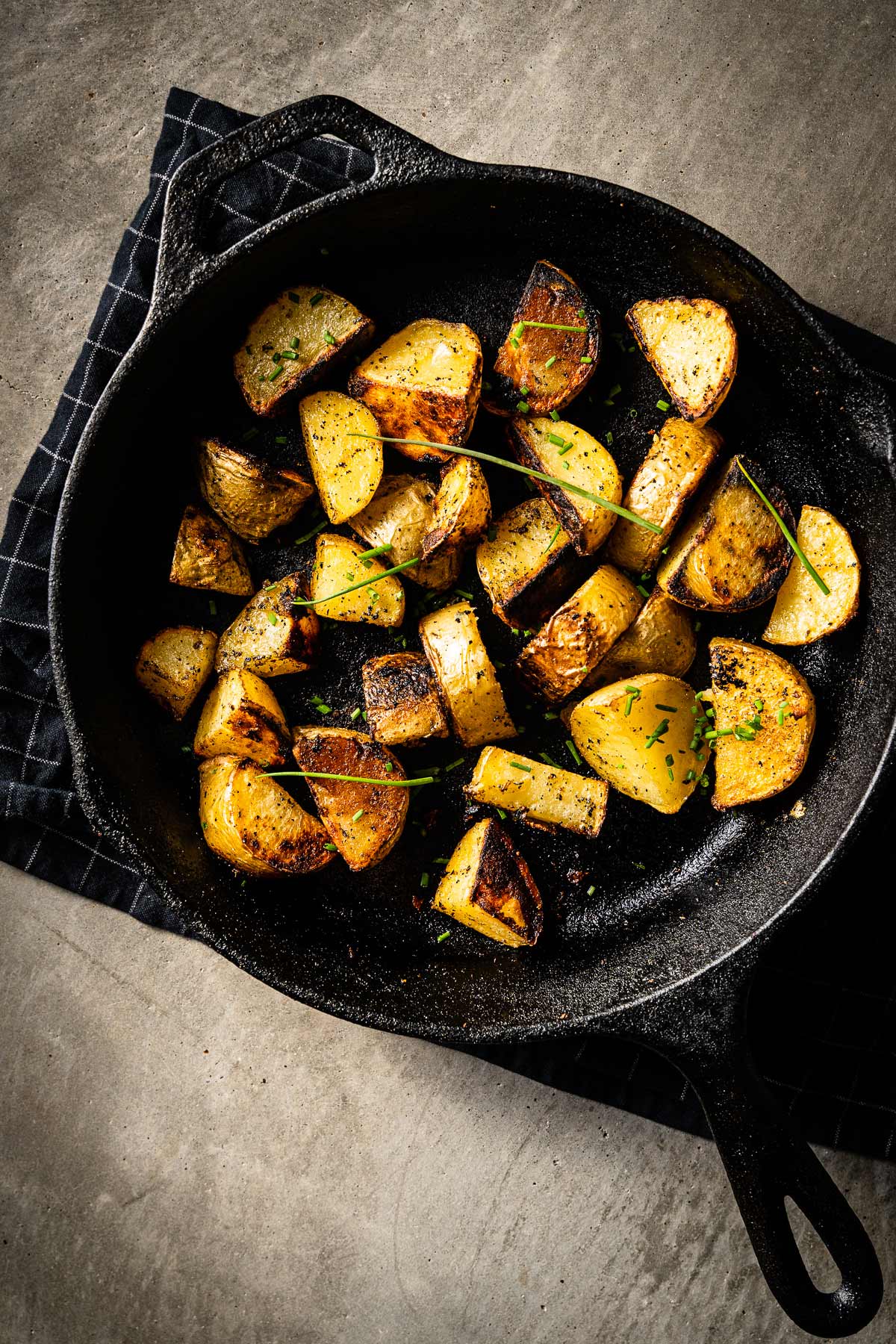 Potatoes go with just about anything. And when you are grilling that anything, it only makes sense to cook those spuds on the grill too. The goal is a flavorful and crispy outside with a creamy inside. I'll show you how.
Cooking Potatoes on the Grill Just Makes Sense
If you are already grilling, use that same heat source and keep your kitchen cool and use less energy. It's outside, the potatoes get the flavor from the fire and you don't have to clean up your kitchen. However, grilling potatoes directly on the surface isn't a pleasant experience as they can stick to grates, fall through into the fire and make for a messy clean-up. To get around this, we grill them in a skillet or grill basket or on foil.
Potatoes Are Forgiving
They need little attention, which is a big plus when you are trying to focus on making the perfectly grilled steak or chicken or fish, and still entertain guests. When grilling your protein, throw the skillet of potatoes on the grill and move it around the other items as needed.
Yukon gold and red potatoes are best suited for the grill. They hold up well and have a great texture. You can get the baby variety (baby gold) if you don't want to do much chopping.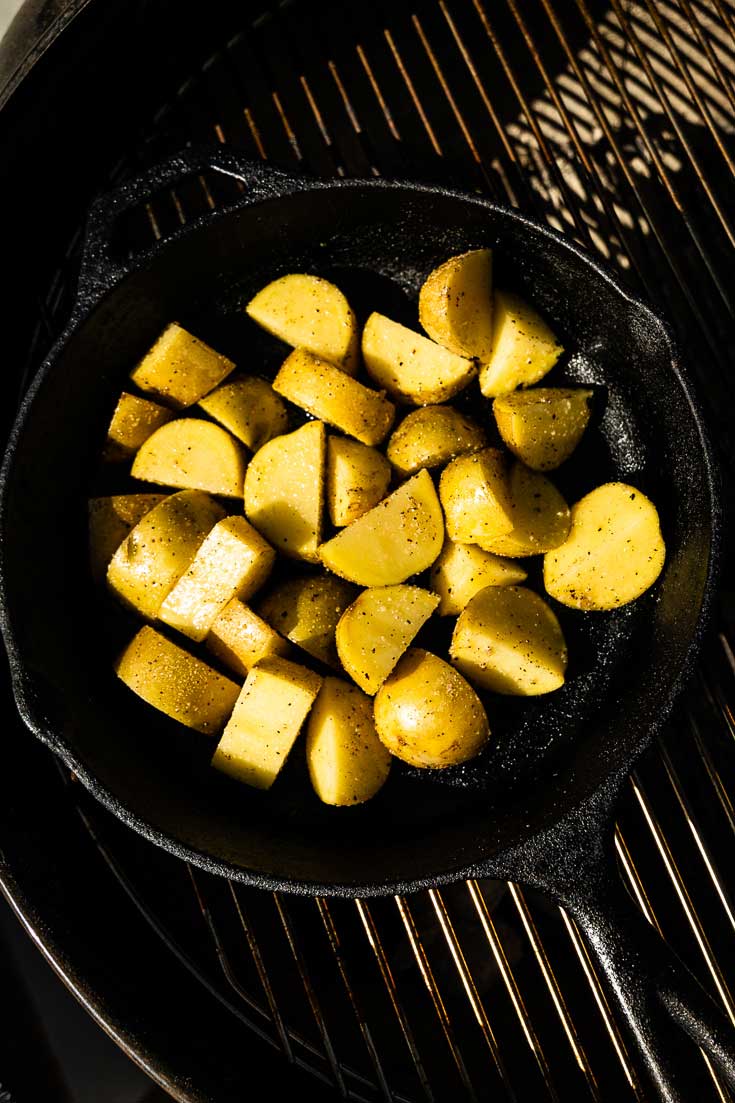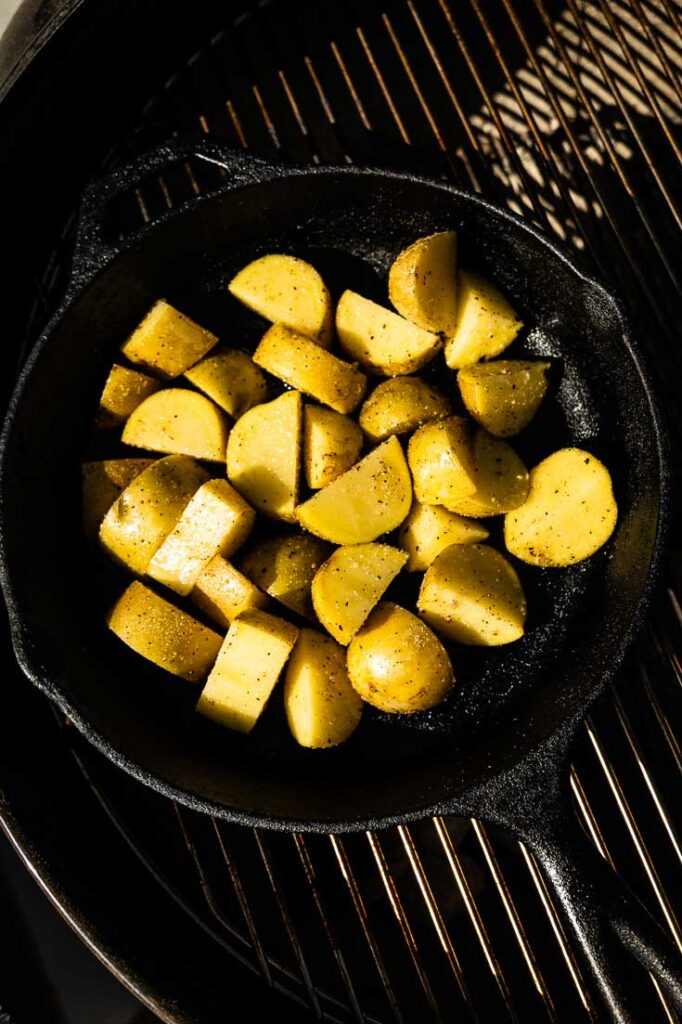 Wedges, Cubes or Slices
The shape you go with is totally up to you. Whichever shape you carve out, keeping the sizes consistent is best so they cook at the same time. The smaller the pieces, the faster they will cook.
The simplest is to use baby gold potatoes that can simply be halved and are ready to go.
Parboiling First Is Faster, But...
Parboiling the potatoes, which means first cooking them in salted boiling water, speeds up the grilling process quite a bit. It also adds a touch of flavor to the inside of the potatoes from the salted water, which is just about impossible any other way.
Since they are technically already cooked when you parboil them, they just need to be browned up on the grill either on a skillet or a foil packet. The downside to parboiling is that it is another step and creates more dishes. The point of grilling the potatoes in the first place is because you are likely already firing up the grill, so IMO, you should just do the whole cook right there anyway, since it's so easy and the results are so good.
If you do choose to parboil, it usually takes 5 to 10 minutes, depending on the size of the potato. You don't want to cook them too much in the water, or they can get mushy. Drain thoroughly and then proceed with the grilling recipe.
Season 'Em Up
You can go super simple with salt and pepper, or add whichever seasonings you like that will pair nicely with the other things on the grill.
Adding oil and/or butter is super important to getting those golden-brown results, and it helps prevent sticking.
Add onions or shallots toward the end of the cook, as they will cook quickly compared to the potatoes.
Time to Grill
Place the skillet/packet/grill basket of potatoes over direct heat for about 20 minutes, stirring them occasionally so that they brown on all sides. Then move to indirect heat for another 10 minutes to finish. That said, the potatoes are forgiving, so if you need to move them on or off direct heat while cooking your main dish, don't sweat it.
Just Not Directly on the Grill Grates
Grilling sliced potatoes directly on the grill grates doesn't work so well. They easily stick and the remnants can be difficult to clean off. It's not impossible, but in my experience, it has never been worth it.
In a Skillet - My preferred method. Easy to move around and on/off of the grill. Gets super hot for golden-brown results. You can cover the skillet with foil to cook the potatoes until they are tender to speed up the cook if you prefer.
In Foil - People love cooking in foil packets. You can make a nice little package of potatoes, oil and seasoning and place it right on the grill. The potatoes will cook in their own little oven, then once tender, you open up the packet and let them brown, though it is a little harder to stir them and get them crispy than it is in a skillet. Be sure to poke some holes to allow the moisture to escape while they cook.
In a Grill Basket - Grill baskets are great because your food is still contained, but can still kiss the fire of the grill. And it's easy to stir the potatoes to brown all sides.
Top 'Em With
After the potatoes are cooked and ready to come off, hit them with your favorite toppings. Fresh herbs. Bacon. Sour Cream. More butter. Parmesan cheese. Always with plenty of S&P.
Great Side for...
Or make it the main meal and make a delicious grilled potato salad.
Tips
Keep the potatoes in a single layer and don't overcrowd so they brown and cook evenly.
While it's not really essential for these spuds, the Thermapen instant probe thermometer is a critical grilling tool for steak, chicken and most other meats. But if you do want to take a temp of the potatoes, around 205° F internal is just about perfect.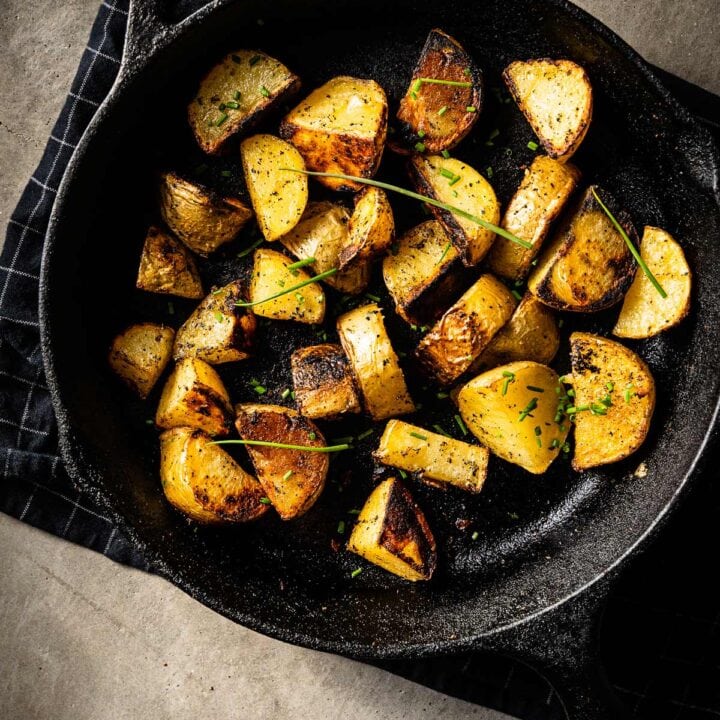 Grilled Potatoes
Grilling potatoes is the perfect way to round out a meal on the grill. Easily cooked right alongside your chicken, steak or veggie burgers, these potatoes make for a delicious and satisfying side dish.
Print
Pin
Rate
Ingredients
1 ¼

lbs

Yukon gold potatoes, quartered, or baby potatoes, halved

2

tablespoon

olive oil
Seasonings
1

teaspoon

Diamond kosher salt

Pepper

Garlic powder

Other seasoning
Instructions
Preheat the grill to medium-high, about 400° F.

Slice or dice the potatoes to the preferred size and place in a medium bowl. Toss with olive oil and season with kosher salt and other seasonings to taste. Stir to ensure complete coverage.
To Grill in a Skillet or Grill Basket
Place a 12" cast-iron skillet or grill basket on the grill to preheat then transfer the potatoes to the skillet/basket.

Grill over direct heat for 20 minutes or so, being sure to stir the potatoes to brown them on all sides. Then move to the indirect side for about 10 more minutes, or until the potatoes are golden and cooked through.
To Grill in Foil Packets
Create a packet with two pieces of heavy-duty foil. Place the potatoes on one piece of foil and place the other piece on top. Seal the edges and poke a few holes to allow the steam to escape.

Grill over direct heat for about 20 minutes. Take off the top foil to stir occasionally if you want the potatoes to brown. Then move to the indirect side for about 10 more minutes, or until the potatoes are golden and cooked through.
To Finish
Finish with your favorite toppings such as fresh herbs (thyme, chives or rosemary).
Notes
Can move the potatoes on and off the direct heat to accommodate your other menu items.
Can grill for longer, potatoes are forgiving.
Nutrition
Calories:
171
kcal
|
Carbohydrates:
25
g
|
Protein:
3
g
|
Fat:
7
g
|
Saturated Fat:
1
g
|
Polyunsaturated Fat:
1
g
|
Monounsaturated Fat:
5
g
|
Sodium:
590
mg
|
Potassium:
597
mg
|
Fiber:
3
g
|
Sugar:
1
g
|
Vitamin A:
3
IU
|
Vitamin C:
28
mg
|
Calcium:
17
mg
|
Iron:
1
mg