A vinaigrette is the standard in salad dressings. It's light, healthy, seasonal, and totally customizable. Just about every restaurant has a "house vinaigrette," and you should too.
Let's be real here: store-bought vinaigrette salad dressings are just so "meh." No matter how premium or how fancy the label looks, they just don't taste great. And you don't even want to look at the ingredients label.
Making a basic vinaigrette is dead simple. You are just combining acid and fat along with a few other ingredients. Once you learn the basic technique, there are endless variations you can create, and you will never have to (or want to) buy it in the store again.
It might sound a little extreme saying that learning to make a vinaigrette can change your life, but it really can. Using a fresh homemade vinaigrette, will take your salad to the next level and you'll enjoy a more nutritious, flavorful salad. It's a little bit of a gateway technique into many others that will follow.
A vinaigrette was the first sauce I ever learned to make. My dad taught me and I make it almost the same today as I did when I was a kid helping out with dinner. Many vinaigrette recipes that you will find have a much higher percentage of oil to vinegar. I think this is where they go wrong. They end up tasting oily and don't really pack the flavor that makes for a "wow" salad.
Once you have the vinaigrette down, I totally encourage you to pass the knowledge on to your family, friends, kids and random people on the street. Ok, maybe not the last part, but you get me.
It's a great task to give to people over for dinner when they ask "what can I do to help?" Besides the normal "Oh, nothing. Thanks." response, have them get all the ingredients out and walk them through making the vinaigrette for the salad. It gets them involved and then they learn how to do it too.
While the vinaigrette isn't officially on the list of "French mother sauces", I pretty much consider it one. Vinaigrette's aren't just for salad either. They can make just about everything better. Learning the basic technique and about the ingredients that go into it will really help elevate your all around cooking skills.
What is a Vinaigrette, Anyway?
A vinaigrette in its most basic form is simply vinegar and oil mixed together. This can totally work in a pinch; but adding just a few more ingredients makes all the difference and can pair perfectly with any dish.
Learning to Make a Basic Vinaigrette is a Game-Changer
Within 2 minutes from start to finish, you have the ideal dressing for your salad. A basic vinaigrette pairs well with pretty much any salad and is always a favorite.
Uses for Vinaigrettes
Vinaigrettes aren't just for salads. Topping a variety of foods with a vinaigrette is like a flavor boost to the dish, bringing it to a whole other level. It will brighten it up and help create a perfect balance between the main meal and the side. Here's just a handful of possible uses:
A marinade for chicken or fish
Served with grilled or roasted veggies
Drizzled over tacos
Added inside a veggie or chicken wrap
It's All About Creating a Balance
This vinaigrette has tartness and bite from the acidity of the vinegar and mustard. Then, we use just enough extra virgin olive oil to coat every bite of your salad with rich flavor, and a touch of sweetness from honey, maple syrup or sugar. The shallot is my secret ingredient and adds a depth of flavor that makes this vinaigrette absolutely delectable.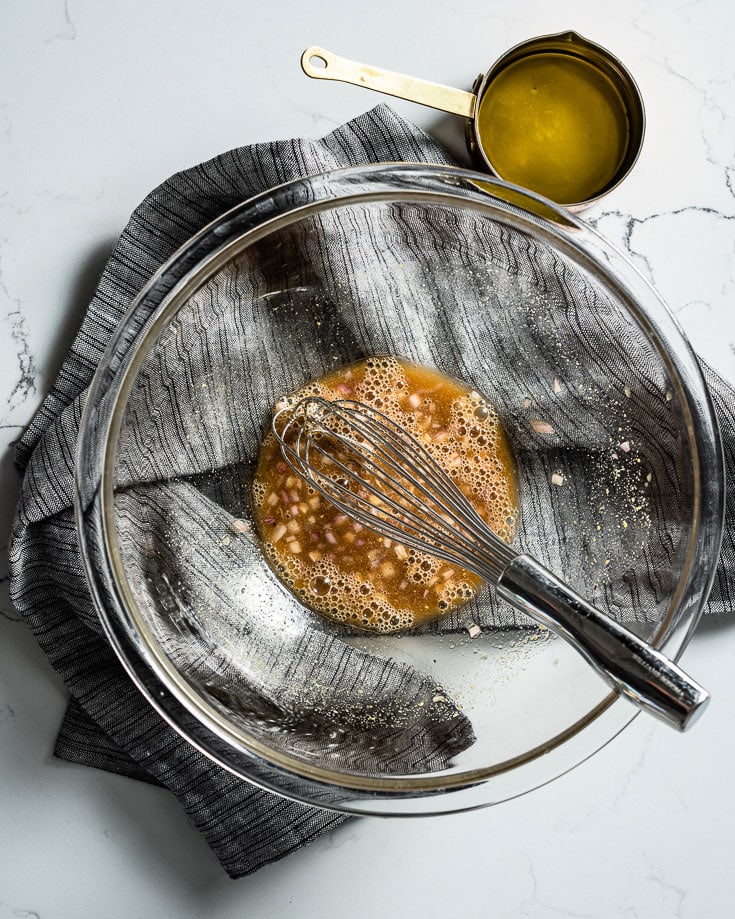 Emulsification is Key to Success
Oil and water don't naturally mix. Emulsification is the process of breaking up the molecules in both substances into very fine, small droplets in order to keep the combination from separating.
Mustard is an emulsifier and will help this process of mixing the oil and vinegar. However, adding about 1 teaspoon of mayo works great to further keep the oil and vinegar from separating again. It also makes the mixture much more stable, so it stays emulsified even longer.
The added mayo is optional, but the mustard and mayo combination coveys a wonderful, bold flavor while adding the perfect hint of creaminess to the vinaigrette.
Rather than shaking up this mixture in a mason jar, the best way to achieve complete emulsification of the ingredients is to add ingredients in the correct order. Start by whisking together the vinegar with the shallot, mustard, salt & pepper and mayo (if using). Then, slowly drizzle in the oil into the vinegar mixture while you are continuously whisking to break it up into small droplets.
Ingredients for Vinaigrette
Fresh high-quality ingredients are key. If you use an old oil, the resulting taste of the vinaigrette will reflect that. A cheap vinegar will not provide much complexity.
The Fat (oil)
It's a good idea to know your oil and taste it before using it. Some extra virgin olive oils can be bitter, which will come through with a sharp bite in a basic vinaigrette.
You aren't just limited to olive oils. Other oils like walnut, hazelnut, sesame oil (but just a little bit) can totally change up the flavors.
The Acid - Vinegars (the big star).
Not just vinegar! The most common vinegar to use is balsamic, but there are many different vinegar varieties to experiment with. Citrus juice is also fantastic and makes for a light and tangy vinaigrette.
The Sweet
To sweeten the vinaigrette slightly and balance out the acid -- add honey, maple syrup, regular sugar or agave. Don't skip this ingredient. Adding a sweetener is what really helps create a balance between everything and gives it that "wow" factor.
Dijon Mustard adds some flavor complexity and creaminess. It also acts as an emulsifier. You can also mayo to help with the emulsification process.
Shallot gives the vinaigrette a slightly sweet and deep flavor, with a hint of garlic. Macerating the chopped shallot in the vinegar for 5 to 10 minutes prior to combining the oil will cut down on the harshness and soften the flavor. .
Kosher Salt & Freshly Ground Pepper is necessary for making all of the ingredients in the vinaigrette shine.
Ideas for Other Ingredients and Seasonings to Add
I generally keep it simple, but here are a few ideas to spice it up or perfectly pair with what you are making: fresh herbs (chives, chervil, tarragon, cilantro, or Italian parsley) minced garlic, roasted garlic, dried oregano, and/or olives.
There Are 3 Simple Methods for Mixing a Vinaigrette
Bowl & whisk - Just make the vinaigrette in the bowl you plan on tossing the salad with and your favorite whisk.
Blender or immersion blender - Using an electric appliance will create a great emulsification and it will also completely puree the shallot and other ingredients, which makes for a slightly different consistency and texture. It's best for creating a creamy balsamic vinaigrette.
The jar-shake method - This method is great for making a vinaigrette for the week. Add all the ingredients, shake it up and pour out what you need each time.
How To Make a Basic Vinaigrette
Add all ingredients except for the oil to the container (choose method above).
Whisk or blend to combine.
Slowly add the oil to vinegar mixture, whisking vigorously as you drizzle it in.
Taste test! This is a must. Dip a piece of lettuce. Adjust as needed by adding more sugar, vinegar or oil. Once you are trained in the tastes, you can use a spoon.
Once you learn the basic formula, you will be free to have fun to get creative!
How to Adjust a Vinaigrette to Your Taste Preference
Some people like their vinaigrette bright and tangy, others like it sweet and mild. By making slight adjustments to the amount of sweetener, vinegar, mustard and oil, you can totally customize it to your taste preference, and adjust it to different dishes. Always be tasting so you know what ingredients changed the flavor to what you prefer.
Make Vinaigrette Ahead
A vinaigrette is great for making enough for the week so you can quickly and easily throw together a weeknight salad. Because of the high acidity content, vinegar-based salad dressings keep for several weeks in the refrigerator without fresh ingredients like shallots or herbs. Once you've prepared the vinaigrette, pour it into a jar and secure the lid tightly.
The Basic Vinaigrette Ratio
3 parts oil to 1 part vinegar. (But sometimes 2:1.)
The Vinaigrette Formula
A ratio of 3 parts oil to 1 part vinegar + chopped shallot + Dijon mustard + sugar + salt + pepper
This is the basic ratio that totally depends on your taste and the other ingredients you are using. Different kinds of vinegar have different levels of acidity.
The 3:1 ratio is a great starting place, but I will often increase the amount of vinegar because I like it a bit more acidic and bright. To give you an idea, I will often use closer to a 2:1 ratio and maybe add some more honey or sugar if it is too tart. It's all about what you like, which is what makes it so fun.
Vinaigrette Recipe Variations
Balsamic Vinaigrette - robust and zesty; typically made with 3 parts oil to 1 part balsamic vinegar, Dijon mustard, sweetener, salt and pepper
Lemon Vinaigrette - tangy and sweet with bright, fresh flavors; made with oil, lemon juice, white vinegar, sweetener, salt and pepper
Raspberry Vinaigrette - sweet, fruity flavor; made with blended raspberries, oil, white vinegar or red wine vinegar, sweetener, salt and pepper
Champagne Vinaigrette - fresh, bright flavor; made with olive oil, champagne vinegar, Dijon mustard, lemon juice, shallot, honey, salt and pepper
Red Wine Vinaigrette - pronounced, versatile flavor; made with olive oil, red wine vinegar, garlic, oregano or Italian seasoning, and salt
Apple cider Vinaigrette - light, tangy with a hint of sweetness; made with oil, apple cider vinegar, sweetener, Dijon mustard and salt
Citrus Vinaigrette - tart, tangy with citrus flavors; made with oil, a light vinegar, like champagne vinegar, orange juice, lemon juice, salt and pepper
Dijon Vinaigrette - zesty and flavorful; made with olive oil, lemon juice, white wine vinegar, Dijon mustard, minced garlic, salt and pepper
Basil Vinaigrette - fresh, herby flavor; made with oil, basil, red wine vinegar, garlic, Dijon Mustard, salt and pepper
Sherry Vinaigrette - rich, nutty flavor; made with oil, sherry vinegar, Dijon, garlic, salt and pepper
Bacon Vinaigrette - rich, tangy with a smokiness from the bacon; made with made with oil, bacon, mustard, garlic, salt and pepper
Tomato Vinaigrette - fresh, vibrant flavor; made with oil, tomatoes, garlic, salt and pepper
Miso Vinaigrette - deep, complex umami flavors; made with oil, miso paste, rice vinegar, sweetener, garlic, salt and pepper
Vinaigrette FAQ
How Do You Keep Vinaigrette From Separating?
Adding the mustard, honey and optional mayo should keep the vinaigrette from separating. If it does end up separating, you can add a touch more mustard, honey or mayo, or just simply whisk the dressing vigorously.
If you are using a bowl-and-whisk method, you can just add all the ingredients to the bowl (minus the oil) and whisk in the oil right before you plan on serving the salad.
The Best Way to Store Vinaigrette
It is best to store a vinaigrette in the refrigerator in an airtight container. Just be sure to remove it in time for it to come to room temperature so the olive oil can liquify.
How long can I keep vinaigrette?
If stored in the refrigerator, a vinaigrette with fresh ingredients like shallots, herbs or mayo should be used within a week. If it doesn't have fresh ingredients, it can be stored for several weeks.
The best way to store vinegar - Did you know it's also super important to store your vinegars and oils correctly? Keeping them next to the stove/oven or next to a window is probably the worst place. Store vinegar in the refrigerator for optimal flavors and longevity.
Tips for Dressing a Salad With Vinaigrette
Drizzle the dressing onto the salad in the bowl rather than placing the lettuce in a bowl with the dressing at the bottom. If there was too much dressing in the bowl, then it will be overdressed and there's no going back (except to add more lettuce).
Toss gently. Use tongs, two utensils or best, your most valuable kitchen tool, your hand.
Tools for Making a Vinaigrette
Contains affiliate links where I might receive a commission if you make a purchase, at no additional cost to you. Thanks for your support!
Ingredients
¼

cup

vinegar

1

tablespoon

finely minced shallot

2

teaspoon

Dijon mustard

1

tablespoon

sugar or honey

¼

teaspoon

kosher salt

⅛

teaspoon

freshly ground black pepper

¾

cup

extra-virgin olive oil
Instructions
In a bowl, whisk together all vinaigrette ingredients except the olive oil to combine and dissolve.

Slowly drizzle the olive oil into the bowl while continually whisking to emulsify the vinaigrette.

Taste test for acidity, sweetness and salt, and adjust as needed.