This recipe was created in partnership with the American Lamb Board. All thoughts and opinions are always my own.
If you are looking to spice up your lamb game, smoked lamb tostadas are where it's at. Tender, flavorful smoky lamb with a crunchy tortilla base, bright pickled vegetables, and a creamy crema sauce to balance it all out. It's beauty on a plate, but tastes even better.
Lamb has a special place in traditional Mexican cuisine and is the star in a variety of iconic dishes such as Birria, barbacoa, tacos and of course, the tostada. In Mexico, they are experts at cooking lamb low and slow over live fire, which brings out a wonderful smoky flavor with a tender texture.
We're bringing the concept of tender smoked lamb to the highly customizable and very party-friendly tostada. A tostada is a Mexican dish consisting of a crispy fried or toasted corn tortilla that is the vehicle for a variety of layered toppings. Tostadas are pretty much round, flat tacos. And they are delectable!
Jump to
A recent American lamb retreat to Napa Valley inspired this recipe. We learned about the fascinating process and benefits of how vineyards are utilizing sheep in regenerative farming practices. Of course, we also ate lots of great food.
One of the most memorable dishes was at Farmstead. It was a lamb shoulder tostada and totally my style. This recipe is my version of it.
If you love steak tostadas, you will fall in love with this over-the-top lamb version
Understanding Lamb Shoulder
Lamb shoulder comes from the upper front shoulder of the animal. It is a nicely marbled, yet tougher cut because of the connective tissue and requires long, slow cooking to break it down and make it tender. It is richer in flavor, has a higher fat content, and is more affordable compared to the leaner and more tender leg of lamb. Lamb shoulder is a great value for feeding a crowd nutritious protein, or for having plenty of leftovers.
It is the perfect candidate for cooking in the smoker with apple, cherry or oak wood that pairs so wonderfully to enhance the lamb's flavor.
When smoking the lamb shoulder, you have two texture options to choose from for this dish. Option one is to cook the lamb shoulder a little less so it stays firmer to dice it, or you can cook it more to shred it. You pick the texture to your preference, or you can try both!
The power of double cooking: Smoked meat can be made even tastier by crisping it up in a skillet before serving. For the tostadas, I prefer dicing and then crisping in a skillet, but both ways are great.
Tips for Buying Lamb Shoulder
Source high-quality American Lamb that is close to home, supporting your local farmers. Your local butcher is often the best source for buying lamb shoulder. They will know where the lamb came from, give you the amount you need and even help prepare it for you how you plan on cooking it. Learn more about where to buy American lamb.
Either boneless or bone-in will work great for smoking. If buying bone-in, you will want to get a slightly larger piece so you get the same amount of usable meat. Be sure to tie the boneless shoulder together with butcher twine, as it had to be cut apart to remove the bone.
The larger it is, the longer it will take to cook. If you are in a hurry, you can cut it down into smaller portions, but be careful because it can dry out more easily.
Making the Lamb Tostadas
Make the lamb a day or two ahead of time for quick serving. Lamb tostadas (or tacos) are a great way to repurpose leftover lamb.
Season the Lamb Shoulder - Preferably the day before to allow the salt to fully penetrate all the way through. Heavily season with kosher salt and pepper. Feel free to add any other spices to the mix that you love.
Smoke - Preheat your smoker to 225 - 250° F with apple, cherry or oak wood for smoke. Place the shoulder in the smoker fat side down and cook until the internal temperature reaches 165° F.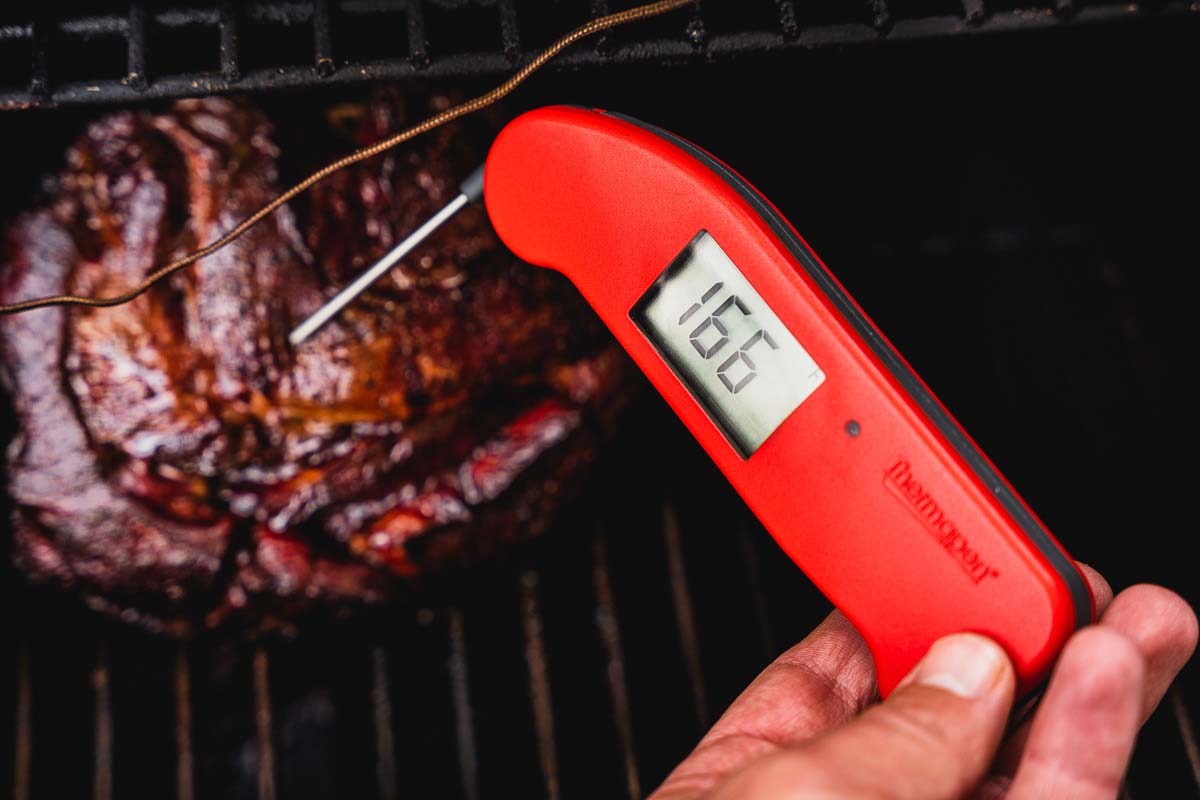 Wrap - Once the internal temperature reaches 165° F, wrap the lamb shoulder in aluminum foil or butcher paper. Place it back in the smoker, or in the oven on a sheet pan to finish cooking to 195° F internal for a firmer texture to dice, or 203° F for a shreddable texture. Verify temps with an instant-read meat thermometer.
Rest for 30 minutes still wrapped.
Dice or Shred - Once the lamb is rested, you can dice it with a sharp knife, or shred it with a few forks before crisping it up in a hot skillet for just a few minutes.
Assemble - Start with a corn tostada and layer with crema (or your preferred sauce), crispy smoked lamb, pickled veggies, a little fresh cilantro and a squeeze of lime.
Tostada Topping Ideas
Here's a list of topping inspirations that perfectly complement the smoked lamb tostadas.
Mexican crema or sour cream as a base on top of the tostada. An avocado crema or guacamole would also be great.
Pickled veggies - onions, carrots, bell peppers, or radishes all add a zesty crunch to help lighten the rich smoky lamb flavors.
Fresh cilantro leaves for brightness and color
Crumbled queso fresco or cotija cheese for a creamy element.
Grilled or sauteed corn
Lime wedges - a quick squeeze of citrus brightens everything up.
Hot sauce if you want a little more heat.
Mix and match toppings based on flavors you love. It's always fun to experiment with new ones. The goal is to create a balance between flavors and textures while creating a gorgeous presentation.
Alternate Ways to Cook the Lamb Shoulder
If you don't have a smoker or even a grill to smoke the lamb shoulder, have no fear. There are plenty of other cooking methods that allow for low and slow cooking will also work great. The lamb shoulder can be cooked low and slow in the oven, you can braise it, cook it in the slow cooker, instant pot, or even sous vide it.
The tostadas can also be made with smoked or grilled leg of lamb
Wine and Beer Pairings
Wine: Full-bodied red wines like a Syrah or Malbec will pair well with the smoky lamb. You can also go with a pinot noir or a dry rosé if you want something lighter for a hot day.
Beer: An amber ale has a malty sweetness and a slight bitterness that contrasts nicely with the smoked lamb. A Mexican lager will also taste great.
More Recipes You'll Love
Smoked Lamb Tostadas Recipe
Smoked lamb shoulder tostadas topped with zesty pickled veggies, creamy Mexican crema, all on a crunchy tortilla making a seriously delicious symphony of flavors in every bite.
Print
Pin
Rate
Ingredients
3

lb

boneless American lamb shoulder

2

tablespoons

Diamond kosher salt

(or 1 ½ tablespoon Morton kosher salt)

1

tablespoon

canola oil

wood chips or pellets

(apple, cherry or oak)
Pickled Veggies
1

cup

water

1

cup

vinegar

(such as white wine, cider vinegar or rice vinegar)

2

tablespoon

sugar

1

tablespoon

kosher salt

1

carrot, julienned

1

bell pepper, sliced

1

small red onion, peeled and sliced thin

Optional: peppercorns, garlic cloves, fresh herbs, mustard seeds
For serving
corn tostada shells

(pre-made or make your own)

mexican crema

fresh cilantro

lime wedges
Instructions
Prep and season the lamb shoulder (the day before cooking if possible). Trim off excess fat, score the fat cap in a cross-hatch pattern, and tightly tie the boneless shoulder together with butcher twine. Drizzle on some oil, then liberally season the entire surface of the meat with kosher salt. Cover and refrigerate overnight.

Make the pickled veggies (8 to 24 hours ahead of time)

Make the pickle brine by combining the water, vinegar, salt and sugar in a small saucepan over medium heat. Whisk to dissolve, then remove from the heat.

Place the veggies in mason jars. Carefully pour the pickling liquid into the jars, completely submerging the vegetables. Let them sit out on the counter for 1 hour to cool, then cover tightly and place in the refrigerator for 8 hours to pickle, or longer for more flavor.
To Smoke the Lamb
Remove the lamb shoulder from the refrigerator 1 hour before smoking. Insert a remote probe thermometer into the thickest part of the meat.

Set up your smoker according to the manufacturer's instructions for indirect heat cooking and preheat to 225° F.

Place the lamb shoulder fat side down in the smoker and close the lid.

Begin checking the temperature after 3 hours. When it reaches 165° F, wrap tightly with aluminum foil or butcher paper, after about 4 to 6 hours of cooking. Then place it back in the smoker (or in the oven). *For faster cooking, you can increase the temperature to 275 to 300° F to finish cooking more quickly once it is wrapped.

For dice(able) texture, remove from the heat between 190 to 195° F. For shreddable texture, remove at 203 to 205° F.

Rest for 30 minutes to 1 hour, then dice or shred.

Crisp up the lamb: Heat a cast iron skillet over medium-high heat and crisp up the pulled or diced lamb shoulder for 2 to 3 minutes, stirring a few times.

Assemble the tostadas with your sauce and toppings. Enjoy!
Notes
The lamb can be made the day before. Just heat up in a skillet for the tostadas.
Place a water drip pan in the smoker to create a more humid environment, which helps attract smoke and keep the meat juicy.
Spritz if you wish. Use a

50:50 ratio of water and cider vinegar (or apple cider) in a spray bottle and spray it on the lamb shoulder a few times after the first two hours to help keep it moist and attract smoke.

Cook time: figure 2 to 2 ½ hours per pound, but it's always best to cook to temperature rather than time. **The USDA recommends a minimum internal temperature of 145 °F (62.8 °C) with a 3-minute rest.
Get more tips and tricks in this smoked lamb shoulder article.
The pickled veggies will last for 2 weeks in the fridge
Additional topping ideas: cotija cheese,

avocado, hot sauce, grilled corn.
Nutrition
Calories:
45
kcal
|
Carbohydrates:
6
g
|
Protein:
0.4
g
|
Fat:
2
g
|
Saturated Fat:
0.1
g
|
Polyunsaturated Fat:
1
g
|
Monounsaturated Fat:
1
g
|
Trans Fat:
0.01
g
|
Sodium:
2625
mg
|
Potassium:
77
mg
|
Fiber:
1
g
|
Sugar:
5
g
|
Vitamin A:
1740
IU
|
Vitamin C:
21
mg
|
Calcium:
11
mg
|
Iron:
0.1
mg