This recipe was created in partnership with Perdue Farms and Ninja Kitchen. All thoughts and opinions are always my own.
There's just something about chicken wings that is so completely satisfying: You can't stop snapping up another and another. Wings are probably the perfect tailgate and party food. And when you combine woodfire smoky, sweet and crispy wings with a little saucy heat, there's really nothing better. And that's what we're going to do here.
What is the perfect chicken wing for you? Is it a "dry wing" dusted with a flavorful rub and crisped up to perfection? Or a sauced-up, sticky-sweet wing? Whatever type of wing you love, we can make them perfect!
There are virtually endless ways to flavor wings. For this recipe, they are dusted with a simple dry rub and finished with a sweet maple-bourbon sauce with a little kick. I partnered with Perdue Farms Chicken and Ninja to cook with their new Woodfire Pro Outdoor Grill to get the flavor of real wood smoke, and the Air Crisp setting to make some delicious Perdue wings.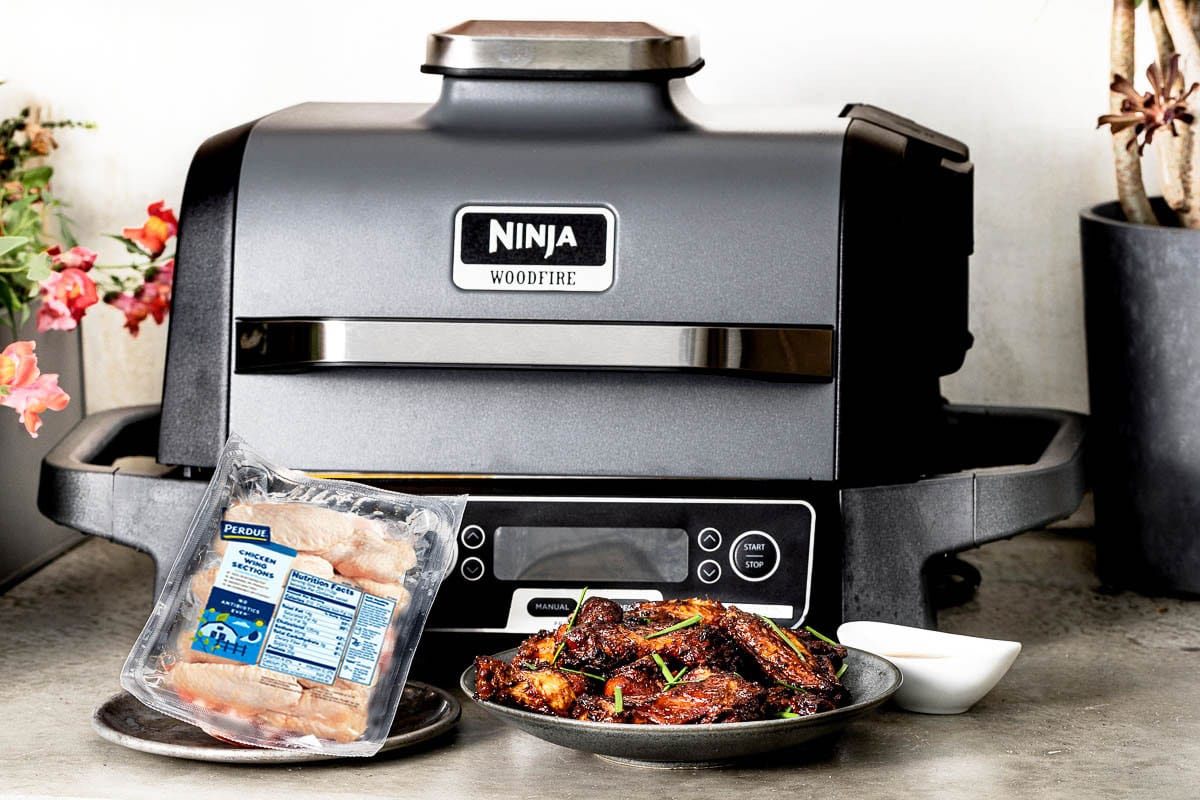 Using the Ninja Woodfire™ Pro Outdoor Grill
I have been testing out the Ninja Woodfire™ Pro Outdoor Grill. First off, this grill is awesome and really impressive. I wasn't sure what to expect at first, but the way it cooks is fantastic, and the flavor it produces is delicious. It has tons of great features, including seven different cooking functions, all packed into one electric outdoor grill.
One of the downsides to most electric and even gas grills is they don't really add much real wood "grilled" flavor to the food because there is no fire or smoke from wood. The Ninja Woodfire™ Pro Outdoor Grill changes that. The ability to add real wood smokey flavor to your food with hardwood pellets is a game changer. I can't wait to keep experimenting with it to see all that it can do.
A few highlights:
Built-in probe thermometer (which makes it the "pro" version) so you know exactly when your food is ready. This is super useful to have, since I always recommend cooking by temperature and not by time. This will help you get perfect doneness every time.
Real wood smoke - You choose your flavor of hardwood pellets depending on what you are cooking.
Multiple cook modes - Smoke, Grill, Air Crisp, Roast, Bake, Broil and Dehydrate.
Weather-resistant so it is safe to leave outside, but still best to keep it covered when not in use.
Purchase the Ninja® Woodfire Pro Outdoor Grill on Ninjakitchen.com
The Perdue Farms Chicken Wings
Perdue's Chicken Wings are from premium, no-antibiotics-ever chickens that are hatched, raised, vegetarian-fed and harvested by their network of small family farmers across the United States. They come conveniently frozen and pre-proportioned in 1-pound packages, so it's easy to pull out just one package for yourself, or five for a game-day party.
The wings are already sectioned into wingettes and drumettes and the wing tips are removed, so you don't have to do any prep. Simply defrost as much as you need, cook and enjoy. These wings taste great and will disappear quickly, so be sure to make extra!
Purchase Perdue Chicken Wings on Perduefarms.com
A Few Wing Tips (pun intended)
Start with dry wings for crisper wings. Defrost the wings, either pat dry with paper towels or place on a cooling rack on a sheet pan, and then place in the refrigerator uncovered to dry them out.
Figure 1 to 2 pounds of wings per person. There are about 4 to 5 whole chicken wings (unseparated) per pound. Depending on whether you are serving wings as the entree or just an appetizer, you can use that ratio to help gauge how many you need to cook.
Don't overcrowd the fry basket. Leaving room between the wings will promote better cooking.
Batch cook. If you need to cook up a lot of wings, just cook multiple batches instead of trying to cook too many at a time.
Cook similar size wings together so they evenly cook at the same time.
Serve them dry or saucy (or both). Eating these flavorful wings "dry" (without sauce) is great. But they will disappear even faster when tossed with a craveable sauce, like this sweet-hot maple-bourbon sauce. You can even do a combo of each to satisfy everyone.
Don't Forget Delicious Sides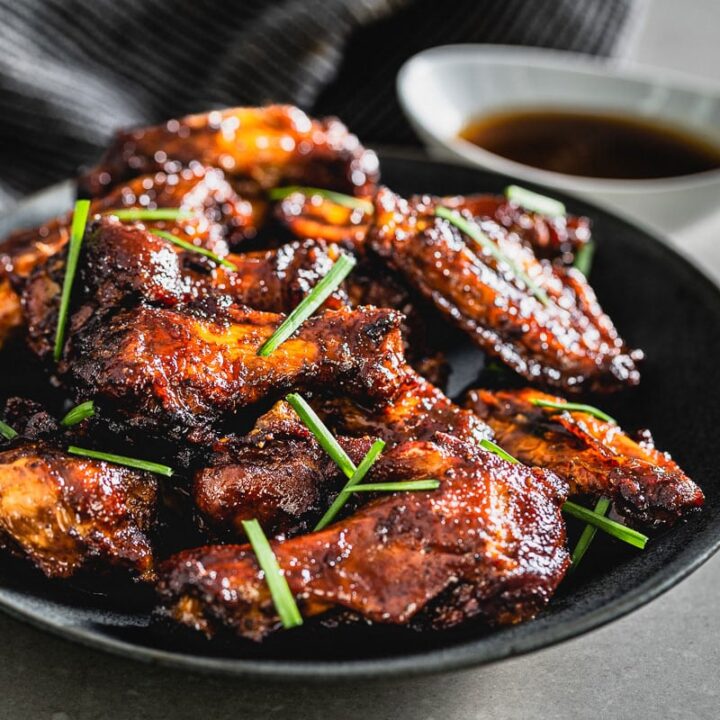 Smoked Air-Fried Maple-Bourbon Chicken Wings Recipe
Smoky, sweet, sticky and scrumptious air-fried maple-bourbon wings. These Perdue chicken wings are soooo darn delicious and easy to make in the Ninja Woodfire Pro Outdoor Grill.
Print
Pin
Rate
Equipment
Large Bowl

Silicone-Tipped Tongs
Ingredients
Dry Rub
1

tablespoon

Diamond kosher salt

1

teaspoon

black pepper

2

teaspoon

garlic powder

2

teaspoon

smoked paprika
Maple-Bourbon Sauce
3

tablespoon

unsalted butter

½

cup

bourbon

½

cup

maple syrup

¼

cup

cider vinegar

2

teaspoon

Dijon mustard

1

tablespoon

Sriracha

(optional for heat)
Instructions
To install the grill grate in the Ninja Woodfire Outdoor Grill, position it flat on top of the heating element and gently press down until it sits in place. Place Air Crisp Basket on the grate, then close the hood.

While holding the smoke box lid open, use the pellet scoop to pour pellets into the smoke box until filled to the top. Then close the smoke box lid.

Turn the dial to AIR CRISP. Press WOODFIRE FLAVOR. Set temperature to 390°F, and set time to 30 minutes. Select START/STOP to begin preheating (preheating will take approx. 8–10 minutes).

Prep the wings while the grill preheats: Mix the dry rub ingredients in a small bowl and place the dried wings in a large bowl. Toss the wings with the salt and dry rub, until evenly coated.

Cook the wings: When unit beeps to signify it has preheated and ADD FOOD is displayed, open the hood and place the wings in basket. Close the hood to begin cooking. Several times during cooking, open hood and use silicone-tipped tongs to flip the wings (about every 10 minutes). Cook until the internal temperature reaches a minimum of 165° F.

Make the sauce (while the wings are cooking): Combine ingredients in a medium saucepan, whisk over medium heat until dissolved then reduce heat and simmer, stirring occasionally until the sauce is reduced and thickened (by ¼ ish), about 15 to 20 minutes. Remove from heat.

When cooking is complete, open the hood, remove wings from the basket, toss with sauce (if using) and serve hot.
Notes
Cook time will vary depending on the size of the individual wings. Verify internal temperature of at least

165° F

with an instant-read probe thermometer.
The dryer the wings, the crispier they will get as they cook.
Don't overcrowd the air crisp basket. Cook in batches if you can't fit all of the wings.
Save any leftover dry rub in an airtight container.